The Big 12 has been on the offensive pretty much from its 1996 beginnings with innovative coaches like Mike Leach, Art Briles, Dana Holgorsen and Kliff Kingsbury.
Off the field? Not so much.
When a realignment wave hit college football a decade ago, the Big 12 crouched into a defensive posture as member schools watched Texas A&M and Missouri jump to the SEC, Nebraska to the Big Ten and Colorado to the Pac-12.
The Big 12 was smart in adding TCU and West Virginia, schools that have certainly benefited the league.
But conference membership never returned to 12 like the name says. Even when it appeared expansion was inevitable in 2016 when schools like Houston, BYU, UCF and Cincinnati banged on the door, the current Big 12 schools looked like sticks in the mud again when they decided to stick with 10 schools.
But now that Texas and Oklahoma are jumping to the SEC when the current TV rights contract ends in 2024-25 or sooner if they can get out of it,  the Big 12 has finally gone on the offensive.
Presidents of the Big 12 schools are expected to vote to extend invitations to Houston, BYU, UCF and Cincinnati on Friday.
After the Pac-12 announced two weeks ago that it won't expand, Texas Tech athletic director Kirby Hocutt and a committee that includes Baylor athletic director Mack Rhoades began its search for new members.
Of course, losing brand name schools like Oklahoma and Texas is a major blow even if the Longhorns have underachieved on the football field since Mack Brown's highly successful tenure ended in 2013.
But adding the four new schools will bring tremendous football into the league and greatly expand the Big 12's footprint across the country.
Baylor learned how good the UCF program had become when the Knights rolled to a 52-42 win over the Bears in the 2014 Fiesta Bowl. That 11-2 Baylor team was an offensive powerhouse, but Knights quarterback Blake Bortles and his crew outgunned them on that New Year's Day.
From 2017-19, the Knights went 35-4 including a 13-0 season 2017 when they declared themselves national champions and threw a parade in Orlando.
Bringing BYU into the league is an absolute no-brainer.
BYU has put good football teams on the field for decades, most recently as an independent. The Cougars have produced a succession of NFL quarterbacks like Pro Football Hall of Famer Steve Young, Jim McMahon, Ty Detmer and most recently Zach Wilson, who was picked second overall in the 2021 NFL Draft by the New York Jets.
Last year's 11-1 BYU team averaged 43.5 points, a feat that didn't go unnoticed by Baylor coach Dave Aranda since he hired Cougars offensive coordinator Jeff Grimes and offensive line coach Eric Mateos from that staff.
Cincinnati is traditionally better known for basketball. Does the Big O (Oscar Robertson) ring a bell? But the Bearcats have put outstanding teams on the football field recently under Luke Fickell.
The Bearkats have gone 32-6 over the last four years and are currently ranked No. 7 in the Associated Press poll.
Of course, Houston is the team that Baylor fans are most familiar with since they played each other in the Southwest Conference from 1976-95.
Houston been a consistent winner over the last two decades, and has been a springboard for coaches jumping to Power 5 conference schools, including Briles to Baylor, Kevin Sumlin to Texas A&M and Tom Herman to Texas.
Aranda likes the idea of the remaining Texas Big 12 schools – Baylor, Texas Tech and TCU -- sticking together. Even though the Longhorns are leaving for the SEC, the addition of Houston will bring the Big 12 back to four teams in the Lone Star State.
"I think the ability for us to have traditional rivalries and to be able to play a TCU and a Texas Tech and to play within the state of Texas, I think is a positive not only for our kids but our kids' families," Aranda said. "So we'll see how things shake out. But I think the ability for us to play in our state the majority of the time is something that kids in our state would look to do."
The next few years will be transitional for the Big 12, and could get really interesting.
AAC bylaws, which govern Cincinnati, Houston and UCF, require schools to give a 27-month notice before they leave and pay a $10 million buyout fee. Those three teams joining the Big 12 in the next two years might be a long shot, but a buyout to speed up the process is a definite possibility.
The Longhorns and Sooners will have a much tougher time leaving the Big 12 before the league's 2024-25 TV rights contract ends.
Texas and Oklahoma would have to pay a penalty of at least $75 million to $80 million to break that agreement. If the two schools honor their commitment to the Big 12 until July 1, 2025, the league could operate as a 14-team conference for a year or two.
Despite the COVID-19 pandemic, Big 12 schools still each received $34.5 million in revenue from the league in 2020-21. When asked if he expected potential expansion to decrease TV revenue to Big 12 schools, Rhoades said no.
Adding BYU, Houston, UCF and Cincinnati to the mix is a quadruple win for the Big 12. I think BYU will get a huge ovation from Baylor fans when the Cougars play the Bears at McLane Stadium on Oct. 16.
On the other hand, Texas and Oklahoma will get blasted by Baylor fans this fall at McLane Stadium and other fan bases across the Big 12. Cascades of boos will be well deserved since those two schools negotiated a deal with ESPN to jump to the SEC like shady backroom gamblers with cards under the table.
Who knows how long the reconstructed Big 12 will stay together? With huge TV contracts running the show, college sports will always be in a constant state of transition. The Big 12 might even add more schools in the future or they could lose some if conferences like the Pac-12, ACC or the Big Ten decide to expand.
But by adding the four schools, the Big 12 has finally gone on the offensive. That's a dramatic switch from the defensive posture of the past.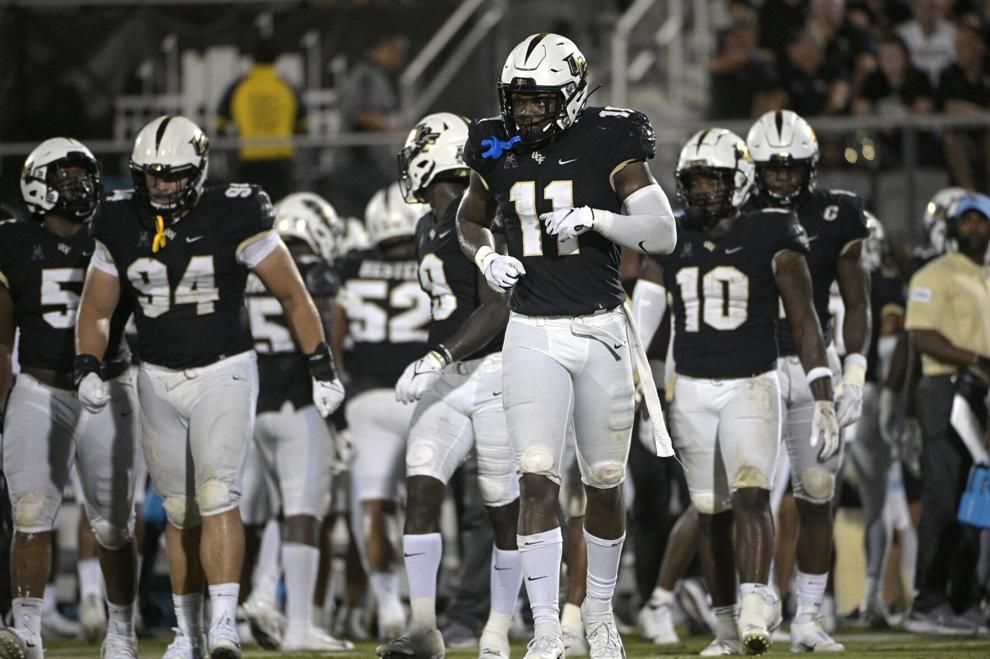 UCF Knights
Enrollment: 71,913 (fall 2020)
2020 record: 6-4 (5-3, tied for 3rd in American Athletic Conference)
All-time: 272-217-1 since 1979
Head coach: Gus Malzahn (First season)
Bowl appearances: 12 (last in 2020)
National championships: None (though UCF claims one from 2017)
Stadium: The Bounce House (48,000)
Did you know?: In 1996, UCF became the first college football program to field a team at all four divisions of NCAA football — NCAA Div. III, Div. II, Div. I-AA or FCS, and finally FBS.
What they bring: First off, know this: The Knights prefer to be known as UCF, not Central Florida, in much the same way TCU spurns the "Texas Christian University" label or KFC uses its acronym instead of Kentucky Fried Chicken.
Whatever you want to call them, it's been quite the royal ascension for the Knights, who didn't field a football program until 1979 — and that was in NCAA Div. III. That they're now ostensibly joining a Power Five conference, assuming the Big 12 can hang on to that designation, shows just how far UCF has traveled.
Over the past 15 seasons, UCF has legitimized its program on the national landscape. The Knights have tallied seven 10-win seasons since 2007, including three since 2017. That '17 season, of course, marked the high-water mark for the program, as the then-Scott Frost-coached Knights went 13-0 on the season. They were famously left out of the College Football Playoff, but won their Peach Bowl matchup against Auburn, and claimed a national title since Colley Matrix ranked UCF No. 1 in its final postseason poll.
Baylor fans aren't unfamiliar with UCF. The Bears and Knights met in the 2014 Fiesta Bowl, marking a transformative breakthrough for both programs, as the first New Year's Six bowl for both. Blake Bortles and UCF outgunned Bryce Petty and the Bears, 52-42, capping off a 12-1 season for the Knights.
For the Big 12, adding UCF adds the 18th-ranked Orlando TV market, but perhaps more importantly to the league's coaches, it may provide inroads to that state's fertile recruiting soil.
In sports outside of football, UCF has maintained strong success and won numerous conference titles. In 2019, the men's basketball team was just a layup away from knocking off No. 1 seed Duke in the NCAA tournament's round of 32.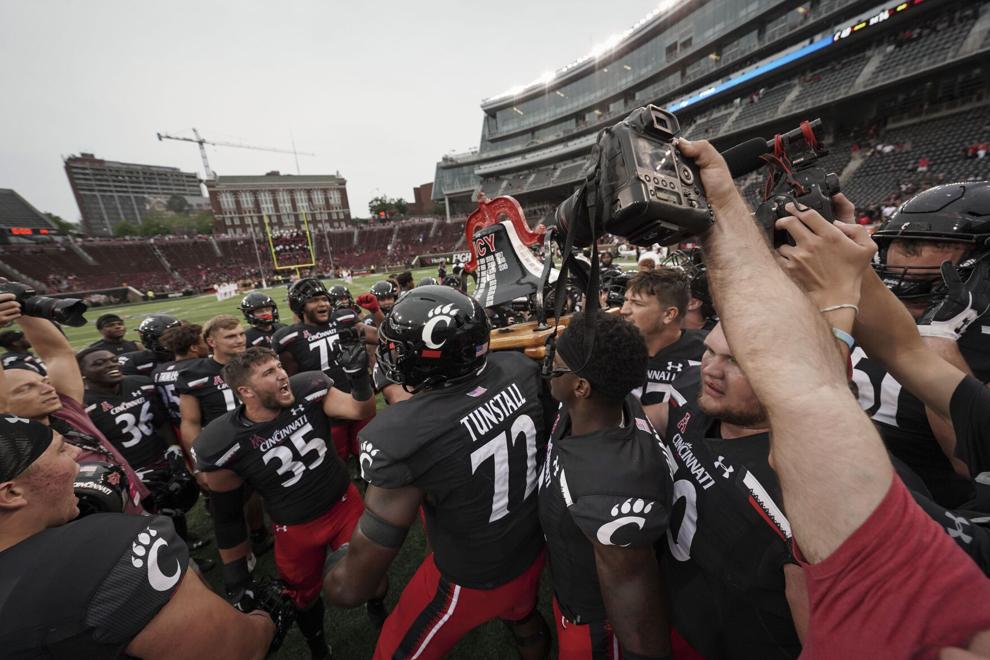 Cincinnati Bearcats
Location: Cincinnati, Ohio
2020 record: 9-1 (6-0, first in American Athletic Conference)
All-time: 638-594-50 since 1885
Head coach: Luke Fickell (Fifth season: 36-14)
Bowl appearances: 20 (last in 2020)
National championships: None
Stadium: Nippert Stadium (37,000)
Did you know?: Cincinnati boasts one of the country's oldest college football programs. Among FBS schools, only Rutgers (1869), Michigan (1879), Navy (1880) and Minnesota (1883) predate the Bearcats, who began play in 1885.
What they bring: Since the 2007 season, Cincinnati has upgraded its national pedigree. In that time frame, the Bearcats have won 121 games, including a school-record 12 in 2009, when they finished third in the then-BCS standings. Last year Cincinnati reached as high as No. 7 in the CFP rankings, a program best.
Even as unstable as the Big 12 has been in its history, the conference would provide Cincinnati with far more prestige than its past homes. The Bearcats have played in three different leagues in the 21st century alone, as they opened the 2000s in Conference USA before jumping to the Big East and more recently the AAC.
Of the four TV markets that the Big 12 is adding, Cincinnati is the smallest at No. 37 nationally, but that still would rank anywhere from fifth to eight in the new 12-team conference, depending on whether you consider Kansas and K-State staking a claim to the 32-ranked Kansas City market. It's also a venture into a football-mad state, and should give West Virginia a natural geographic rival following the Mountaineers' nine seasons as the league's resident hermit. Morgantown and Cincy are separated by "just" 308 miles, whereas the closest current Big 12 school to West Virginia is Iowa State, at more than 860 miles away.
Cincinnati's overall athletic program isn't exactly a powerhouse. The university finished 143rd in the 2020-21 Learfield Cup standings, ranking success in all sports. But it boasts a proud men's basketball tradition and has advanced to the NCAA tournament eight of the past 10 years. You've undoubtedly heard of many of the school's top players, including Nick Van Exel, Kenyon Martin and some guy named Oscar "the Big O" Robertson.
BYU Cougars
2020 record: 11-1 (Independent)
All-time: 594-428-26 since 1922
Head coach: Kilani Sitake (39-26 in six seasons)
Bowl appearances: 38 (last in 2020)
National championships: 1 (1984)
Stadium: LaVell Edwards Stadium (65,000)
Did you know?: From 1972-2000, LaVell Edwards led the Cougars to 10 wins in 10 different seasons, including the 1984 national championship team that finished 13-0.
What they bring: BYU has been the expansion jewel that's been sitting there for the taking for many years.
The Cougars bring a passionate fan base to 65,000-seat LaVell Edwards Stadium, named after the legendary coach who guided BYU to its only national championship in 1984 with a 13-0 record.
The Salt Lake City television market ranks 30th nationally, but BYU fans are scattered across the country since the university is by far the largest Mormon-affiliated college with 33,000 students.
The Cougars have produced numerous NFL quarterbacks over the years like Pro Football Hall of Famer Steve Young, Jim McMahon, Ty Detmer and most recently Zach Wilson, who was picked second overall in the 2021 NFL Draft by the New York Jets.
Baylor is extremely familiar with BYU since Dave Aranda hired former Cougars offensive coordinator Jeff Grimes and offensive line coach Eric Mateos to his staff this season after BYU ranked third nationally with 43.5 points per game last season. The Cougars finished 11-1 last season in Kalini Sitake's fifth season as head coach.
Ironically, the Bears will get a preview of BYU on Oct. 16 at McLane Stadium and are scheduled to play the Cougars in Provo in 2022.
In other sports, BYU has powerhouse volleyball teams as the men reached the NCAA championship game before losing to Hawaii during the past spring. The BYU women's volleyball team currently ranks 12th nationally. The BYU men's basketball team often flirts with the Top 25. In 2013, Baylor beat BYU in the NIT semifinals before winning the national championship with a win over Iowa.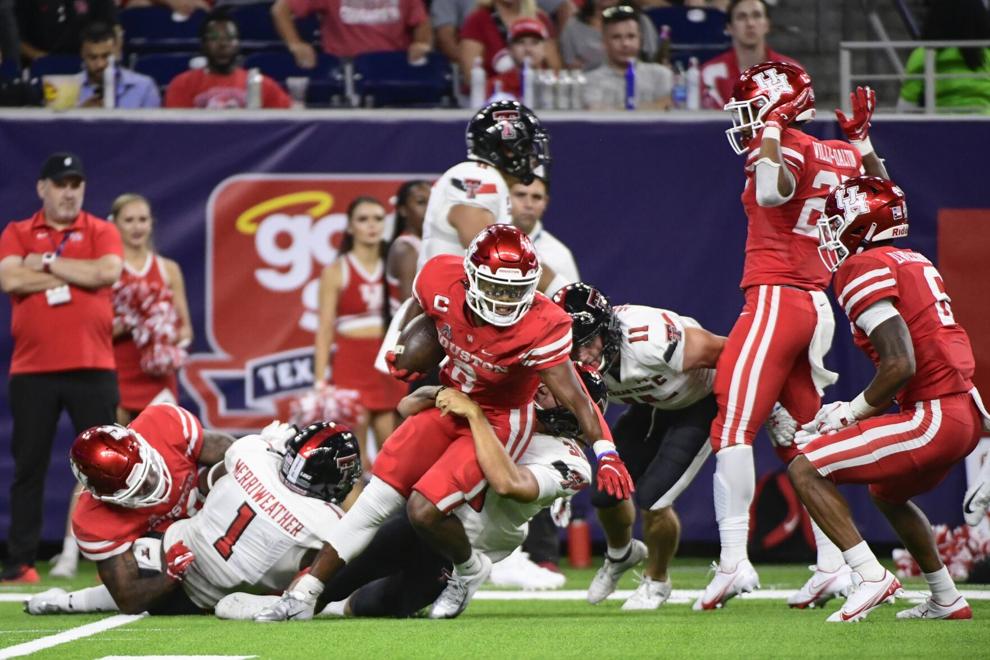 Houston Cougars
2020 record: 3-5 (sixth, 3-3 in the AAC)
All-time: 436-360-13 since 1949
Head coach: Dana Holgorsen (7-14 in three seasons)
Bowl appearances: 28 (last in 2020)
National championships: None
Stadium: TDECU Stadium (40,000)
Did you know? Left out of the Big 12 when the Southwest Conference disbanded in 1996, Houston will be the sixth former SWC school to join the league.
Success at Houston led to Art Briles being named Baylor's head coach in 2007 and Tom Herman becoming Texas' head coach in 2016.
The Cougars hope their transition to the Big 12 will be as successful as their debut season in the SWC in 1976 when Bill Yeoman's squad finished 10-2 and won the league.
Yeoman was the most successful coach in Houston history with a 160-108-8 record from 1962-86. But the Cougars didn't produce a Heisman Trophy winner until 1989 when quarterback Andre Ware won the prize.
Baylor and Houston often played tightly contested games with the Bears holding a 14-13-1 advantage. But they haven't played since Baylor blew out the Cougars, 47-7, in 1995, in the final SWC football season. A game between the two schools was scheduled on the fly last year in Waco, but it was canceled due to a COVID-19 outbreak at Baylor.
The Cougars had enjoyed six straight winning seasons before finishing 4-8 in 2019 and 3-5 last year under former West Virginia coach Dana Holgorsen.
In other sports, the Cougars men's basketball team returned to national prominence by reaching the Final Four in March where Baylor romped to a 78-59 win in the national semifinals. It was Houston's first Final Four appearance since reaching the championship game in 1984 during the Phi Slamma Jamma years.
Houston has also had a renowned track program over the years, producing legendary Olympic sprinter Carl Lewis.
Sports Editor Brice Cherry contributed to this story.