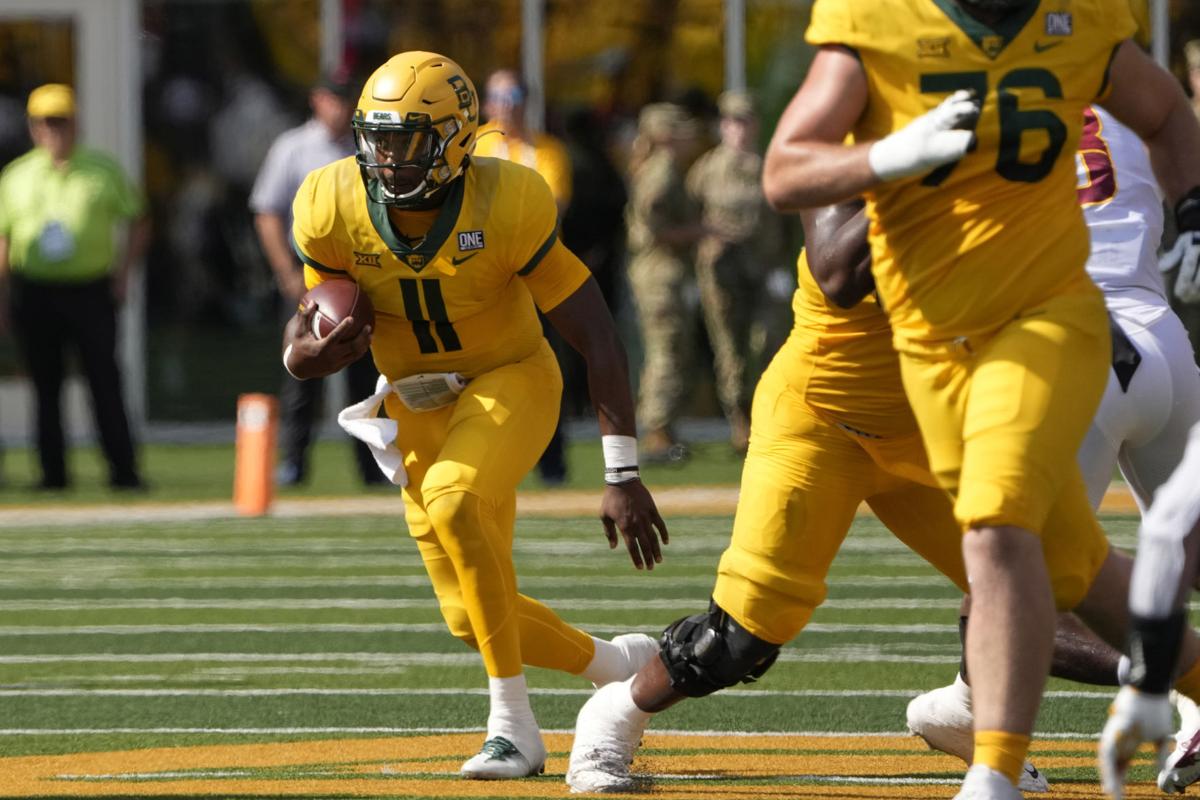 Since the Big 12's inception in 1996, Baylor's trips to Stillwater have historically resulted in lopsided losses.
Even in seasons when the Bears put strong teams on the field, they've been blown out by Oklahoma State on the road like a 59-24 loss in quarterback Robert Griffin III's Heisman Trophy winning 2011 season and a 49-17 loss in Baylor's first Big 12 championship season in 2013.
But after losing their first 10 Big 12 games in Stillwater, the Bears finally broke through with a 45-35 win in 2015 and a 45-27 win in 2019. So there's hope for Dave Aranda's crew in his first trip to Stillwater with the Bears.
No. 21 Baylor (+3.5) at No. 19 Oklahoma State
Heading into the season, few observers would have expected a Top 25 matchup Saturday night at Boone Pickens Stadium.
But the Bears broke into the rankings with a gritty 31-29 win over then-No. 14 Iowa State last weekend at McLane Stadium. Oklahoma State pulled out a riveting 21-20 road win at Boise State and then opened Big 12 play last weekend with a 31-20 win over Kansas State.
After averaging 323 yards rushing in the first three games, the Bears were limited to 118 on the ground against the Cyclones. Holding opponents to 87 yards rushing per game, the Cowboys will also be tough to run against, which will make it difficult for Baylor quarterback Gerry Bohanon in his second Big 12 road start.
Oklahoma State 24, Baylor 20
Texas (-5) at TCU
Casey Thompson showed he should have been Texas' starting quarterback from the start of the season as he threw for 303 yards and five touchdown passes in the Longhorns' 70-35 shellacking of Texas Tech last weekend.
Once an annual team strength, TCU's defenses have been slipping in recent years. In last week's 42-34 win over the Horned Frogs, former Midway quarterback Tanner Mordecai threw four touchdown passes. For the season, TCU ranks eighth in the Big 12 by allowing 25.7 points per game.
Wonder if TCU coach Gary Patterson will go on another rant if the Longhorns try to plant a flag on the Horned Frogs' turf after beating them?
No. 6 Oklahoma (-10.5) at Kansas State
Touted as a leading Heisman Trophy candidate at the start of the season, Oklahoma fans were chanting for quarterback Spencer Rattler to be benched after another unimpressive offensive performance in a 16-13 win over West Virginia last week in Norman.
But the bigger issue for the Sooners is an offensive line that doesn't push defenders around anymore.
The Sooners' defense will likely make the difference in another close win, but Oklahoma's offense doesn't scare opponents like years past.
Oklahoma 27, Kansas State 20
Texas Tech (+7.5) at West Virginia
For the first time in three games, the Mountaineers won't face a Top 25 team following a 27-21 win over then-No. 15 Virginia Tech and last week's three-point loss to then-No. 4 Oklahoma.
The Mountaineers' defense looks for real as it has allowed just 16.8 points per game.
The Red Raiders can score on anybody with running back Tahj Brooks and quarterback Tyler Slough providing tremendous offensive balance. But a Texas Tech defense that's allowing 33.5 points per game won't help their cause much in Morgantown.
West Virginia 42, Texas Tech 31
No. 8 Arkansas (+18.5) at No. 2 Georgia
The Razorbacks can now be crowned Southwest Conference champions after beating Texas and Texas A&M en route to their 4-0 start.
The Longhorns were ranked No. 15 heading into Arkansas' 40-21 win in Fayetteville while the Aggies were No. 7 before the Razorbacks pulled off a 20-10 win last weekend in Arlington.
The not so hidden secret to Arkansas' success has been an outstanding defense, but can it play at the same level against a Georgia offense that's averaging 42 points?
It's hard to imagine the Razorbacks shutting down the Bulldogs in Athens, but don't expect a Georgia blowout.
Last week: 3-2 overall, 1-4 against the line
Season: 15-5 overall, 9-11 against the line