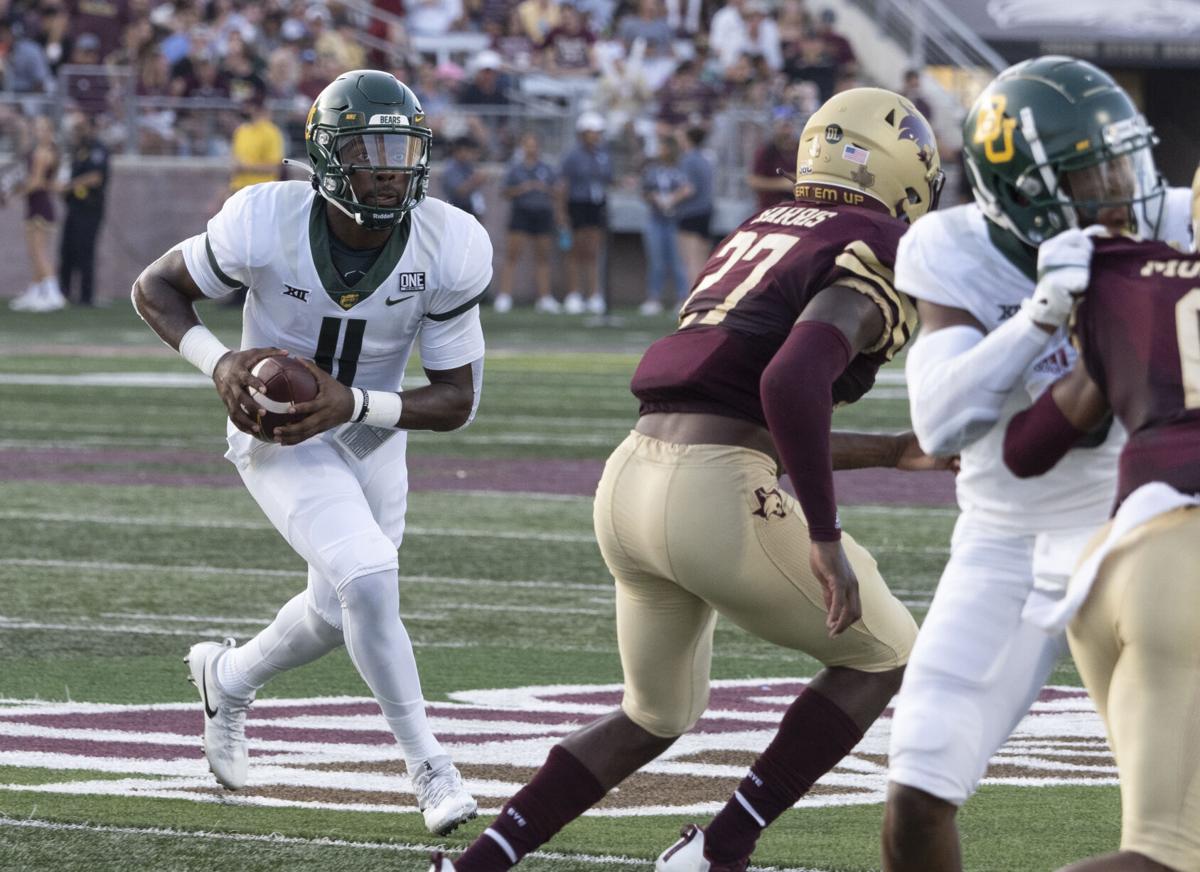 Baylor will play a SWAC team for the first time when Texas Southern rolls into McLane Stadium on Saturday night.
If that seems strange it's because Baylor basketball teams have played a ton of SWAC teams over the years.
Texas Southern certainly isn't at the top of the SWAC class. The Tigers opened the season with a 40-17 loss to Prairie View A&M and went 0-11 in their last full season in 2019.
Texas Southern at Baylor
The Tigers are the only FCS team on the Bears' schedule, so there will be no Vegas odds on this game.
Even more than putting up a W, Baylor coach Dave Aranda's biggest goal is to polish areas that need improvement following the Bears' 29-20 season-opening win against Texas State in San Marcos.
Since Baylor's Big 12 opener is only a week away against Kansas in Lawrence, the Bears want to keep gathering momentum.
Baylor 56, Texas Southern 14
No. 10 Iowa (+4.5) at No. 9 Iowa State
For the first time ever, the long-standing Iowa State-Iowa rivalry will be a top 10 affair, which means the intensity between the two schools will bump up a few notches.
The Cyclones will have to deliver a much stronger performance against the Hawkeyes, and a packed Jack Trice Stadium will help.
No. 15 Texas (-7) at Arkansas
Following the coaching misfires since Mack Brown's departure in 2013, first-year Texas coach Steve Sarkisian needed a strong opening game.
He got one as the Longhorns pulled off an impressive 38-18 win over then-No. 23 Louisiana. Redshirt freshman quarterback Hudson Card hit 14 of 24 passes for 224 yards and two scores while Bijan Robinson collected 103 yards on the ground.
Coming off an opening 38-17 win over Rice, Arkansas will be tough to beat in Fayetteville in this old Southwest Conference rivalry. The Razorbacks picked off three passes against the Owls, and they'll do everything they can to rattle Card.
Tulsa (+13) at Oklahoma State
Shane Illingworth threw for 315 yards and a touchdown, but the Cowboys' running game managed just 54 yards.
Tulsa got a dynamic performance from Deneric Prince, who rushed for 151 yards and a score. But two fourth-quarter field goals by Cal-Davis sealed the loss.
Both teams should step it up in their second game in a tightly-contested matchup.
California (+11.5) at TCU
It's hard to tell how good TCU is after a 45-3 season-opening win over Duquesne, a Pittsburgh school that isn't Pitt.
Max Duggan looked sharp as he hit 14 of 19 for 207 yards and a score, and TCU's defense limited Duquesne to 137 yards total offense.
Last week: 4-1 overall, 2-3 against the line