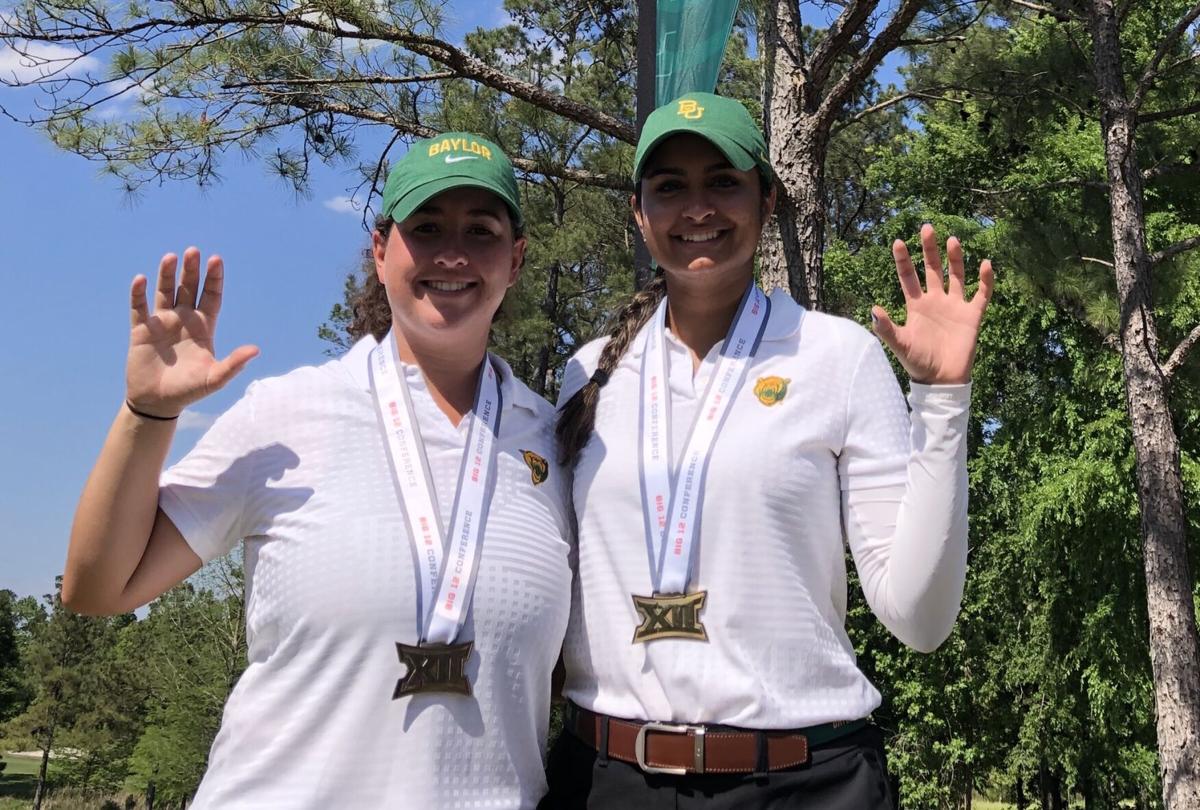 THE WOODLANDS — Both the Baylor women's golf team and star junior golfer Gurleen Kaur fell short in their quest for Big 12 titles Tuesday at the conference championship at Carlton Woods Fazio Golf Course. The Lady Bears finished third in the team race and Kaur, who led after rounds one and two, also finished third.
While not achieving their team or individual conference championship goals, Baylor coach Jay Goble's team still has much to play for, as they move into NCAA Regional play at the end of the month. They'll start play April 28 at one of four regional sites around the country.
"To get ready for regional and nationals, we have to ready to compete on tough courses against tough teams, and we will be ready. I can promise you that," Goble said.
Oklahoma State won the conference title in a historic runaway, finishing the three-day event with a team score of 830, beating the previous Big 12 record by 26 shots. In fact, the top five teams all scored better than the old conference record of 856 set in 2016 by Oklahoma State.
Baylor was third with a team mark of 847, Texas Tech finished second at 846. Oklahoma was fourth at 848 and Texas fifth at 854. Baylor's final round total of 282 tied for its lowest round of the week.
It was the second top-three conference finish for Baylor in the last three years.
"Oklahoma State played good and played aggressive all week long and it certainly paid off for them," Goble said. "They were the best team this week. Their score proved that, but it was nice to see some of our girls get some form this week and get ready for regionals."
Both Kaur, who had rounds of 66-69-70-205, and Baylor's Elodie Chapelet earned all-tournament honors by finishing in the top 10 overall. Chapelet tied for 9th at 73-68-70-211.
Baylor's Britta Snyder had rounds of 72-72-71 for a 215 total and a tie for 15th. Rosie Belsham was tied for 18th at 72-73-71-216 while Hannah Karg shot rounds of 74-75-72-221 to finish 30th.
Kaur entered the final day tied with Texas Tech's Gala Dumez and Oklahoma State's Isabella Fierro for the top spot in the individual title race. Dumez, playing in an earlier group, got off to a scorching start with a 31 on the front nine and took a three-shot lead at the nine-hole turn.
Kaur rolled in a nine-foot birdie putt on the 9th hole to cut the deficit to three shots and had a 10-footer No. 10 which barely missed that would have further trimmed into the lead.
Dumez ultimately won the first individual conference in Texas Tech women's golf history with a final-day 67 for a 202 total. Maja Stark of Oklahoma State shot 66 in the final round and finished at 204.
"The birdie on the 9th hole gave me some momentum, but I missed that putt on 10 for another birdie and missed some others which could have helped me," Kaur said. "I have a week left in school and exams, and then I can concentrate on of golf, for which I'm really grateful.
"We have a lot of golf left to play, but I feel like we're trending upward as a team."
She added birdies on holes 14, 15 and 17 to offset a double bogey on the par-4 13th hole. Kaur made a brilliant sand save on the par-4 18th hole to record a par and leave her optimistic for the rest of the season.
"I just had one bad hole (on No. 13), but played decent this week," she said. "We should still finish the season off on a good note."
Chapelet also birdied the par-5 17th hole and then rolled in a clutch two-putt on 18 to clinch all-conference honors.
"It was great to see Gurleen play well this week when she has been somewhat off her game lately," Goble said, "and Elodie finish in the top 10, where she should be with her talent."