It doesn't matter if you're sweeping up the dirt or packing the brooms away, Hayden Kettler is a guy you want working on Sundays.
After closing out sweeps for Baylor in each of the previous two weekends, Kettler helped the Bears stave off one in Sunday's series finale against No. 10 Texas. The senior pitcher cast an efficient tone from the outset in hurling the Bears over the Longhorns, 11-2, to salvage a win from Baylor's Big 12-opening series.
Who knows what it'll amount to in the final Big 12 standings, but Baylor (13-6 overall, 1-2 Big 12) counted it as a significant victory. Naturally, you never want to find yourself on the business end of an opponent's sweep.
"You look back during the season and you go, 'OK, this game should've been won, this game should've been won,' and the next thing you know it affects you going to Big 12 play, it affects you going into postseason play," Baylor coach Steve Rodriguez said. "That's one of the biggest things, every win is important. Every one of them counts.
"You want to make sure you take advantage of those opportunities to win. Whenever you can stave off a situation of getting swept, coming out and beating them up like we did today, 11-2, I think that's always a good sign for us."
Kettler (2-0) provided just what the Bears needed. The fifth-year right-hander worked quickly and pumped strikes into the zone, tossing 61 of his 78 pitches for strikes. He kept Texas guessing enough to open with four scoreless innings. He also didn't give the Longhorns any free samples, finishing with six strikeouts and no walks.
"We were just talking about it as coaches," Rodriguez said. "He faced 24 hitters and threw 23 first-pitch strikes. That's pretty consistent, and that's one of the things that he is. He's older, he understands who he is, he doesn't try to be anything more than he is. He understands that who he is can be successful, and he's the perfect guy for any team."
The word "closer" means something else in baseball vernacular, but among the starting rotation, Kettler might be the ideal weekend closer.
"Whatever day I'm pitching, I take the same mindset into the game," Kettler said. "But to go out there on Sunday, a lot of times it's been a long weekend and it's kind of hard to get yourself and the team up and ready to go. But I've been here for five years. I know how important every game is. I think it pays off well to have a guy like myself, who's been around for a while and can bring some energy, get guys to lock in and realize that we've still got to show up and we've still got to win this game."
This game could go down as the dictionary definition of "much closer than the final score might indicate." Baylor clung to a 5-2 lead after six innings, but popped the top on the blowout with a six-run seventh.
In that outburst, the Bears played pass the bat perfectly. They bashed four UT pitchers for six hits in the inning, scoring on RBI singles from Kyle Nevin and Tre Richardson, consecutive doubles from Esteban Cardoza-Oquendo and Chase Wehsener, and a Davion Downey sacrifice fly.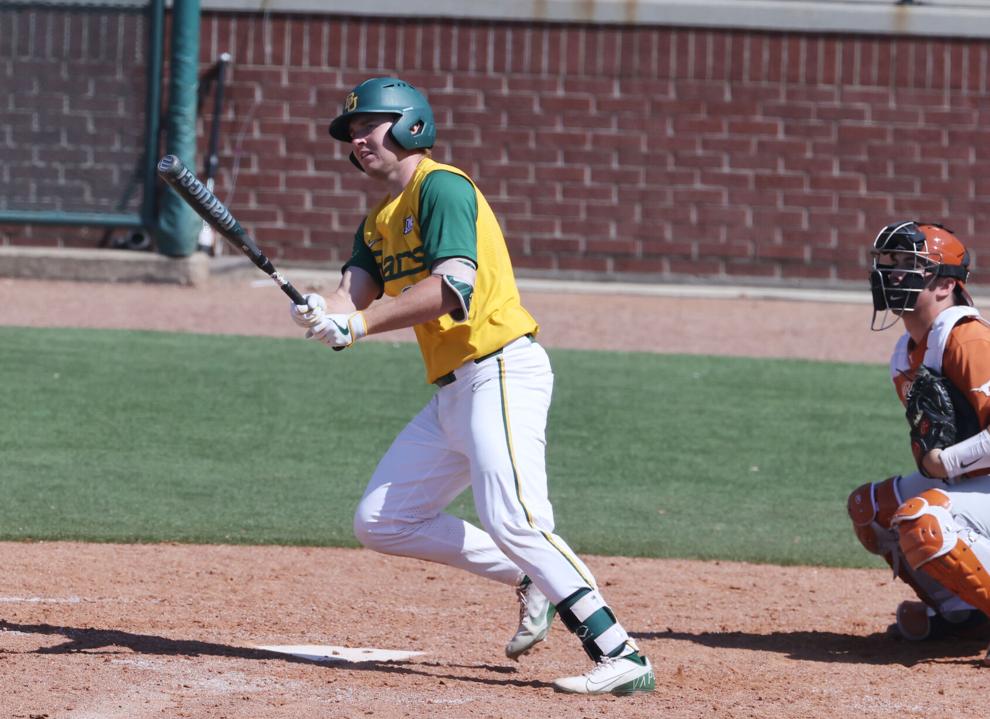 As all the K's in his name might suggest, Texas starter Kolby Kubichek (2-2) carried a well-earned reputation as a strikeout artist into the game. His average of 12.5 strikeouts per nine innings ranked as the fourth-best rate in the conference. But Baylor's batters took a selective approach to their at-bats, and worked the count to their favor.
They jumped on Kubichek for two runs in the first, as freshman designated hitter Cade Currington produced in a two-out RBI situation after that had been lacking in Baylor's first two games. Currington curled a two-run single into right field, staking the Bears to a brisk 2-0 lead.
"I thought our offense did a great job," Rodriguez said. "We knew (Kubichek) had a really good changeup, and he was going to be tough against lefties. So we put Cade Currington in there at the very beginning because he always takes really good swings, and he has a good opportunity. He stays on plane really well. His swing would actually do really well on that changeup. First thing, he smashes a ball to right, we get a couple of runs, and that's kind of the tablesetter for us."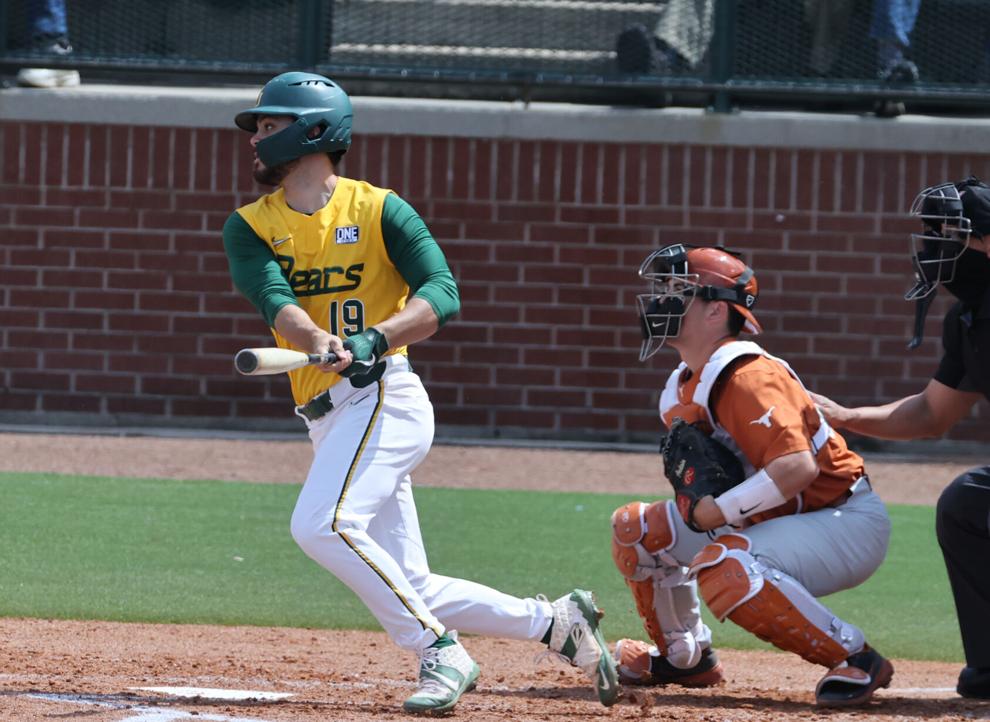 Baylor opened up a 5-0 lead after four innings, scoring on a Nevin sac fly in the third and a bases-loaded grounder from Richardson in the fourth that allowed two runs to score when the Horns' double play-attempting throw to first skipped in for an error.
Texas (14-6, 2-1) busted up Kettler's shutout bid in the fifth, as Cam Williams deposited a two-out RBI single to right to cut the deficit to 5-1. The Horns added an unearned run an inning later courtesy of a sacrifice fly following a BU error. But Kettler and relievers Logan Freeman and Luke Boyd held Texas in check the rest of the way.
Andy Thomas continues to wield a hot bat for Baylor, as he went 3-for-4 with three runs scored and an intentional walk to raise his season batting average to .390. When Thomas is really locked in, he sprays hits to all fields like an oscillating sprinkler, and that was the case against Texas. He tagged singles to left, center and right over the course of the game.
Playing catcher, Thomas took a foul ball off the helmet with Texas down to its final strike in the ninth and left the game. But Rodriguez deemed it just a precautionary measure, and expected Thomas to be OK.
With the series complete, Baylor wraps up its 13-game homestand that yielded an 11-2 record for the Bears. They'll travel to play UT-Arlington on Tuesday.