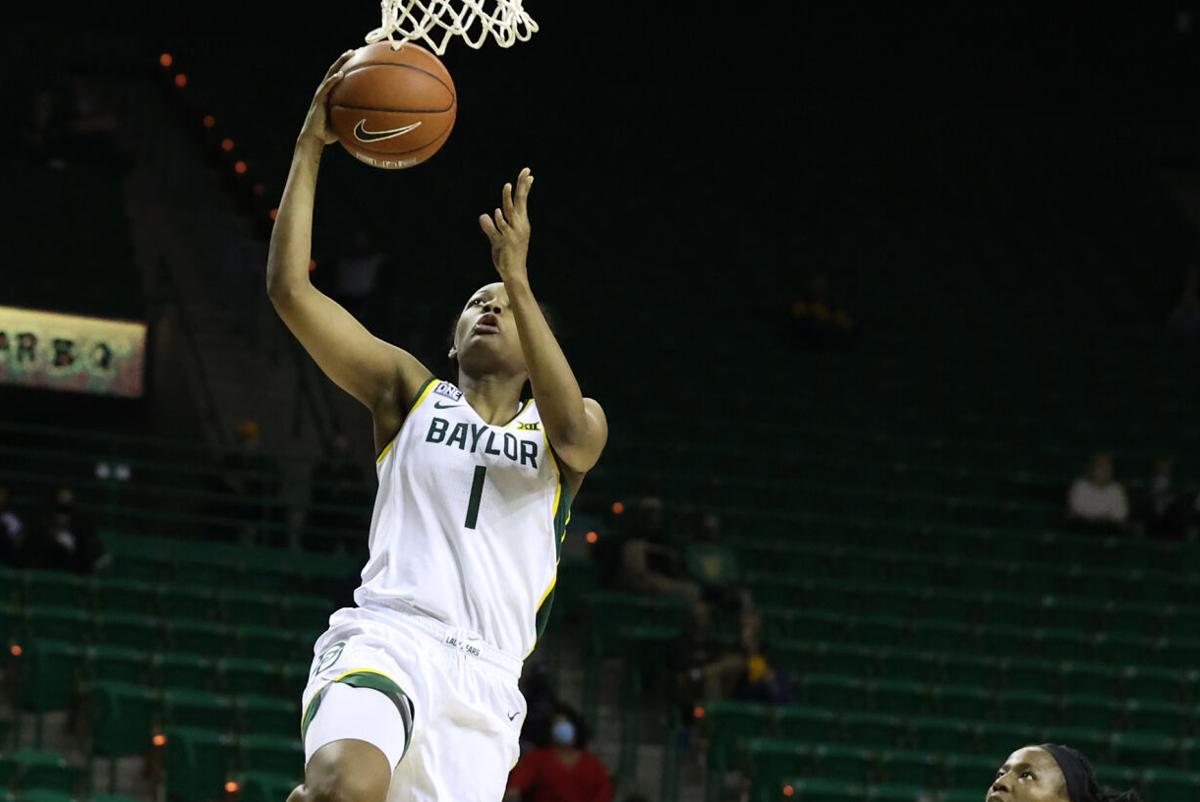 The Baylor Lady Bears' 2020-21 season has started.
It might look a lot different, both because Baylor has entered the post-Kalani Brown/Lauren Cox-era and, well, everything looks different in the COVID-19 season.
But the results were familiar to Lady Bears fans on Wednesday night as their team dismantled Central Arkansas, 82-37, at the Ferrell Center.
Baylor is still the defending national champions since the 2020 NCAA Tournament was canceled by the coronavirus. There are some holdovers from the 2019 title team, most notably junior forward NaLyssa Smith.
And Smith certainly made her presence known. Despite a slow start shooting the ball, Smith finished with 27 points, 15 rebounds and four blocks to lead the Lady Bears in all three categories.
Smith made 6 of 12 field goals in the second half to beef up her shooting percentage to 32% for the contest.
"Coach told me to do different things, like rebound, pass the ball, just do things that I do naturally," Smith said. "Once I got into the groove of things, it was easy to come out of that."
One thing that helped was that Smith was much more consistent from the free-throw line. She tossed in 13 of 15 from the stripe.
"I feel like that's what really kept me in my motion," Smith said. "Free throws are so important. I try to get to the basket a lot, so that's why I really focus on, making free throws."
Junior forward Caitlyn Bickle was a bit player on the national title squad two years ago, but she's looking more like a central character this season. Bickle began the campaign by scoring 14 points and grabbing 11 rebounds for a double-double of her own.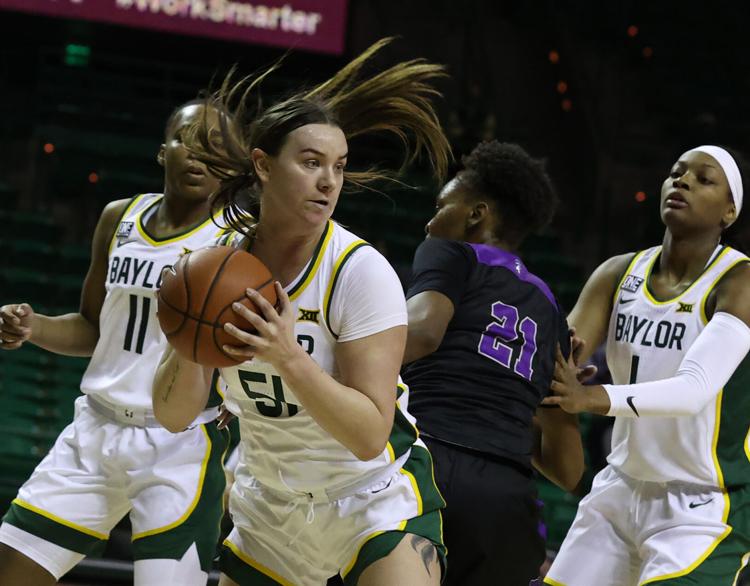 "It's not surprising to us," Mulkey said. "What you didn't see tonight is she can shoot the perimeter 3. We used her some at the (wing) tonight, because we only have nine players right now. When DiDi comes back, she may have to go out there and I I may have to go to a big lineup and use her as a 3-point threat. But, that's what we see every day from Bickle."
Then there's the traditional Baylor defense, which was present for the season opener. The Lady Bears held Central Arkansas to 19.7% shooting from the field. That was a big reason why the Sugar Bears (0-1) were held below 40 points.
The Lady Bears (1-0) owned the third quarter as they extended a 14-point halftime lead to 33 entering the fourth.
Bickle had back-to-back baskets and Smith nailed a jump shot to finish off Baylor's 11-2 run to start the second half. Later in the period, Carrington hit her first 3-pointer as a Lady Bear to double up the Sugar Bears, 52-26.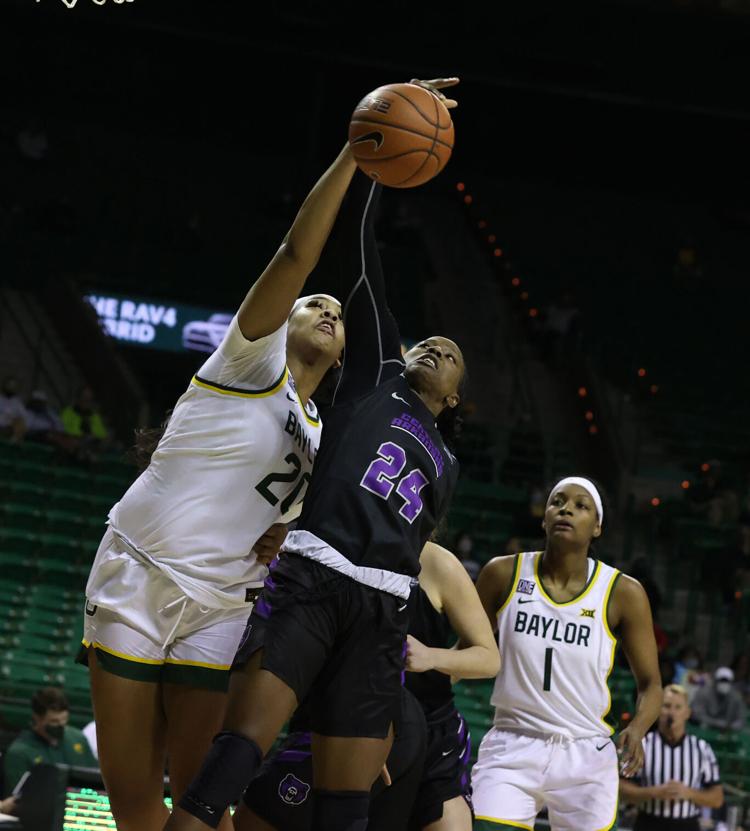 Lady Bears freshman center Hannah Gusters got comfortable in the third quarter, putting in a couple of interior baskets and a free throw. She finished with 11 points, two rebounds and an assist in 23 minutes of action.
Baylor shook off a sluggish start on the offensive end by buckling down and playing the Lady Bears' signature tough man-to-man defense.
The Lady Bears missed their first three field goal attempts and their first two from the free-throw line. That allowed Central Arkansas to lead 2-0 until Smith made a pair of free throws with 6:36 remaining in the first quarter.
Baylor took control by holding Central Arkansas at two points for the first six-plus minutes of the contest.
In that time, the Lady Bears surged ahead 13-2.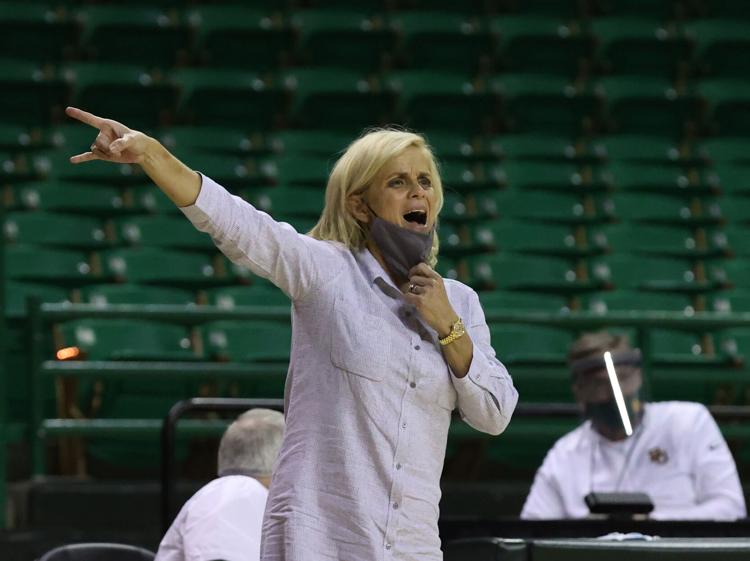 DiJonai Carrington, a graduate transfer from Stanford, registered her first Baylor points in style as she went to the basket for a layup, got fouled and completed the 3-point play to cap the 13-0 run.
Carrington was also in on the play that signaled the height of the Lady Bears' first half. On a fast break, she floated a pass into the paint for Gusters, who finished the break with a layup. That basket put Baylor in front 20-6 with 15 seconds left in the opening quarter.
The Lady Bears finished the first quarter on a 7-2 mini run and began to get into their defense-to-offense mode. But Baylor struggled to find that same groove in the second quarter.
Finally, late in the second, Baylor reestablished the 14-point margin it gained earlier when Moon Ursin drilled a 3-pointer from the left baseline. That was Baylor's only trey of the first half, but it gave the Lady Bears a 34-20 lead going to the break.
Smith made just 1 of 10 field goals in the first half, but she made all eight free throws she shot to lead Baylor with 10 points at halftime.
BEAR FACTS: The Lady Bears wore shooting shirts supporting teammate DiDi Richards, who is recovering from a Spinal Cord Injury Without Radiographic Abnormality (SCIWORA). Richards collided with teammate Moon Ursin in practice on Oct. 24 and has been rehabbing since. She used a walker for several weeks, but has since advanced to the point of doing basketball drills. Richards participated in the afternoon shootaround on Wednesday afternoon, dressed in her uniform for the game and went through pregame warmups. … Shortly before tip-off on Wednesday, Baylor announced that its Friday game against Northwestern State has been rescheduled for Dec. 18 due to COVID-19 issues at Northwestern State.