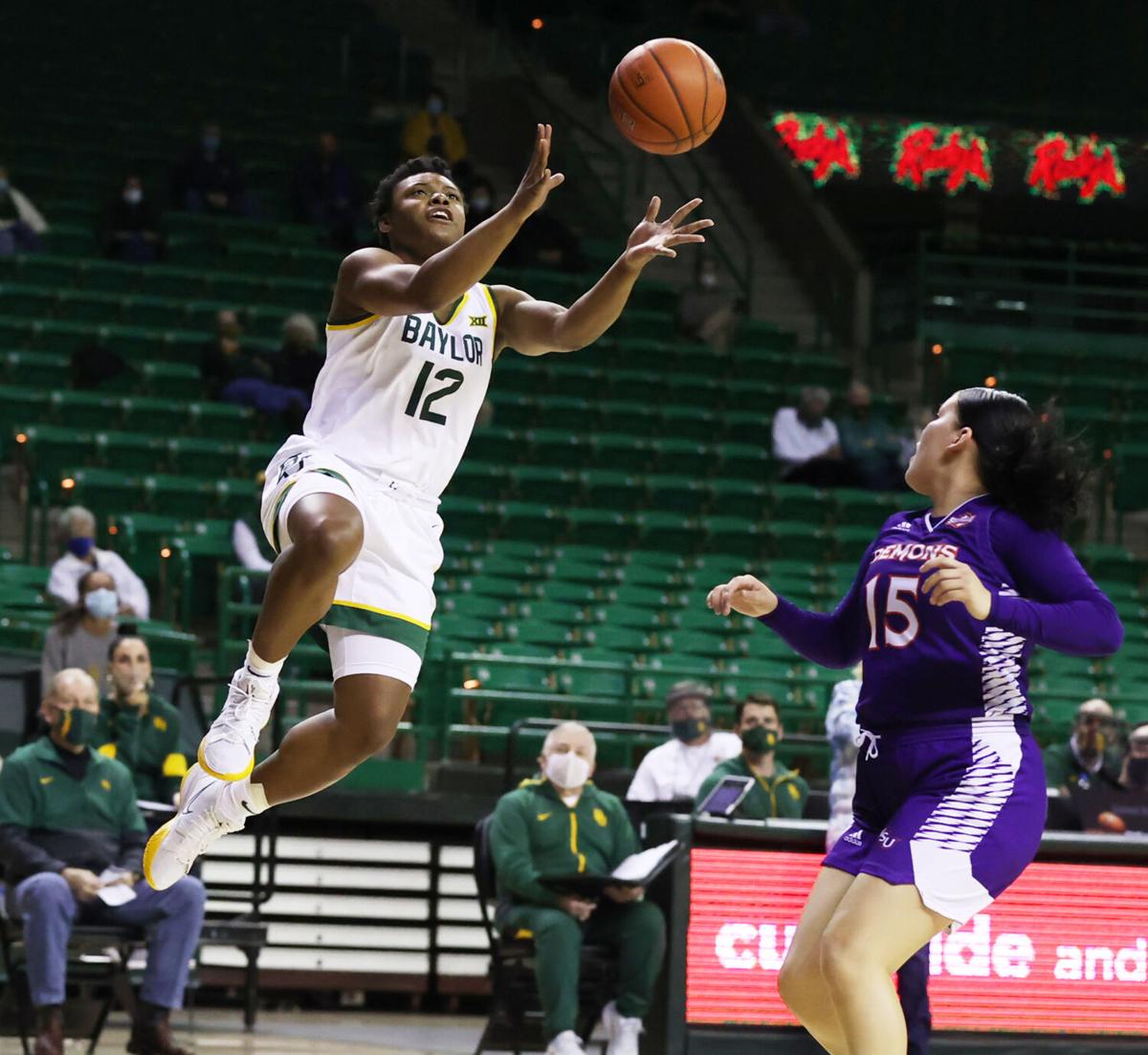 Moon Ursin brings a lot to the basketball court as a player.
She can beat just about anyone down the floor on a fast break and be counted on to finish the layup. That means, on the flip side, she can chase down an opponent and wipe out a fast-break layup with a block.
In the half court, Ursin can score on all three levels as she's a proven 3-point marksman (35% for her college career). Baylor women's basketball coach Kim Mulkey praises Ursin's mid-range game. And, of course, she has the quickness to drive to the basket. Defensively, she's quick and smart, which isn't a great combination for Lady Bear opponents.
While Ursin's basketball qualities are impressive, her approach to life is even more admirable.
Somehow, she's able to look at this virus-affected season and see positives. Ursin is a full-time starter for Baylor for the first time in her career and she's showing she deserves it by producing career-best numbers in all major offensive and defensive stat columns
"It's paying off," Ursin said. "There comes a point when you stop believing in that. Because when? When is it going to pay off? I've been through it and I can say, 'You and you and you were right.' I stayed the course. I'm excited and I'm blessed to be in this situation."
If you know Ursin's story, you know that statement shows dogged determination to be joyful.
Pandemic hits home
The COVID-19 pandemic brought more heartache to Ursin and her family than most.
A year ago, Ursin was logging about 15 minutes a game as a key reserve on a Lady Bears team that had a pretty good chance to defend its 2019 national championship. Even better, the Final Four was scheduled to be played in her hometown of New Orleans. She and Mulkey were hoping for a grand homecoming.
That didn't happen, obviously. The national response to the novel coronavirus caused the NCAA to cancel its annual men's and women's basketball tournaments. The Lady Bears, like so many teams across the country, went home with lumps in their throats and tear tracks on their faces.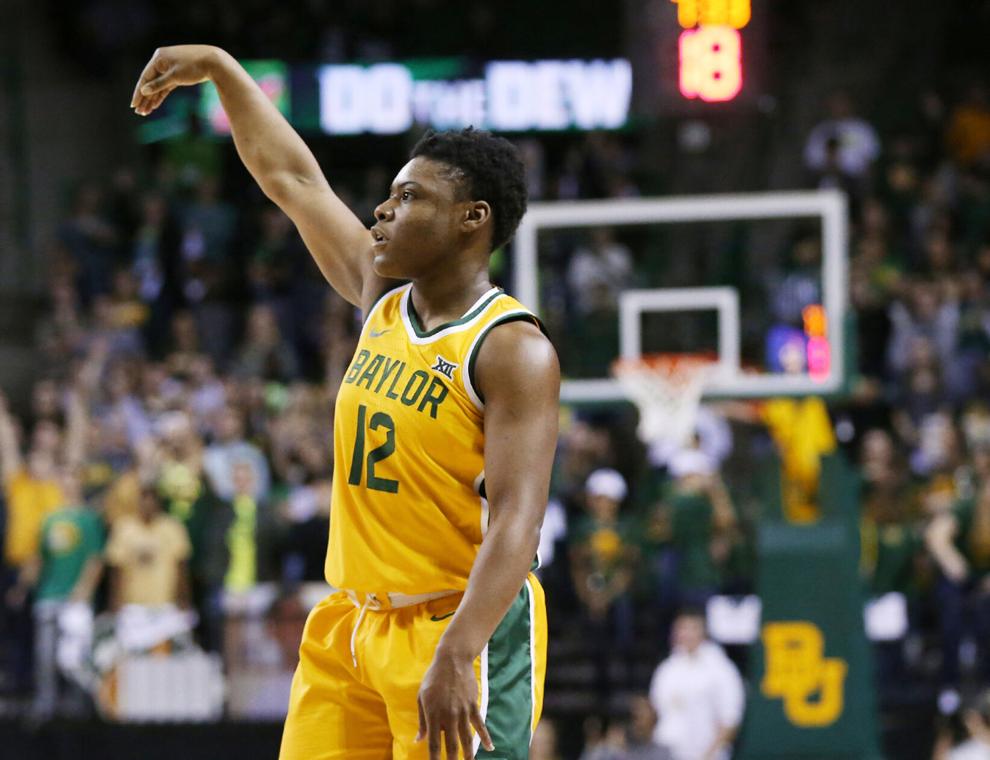 Back home in Louisiana, Ursin's spring got much worse when her grandmother Ruby Alexander died after contracting COVID-19. Ursin was very close to her grandmother and had just hosted her on Family Night when the Lady Bears defeated Kansas State in late February.
Alexander, who was 79, had her life cut short in early April, just as the nation was grappling with the realities of the pandemic.
"COVID has shut so many things down, but for me it's something I can't get back," Ursin said. "You can reschedule a game. But I can't get my grandmother back. This thing that came out of nowhere, I was one of the unfortunate ones to have it hit home for me."
When sixth-ranked Baylor had to restrict team activities and cancel its game versus No. 3 Connecticut last week due to COVID-19 issues, Ursin was disappointed. But persevering through a week without games was nothing compared to what she's already experienced.
"When people talk about COVID, I don't worry about basketball," Ursin said. "I don't worry about games getting canceled. I go straight to thinking about my grandmother and the health of my family. It's super hard for me. Hearing people be insensitive and joking about it, it's annoying. It's not done on purpose. But it is what it is. I cope with it and deal with it in my own way. I'm here and I'm moving forward."
It's no surprise, then, that when the first signs of Baylor's current interruption came on Jan. 2, Ursin took charge.
The Lady Bears had to play at TCU without Mulkey on the bench. At that time, contact tracing meant that Baylor's Hall of Fame-bound coach had to stay home. Mulkey watched from afar as Ursin played perhaps the best game of her college career so far. Ursin, a senior guard, never left the floor during the Lady Bears' 74-50 victory over the Horned Frogs. She came close to a triple-double with 21 points, 10 rebounds and seven assists.
Ursin was unstoppable for stretches of the TCU game.
"She is playing with the confidence you hope all seniors play with," Mulkey said. "She certainly has done it the right way — patient, stayed hungry and when given the opportunity, she has taken advantage of it."
The stat sheet contains cold, hard evidence of Ursin's improvement during her senior season. She's averaging 9.1 points, 5.6 rebounds, and more than 26 minutes per game, all of which are almost double her previous career highs. Ursin's 4.6 assists per game are more than triple her career average entering this season.
Some fans might look at a student-athlete's progression and think it's normal to step up to more and more playing time from freshman, to sophomore, to junior and finally to her senior season. But on the inside, it's a difficult journey.
Learning by watching
Ursin scored more than 27 points per game as a senior at Destrehan High School and was a three-time all-state player in Louisiana. She probably logged more bench minutes in the first week of her freshman season at Baylor than in four years of high school.
She said she knew coming to an elite college program would mean scratching and clawing for playing time. That struggle takes on a new meaning now that she is on the senior side of it.
"I think it's different when you're given legit, solid, consistent minutes," Ursin said. "I was in the game (during her first three seasons with the Lady Bears). But it's different when you are in the game."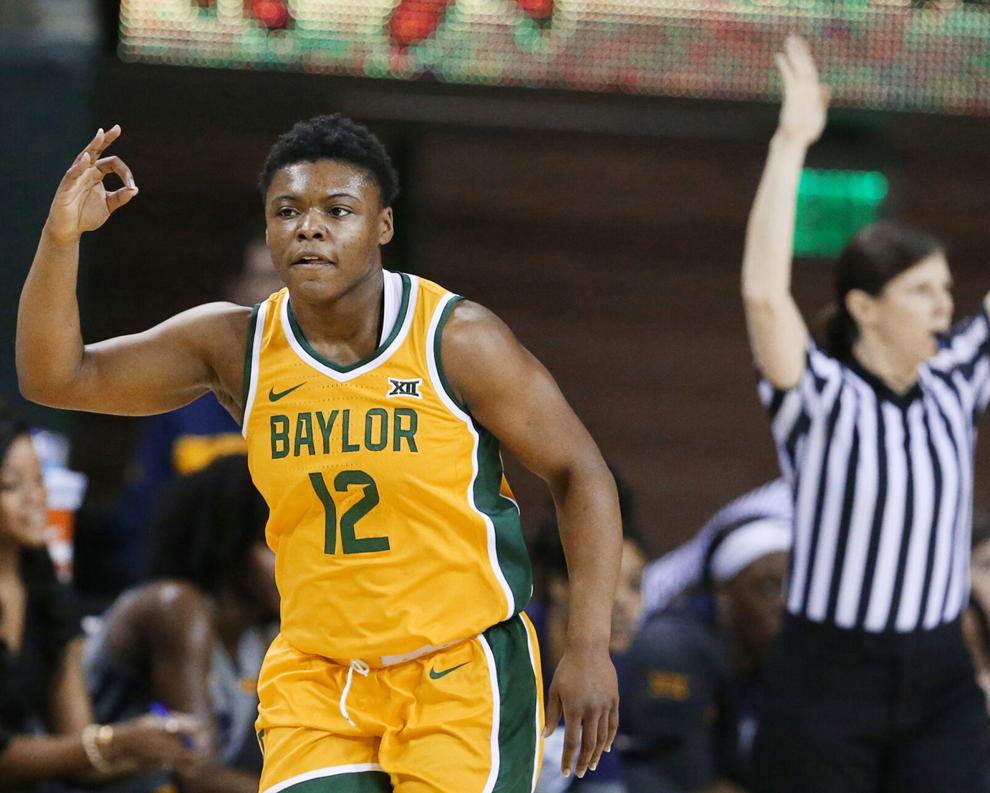 Three years ago, homesickness alone almost caused Ursin to pack up and head back to Louisiana. But she stayed the course and excelled in basketball and the classroom.
In December, Ursin graduated with a Bachelor's of Science degree in education with a focus on kinesiology. Somewhere down the road, after basketball, she plans to pursue nursing and pediatrics.
The achievement of graduating brought happy memories of her grandmother.
"She would be so proud," Ursin said. "I know she would. Before she died she told me, 'Don't worry about it, I'll be there to see you walk across the stage for graduation' and that continues to replay in my head. Physically she wasn't here, but I know she's watching and she's smiling down on me."
Ursin has become a fan favorite during her Baylor career. Her 3-point shooting, athleticism and hustle solidified that. And yet it's difficult to define the overall impact she has had on the Lady Bear program.
With Ursin, there are as many intangibles as there are statistics.
"We all need to care and love like Moon does," Mulkey said. "She will go down in history of our program as one of the all-time favorite players — the fans, the community and young people just love her."
It's difficult to predict what kind of twists and turns the remainder of this college basketball season will bring. The Lady Bears have already endured a couple of trials with the current gap between games and the scary collision between Ursin and senior teammate DiDi Richards back in October. Ursin sustained a concussion and recovered in a little more than a week, a fact that was overshadowed by Richards' longer road back from a spinal injury.
Richards suffered a Spinal Cord Injury Without Radiographic Abnormality. She had to use a walker as her leg muscles recovered from a brief paralysis. But the two Baylor seniors, both of whom contributed to the 2019 national title, were back on the court together by early December.
They have contrasting style. Richards is bubbly and loud while Ursin is quiet and focused. But both are intense.
The Lady Bears can count themselves fortunate to be walking into the unknown with Ursin at the forefront.
"It was a new world for all of us last year," Ursin said. "We have to learn that things aren't perfect all the time, or thing aren't always ok. You don't get used to it, but you learn how to handle it. You learn how to get around it. You learn how to go through the situation. I think that's what we've been doing together. We're building and getting stronger."
BEAR FACTS: Along with the cancellation of the Connecticut game on Thursday, the Lady Bears game versus Kansas State, originally set for Sunday, has been postponed. Baylor is currently scheduled to resume action at Kansas on Wednesday. The Big 12 and Baylor will likely make an announcement on Monday as to whether the Lady Bears-Jayhawks game will go ahead as scheduled.