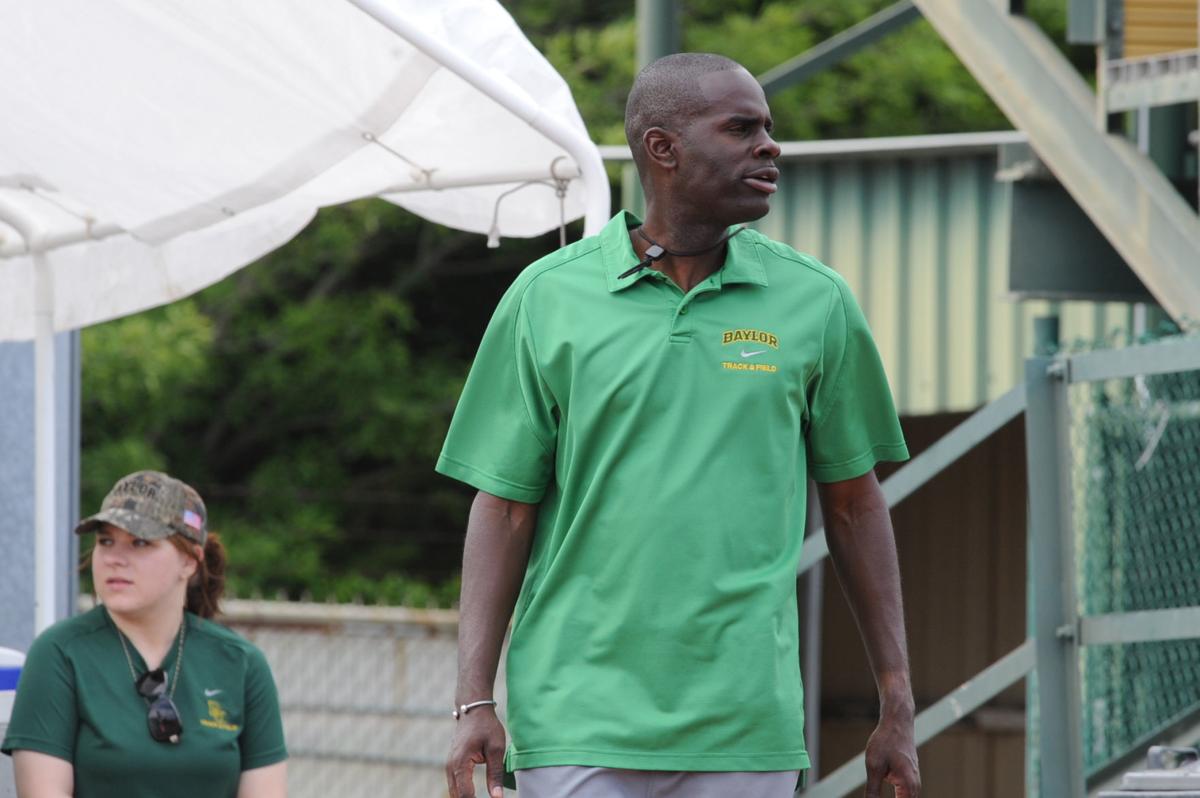 Good thing for Baylor that Michael Ford didn't let a disappointing recruiting visit keep him from signing with the Bears.
Back when Baylor track and field was recruiting Ford out of Rochester, New York, in the mid-1990s, he used one of his official visits to come to Waco and check out the campus. The first impression left a lot to be desired.
Ford arrived in mid-November on a cold, wet weekend. Strike one. He was supposed to go to a basketball game at the Ferrell Center, but a gas leak in the arena prevented that from happening. Strike two. His host for the visit, Corey Williams, wasn't much of a social butterfly, so the guys stayed in, watching movies at Williams' place. Strike three, right?
No, not really. Ford had the foresight to look past the bad weather, the gas leak and the movie marathon. He recognized Baylor's potential. He connected with then-BU head coach Clyde Hart. He appreciated the family vibe.
To this day, he still appreciates it.
"One of the big things that attracted me to Baylor and probably the thing that has kept me at Baylor is the family atmosphere and aspect of Baylor," Ford said. "Our athletic department, even though we've had a lot of changes since I've been here, everyone from Day One has been on the same page and wanting to be successful. I see myself and Coach Stacey (Smith) and even (men's basketball assistant Jerome) Tang, (basketball strength coach) Charlie Melton, those guys have been good influences on me too, because we all have had opportunities to probably leave, but I think the family part of it (keeps us here)."
Ford is now 20 years into his tenure as an assistant coach for Baylor track and field, including the past three years as the associate men's head coach. Apparently time flies when you're a former national champion sprinter.
Funny thing is, Ford never envisioned himself coaching when he was in college. He studied business at Baylor, and after college he took a job in the marketing and research department of a law firm in his hometown of Rochester.
Detours happen, though. It's been that way all his life. Ford's first athletic love was basketball. He played hoops every chance he could get, and only joined the track team at the request of his seventh grade coach.
"Then going into my 10th grade year, my club coach Cedric Walker was like, 'Hey, why don't you run summer track and give up basketball for the summer?'" Ford said. "Long story short, I did summer track and fell in love with it. He said, 'Man, you can be really good if you stay with it.' So I kind of gave up on my basketball dreams and started running indoor track more."
That turned out great for everyone except the other sprinters in New York. Ford finished second in the state in the 400 as a junior, then improved to win the state title his senior year. He also captured an AAU crown in the event. The college offers picked up in earnest.
Ford's visit to Baylor underwhelmed on the surface, due to the aforementioned hiccups. When he returned home to New York, he told his mother about the strange weekend.
"She said, 'Well, we can X Baylor off the list.' I said, 'Nah, I think I'm going to go there,'" Ford recalled.
Turned out Ford was impressed with Baylor's business school. Even more so, he noticed the family spirit on the team, something he craved. And his conversation with Hart sealed the deal.
"We really didn't talk about track so much. We just talked about him trying to develop me as a man, going from a high school kid to a man in college," Ford said. "I use this to this day even when I recruit kids. One thing Coach Hart never did, even during my recruiting process, was that he never promised me I would be a national champion. He said, 'Hey, my job is to get you better on the track. What that is, I don't know yet. You can be a conference champion, you can be a national champion, but at the end of the day I'm going to make you a better man when you leave here.' So for me, that was probably the most important thing and the biggest reason why I chose Baylor."
Then Ford added with a laugh, "The full scholarship helped, too."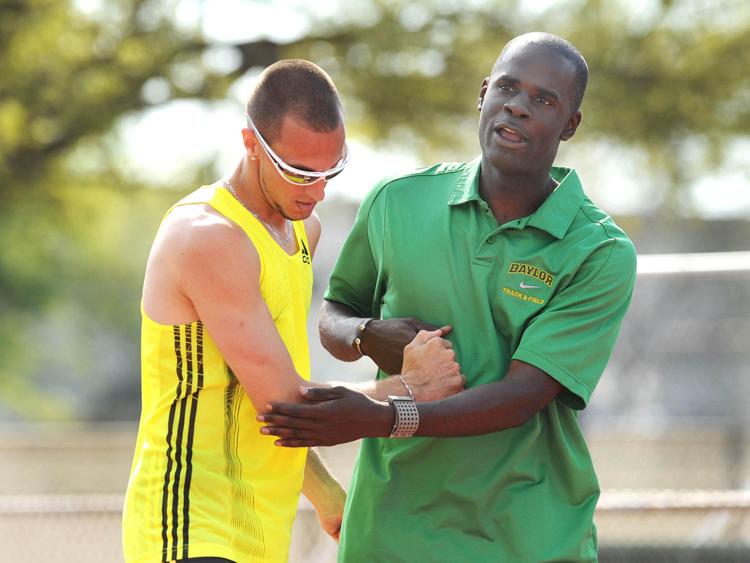 Ford found everything he had been searching for at Baylor. He made lifelong friends, a brotherhood as he called it, with teammates like Tony Miller and Deon Minor and Raoul Howard.
The competition side of it worked out nicely, too. Ford burned up the track as the best leadoff 4x400 leg in the country. In his junior year of 1995, Baylor went undefeated in the race all year, save for a slip-up at indoor nationals where the Bears turned in a flat race in the semifinals and ended up in the slow heat for the final, finishing fourth overall.
"That just motivated us more," Ford said.
During the outdoor season, Ford and his teammates Howard, Williams and Minor broke the school record in the 4x400 at a meet in Arlington. They won Texas Relays, won the Southwest Conference title, broke their own school record by clocking 3:00.60 in the national semis, then seized the NCAA title a day later.
"That year was probably the most fun," Ford said. "Winning conference, going undefeated the whole season except that one little blemish. Technically we didn't lose to anybody that year, we just lost on time. Those are probably the memories, but the brotherhood with those guys was most important for me."
After graduating Baylor, Ford returned home to Rochester and entered the business world. He still wanted to keep in shape, so he'd head over to the track at the University of Rochester to run regularly. That's where his coaching career found its entry point.
"Coach Tim Hale, he was the coach at the time at the University of Rochester," Ford said. "I was jogging on the track, getting ready to warm up, and he said, 'Hey, Mike, I need a huge favor.' I said, 'What's that, Coach?' He said, 'I need you to coach my sprinters and my hurdlers for the year.' I was like, 'What? Coach, I've never coached track. I'm sure I can run, but not sure if I can coach it.'"
Hale told Ford to give it some thought. He did, even calling several coaches he knew to gauge their opinions, including Hart, his old coach at Baylor. In the end, he decided to dip his toe into the water.
"Then I said, 'Hey, I'll give it a shot. What can it hurt?' I actually did it part-time," Ford said. "Still worked at the law firm from 9 to 5, and went to practice after that. I started enjoying it pretty quickly."
Ford spent three years at Rochester, helping the Yellow Jackets establish eight school records in the sprints and relays. Then Hart called and offered him a job at his alma mater.
How could he say no to that? Spoiler alert – he didn't.
"I've always thought I would move back to Texas, just because I love Texas," Ford said. "I like the weather a lot more than New York, and of course all my college friends were there. The majority of them were from Texas. But the opportunity to be able to come back, most people when they do have an opportunity to go back to their alma mater to coach, for me it was like, this is a no-brainer. I'm going to do this."
Early on, Ford found himself back in school to a certain extent. He had basically enrolled in a coaching class, under the guidance of a master professor in Hart.
"My first two or three years at Baylor I was kind of just holding a stopwatch and learning from Coach Hart," Ford said. "As I think about it now being a little bit older, I think that was probably the best thing for me. Then I could see what he was doing and be a second pair of eyes for him."
In time, Ford gained more responsibility. Baylor sent him out on the road recruiting. It expanded his role, allowing him to oversee the sprinters, hurdlers and relay teams. He has witnessed numerous successes over the years, including Trayvon Bromell's rise as the top college sprinter in the nation during his blistering two-year run in Waco.
"When I actually started coaching and recruiting, just to see kids like Darold Williamson and Tiffany Townsend and Tiffani McReynolds and Trayvon, Trey Harts, Reggie Witherspoon, guys like that, come to Baylor, have some success, graduate and be successful human beings," Ford said. "Some of them have families now, a couple of them are still running. But to see that, the things that I value, the family part, the getting an education part, and being successful on the track part, seeing all those guys and girls do that and still able to talk to them today, to continue the relationships I have with them now, that's probably the most gratifying thing to me."
He could have dashed away long ago. But Ford has grown to really love Waco. And then there's that family bond. He considers associate women's head coach Stacey Smith "like a sister." He called Todd Harbour "an awesome head coach," and still connects regularly with former BU coaches like Hart and Danny Brabham. They'll all be his family forever.
Besides, the competitive fire still burns hot. Even with countless victories in his pocket, Ford wants more. He imagines a Baylor track program that finishes in the top five at nationals every year.
"For me, I want to achieve that more than anything," Ford said. "Kind of like women's basketball. People always say that if you're in a private school you can't be successful athletically, but I don't think that's true. I think you've got to get the right kids, the right student-athletes in, and then you've got to coach your butt off. Then let God handle the rest of it."