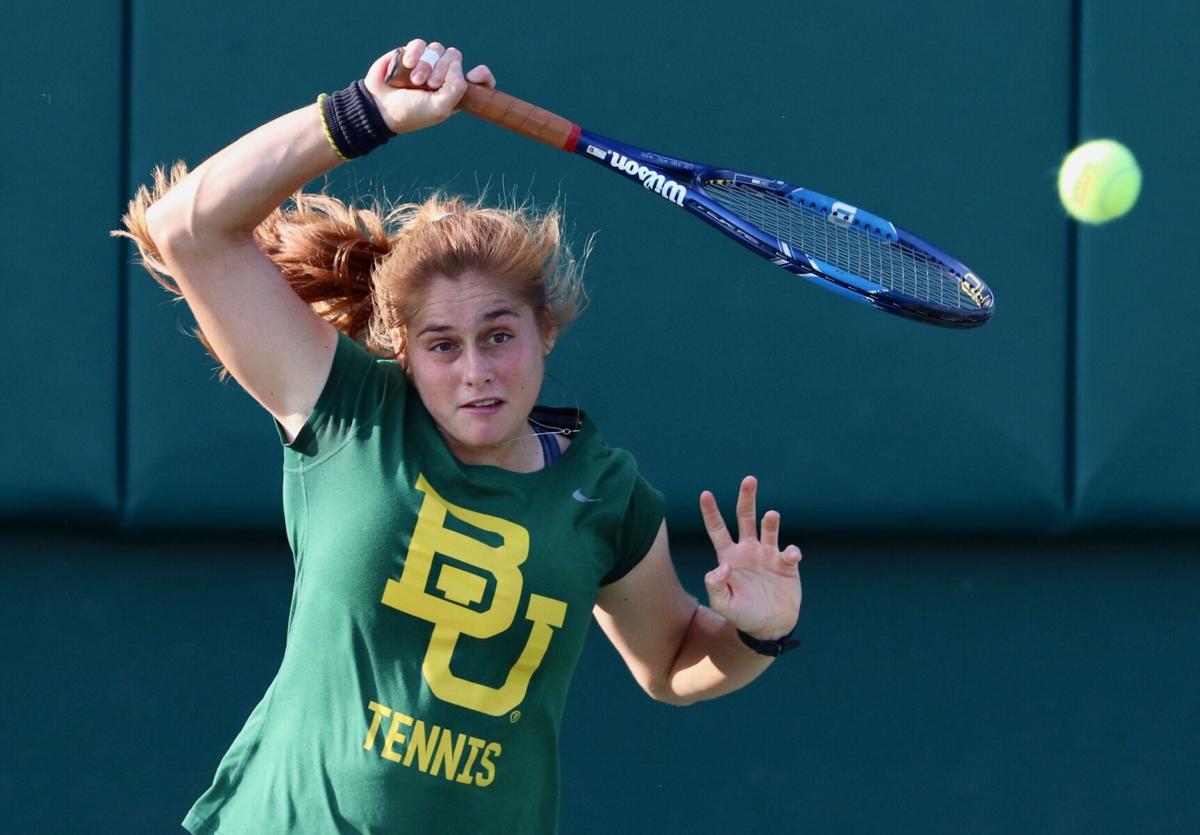 Baylor and Duke battled until their NCAA Tournament second round match came down to the third set on the No. 1 court.
The Bears' Mel Krywoj faced off against Duke's Kelly Chen for the chance to survive and advance. Chen prevailed for a 3-6, 7-5, 6-2 victory that gave the Blue Devils a 4-3 win on Saturday evening at the Hurd Tennis Center.
The No. 18 Duke team advances to the Sweet 16 in Orlando to face UCF next weekend.
Baylor, which was No. 8 in the latest ITA rankings, closes its season with a 24-5 overall record. The Bears went 9-21 and missed the NCAA Tournament in their last full season in 2019. Baylor had rebounded and posted a 10-2 mark before the 2020 campaign was cut short by the national response to COVID-19.
"This doesn't take away from the fact that they had an incredible season and they were one of the best teams in college tennis this year, one of the most consistent teams," Baylor coach Joey Scrivano said.
Baylor staked a 1-0 lead after winning the doubles point against Duke on Saturday.
The Bears' team of Alicia Herrero Linana/Audrey Boch-Collins broke a tie on court No. 3 by outlasting Chen/Georgia Drummy, 7-6 (7-3). Earlier, Jessica Hinojosa and Kris Sorokolet claimed a 6-3 victory over Chloe Beck/Karolina Berankova.
Duke gained points in three of the first four singles matches to finish, building a 3-2 lead.
Baylor bounced back as Paula Baranano finished off a 6-1, 6-3 victory over Berankova on the No. 6 court.
Sorokolet evened the team points total by defeating Margaryta Bilokin, 7-5, 6-2. Setting up the Krywoj/Chen showdown.
Baylor 4, Texas A&M-Corpus Christi 0
The top-ranked Baylor men's tennis team made short work of Texas A&M-Corpus Christi, defeating the Islanders, 4-0, on Saturday at the Hurd Tennis Center.
The Bears began the NCAA Tournament by sweeping to the doubles point. The Baylor team of Sven Lah/Constantin Frantzen won 6-2 over Texas A&M-Corpus Christi's Kyohei Yamanaka/Ryuya Ata on the No. 1 court. Baylor's Nick Stachowiak/Matias Soto blanked Islanders Nathan Schwartz/Pascal Lorieul, 6-0, on the No. 3 court.
Bears Spencer Furman, Charlie Broom and Adrian Boitan secured the singles wins needed to clinch the match on the No. 6, No. 5 and No. 1 courts respectively. Boitan notched the deciding point as he defeated Yamanaka, 6-3, 6-1.
The Baylor men (30-4) will play Oregon for a berth in the Sweet 16 at 2 p.m. on Sunday back at the Hurd.