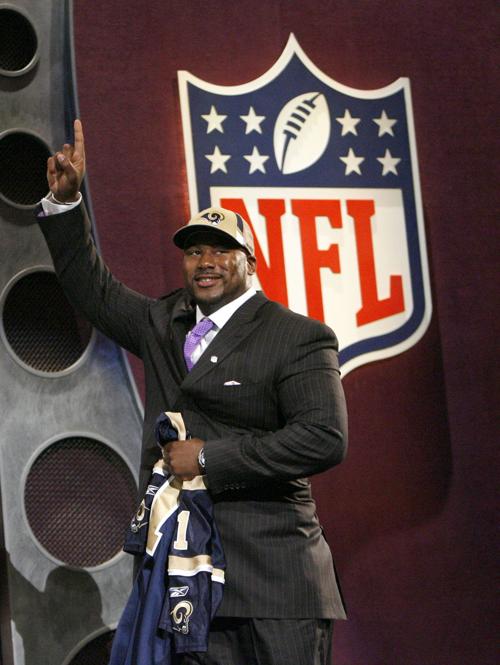 Former No. 2 overall NFL draft pick Jason Smith highlights an eight-person induction class to the Baylor Athletics Hall of Fame, which was announced Wednesday.
The class spans six different sports and features a quartet of three-time All-Americans in women's tennis star Lenka Broosova, men's tennis standout Lars Poerschke, softball great Brette Reagan, and track and field stalwart Todd Cooper. The class also includes volleyball's Anna Breyfogle and football's Brad Goebel and Andrew Melontree.
Additionally, Dr. Michael Attas will be recognized as the latest addition to the "B" Association Wall of Honor. Attas is a former Baylor football player and retired chief of cardiology at Hillcrest Baptist Medical Center who founded Baylor's Medical Humanities program.
Baylor's Athletics Hall of Fame began in 1960 with a group that included baseball's Ted Lyons, who is also enshrined in the Baseball Hall of Fame in Cooperstown, N.Y., and coach Floyd "Uncle Jim" Crow. Altogether, 253 athletes and coaches have been elected or enshrined, while Attas is the 29th member of the Wall of Honor.
Arrangements for the Hall of Fame banquet are pending due to the COVID-19 pandemic, Baylor said in a release.
Smith ranks as one of Baylor's top offensive linemen to pass through Waco. He was recruited as a tight end before moving to tackle after his freshman season. He started 30 straight games over the next three seasons and picked up consensus All-America honors in 2008 for a BU offense that produced the team's most rushing yards in 27 years (2,349).
The then-St. Louis Rams selected Smith as the No. 2 overall pick in the 2009 NFL Draft, Baylor's first first-round pick since Daryl Gardener in 1996. He played three years with the Rams and another with the New York Jets before his pro career ended.
Broosova owns the BU women's tennis program's career records for singles (154) and doubles wins (120). She was a three-time All-American in doubles and a two-time All-American in singles and helped Baylor sweep the Big 12 regular-season and tournament titles for four consecutive seasons. Baylor also reached the NCAA semis in 2008 and made back-to-back Elite Eight trips in 2009 and '10.
Poerschke, meanwhile, ranks No. 2 on Baylor's career singles (119) and doubles (102) wins lists for the men's program, behind only Benjamin Becker. He was the Big 12 Freshman and ITA Regional Rookie of the Year in 2005, when the Bears made the NCAA final and fell to UCLA. His sophomore year he climbed to as high as No. 1 in the country in the national singles rankings.
Reagan made three All-America teams as a fixture at the hot corner. She hit .353 with 41 home runs, 150 runs scored and 156 RBIs for her career, ranking third all-time in BU history in both homers and RBIs and tops in walks (133). She helped Baylor to its only Big 12 title in 2007 and led the Lady Bears to their first Women's College World Series appearance.
Cooper helped usher in a golden age of pole vaulting for Baylor track and field in the 1980s. He won four Southwest Conference titles and claimed three All-America honors, placing fifth at the NCAA Indoor Championships in 1984, third at the NCAA Indoors in 1985 and was the silver medalist at the NCAA Outdoors in '85. Cooper has been a vaulting coach for more than two decades and has worked with more than 200 all-state vaulters and 25 state champions.
Breyfogle claimed Baylor volleyball's first All-America honor alongside teammate Taylor Barnes in 2009. She was a two-time first-team All-Big 12 selection and was named the Big 12 Defensive Player of the Year as a senior. That season she helped Baylor upset No. 9 UCLA and reach the Sweet 16 for the first time in program history. She ended up hammering 1,165 career kills and is the program leader in blocks with 620.
Goebel burst onto the scene in 1987 to throw for a Southwest Conference-best 2,178 yards, still the most for a Baylor freshman quarterback. He was a consensus All-SWC pick, beating out the likes of Houston's Andre Ware, Texas Tech's Billy Joe Tolliver and Texas's Bret Stafford. Goebel ended up starting for three years and passing for 5,026 yards, which ranked second when he wrapped up at Baylor and still ranks 10th in program history. He had a five-year NFL career before returning to Texas and becoming a real estate broker.
Melontree came to Baylor after two seasons at Tyler Junior College. He excelled as a defensive end for Grant Teaff's Bears, making consensus All-Southwest Conference in 1979. He also was the Defensive MVP of the Peach Bowl that season. The Cincinnati Bengals took "Tree" in the sixth round of the 1980 NFL Draft, and he played one season with the Bengals and three more in the USFL.
Attas played for Catfish Smith's 1965 freshman team at Baylor as a backup defensive lineman before injuries prompted his retirement from football. He graduated from Baylor in 1969 and went on to get his Masters and medical degrees. Attas practiced medicine in Wyoming for five years before returning to Waco with Waco Cardiology Associates. He later became the chief cardiologist at Hillcrest before retiring.