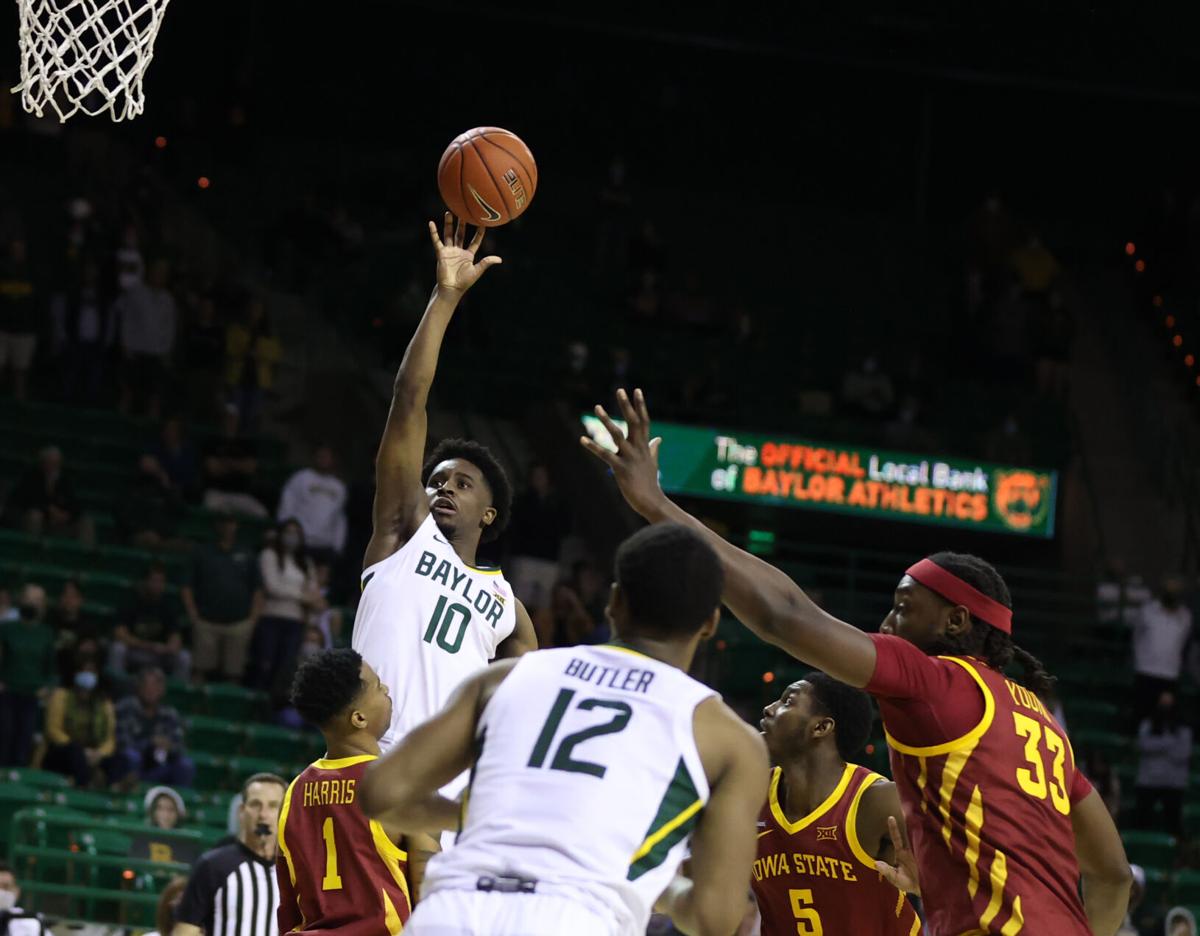 Seeking its first conference championship since 1950, Baylor will have three swings at ending that monumental drought this week.
All three games are against Top 25 teams, so it won't be easy for the Bears to get that one win needed to clinch their first Big 12 title and the program's first conference championship since nailing down the 1950 Southwest Conference crown.
The toughest matchup will likely be against No. 6 West Virginia at 4 p.m. Tuesday in Morgantown.
Thursday's 6 p.m. game against No. 17 Oklahoma State and Sunday's 3 p.m. game against No. 18 Texas Tech are both at the Ferrell Center. All three games were rescheduled following Baylor's recent three-week COVID-19 pause.
After rallying for a 77-72 win over Iowa State last Tuesday in their first game back from the long pause, the Bears (18-1, 10-1) lost a 71-58 decision to No. 13 Kansas on Saturday at Allen Fieldhouse.
The Bears dropped from No. 2 to No. 3 in the Associated Press poll for the first time this season as they switched places with soaring Michigan. Though the Bears would have liked to stay unbeaten, their goals of winning the Big 12 regular season and conference tournament titles and the NCAA championship are still attainable.
"That was never a goal of ours to go undefeated," said Baylor guard Adam Flagler. "It would have been great obviously, but our goals are still set and we still have opportunities to chase them and accomplish them. We're excited to play West Virginia and continue on."
The second-place Mountaineers (17-6, 10-4) can still capture the Big 12 title, but they would have to win their last three games against Baylor, TCU on Thursday and Oklahoma State on Saturday at WVU Coliseum while the Bears would have to lose their last three games.
Regardless the Mountaineers are a hard out for anybody since they're playing their best basketball down the stretch.
Baylor was originally scheduled to face the Mountaineers on Jan. 12 at the Ferrell Center and in Morgantown on Feb. 15, but both games were postponed due to COVID-19 issues. The game at the Ferrell Center was rescheduled last Thursday, but then canceled.
It's strange that the Bears will face the Mountaineers for the first time on March 2. It will likely work to the Mountaineers' advantage since they've won six of their last seven games while the Bears are still trying to rebound from COVID-19.
"I think Coach (Bob) Huggins has done a great job with their offense to begin with," said Baylor coach Scott Drew. "They've really been efficient. They've got a team that can score in bunches. And then at the same time, with having that offensive efficiency, they've gotten better defensively. And they've maintained what Coach Huggins always does, and that's having a team that's great on the glass."
The Bears will need to improve in a lot of areas after shooting 34.8 percent overall and hitting six of 26 3-pointers against Kansas. But Baylor's biggest issue was rebounding as the Jayhawks dominated the boards, 48-28.
"Defensively a lot of times we were in the wrong position, and they definitely out-toughed us on a lot of plays," Flagler said. "We're a big team on being the toughest out there, and we weren't in that game. So we're definitely focusing on boxing out and going for loose balls, and all those type of things because that makes or breaks a game."
The Bears will have to contend with forward Derek Culver, who is averaging 15 points and a Big 12-leading 10.1 rebounds per game. The Bears hope to get more minutes from forward Jonathan Tchamwa Tchatchoua off the bench after he played just 11 minutes against Kansas after missing the Iowa State game due to COVID-19 protocol.
"Culver can score from 15 feet, he can score driving it to the cup, he can score with his back to the basket, he's very good on the glass," Drew said. "So you've got to be good, and defensively you've got to be prepared to guard him in a variety of spots."
The Mountaineers are also dangerous on the perimeter as Miles "Deuce" McBride is averaging 15.6 points while shooting 42.9 percent from 3-point range. Taz Sherman is averaging 13 points while hitting 36 percent of his 3-pointers while Sean McNeil is averaging 11.7 points while draining 39.6 percent of his 3-pointers.
The game will feature the Big 12's top two scoring teams as Baylor is averaging 85 points and West Virginia 77.1. But both teams are probably better known for their ball-hawking aggressive defenses.
"They're definitely a skillful team," Flagler said. "They have a lot of great things about them. Watching film, they have a big guy (Culver) down there that we're paying attention to. They also have Deuce (McBride) and a lot of guys that we have to pay attention to when it comes to shooting, getting to the basket, and especially rebounding. They're an all-around team and we can't fully focus on one person. We have to guard as a team and pay attention to details."
During Baylor's COVID-19 lockdown, Drew talked to other coaches whose teams have gone through long pauses, and learned that it usually takes several games to recover. Drew hopes the lingering effects of the virus won't be so visible against the Mountaineers.
"They (Big 12 games) are usually one-possession games, and if you're not at your best, it's hard to win those," Drew said. "Kansas did a lot of great things and forced us to not do as many good things. And as we continue to get back to our groove, sometimes it takes a little time. Unfortunately, you're not given much practice time to work on things, so most of the stuff happens live in games."