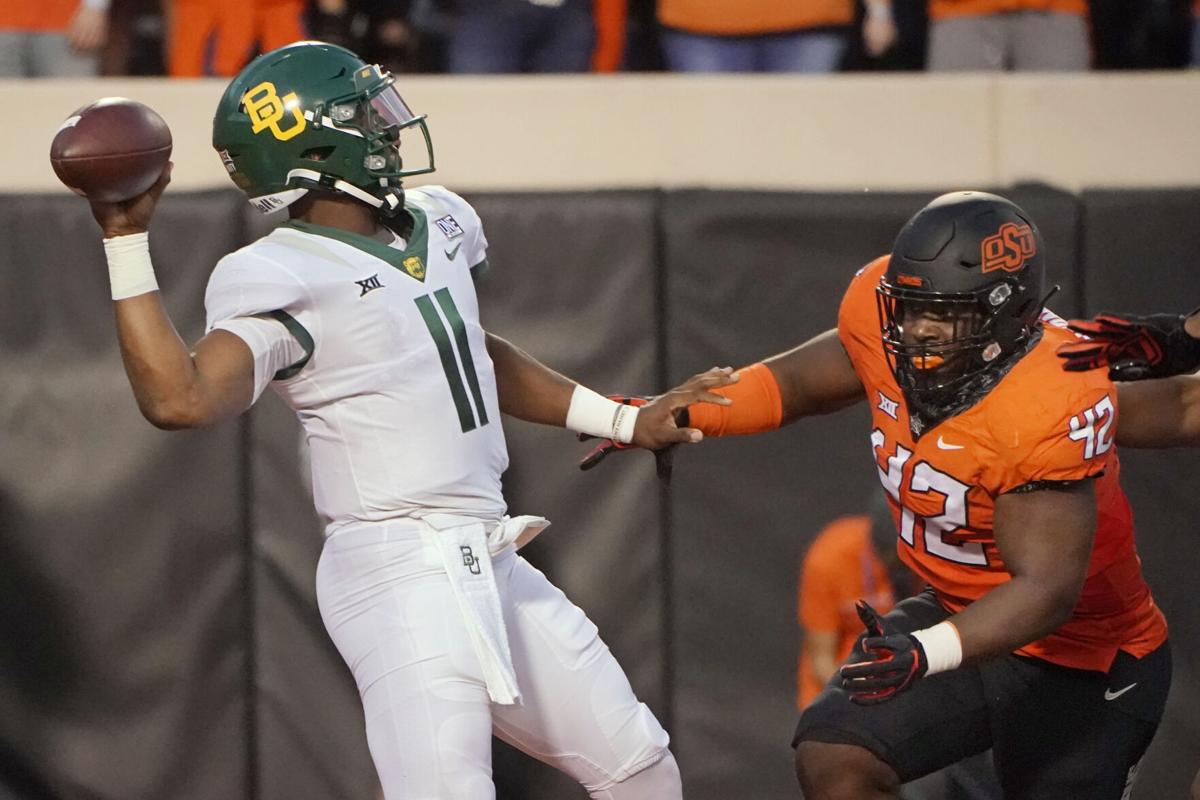 STILLWATER, Okla. — Dominance up front has been Baylor's stated goal all season, but for long stretches all the Bears saw was a sea of orange and black Oklahoma State jerseys in Saturday night's Top 25 matchup.
The No. 21 Bears finally found some life when Abram Smith broke loose for a 55-yard touchdown run late in the third quarter followed by Gerry Bohanon's one-yard scoring run in the fourth quarter.
But those two big offensive moments weren't enough as the No. 19 Cowboys grinded out a 24-14 win to hand the Bears their first loss of the season at Boone Pickens Stadium.
After vaulting into the Top 25 with last week's thrilling 31-29 win over then-No. 14 Iowa State, the Bears (4-1, 2-1) couldn't produce enough offensive consistency to win at a notoriously tough stadium where they've gone 2-12 in the Big 12 era.
STILLWATER, Okla. — College football fans are used to screaming "What's with these calls?" at the TV or the field.
"I'm proud of the team and the effort that we made in the second half," said Baylor coach Dave Aranda. "I thought there was opportunity to kind of point fingers, and have flashbacks to maybe the year previous. I think there were times in the first half you could catch that feeling, and I never saw that. We're proud of how connected the team is and proud of the collective fight we came back out with, the points we were able to put on the board and some of the stops we were able to make."
The Cowboys (5-0, 2-0) remained unbeaten behind workhorse running back Jaylen Warren, who rushed for 125 yards and two scores on 36 carries. His four-yard touchdown run with 2:10 remaining sealed the Cowboys win.
Spencer Sanders hit 13 of 23 passes for 182 yards and a touchdown, but the Bears intercepted three passes that helped them stay in the game.
After gaining just 99 yards and two first downs in the first half, the Bears finished with 280 total yards. Smith rushed for 97 yards on 10 carries while Bohanon hit 13 of 27 for 173 yards.
"There was a lot of strong leadership in the locker room," said Baylor linebacker Dillon Doyle. "Gerry Bohanon pulled everybody up and said our first-half play wasn't acceptable. We came out really slow. I thought you saw a little bit of a push from us in the second half, so we were happy with that but certainly not the finish we wanted."
STILLWATER, Okla. — Dillon Doyle is well-established as one of Baylor's top defenders.
Late in the third quarter, the Bears had produced just 17 yards rushing after going into halftime with six yards rushing and two first downs.
Trailing 14-0 and knowing they needed some kind of offensive spark, the Bears gambled on fourth-and-two at their own 45.
Smith found a huge hole on the left side and broke into the open for a 55-yard touchdown to cut the Cowboys' lead to 14-7 with 3:14 left in the third quarter. Doyle was inserted at fullback for the play, and led Smith through the hole.
"A big hole and Dillon Doyle was right there," Smith said. "I knew as soon as he ran through the hole, he could have scored if he had the ball. I saw that and nothing but daylight in front of me. You could see it (the excitement) on the sideline, especially when I came off the field. Everybody was fired up now, the momentum kind of changed right there."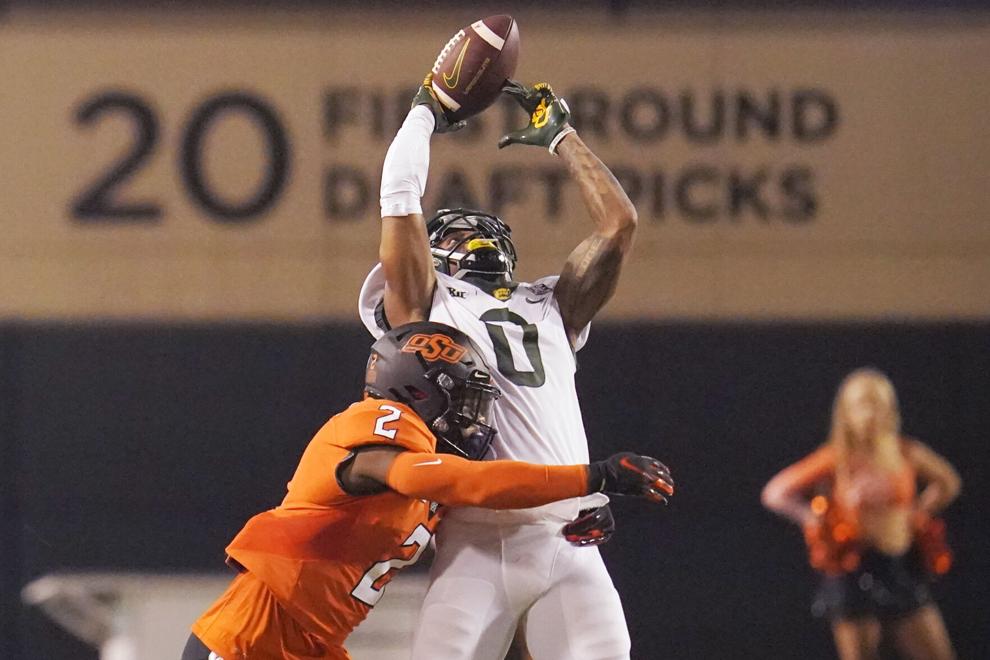 The Cowboys responded with a 72-yard drive that featured Sanders' passes of 21, 23 and 26 yards to Tay Martin to Baylor's seven. The Bears threw up a goal-line stand that forced Tanner Brown to kick a 20-yard field goal to extend Oklahoma State's lead to 17-7 on the first play of the fourth quarter.
Suddenly looking like a revived offensive team, the Bears drove 84 yards for their second touchdown.
Smith got the Bears out the hole with an 18-yard run before Bohanon spotted Tyquan Thornton deep over the middle for 44 yards to the 21.
A pass interference penalty against Oklahoma State gave the Bears another first down. On third down, Bohanon rammed across the goal for a one-yard touchdown run to cut the Cowboys' lead to 17-14 with 12:04 remaining.
"I don't think it was any real adjustments (at halftime) besides our energy," Smith said. "We knew we weren't playing how we were supposed to. When we got to halftime, we came together as a team, and just tried to fire each other up and rally behind one another."
The Bears tried a major gamble on their next possession when they went for it on fourth-and-four at their own 36. Heavily pressured by Devin Harper as he rolled to the right sideline, Bohanon's pass to Smith was broken up by Brendon Evers with 8:06 remaining.
"Looking at analytics, it gave us the go-ahead, I thought the opportunity to take advantage of momentum," Aranda said. "We were in a good rhythm throwing the ball and protecting. It's one of those things to where we want to be aggressive and be that team that's hard to stop, it starts with us as coaches."
But the Cowboys couldn't move against Baylor's defense and were forced to punt.
After a Baylor punt, the Cowboys put together their game-clinching drive that ended with Warren's touchdown run.
The Cowboys set the tone on the first drive of the game as they marched 75 yards on 12 plays with Warren hammering Baylor's defense for 51 yards on seven carries.
Warren popped for 21 yards to open the drive before Sanders hit Martin for 15 yards.
Facing fourth-and-one at Baylor's 15, Warren kept the drive going with a two-yard run. The powerful back finished off the drive by pounding up the middle for an eight-yard touchdown to give the Cowboys a 7-0 lead with 10:40 left in the first quarter.
After the Bears were forced to punt, Baylor cornerback Raleigh Texada intercepted Sanders' pass at Oklahoma State's 36. But facing third-and-10, Jarrick Bernard-Converse and Evers roared through Baylor's offensive to sack Bohanon for an eight-yard loss.
The Cowboys had another scoring threat to open the second quarter after moving 67 yards to Baylor's 18. Once again, Baylor's defense came through as JT Woods intercepted an off-target Sanders pass at the 7.
The defense stopped another Oklahoma drive when Baylor linebacker Matt Jones nailed Warren for a four-yard loss back to Baylor's 44.
Following an Oklahoma State punt to the 6, the Bears' offense showed some life when Bohanon hit Drew Estrada for 40 yards. But the Bears were forced to punt again.
Getting the ball again with 2:37 left in the first half, the Cowboys drove 69 yards for a touchdown with Sanders finishing it off with a perfectly placed pass to Rashod Owens between two Baylor defenders for a 32-yard touchdown to give the Cowboys a 14-0 lead with 36 seconds left in the first half.