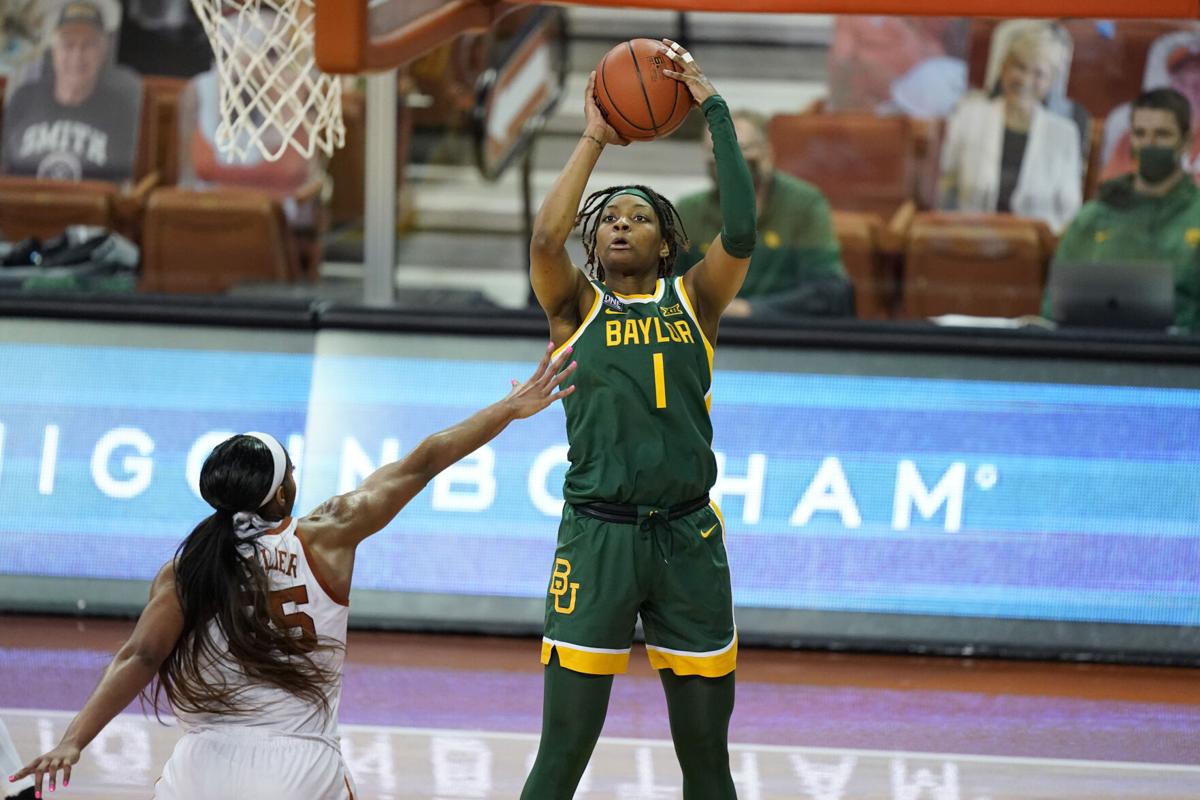 AUSTIN — Baylor's NaLyssa Smith showed why the Lady Bears are a step ahead of everyone else in the Big 12 on a play early in the second half versus Texas on Monday. Night.
Smith took the ball from near the top of the key with Texas star Charli Collier guarding her. After a crossover dribble, Smith only needed a couple of steps to get to the basket for a layup and drew a foul on Collier.
The Baylor star finished off the 3-point play, giving the Lady Bears their largest lead at the time — nine points — on the way to a 64-57 victory over the Longhorns at the Frank Erwin Center.
"I feel like once you see yourself doing something good it builds your confidence, builds your momentum in the game," Smith said. "You feed off the team. You saw everybody get hyped. Everybody is pulling for each other. That's what makes us win games."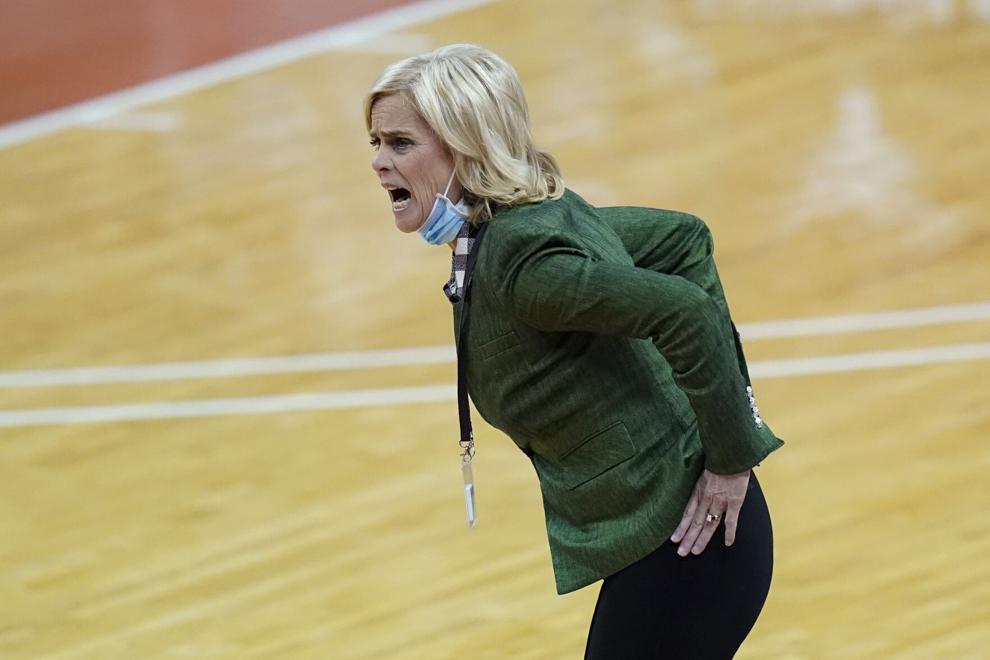 Less than 30 seconds after Smith's 3-point play, Baylor guard DiJonai Carrington followed with one of her own. Then Smith hit a baseline jumper a few seconds after that. Suddenly, the Lady Bears had emphatically taken over momentum in what had been a close game.
Sixth-ranked Baylor notched the season sweep over Texas and, in doing so, claimed the Big 12 regular season championship outright. The Lady Bears (20-2, 15-1) celebrated winning at least a share of their 11th consecutive regular season conference title after their win over Kansas State on Saturday. But grabbing a share was never going to be good enough.
"We're the Big 12 champion for the 11th straight year in a row, outright," Baylor coach Kim Mulkey said. "How could I not be happy?"
Smith, who finished with a game-high 23 points, came out of the halftime locker room on fire. She put back a rebound on a DiDi Richards miss on a fast break to start Baylor's 18-2 run in the third quarter. Smith took over the game, scoring 11 in the period, then followed it up by drilling a couple of 3-pointers in the fourth quarter.
"She'll just want me to set up more plays for her from the 3. So, you know, I'm going to have to deal with that all the way home to Waco," Mulkey joked in the postgame press conference. "But I tell her, 'If you make 'em, shoot it again.'"
Carrington and Queen Egbo played their parts with flash and substance during the third-quarter surge. Carrington pitched in six points, while Egbo grabbed six rebounds, scored four points and came up with a steal. Egbo finished with a double-double, scoring 13 points with 14 boards. Carrington joined Egbo and Smith in double figures scoring with 10.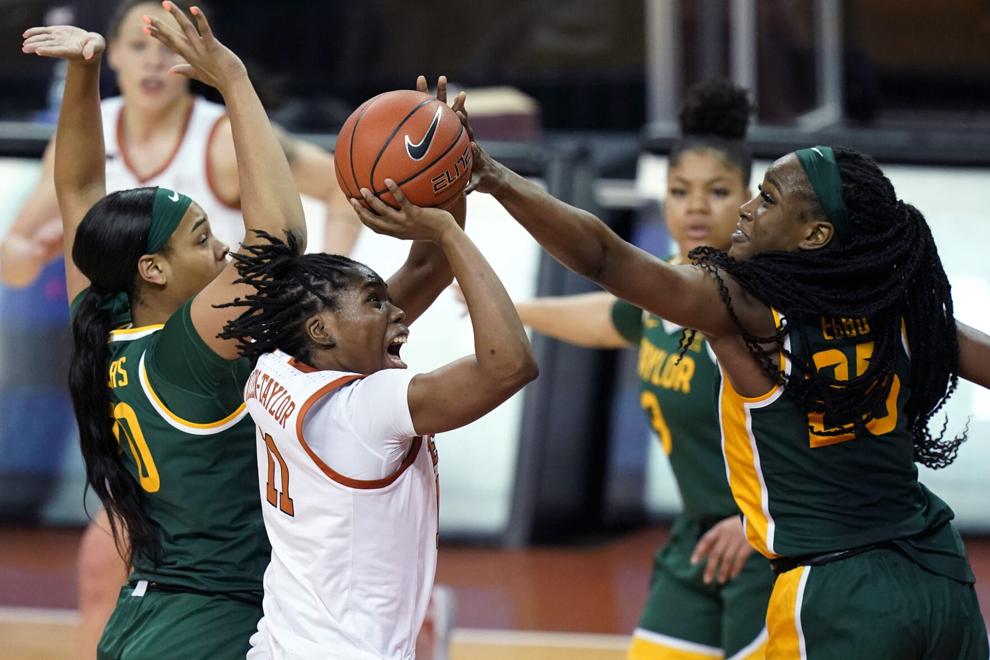 The Lady Bears led by 17 at one point in the third quarter. Texas (16-8, 10-7) trimmed Baylor's advantage to single digits with an 8-0 surge in the final 1:35 of the fourth quarter, but the Horns never seriously threatened to overtake the Lady Bears after the beginning of the second half.
Baylor took a narrow 24-22 lead after a first half in which both teams frustrated the other on the offensive end.
The Lady Bears held Texas to 28% shooting through the first and second quarters. But the Longhorns made three of six 3-pointers to stay close.
Meanwhile, Baylor committed 12 turnovers by the break and struggled to find any offensive flow.
Lady Bears freshman guard Sarah Andrews entered the game in the second quarter and immediately provided a spark. She went down the lane, faking a pass and then putting in a layup to start a 6-0 mini run. Smith contributed an inside basket and a pair of free throws that put Baylor in front, 19-11, with 5:28 left in the second quarter.
However, the offensive spurt was short lived as Texas fired back. Horns swing player Audrey Warren nailed a shot from 3-point range to stop the Lady Bears' run and Collier followed with a bucket in the paint.
Collier had only two points against Baylor in the Ferrell Center on Feb. 14, but had a better game on Monday. She finished with 12 points and nine rebounds. Joanne Allen-Taylor led Texas with 15.
BEAR FACTS: Baylor senior point guard DiDi Richards was named to the Nancy Lieberman Award "Final Five" list, which was announced on Monday. Richards, who is averaging a Big 12-leading seven assists per game, was joined on the list by Iowa's Caitllin Clark, Connecticut's Paige Bueckers, Arizona's Aari McDonald and Syracuse's Tiana Mangakahia.