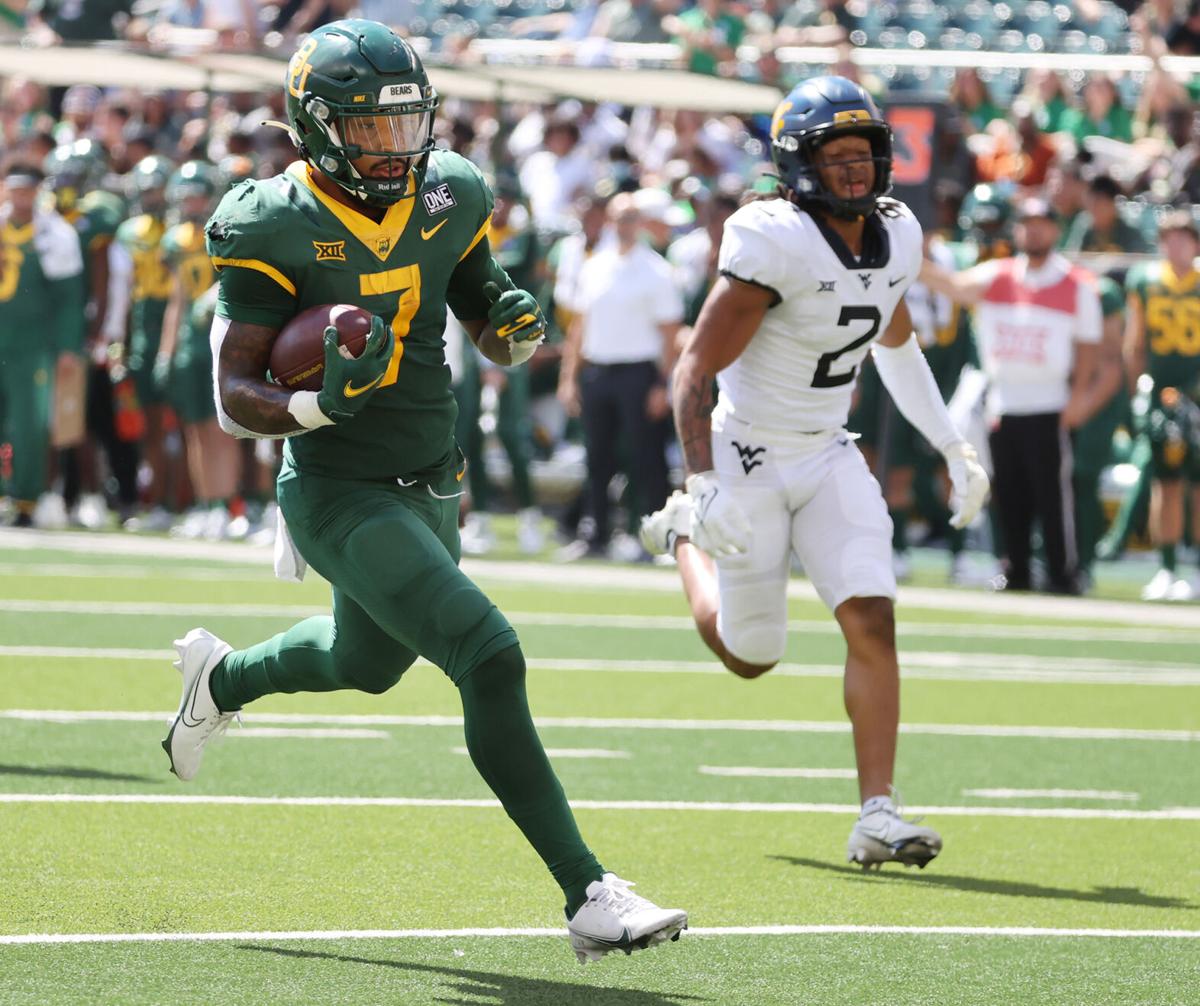 In a climate of overactive transfer portals and athletes seeking instant gratification, Abram Smith is a study in old-school faith and perseverance.
Almost as soon as he arrived at Baylor in spring 2017, he tore his ACL running a route in a non-contact drill. Bouncing from backup running back to linebacker, Smith never started a game until midway through his fourth season.
Special teams? Smith's played a lot of them.
Yet Smith never stopped believing that one day his dedication and work ethic would pay off in a major role for the Bears.
"My mom always says everything happens for a reason," Smith said. "There were times when I probably could have left and gone somewhere else, maybe go back home. But if it's meant for me, it's going to come around. Especially with this being a place that I always wanted to be."
The promise that Smith brought from Abilene High School to Baylor is finally coming to fruition. Five years after he ranked among the top schoolboy rushers in the state, Smith has emerged as one of the best running backs in the Big 12 and a powerful component in Baylor's 5-1 start.
With 597 yards rushing in Baylor's first six games, Smith ranks second in the Big 12 and is on pace to become Baylor's first 1,000-yard rusher since Terence Williams in 2016. The 5-11, 221-pound Smith's 7.7 yards per carry ranks fourth in the country and he leads the Bears with seven touchdowns.
Smith doesn't have a lot of flashy moves like backfield partner Trestan Ebner. But he hits holes quickly and will plow over defenders who try to get in his way.
"Since high school, I've always been like a one-cut downhill back," Smith said. "When the hole's there, there's a little second that if you don't hit it, it's going to close. For me, if it's not there, I've got to make something there. I've made a couple of moves out in space. It's not compared to what Trestan's got, he's got a whole moves' list, but for the most part I like my running style."
Whether he's running, catching or blocking, Smith puts a lot of heart into every play. Not surprisingly, he brings a linebacker's physicality to running back, something that hasn't gone unnoticed by Baylor all-Big 12 linebacker Terrel Bernard.
"Yeah, I love Abram, just who he is, his personality, his heart, his care for the team," Bernard said. "And then, obviously, his running style fits the wide-zone scheme that Coach (Jeff) Grimes implemented. He's a powerful, in-cut, downhill-type running back and that fits really well with other guys like (Ebner) that we have in the room."
While Smith can certainly pick up tough short yardage, defenses can't underestimate his speed. On a fourth-down play against Oklahoma State two weeks ago, Smith followed a block by Dillon Doyle through a huge hole for a 55-yard touchdown run.
Smith sent his mom a photo of himself running into the end zone on that breakaway run along with a picture of a younger Abram scoring a touchdown back in his Abilene High School days.
"My mom loves photos, so I sent her a picture from high school of me in the end zone," Smith said. "I sent another one from Oklahoma State and that touchdown, and they looked exactly the same. The only difference was the people in the background (in Stillwater) were not too happy I scored. It's crazy how it all comes back."
With his resurgence as a running back, memories of his days growing up in Abilene have flooded back to Smith recently.
Smith has played running back since he was a kid. But he wasn't always as physical as he is now.
"I remember the first year of Mighty Mites and I got hit and my head started hurting, and I didn't know what to do, so I ran over to my mom and I was crying," Smith said. "My mom looks at me and goes 'Put some dirt on it.' I'm shocked. Mom, my head's hurting. So she sends me back out there. My dad's the coach, and I come back in there and he's like 'Where did you go?' I said I went over to mom. We lined that drill up again and we kept going at it and at it. Be the hammer and not the nail, so after that I loved football."
Smith was so talented and dedicated to improving that he was called up to the Abilene varsity as a freshman. By his sophomore year, he was a key player in the Eagles' attack as he rushed for 915 yards and 10 touchdowns in a 2014 season that was cut short by an ACL injury.
Smith emerged as one of the top backs in the state as a junior as he rushed for 1,814 yards and 24 touchdowns, highlighted by a 343-yard performance against Midland Lee. Capping his high school career with 1,939 yards rushing and 34 touchdowns as a senior, Smith left Abilene as the all-time leading rusher with 4,955 yards.
"High school was tons of fun," Smith said. "For the most part, I had to kind of get the job done early because my coach would pull me out by halftime. We'd bump heads about it because I liked running the ball and going out there and playing. Of course, I had torn my ACL my sophomore year of high school, so after that we played it safe. When that happened, I always loved seeing other people run the ball."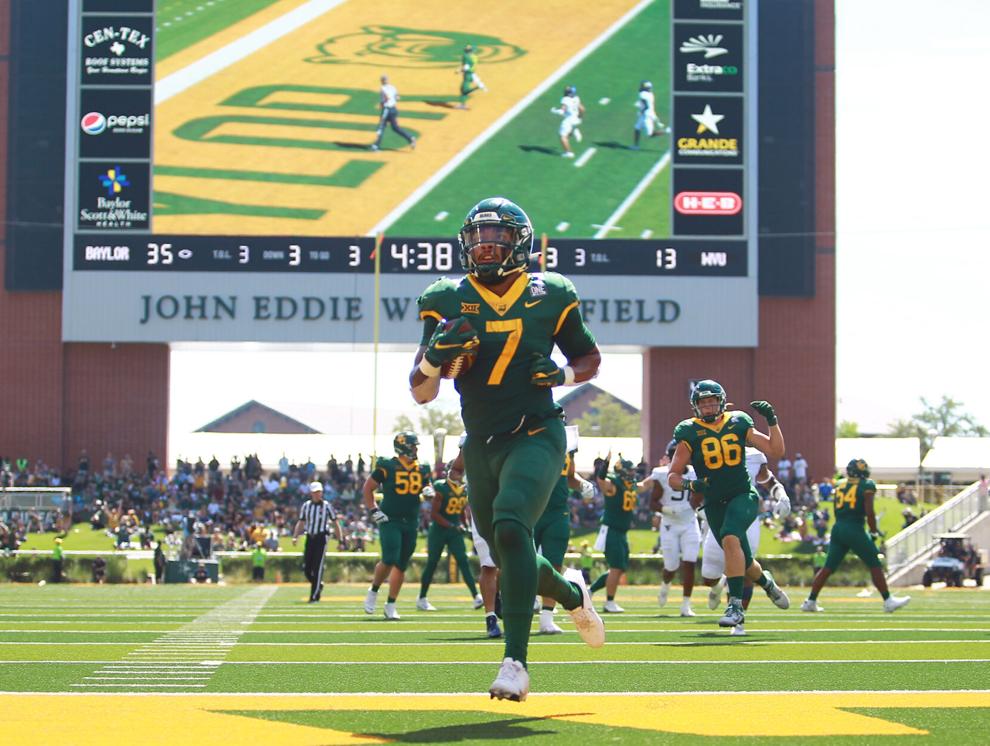 Though Smith was widely recruited as the No. 4 running back prospect in Texas in the 2017 class, he grew up a Baylor fan and knew early that he wanted to play for the Bears.
"Growing up in high school, I'd come to every single Baylor camp," Smith said. "I came to the Oklahoma game and it was raining. I have a picture on my Instagram, and it was like the future. I was set."
Graduating early from high school in December 2016, Smith enrolled the following spring at Baylor to get a jump on his college career in spring drills leading up to former coach Matt Rhule's first season.
But during a non-contact drill, Smith tore his ACL and had to undergo surgery.
"That was terrible," Smith said. "The whole point was to get here early to make an impression on the coaches. It was a good little process to get the knee back to where it needed to be. I had to build muscle around it. Then I got into running light jogs and got into the weight room."
Playing behind JaMycal Hasty, John Lovett and Ebner in a crowded room of running backs, Smith played mostly special teams in the 2018 and 2019 seasons.
It was an exercise in patience for Smith since he had always been a star for his high school team. He constantly stayed in touch with his parents, Mark and Rosie, back home, and often talked to former Abilene High School offensive coach Ryan Lewis.
"If I didn't have the support that I had from my family and Coach Lewis, I think it would've been a lot harder," Smith said. "I chose to come here. This is where I wanted to be. Your work ethic and how you get after things is eventually going to come to light.
"I take that a lot from my parents because they work hard. Growing up, they worked hard to give me everything I needed for sports. That was something that was instilled in me that hard work is going to get you a lot further than talent. But if you put your hard work and talent together, the sky's the limit."
Midway through Smith's third-year sophomore season in 2019, all-Big 12 linebacker Clay Johnston went down with a season-ending knee injury. When linebackers coach Mike Siravo asked if he'd switch from running back to backup linebacker, Smith didn't hesitate to move where the team needed him.
Since he hadn't played linebacker since his freshman year on the Abilene jayvee team, he had to undergo a crash course in playing on the defensive side of the ball.
"I just kept working and working, being on scout teams and special teams, and then hey, let's flip over to linebacker," Smith said. "I was on the scout team at linebacker, and I really didn't know what was going on. Like hey, you're blitzing here, so I blitzed. When I didn't do something to get the signal down, I worked at it. I tried to get better every day. That was something I was doing in the shadows."
When Bernard went down with a midseason shoulder injury in 2020, Smith stepped into a starting linebacker role and played remarkably well as he averaged 11.5 tackles in four starts.
Smith was thankful for the help he got from Baylor defensive coordinator Ron Roberts and veterans like Jalen Pitre, Doyle and Bernard.
"Honestly without Terrel I would have been a lot more lost," Smith said. "While he was hurt, he helped me. There were times in practice when I didn't understand something, and he'd pull me off to the side and said if you read this right here you could see how he set up, see what he's doing before he ever does it. Without the help of Terrel, Dillon and Pitey and Coach Roberts breaking it down in detail, it would have been a lot more difficult to actually go out there. I give all my success to them."
During spring drills this year, Smith was shuttling between linebacker and running back before Baylor coach Dave Aranda asked him if he'd like to move exclusively back to offense.
"In the spring, I was getting a lot of reps at linebacker, and Coach Aranda came up to me and kind of asked me in a walk-through 'Hey, have you ever thought about going back to running back?'" Smith said. "Of course. I talked to my dad. He was the first person I talked to about it. He was like 'Hey, you know try it out and see how you feel about it. There's always the linebacker position.' The next thing you know my green jersey turned to a white jersey."
Surpassing 100 yards in each of his first three games, Smith played like he didn't miss a beat from his high school years. He was thrilled to be teaming in the backfield with Ebner, whom he had roomed with for four years.
"To be able to work with him and being able to feed off him, he gives me tips and I give him tips," Smith said. "Of course, we're different backs. I'm more power and he's more finesse. I'll show him some of the film, hey this is what you can do, and the first thing you know the next practice, the next scrimmage, it looks a lot different. He's hitting the hole a little bit different."
Both Smith and Ebner have benefited from a much improved offensive line that has created bigger holes for the duo to run through.
"I love our O-line," Smith said. "They're a lot more physical I would say now than when we first started. With the O-line completely bought in with being physical and knowing how big they are and how they can move people, it's a lot different than before, that's for sure."
Smith's willingness to play anywhere the Bears need him is an inspiration to the coaching staff and his teammates. His five years at Baylor are a study in unselfishness.
"I think there's an understatedness about him that I appreciate," Aranda said. "That's a real tough guy that's there that I see and appreciate, and I know our whole team does. So for someone like that who does his stuff with his actions and not his words, I'm all for that."
Sixth-year Baylor cornerback Raleigh Texada succinctly summed up Smith's value to the team: "He's a great teammate. He plays defense, he plays offense, he plays special teams, and just goes hard."
Smith has already earned his undergraduate degree from Baylor in health, kinesiology and leisure studies. It's an accomplishment he doesn't take lightly.
"I gave my bachelor's to my mama, she loves that," Smith said. "I was the first one of my family to go to college and step on that level. Graduating is probably one of the biggest successes of my life."
With his emergence as one of the Big 12's top running backs, Smith hopes to get his shot to play in the NFL. But when his playing days are over, he envisions a coaching career.
He wants to impact the lives of young players like his coaches have done for him. He can give them all a lesson on how perseverance can pay off.
"Anything with coaching, I'd do a really good job," Smith said. "When it comes to understanding things and where players might be coming from when things aren't going right, this is what you can you do. I was all over the field, so it's always nice to extend a helping hand. They always extended it to me."