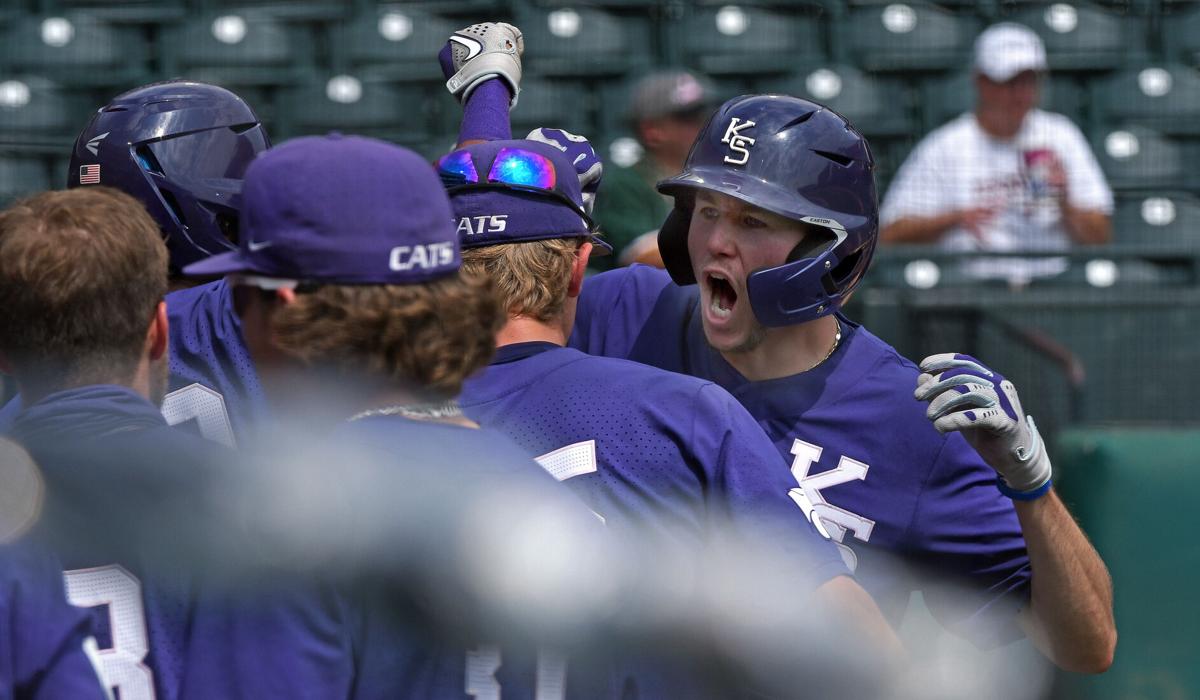 OKLAHOMA CITY — As the Kansas State runs mounted, it became more and more clear that this would be Baylor's final game at the Big 12 Baseball Tournament.
The Bears are crossing their fingers that it's not the last game of their season.
Seventh-seeded Kansas State used a monster seven-run outburst in the seventh inning to rally past sixth-seeded Baylor, 9-4, on Thursday at Chickasaw Bricktown Ballpark. The loss eliminated Baylor (31-20) from the tournament after two quick and humbling games, leaving the Bears in a state of nervous anticipation for Monday's NCAA tournament selection show.
"I would like to be able to say that we've done enough, but we'll see," Baylor coach Steve Rodriguez said. "That's going to be on (the NCAA selection committee's) plate on Monday. I really do think that once we have everybody back, it changes the dynamic of this program."
The Bears certainly have dealt with some personnel losses in recent weeks, including being without starting pitchers Tyler Thomas and Blake Helton for the Big 12 tourney. Those players are expected to be available should Baylor make an NCAA regional, but with the Bears limping to the finish with six losses in their past eight games, that's no guarantee.
For the first five innings of Thursday's game, the Bears appeared to be in great shape. Hayden Kettler gave the Bears some marvelous innings in shutting out the power-hitting Wildcats (32-22) for five frames, and the Bears held a 3-0 lead.
But Kansas State knocked Kettler out of the game with back-to-back home runs in the sixth, and then the snowball picked up speed and started rolling downhill, avalanche-style, an inning later.
Kansas State used a one-out Dylan Caplinger double and a Cameron Thompson single to tie the game. After BU's Jimmy Winston hit Cole Johnson with a pitch, Rodriguez turned to the bullpen and Ryan Leckich to try to stop the bleeding.
But it was a gusher. Dylan Phillips, Terrence Spurlin and Zach Kokoska all whacked Leckich offerings for RBI singles as the Wildcats opened up a 6-3 lead. If the Bears could've limited the damage to just that, they probably would have felt better about a late-inning rally of their own. Rodriguez replaced Leckich with closer Luke Boyd, who immediately put down K-State's Nick Goodwin with a strikeout for the second out.
But then Boyd hung a slider to Caleb Littlejim, and the Wildcat centerfielder pounced, ripping a deep fly over the wall and into the Baylor bullpen in left field for a three-run homer. Suddenly the Wildcats led, 9-3, and the comeback climb grew even steeper for the Bears.
"They're a very good offense and obviously their numbers show that," Rodriguez said. "The success they've kind of had down the stretch just kind of proves, offensively, that they're a really good program and a good team. We had our older guys going today.
"I just think we made a few too many mistakes. Even the slider that Luke threw, it was up and it didn't do much. Truthfully, the inning got away from us because we gave them a couple of free bases and then they just hit a bunch of singles, and then obviously the home runs. But we couldn't stop it when we needed to."
Given that Baylor scored 43 runs in taking a series win over K-State on May 7-9, including a school-record 17 runs in one inning, the Bears didn't necessarily feel dead in the water. They bounced back with one run in the bottom of the inning when Tre Richardson reached on a slow infield roller, and then Andy Thomas followed with a towering fly to right that somehow stayed in the ballpark, bouncing off the façade for an RBI triple.
However, that's kind of the way it went against Wildcats reliever Carson Seymour (3-4). Even when the Bears hit the ball hard against the 6-foot-6 right-hander, they failed to take full advantage. Seymour retired the final seven BU batters of the game, despite the Bears getting some solid contact. Kyle Nevin, Davion Downey and Chase Wehsener all had well-struck liners to the outfield in that final stretch, yet K-State's fielders barely had to move to snare the ball.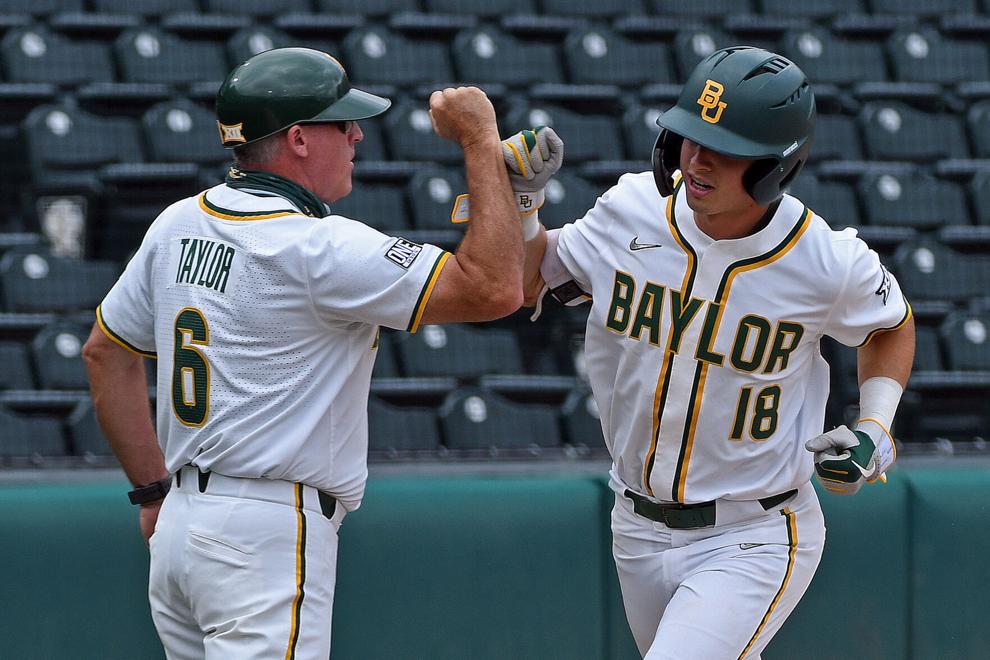 "He had a plus-plus slider, and he did a good job, threw it well, left it down," said Baylor's Jared McKenzie of Seymour. "We kept going after it. Good fastball, and then he'd mix in that slider, and it was tough for us to lay off of it. But tip your cap to him, because he came out and threw the ball really well and gave them a chance to win."
In the early innings, Baylor positioned itself nicely for an advancing win. Kettler kept the ball low and gave K-State's sluggers little to hit. The fifth-year senior allowed baserunners in four of the first five innings, but adeptly wiggled out of trouble, including capitalizing on a slick 6-4-3 double play in the third inning.
In the bottom of that frame, McKenzie gave the Bears the lead when he led off with a deep drive down the right-field line for a solo home run. Well, actually, the fact that it was a round-tripper was up for debate for a moment, as the umpires halted McKenzie in mid-home run trot to review whether the ball stayed fair. But they gave the home run signal after the stoppage, and McKenzie's 10th bomb of his freshman season put the Bears on the board, 1-0.
K-State replaced starter Connor McCullough with Seymour for the fourth inning, and Baylor met the reliever with a boisterous greeting. After two quick outs, the Bears banged out three straight singles, including a McKenzie chopper up the middle that pushed the gap to 3-0.
In the sixth inning, Baylor's Richardson delivered the defensive play of the game when the second baseman chased a Spurlin foul ball all the way to the stands, diving into the netting like a hockey puck to make the SportsCenter-worthy catch. That was the second out of the frame, and Kettler again appeared to be in great shape.
But when the Wildcats find a fat pitch to their liking, they can crank it a long way. Kokoska followed Richardson's web gem with a solo homer to right, and then Goodwin added a longball to left for back-to-back jacks. That allowed K-State to cut the score to 3-2 and bounced Kettler from the game.
"The big thing about Hayden is that he doesn't have a ton of velocity, so his opportunities for mistakes, you have to make sure you really minimize those because if you make a mistake with lower velocity then it has a better chance of getting hit. He just made a couple of mistakes, and they got to him," Rodriguez said.
Kettler could do nothing but watch an inning later when K-State's real surge began. The Wildcats finished with three home runs and 12 hits for the game, and every starter delivered at least one base knock. They belted six hits in the seventh inning alone.
McKenzie went 2-for-3 with three RBIs to pace Baylor at the plate in the loss. But for the second straight game, the Bears' bottom of the lineup struggled. The team's final five hitters in the order combined to go 2-for-18 (.111) with one run scored.
Kansas State, which lost its opening game to TCU, 7-6, stays alive in the tournament and will face the loser of Texas Tech and TCU at 3:15 p.m. Friday in another elimination game.
Texas 4, Oklahoma 1
OKLAHOMA CITY — The Longhorns avoided a two and 'cue.
UT starter Tristan Stevens gave top-seeded Texas a big-time effort on the mound, allowing the Longhorns to stay alive and send the hometown Sooners packing. Stevens (9-3) limited Oklahoma to just four hits and one run, tossing 64 of his 102 pitches for strikes. Then Aaron Nixon closed the game out with two scoreless innings for UT for his eighth save.
The Texas offense did just enough to skate by, led by Zach Zubia, who went 3-for-5 with an RBI.
Texas had been pushed into an elimination game by losing its opener to eighth-seeded West Virginia, 5-1, on Wednesday. The Longhorns will face the loser of West Virginia and Oklahoma State in an elimination game at 7:30 p.m. Friday.
Night games postponed
The Big 12 tournament game between Texas Tech and TCU that was slated for 4 p.m. Thursday was postponed due to a severe weather warning in the OKC area. The teams will now play at 9 a.m. Friday.
That also pushed West Virginia's game with Oklahoma State to Friday. That game will be played at 4 p.m., and the loser of that game will essentially play a doubleheader, as they'll face Texas right after in an elimination contest.