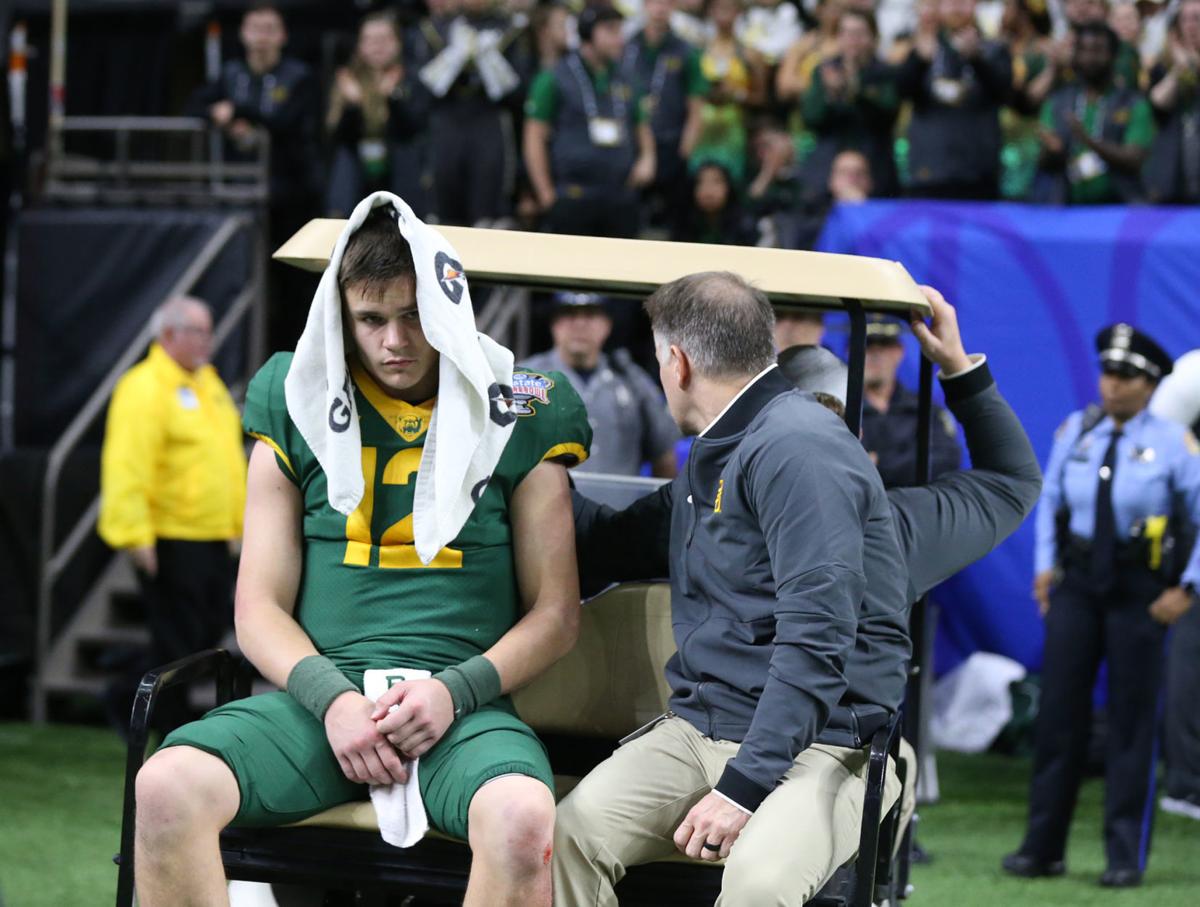 NEW ORLEANS — After helping Baylor rally to get back into Wednesday's 26-14 Sugar Bowl loss to Georgia, quarterback Charlie Brewer was knocked out with 8:44 remaining after taking a hard shot on the sidelines from freshman lineman Travon Walker.
But Baylor coach Matt Rhule said Brewer was checked out and cleared for neck and head injuries. Rhule said Baylor will continue to monitor the junior quarterback.
"It's scary when they were holding his head and all that and stabilizing his neck," Rhule said. "And he's yelling at them to let go of him and let him go back in the game. He's just that kind of guy. He's a great player whose best football is ahead of him. We have to become better on offense quickly protecting him so he can stay upright is a major thing."
It marked the third time in the last four games that Brewer left the game after taking a blow to the head after previous incidents in the fourth quarter against Texas on Nov. 23 and in the second quarter against Oklahoma on Dec. 7 in the Big 12 championship game.
Brewer underwent concussion protocol and was cleared to play for the Sugar Bowl beginning with a Dec. 21 practice. Brewer's teammates knelt and prayed for him as he was being checked out on the sidelines Wednesday night at the Superdome.
"I'm very concerned," said Baylor receiver Denzel Mims. "I hope and pray he's good. I'm sure he's good, he's a tough dude. I know after this, I'm going to go find him and make sure he's all right. That's my brother, I've always loved Charlie."
New Year's Day blues
Baylor's last three major bowl games have followed similar trajectories.
The Bears' third 11-win season in seven years ended in defeat, a victory short of a program-record 12th win. That's the way it went in the past two trips to New Year's Day bowl games, too.
In the 2014 Fiesta Bowl, the sixth-ranked Bears lost to Blake Bortles and the 15th-ranked UCF Knights, 52-42. That loss came amid rumors that then-BU head coach Art Briles might be headed to the University of Texas.
A year later, Michigan State powered back from a 20-point deficit with three fourth-quarter touchdowns to stun the Bears, 42-41, in the Cotton Bowl.
With its Sugar Bowl loss to Georgia on Wednesday, Baylor falls to 2-6 all-time on New Year's Day. Its last win on Jan. 1 came in its only other Sugar Bowl appearance, a 13-7 victory over No. 2 Tennessee in 1957.
Bears' Lynch mum on NFL
Baylor's James Lynch has a decision to make. But he's not making it yet.
Lynch, the junior defensive end who won Big 12 Defensive Player of the Year honors, figures to be one of Baylor's top NFL prospects. But will he declare for the draft or return for a senior year, another shot at a College Football Playoff, and a chance to potentially raise his stock?
Asked about his future, Lynch said the timing isn't right to even think about it.
"I have no idea," said Lynch, who owns Baylor's single-season (13.5) and career (22) sacks records. "We have seniors in here right now next to me, we just lost the Sugar Bowl, the last two games we've lost, and they don't deserve that. I can't really think about anything else right now."
The deadline to declare for the draft is Jan. 17.
Dog bites (running) man
You just don't run on the Dogs.
In one game, Baylor's Charlie Brewer doubled the amount of rushing touchdowns surrendered by Georgia on the season. Brewer scored once.
That's right — the Bulldogs had allowed just one rushing TD on the year coming into Wednesday's game, the best mark in the country. Oregon was second with four scores allowed on the ground, entering the Rose Bowl.
Georgia was also one of just seven teams to have limited opponents to under 3 yards per carry. The Bulldogs had allowed only 2.65 yards per carry in their first 13 games, second only to Penn State's 2.55.
Against Baylor, the Bulldogs were even better — giving up 61 yards on 28 carries, a paltry average of 2.2 per tote.