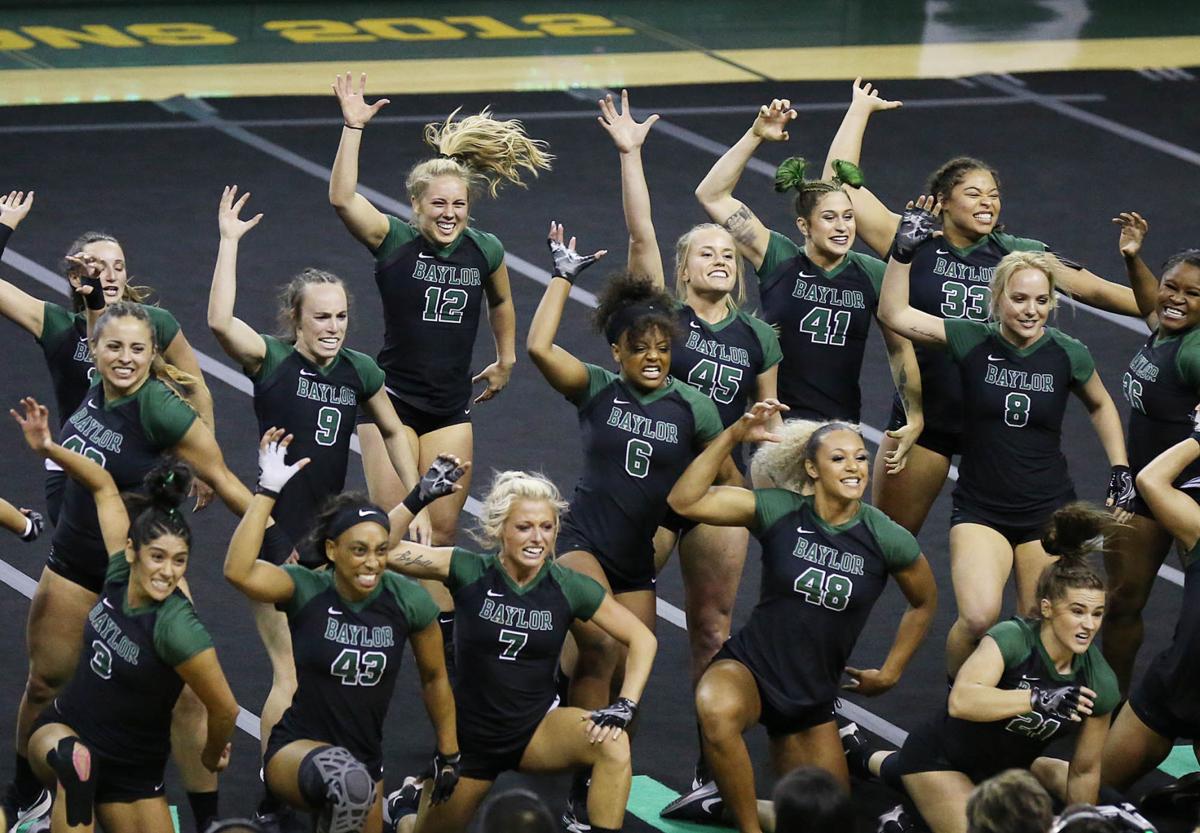 Oregon made it interesting, even dramatic for a while. But leave it to those Baylor Bears to script a twist ending.
Actually, make it quite a few twists, with some handsprings, flips and round-offs thrown in for good measure.
Top-seeded Baylor showed off in the tumbling event to turn a super-tight match with No. 2 Oregon into a comfortable win, 278.400 to 271.725, to clinch the program's fifth straight national championship at the National Collegiate Acrobatics and Tumbling Association Championships before a noisy crowd of 1,308 at the Ferrell Center on Saturday night.
Baylor (12-0) set a single-season program record for wins, and claimed its 30th consecutive win dating back to the 2017 season. BU head coach Felecia Mulkey has experienced nothing but national championship glory in her career, as the winner of all nine NCATA titles since the sport began, dating back to her days at Oregon.
So she knows a winner when she sees one, and she spotted that victorious stride from her athletes earlier in the day.
"It was really special. I've had (the feeling) all day," Mulkey said. "I just know. You can tell by their demeanor in the morning, eerie calm. You can just always tell when they're ready and when they turn the corner. … So yeah, it was a great meet."
Baylor wins NCATA acrobatics and tumbling national title: April 27, 2019
The Ducks (7-3), as they often do, gave Baylor a tussle much of the match. After four events they trailed by a slim margin of 125.275 to 124.475. But the Bears carry a stable of highly proficient tumblers, and when the tumbling event started, the Bears raised their level of performance.
The Bears opened that event with a fireworks finale-level bang. Sophomore Briana Harris and senior Kaylee Adams flip-flopped across the mat in harmonious unison in the duo pass, a run that later was rewarded with a 9.600 score and set the tone for a dominant tumbling set.
Mulkey said that she thought that Adams and Harris were worthy of a perfect 10 after that run.
"The officiating (at nationals) is just different, because there's more people on the panel," she said. "There were a couple of times I was like, 'Ah, OK.' (Adams and Harris) were so fantastic, and they worked so hard to get it synced. They just really worked hard this past week to get in sync before this meet."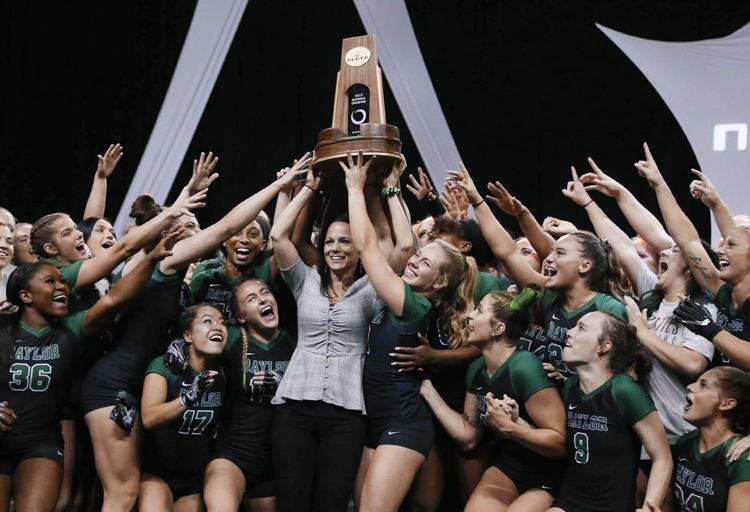 In the quad pass shortly thereafter, Oregon's Calyx Hampton fell on her backside while trying to stick the final landing. Baylor's foursome of Ashley Echelberger, Mercy Seay, Alexsis Amrhein and Madison Kruse followed the Ducks' run with a strong pass that probably clinched the national title.
Then the Bears put it away with brilliant efforts from Hope Bravo in the aerial pass (9.700), Adams in the 6-element pass (9.90) and Harris in the open pass (9.825). The move to Harris was a change for Baylor, as the Bears used senior Bailey Hollier in the open pass in their quarterfinal and semifinal victories. But Harris put a powerful exclamation mark on the tumbling proceedings, opening with a full front flip before ever putting her hands on the mat and busting off a well-executed pass.
"We've been thinking about it for a while," Mulkey said. "And we just thought it would be a strategy for us, because they've seen Bailey's pass so often, and they seemed to know what to look for. And they haven't seen Bri. She has a different pass, she's super dynamic, and we wanted to see how it would score with this officiating group, and just took a chance on it. And I'm glad we did, she scored really well for her first time out. So, I'm excited for next year with this one."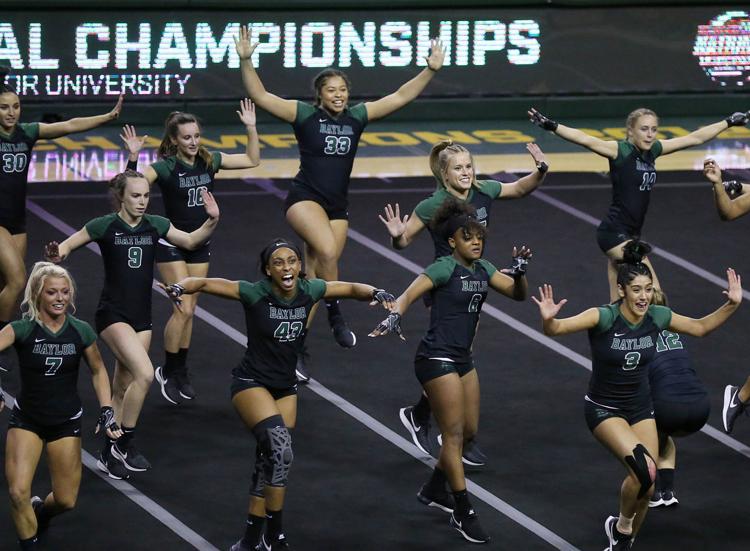 The tumbling win allowed Baylor to take a more comfortable three-point edge into the final team routine of the season. Oregon then seemingly opened the door even wider to a BU triumph with a drop in one of its team routine tosses.
However, Mulkey summoned her team together at that point and stressed that the Bears couldn't take anything for granted.
"I'm glad that I saw it, because I pulled our team in," the coach said. "They were already doing it, I didn't have to, but I pulled our team in and said, 'You have not won this yet.' That wasn't an automatic win for us. If we didn't execute, we could have been in the same shape. So we had a little powwow and said, 'We have not won this. We have to go out and win it.'"
That's exactly what they did, pulling off a near-flawless, typically high-energy team routine to seal the victory.
Mulkey and the athletes routinely talk about chasing a feeling rather than a trophy. It's the feeling of knowing that you brought your 'A' game, that you performed as well as you possibly could, that you left it all on the mat.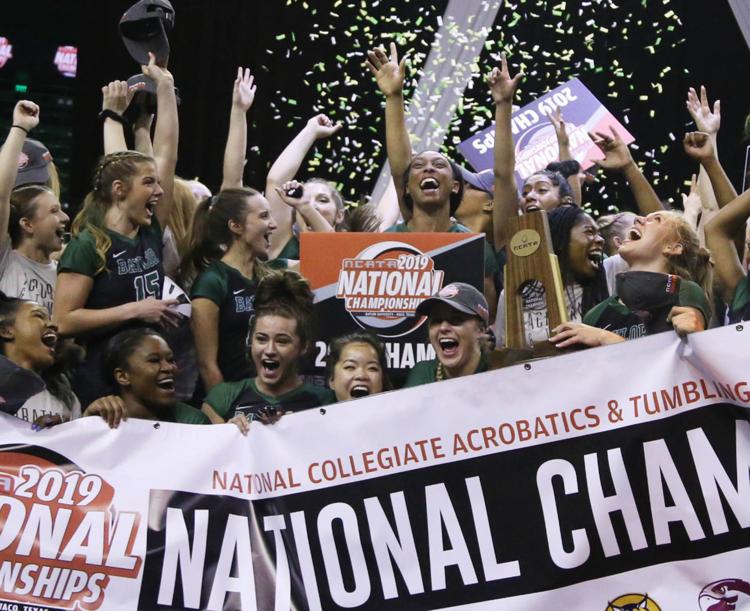 Afterward, the coach and several of her athletes confirmed that they all experienced that feeling in Saturday's match. Some felt it at different times than others. But the fact that it led to another national title was just icing on the cake.
"It was an incredible experience, the experience of a lifetime," Adams said. "I got the feeling right after my pass. Right before, I was tearing up, because it's the last one ever, right? So, I cried there, and then I felt it a lot when I finished the toss in the team event, and my teammates just squeezed me so tight."
Echelberger, who Mulkey dubbed "a ninja," and the seniors go out as four-time national champs, a pretty impressive run.
"I definitely think we got the feeling," Echelberger said. "The team event was amazing. I would love to do it again. It was just amazing with my teammates, and a great national championship."
Bears claim six individual NCATA awards
Baylor also tied a program record by winning six NCATA individual awards, as senior Ashley Echelberger was named Most Outstanding Athlete, junior Joie Hensley was selected as Specialist of the Year, and four others garnered All-America honors in seniors Kaylee Adams, Hope Bravo, Ceara Gray and Echelberger.
Echelberger gives Baylor the Most Outstanding Athlete honor for the third straight year and fourth overall, joining Kiara Nowlin (2015, 2017) and Gray (2018) as Bears to have won it. She competed in 12 different heats for BU throughout the year, averaging a score of 9.70 or better in eight of them, and was part of six perfect scores.
The Bears stuffed the trophy case even more by winning eight national titles in Saturday morning's individual event finals, which tied a program record. Baylor won the six-element heat in acro, inversion in pyramid, the 450-degree salto in toss, synchronized toss, duo tumbling, quad tumbling, aerial tumbling, and the six-element pass in tumbling.
Be the first to know
Get local news delivered to your inbox!