INDIANAPOLIS — Since COVID-19 canceled the Dec. 5 showdown between No. 1 Gonzaga and No. 2 Baylor, college basketball has been waiting for the moment when the two powerhouses would collide.
That time will come Monday night on the sport's biggest stage.
Baylor University fans retrieved their sleeping bags and spent the night at old Floyd Casey Stadium back in November 1974, the scoreboard read…
The Bears and Zags will both shoot for their first national championships when they meet at 8:20 p.m. at Lucas Oil Stadium in one of the most highly-anticipated title games in recent history.
"Coach (Mark) Few and I when we were together on Dec. 5 and the game got canceled, we said how neat would it be to play this game on April 5," said Baylor coach Scott Drew. "God always has a plan, and we've got a great game in store hopefully. Players always want to play against the best, and Gonzaga has definitely been the best this year as far as they haven't been beaten yet."
The Zags (31-0) are trying to become the first NCAA champion to go unbeaten since the 1976 Indiana Hoosiers. They're only four years removed from a 71-65 loss to North Carolina in their first national title game appearance.
The Bears (27-2) are making their first national championship game appearance since 1948 when Kentucky rolled to a 58-42 win in an era when the NCAA tournament included only eight teams. Drew is excited that his squad will get another chance to win the championship after last year's NCAA tournament was canceled due to the COVID-19 outbreak
"It's definitely more gratifying with not having an NCAA Tournament last year," Drew said. "We were on the verge of our first No. 1 seed. Obviously we would have liked to have thought we could have had the chance to get to the Final Four and win it all."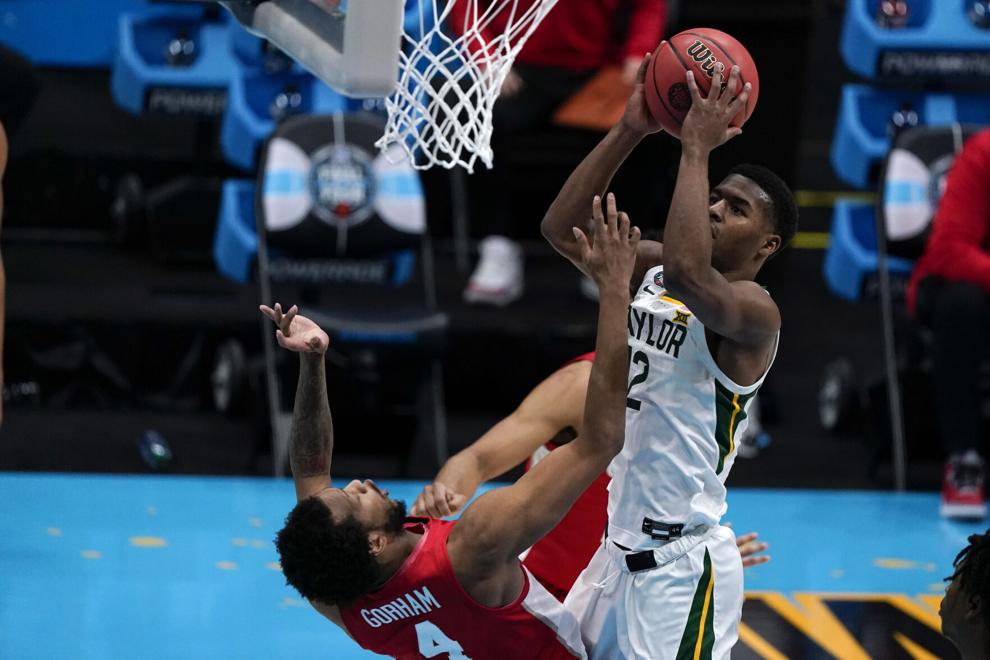 Drew and Few are great friends who teamed up to go undefeated as partners in pickleball games earlier in the NCAA tournament bubble.
"I think this summer at some point, my dad and I will go up to his lake house and play pickleball and go fishing," Drew said. "Mark loves to fish, I love to fish. He's the king of the fly fishing, I think I'm the king of the bass fishing. We have a great relationship."
Even after the Dec. 5 game at Bankers Life Fieldhouse in Indianapolis was called off, Drew and Few looked at numerous options to reschedule the game at other neutral sites but couldn't pull it off.
"We tried and tried," Few said. "After losing the NCAA tournament last year, we wanted to put college basketball in the forefront of everybody's minds. It was very serious. But once we got into the first or second week of January, it looked like with the Big 12 schedule it would be hard to slide it in."
While the Bears romped to a 78-59 win over Houston in Saturday's Final Four semifinals, the Zags pulled off a 93-90 overtime win against No. 11 seed UCLA when guard Jalen Suggs banked in a shot at the buzzer from just inside the halfcourt logo.
Capped by that miracle shot, many observers are already calling the Gonzaga-UCLA game one of the greatest in Final Four history. The Bears watched the game from their hotel rooms.
"Probably like everyone on the eighth floor of the hotel, pandemonium erupted," Drew said. "That's what makes March so special. You have plays like that where you know for the next 25, 30, 40 years they're going to be playing and talking about it."
Prior to the last-second win over the Bruins, Gonzaga had rolled through the West region of the NCAA tournament by beating Norfolk State, Oklahoma, Creighton and USC by an average of 24 points.
With remarkable inside-outside balance, the Zags lead the nation with 91.6 points per game and a 55.0 shooting percentage.
Associated Press second-team All-America forward Drew Timme, a 6-10 Texan who is a graduate of Richardson Pearce High School, leads the Zags with 19.2 points and 7.1 rebounds per game. He played brilliantly against UCLA by hitting 11 of 15 shots and scoring 25 points while taking a charge at the end of regulation to send the game into overtime.
First-team All-America guard Corey Kispert is averaging 18.8 points and shooting 44.5 percent from 3-point range. Suggs, a second-team All-American, is averaging 14.1 points, 5.5 rebounds and 4.7 assists.
Joel Ayayi is averaging 12.2 points and shooting 39.4 percent from 3-point range while point guard Andrew Nembhard is averaging 9.2 points and 4.4 assists. The Zags like to push the ball up and down the court in transition, a trend the tenacious Baylor defense would like to stop.
"It's the best offense in college basketball in I don't know how many years analytically," Drew said. "There's a lot of keys but I think it starts with keeping Gonzaga out of transition. We can't give them the 25 points or whatever they're scoring per game in transition. You've got to make things as tough as possible, and we can't give them easy ones."
The Bears will counter with an offense ranked sixth nationally with 81.6 points per game and leads the country with a 41.2 3-point shooting percentage.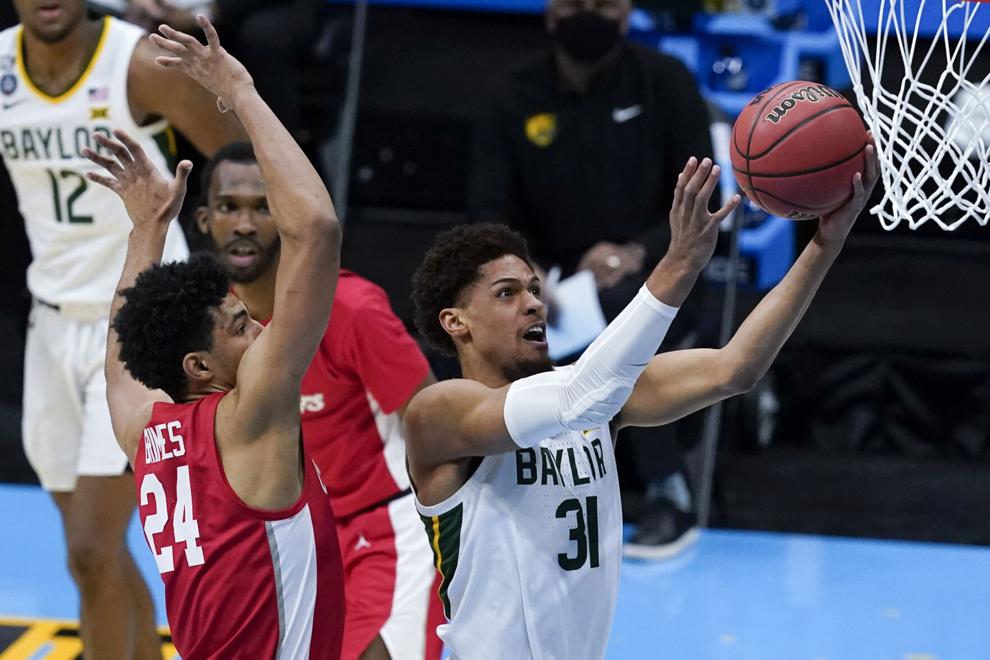 First-team All-America guard Jared Butler is averaging 16.6 points and 4.7 assists while shooting 41.5 percent from 3-point range. MaCio Teague is averaging 15.8 points and shooting 38.5 percent from 3-point range while national defensive player of the year Davion Mitchell is averaging 14 points and 5.5 assists while hitting a team-high 45.3 percent of his 3-pointers.
Butler keyed Baylor's 19-point win over Houston with a 17-point first half while Mitchell played a superb all-around game with 12 points, 11 assists and no turnovers. Few thinks Baylor's starting guard trio is the best in the country.
"The level of skill they possess and the way they shoot the ball, collectively they're better than anybody in the country," Few said. "They play off each other so well. They guard their yard and are very handsy on defense. They make the right reads on ball screens and on penetrations. They shoot the ball really well. It's a little bit like preparing for my guards."
Though their game was canceled in December, both teams know each other well. Drew's Baylor teams have lost all four matchups against Few's Zags since 2006, including an 83-71 loss to No.1-seeded Gonzaga in the second round of the 2019 NCAA tournament in Salt Lake City.
Former Gonzaga director of basketball operations John Jakus left to become an assistant coach for the Bears after the Zags' run to the 2017 NCAA championship game. Gonzaga walk-on Rem Bakamus landed a graduate assistant coach position with the Bears in 2018.
The game will mark just the fourth time the top two teams in the AP preseason poll will meet for the national championship.
"What an absolute thrill to be able to survive the epic battle of Saturday night against an incredible UCLA team," Few said. "We go from the euphoric high of all that to wake up this morning to the daunting task of trying to prepare for an excellent Baylor team that I've been marveling at the last two years."