INDIANAPOLIS — Eighteen years after Scott Drew took over a devastated program no other coach wanted, his Baylor basketball team stood inside Lucas Oil Stadium hoisting a trophy everybody covets.
What once seemed utterly impossible is now reality: The Bears are 2021 national champions.
Combining frenetic energy with remarkable precision, the Bears jumped out to an early 19-point lead and romped to an 86-70 win over No. 1 overall seed Gonzaga, which saw its bid to become the first unbeaten team in 45 years denied.
The Bears (28-2) captured their first national championship on Monday night 73 years after making their only other title game appearance in 1948 when they dropped a 58-42 decision to Kentucky.
INDIANAPOLIS — All season long, Baylor has embraced what it calls a "culture of joy."
The Bears became the first Texas school to win the NCAA Division I men's basketball championship since Texas Western (now UTEP) in 1966.
Baylor stopped Gonzaga (31-1) from becoming the first NCAA championship team to go unbeaten since Bobby Knight's 1975-76 Indiana squad finished 32-0.
After the dominating win, the Baylor players stood atop a table and recognized a roaring fan base. As green and gold confetti rained down, Drew hugged every player and assistant coach within eyesight. Fifth-year seniors Mark Vital and MaCio Teague embraced for a long well-deserved hug before the Bears took turns cutting down the nets.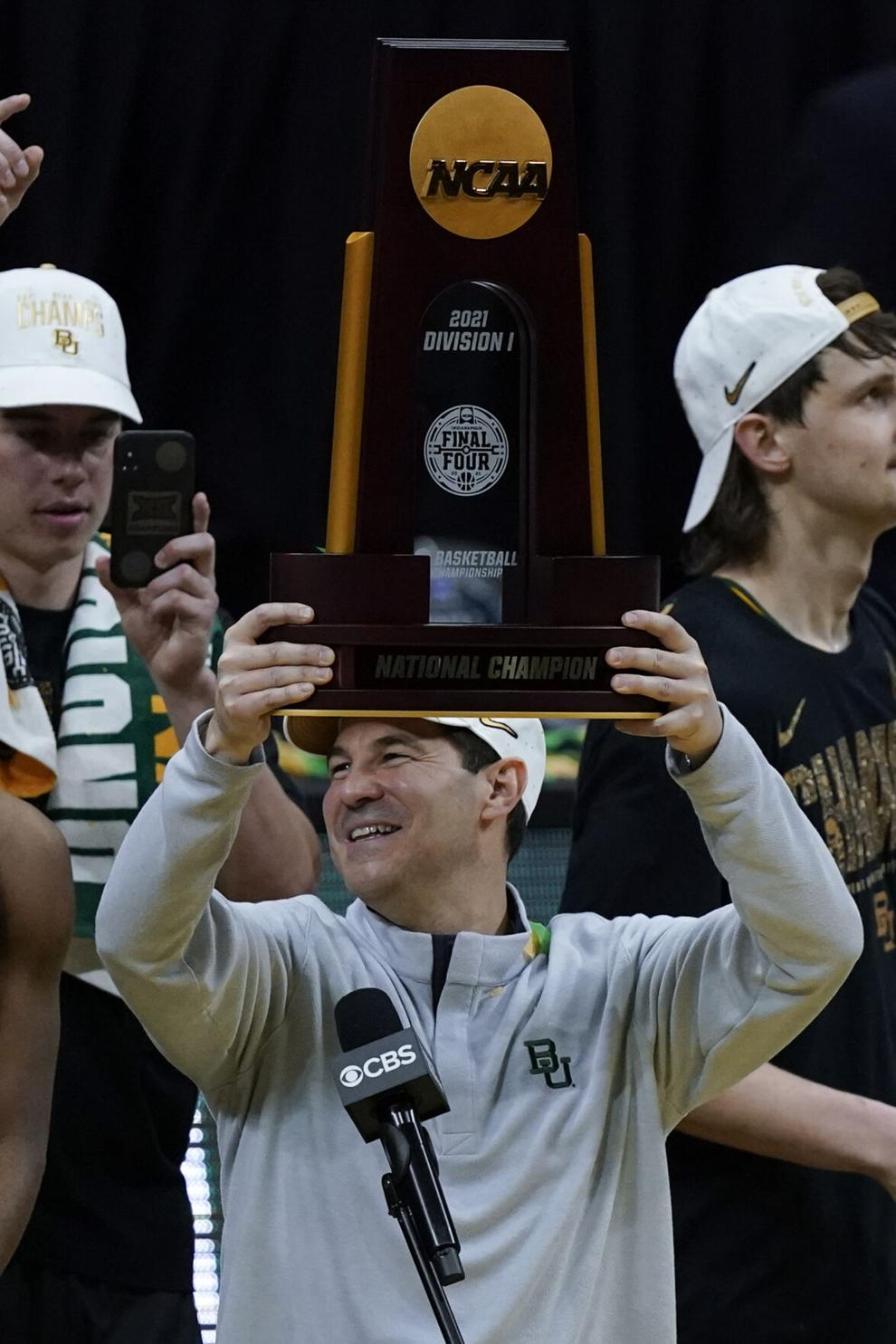 "Our guys have been motivated all year and we were blessed to have upperclass leadership," Drew said in his postgame on-court interview as the Baylor fans cheered him on. "We got off to a great start offensively and defensively. These fans deserve it and the city of Waco deserves it. And we (the state of Texas) haven't won a national championship since '66. It's long overdue for the state and I'm so pleased for all of them."
Winning the title a year after the NCAA tournament was canceled due to the COVID-19 outbreak was especially satisfying for the Bears since they were headed for a No. 1 seed in 2020. Spending the last three weeks in the NCAA tournament bubble, the Bears' bond grew tighter as they swept six straight games by an average margin of 15.3 points.
"I'll probably remember that more than winning the championship," said Baylor guard Jared Butler. "They're just great guys, It's really like a family. We got through it, we loved each other."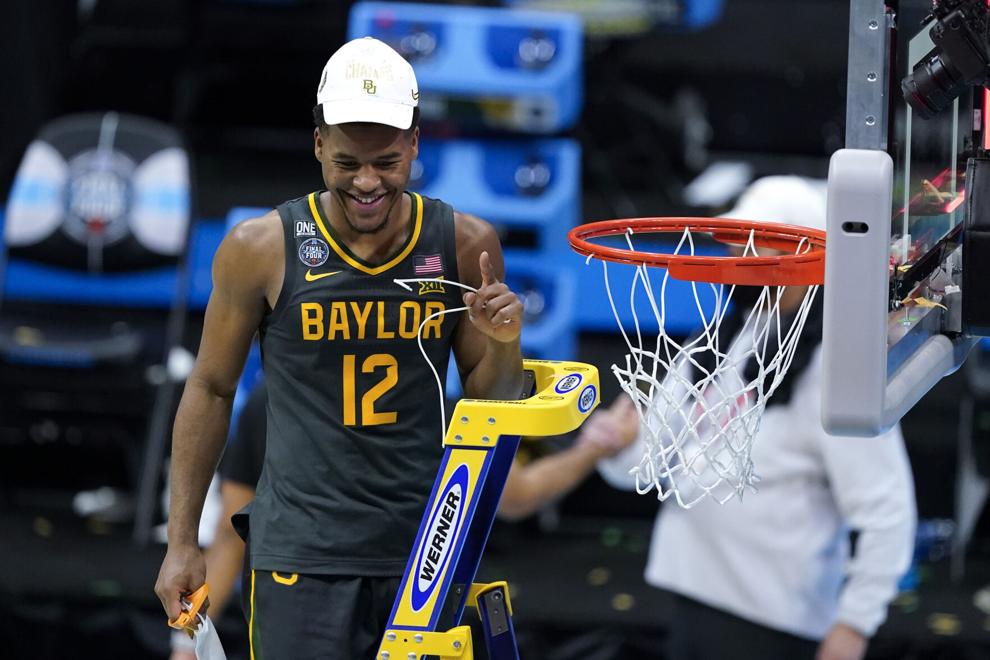 The national championship matchup was highly anticipated after the Bears' Dec. 5 regular season game against Gonzaga in Indianapolis was canceled due to the Zags' COVID-19 issues. Baylor was shut down for three weeks in February with its own coronavirus issues.
But the Bears dominated offensively and defensively from the tipoff as they led by double digits most of the game.
"It's a really, really tough one to end a storybook season on," said Gonzaga coach Mark Few, whose team lost to North Carolina in the 2017 national championship game. "But listen, Baylor just beat us. They beat us in every facet of the game tonight and deserve all the credit. And obviously we're all disappointed in here, but as I told the guys, you make it this far and you're 31-0 going into the last one, there's absolutely nothing you should ever feel bad. But hats off to Baylor. They dominated us on both sides of the ball."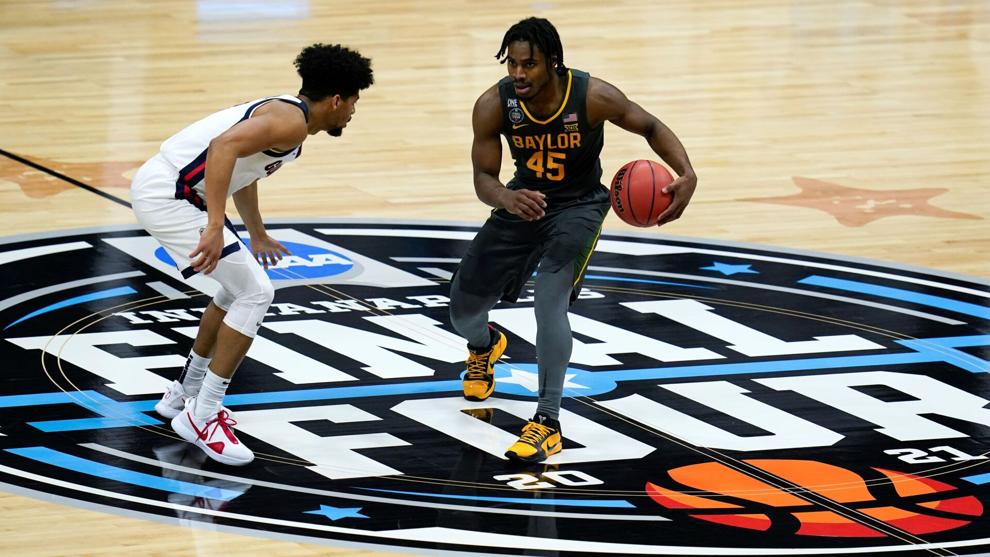 Butler was named the NCAA tournament's most outstanding player as he erupted for 22 points while dishing out seven assists. Teague collected 19 points while Davion Mitchell delivered a tremendous all-around game with 15 points, six rebounds and five assists.
Adam Flagler came off the bench to hit three of four 3-pointers and score 13 points. After hitting their first five 3-pointers, the Bears finished 10 of 23 beyond the arc while nailing 16 of 18 free throws and committing only nine turnovers.
"One thing I can tell you about our guards, when the best is needed, the best is usually provided," Drew said. "As RG3 would say: No pressure, no diamonds. And our guys, the better the opponent, the better they play. And they love being the first: first to win conference since 1950, first to win a national championship. I mean that really motivates them."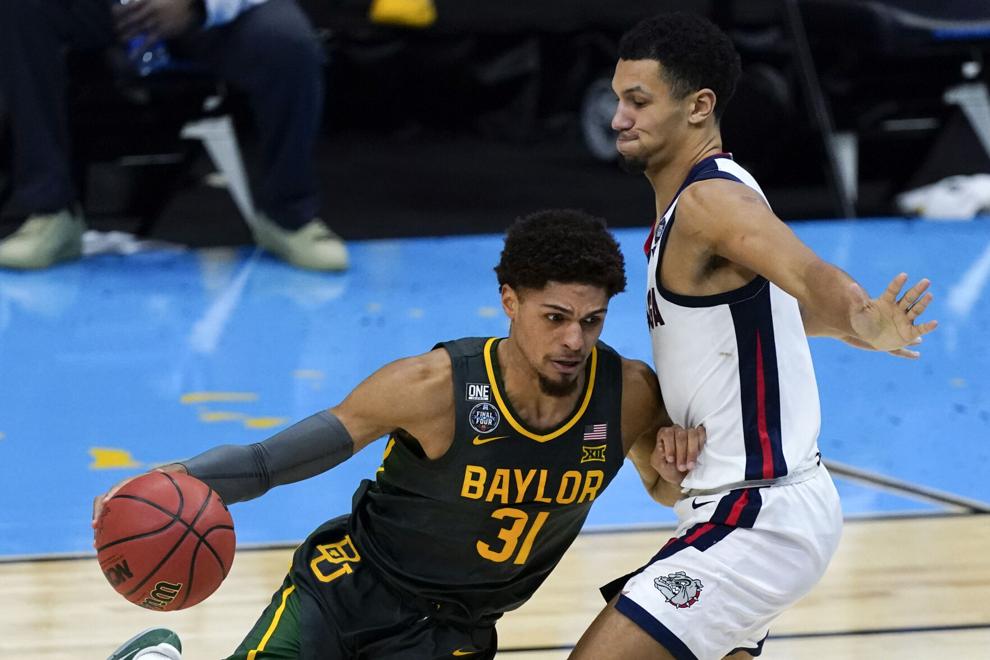 Baylor's defense limited the Zags' high-flying offense to their fewest points of the season. While Jalen Suggs scored 22 points, the Bears held center Drew Timme to 12 points after he had dominated Gonzaga's first five NCAA tournament opponents. With Vital pulling down 11 rebounds, the Bears controlled the boards 38-22.
Facing a Gonzaga squad that entered the game leading the nation with 91.6 points per game, Baylor's aggressive man-to-man defense didn't allow the Zags to get into transition in the early minutes.
Much like its 81-72 win over Arkansas in the Elite Eight and a 78-59 win over Houston in the Final Four semifinals, Baylor's offense came out on fire by burying shots from long range and playing mistake-free basketball.
Mitchell opened Baylor's scoring by hitting an outside shot before Butler scored on a layup. Mitchell then took a charge from Suggs, who hit the miracle 3-point shot to beat UCLA in overtime 93-90 in Saturday's semifinals.
Following Mitchell's 3-pointer, Butler completely faked out Gonzaga defenders for a spinning layup. Mitchell's outside shot gave the Bears an 11-1 lead.
Gonzaga finally hit its first field goal when Corey Kispert drained a 3-pointer with 15:28 left in the first half. But the Bears wouldn't be denied offensively as Butler hit Jonathan Tchamwa Tchatchoua for a layup and then stepped outside and buried a 3-pointer.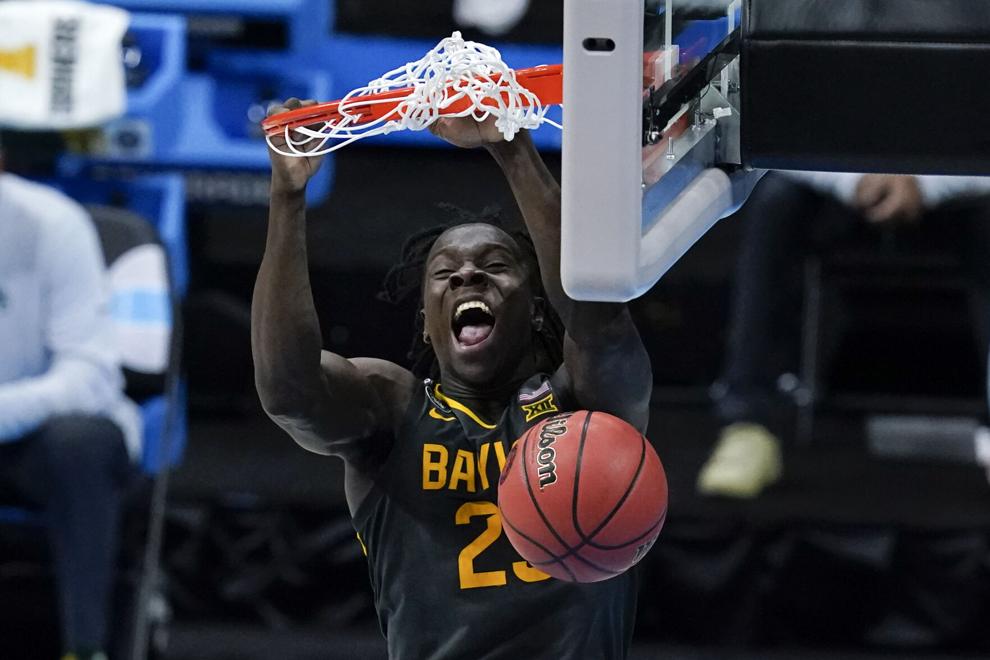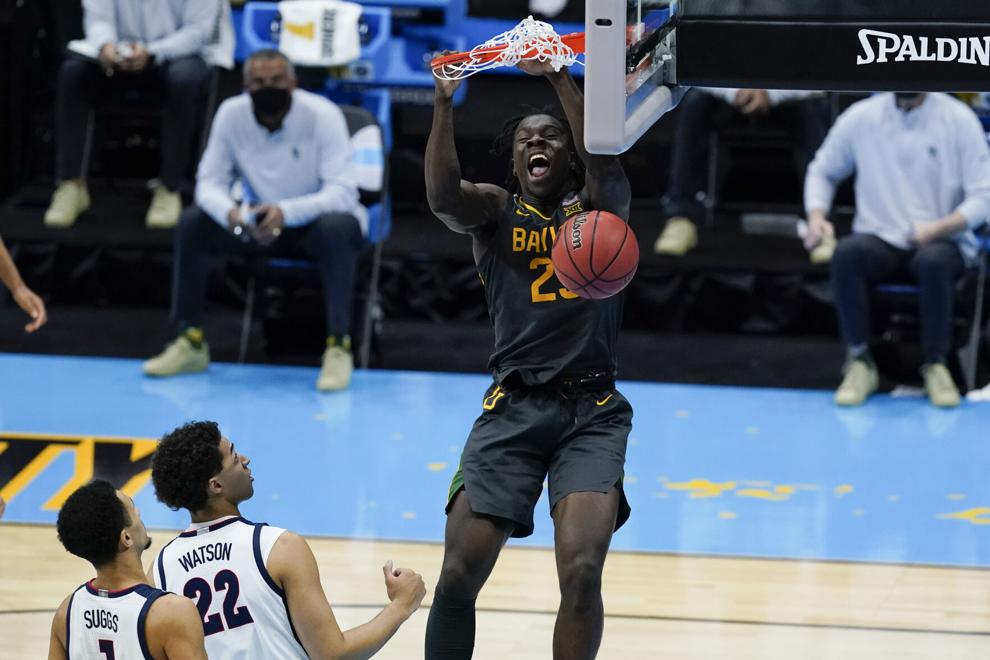 Flagler came off the bench and drained a 3-pointer and Matthew Mayer dished inside to Tchamwa Tchatchoua to push Baylor's lead to 23-8 with 12:55 left in the first half.
"The start of the game was tremendous," Butler said. "We didn't look at the scoreboard. We were just going out there, giving it our all. I knew at some point we were up big. Everybody was hitting shots. Electrifying, especially in that type of moment, a big game, and everybody stepped up. Everybody was clicking on all cylinders, and that's what it takes to win."
Baylor's defense continued to thrive as Flo Thamba blocked Kispert's shot on a drive inside before Butler and Teague drained 3-pointers to give the Bears a 29-10 lead with 10:04 left in the first half.
With Timme scoring 10 first-half points, Gonzaga found a smoother offensive rhythm in the closing 10 minutes of the half. But with Teague hitting a fadeaway jumper, a 3-pointer and another outside shot, the Bears continued to lead by double digits.
With a 9-2 closing run, Gonzaga cut Baylor's lead to 47-37 at halftime. Butler lifted the Bears to a great start to open the second half by burying a pair of 3-pointers.
"That's always a point of emphasis for us, the first five minutes," Butler said. "These type of games are second-half games. Early leads don't mean anything. We looked at it like 0-0 and we knew they were going to fight. Very talented team. They're never out of the game."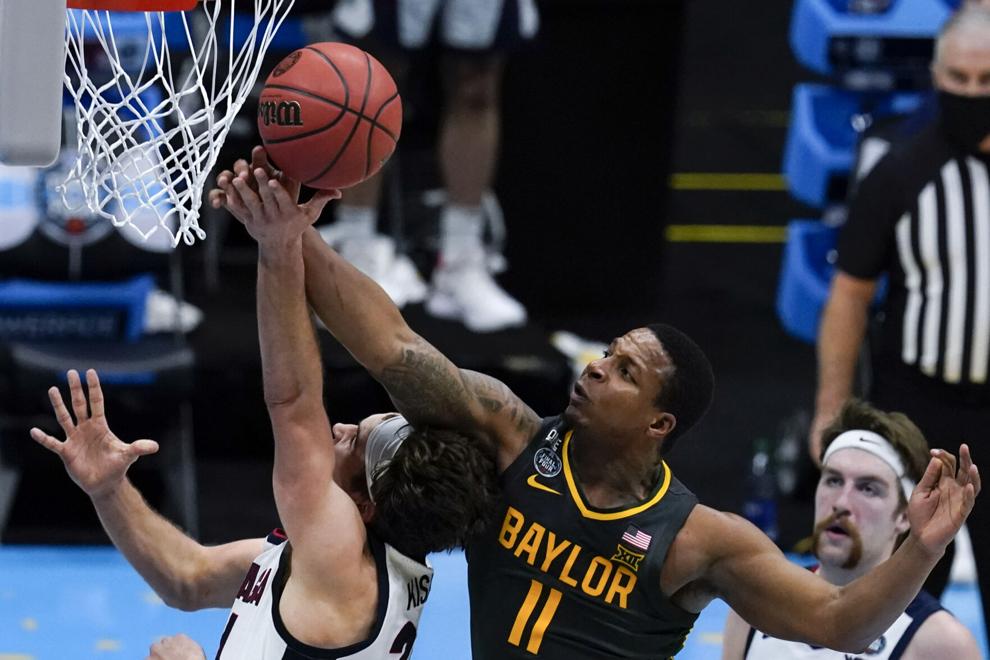 With the Zags pushing the ball inside, they trimmed Baylor's lead to 58-49 when Andrew Nembhard scored onside with 14:29 remaining.
The Bears answered with a 9-2 run that was sparked by Vital's relentless hustle. Vital started the run by taking a pass from Butler and scoring inside. Then Vital scrambled for a loose ball that led to Butler's steal and two free throws.
Following Teague's basket in the paint, Vital blocked Kispert's layup and Flagler buried a 3-pointer to extend Baylor's lead to 67-51 with 12:55 remaining.
The Bears opened up a 73-53 lead after Mayer hit a short jumper and Mitchell nailed a pair of free throws with 10:39 remaining.
The Zags pulled within 75-62 when Kispert buried a 3-pointer, but Teague and Mitchell came back with baskets for the Bears to push the lead to 82-63 with 4:01 remaining.
Leading comfortably with 59 seconds remaining, Drew began unloading his bench. The celebration was on.
"I know the guys have worked really hard," Drew said. "And I'm so happy they get a chance to celebrate now. What I'm going to take away the most from this is to be thankful that the NCAA gave us an opportunity to have an NCAA tournament."
Photo gallery