It was a moment Baylor Lady Bears fans never wanted to see, but it came to pass on Monday.
LSU introduced Kim Mulkey, who guided the Lady Bears to three national championships, as the Tigers' new women's basketball coach on Monday evening at the Pete Maravich Assembly Center in Baton Rouge, La.
A large crowd, which included Louisiana governor John Bel Edwards and LSU baseball coach Paul Mainieri along with university administrators and Tigers fans, gave Mulkey a standing ovation when LSU athletic director Scoot Woodward introduced her.
"There are great coaches all over this country, but It's not every day you get to hire a champion," Woodward said. "That's exactly what Kim Mulkey is. A champion. Period."
Mulkey didn't address Waco media or return text messages from the Trib on Sunday. But she did meet with the Baylor players and told them of her decision. She was asked about that meeting by a member of the Baton Rouge media.
"When you invest in a young person's life and you tell them you're leaving, you feel a great sense of remorse, sadness because they came to an institution because of you and the program that you built," Mulkey said. "You can imagine it was many, many tears shed. All I could tell them was I was going home and that I loved them and that I hoped that they could understand and not be angry at me. But it's just a feeling in my gut that it was time to go home."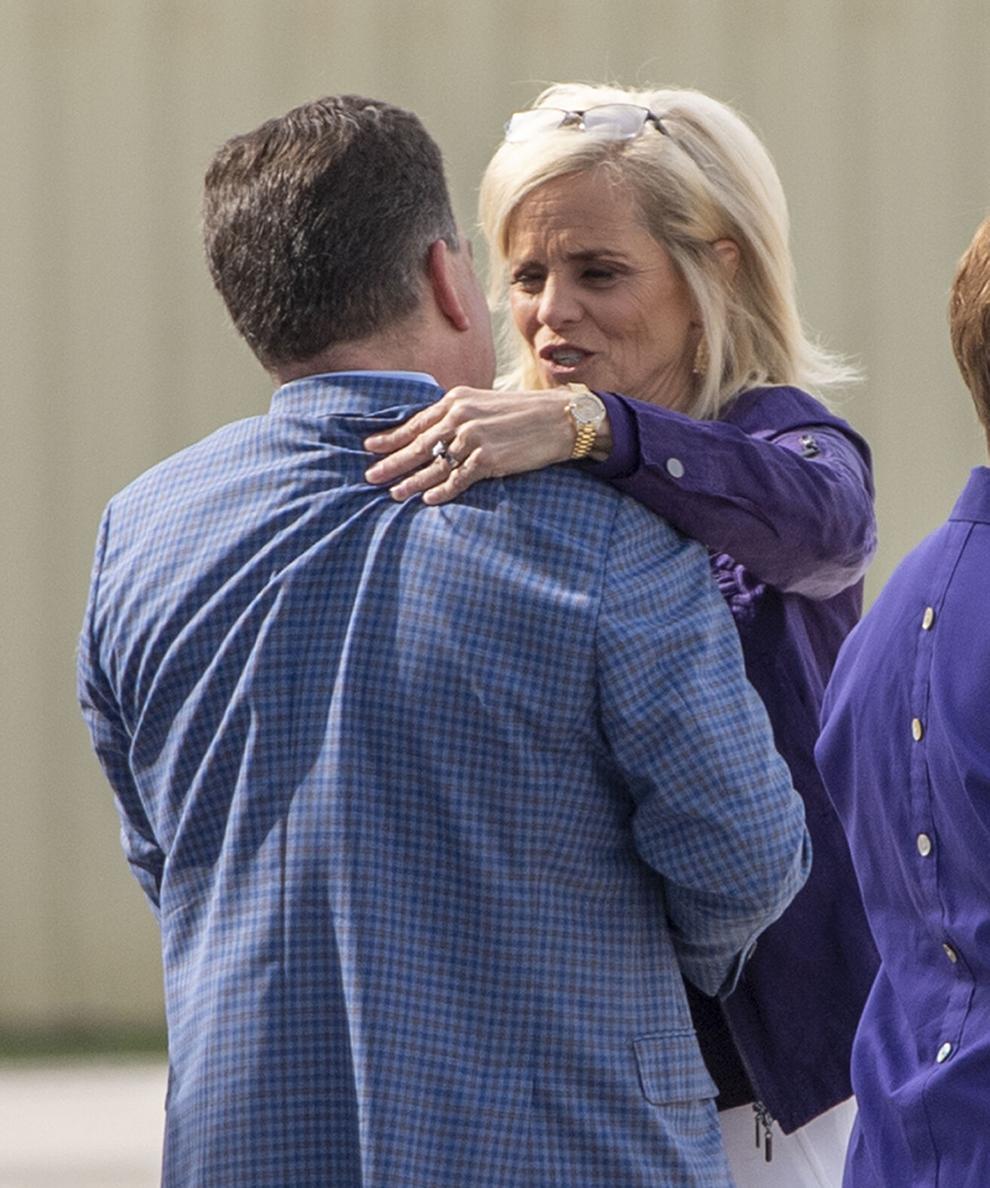 Mulkey is a native of Hammond, La., and played college basketball at Louisiana Tech. After her playing career she joined Leon Barmore's staff at Louisiana Tech as an assistant coach.
Baylor hired Mulkey and made her a head coach for the first time on April 4, 2000. She guided the Lady Bears to their first NCAA Tournament in her first season.
"I've been at Baylor 21 years of my life," Mulkey told the Maravich Center crowd. "I built that program from the ground up. I should say we built that program from the ground up. Can you believe there's only one institution I would have left for? And they made the commitment and I'm home."
Mulkey's contract details have not been released yet.
During the introductory press conference, Mulkey, who was dressed in a purple shirt and purple denim jacket, introduced the members of her staff that traveled with her to Baton Rouge on Monday. The group did not include associate head coach Bill Brock or recruiting coordinator Sytia Messer.
Baylor has named Bill Brock as interim head coach, athletics communications contact Kyle Robarts confirmed on Monday.
On Sunday night, San Antonio Reagan High School sophomore guard Sammie Wagner, who committed to Baylor as an eighth grader in 2019, announced on Twitter that she was reopening her recruitment.
"My dream to play for Baylor has been based on my love for my Dad's alma mater since a very young age but also for the relationship I built with Coach Mulkey since I was six years old at my first Biddie Ball camp where she picked me out of a group of 2nd graders," Wagner tweeted. "I am sad to have had those two things split apart."
There wasn't any movement from Baylor's current women's basketball roster as of press time on Monday. Lady Bears forward NaLyssa Smith, the Big 12 Player of the Year last season, as well as key players Queen Egbo, Moon Ursin, Trinity Oliver, Caitlin Bickle, Sarah Andrews and Hannah Gusters are all eligible to return.
Baylor said in a press release on Sunday that it would not provide updates on the search for a new women's basketball head coach until the school was ready to name that person.
Mulkey's Lady Bears won 12 regular season Big 12 championships, including the last 11 in a row. That's the legacy she left in order to return to her home state.
"I had many opportunities to leave and this is the only one that could get me to leave," Mulkey said. "Thank you again for bringing me back home."