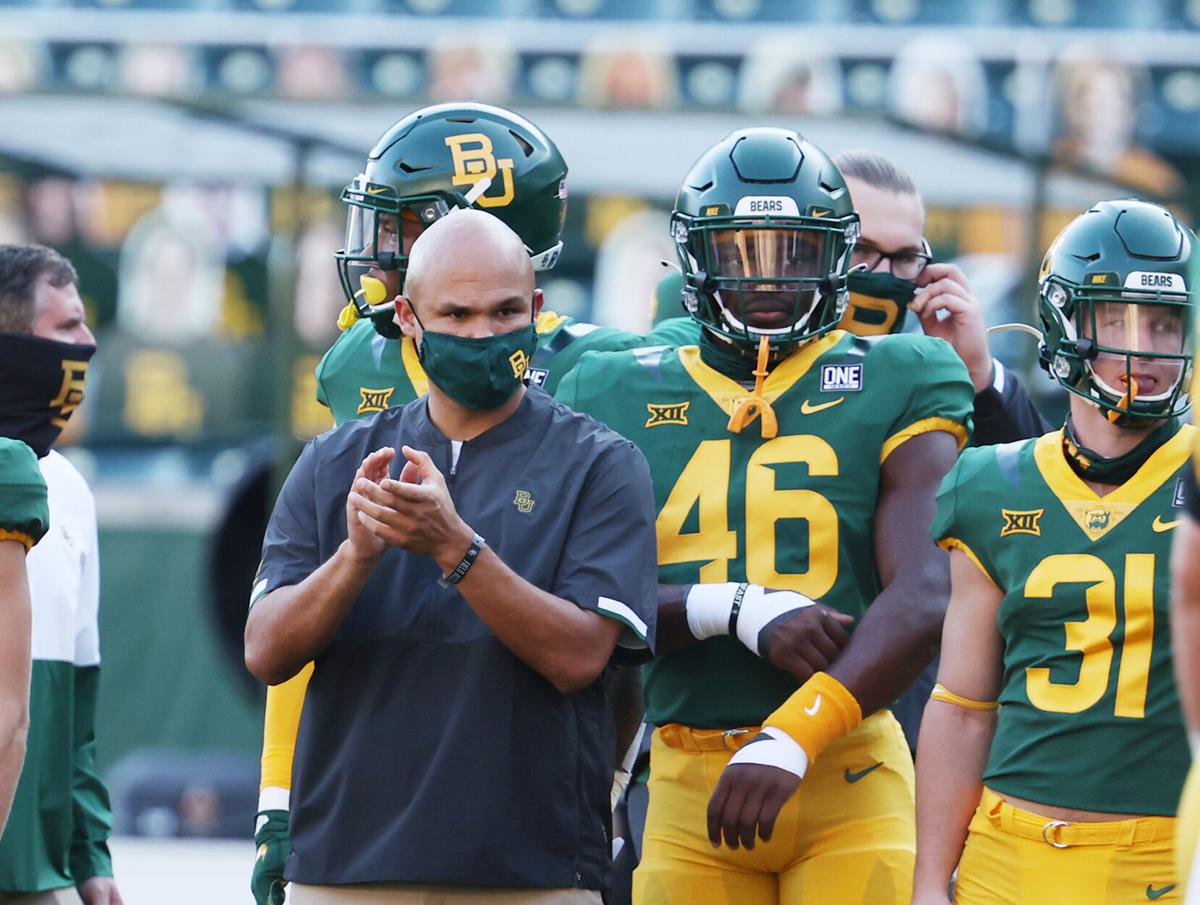 COVID-19 has wreaked havoc on college football games, practices, and the general psyche of players and coaches.
Having a Plan B is essential.
Last Friday, Baylor coach Dave Aranda learned that several defensive players were unavailable for Saturday's game against West Virginia in Morgantown.
So Aranda and his staff quickly shuffled the lineup and tweaked the schemes. Though the Bears dropped a 27-21 double-overtime decision, the defense delivered a solid performance.
"The majority of the coaches are planners, and so you try to do your best to plan," Aranda said. "But I think whether it's offensively or defensively, the general approach is you have to have your best planning and you have to have a plan B ready to go. We talk about that."
Baylor's defense was without five players against the Mountaineers, including three starters: end TJ Franklin, linebacker-defensive end Ashton Logan and cornerback Kalon Barnes. Defensive linemen Chidi Ogbonnaya and Gabe Hall were also unavailable.
The Trib sports guys pick apart the 1-1 Bears, the Big 12 and Gary Patterson as Baylor takes a breather this week.
Baylor hasn't revealed specific reasons for player absences this season, but Aranda expects to have those five players back for the next game against No. 10 Oklahoma State on Oct. 17 at McLane Stadium following the bye week.
Aranda said it's important to know each player's strengths in case last-minute adjustments to the lineup need to be made.
"What you try to do is use that to your advantage and explore different possibilities," Aranda said. "You can be creative in the sense there are different guys who have different strengths. Maybe it's their ability to retain information, maybe it's their movement ability. I think you try to look at it that way in terms of always maximizing the strengths of the guys you have, and recognizing the team you have because that can change."
Baylor's starting defensive line against the Mountaineers included Cole Maxwell, Josh Landry and Victor Obi. It was a young and relatively inexperienced group but they were up for the emergency task.
"I thought there were some great performances," Aranda said. "There are obviously those things we can improve on. But in terms of attention to detail, in terms of being in the right space, doing the right things and being on the same page with the defense, not busting and this and that, I thought those guys did a great job."
The Bears have collected six sacks in two games, but Aranda wants to reach a point where the defense doesn't have to rely on as many blitzes and various stunts from linebackers and defensive backs to get pressure on quarterbacks.
Linebacker Terrel Bernard leads the Bears with 2.5 sacks, while jack (hybrid linebacker-end) William Bradley-King has 1.5. Franklin and cornerback Raleigh Texada have produced one sack apiece.
"Where our defense can improve is the ability to not have the bells and whistles," Aranda said. "To this point we've got a fair amount of them. We want to be where it's one-on-one win the block, one-on-one set the edge as opposed to kind of a scheme or numbers or twists, stunts or blitzes. I think most teams are probably a little bit behind in that area, and we're working really hard to get to where we need to be."
While the defense has played at a high level in the first two games, the Bears need a lot of work on the offensive line after allowing six sacks against West Virginia.
Center Xavier Newman-Johnson, guard Jake Burton and tackle Blake Bedier were back in the starting lineup after missing the season opening 47-14 win over Kansas, but the Bears rushed for only 27 yards against West Virginia.
But Aranda has liked their attitude and willingness to seek improvement.
"Our practice Monday was probably one of our better ones," Aranda said. "We watched a lot of film from it, and I'm just impressed with the physicality and effort that's put forth. When you walk into these meetings you can kind of feel the energy in the room. I think our O-line was at the forefront of that."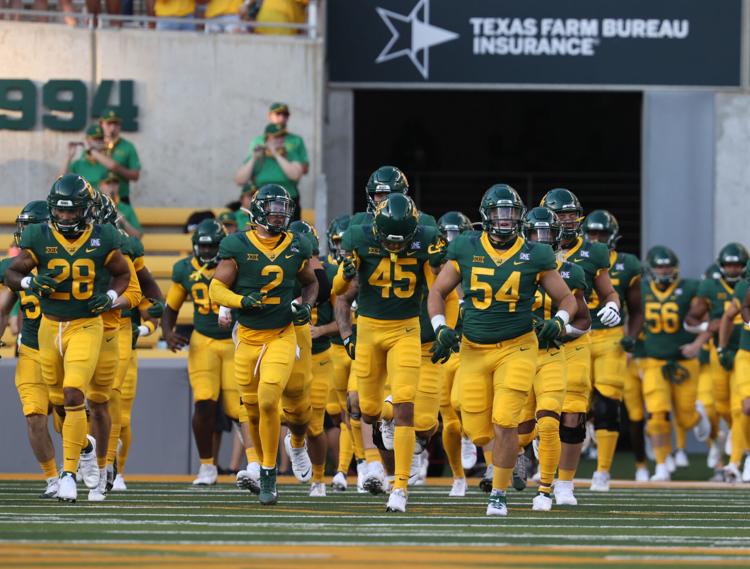 Though Burton was a two-year starting right tackle for UCLA before transferring to Baylor this summer, Aranda sees his potential at guard.
"Right now, Burton is still playing that guard position," Aranda said. "We were looking at some of the combos and some of the zone schemes, and I was really impressed with some of the movement he was able to get. He's one of our more physical guys. Some of the work he's able to do in that space has been productive."
Charlie Brewer hit 23 of 38 passes for 229 yards and three touchdowns against the Mountaineers. He rallied the Bears into overtime with his 34-yard touchdown pass to Josh Fleeks with 1:19 left in the fourth quarter, but was intercepted twice.
His most costly mistake came at the start of the second overtime when West Virginia's Tykee Smith intercepted a pass at the back of the end zone.
Not only will Baylor work on strengthening pass protection to give Brewer more time to throw, the receivers will try to get more separation from defenders on pass routes.
"I think it's the separation piece combined with the not enough time piece," Aranda said. "I think when you're kind of in the mode of getting to where you want to get to, and trying to get it to how you want it to look like, unfortunately those two things can switch off who's in the driver's seat. It can be one snap of not enough separation, followed by another snap of great separation but not enough time."
The Bears will continue to work on decreasing penalties after getting flagged eight times for 95 yards in the win over Kansas followed by 12 penalties for 86 yards against West Virginia.
Aranda has been bringing in referees to practice recently to help the Bears become more disciplined in their blocking technique.
"We have too many holding calls," Aranda said. "When you look at the holding calls, a lot of it is because of poor footwork or incorrect footwork at the start of the down. If that's the case, then later in the down, a guy's base or center of gravity is going to be compromised. And that's when you get the reaching out and the holding of the defenders."
Be the first to know
Get local news delivered to your inbox!