Even while Baylor Lady Bears fans were nervously awaiting an announcement from Kim Mulkey on Sunday afternoon, Baylor's athletic director Mack Rhoades was apparently making plans for the future.
Among the many items posted on Twitter and released in various press releases was Rhoades' statement on Baylor's next step.
"We have launched a national search for our next head coach, and we will not make any comments on prospective candidates or where we are in the process until we are ready to introduce the next Baylor Women's Basketball head coach," Rhoades said in the press release.
It's been 21 years since Baylor hired a new women's basketball coach. Whatever fans are feeling about Mulkey leaving for LSU, there's no doubt she turned the Baylor post into a different type of job than it was in 2000.
Rhoades will be hiring someone to direct one of the most high-profile programs in the nation. Mulkey's accomplishments vaulted her into the stratosphere of the most well-compensated women's basketball coaches in the country.
It's an attractive job that could intrigue any women's hoops coach who doesn't already have an office in Storrs, Conn. So here's a list of potential candidates.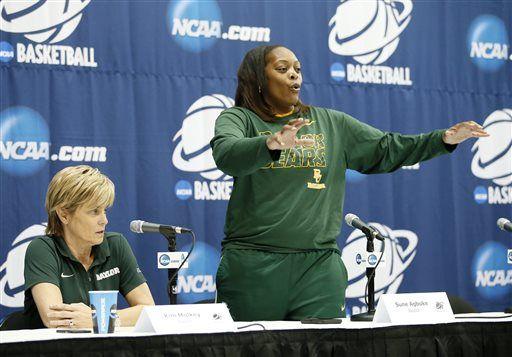 Sytia Messer and/or Bill Brock, Baylor: Messer and Brock have both been head coaches before. Messer guided the Tennessee Tech program from 2009-12, while Brock was head coach at Grayson County College for 13 seasons before coming to Baylor in 2000.
Brock was Mulkey's defensive coach, while Messer served as recruiting coordinator. Bringing in top talent and playing intense defense have been two strong themes for the Lady Bears. Additionally, the relationship they have with the current roster might help Baylor bring back an experienced team in 2021-22.
The Lady Bears could return four starters and 10 overall members of the 2020-21 team, including Big 12 Player of the Year NaLyssa Smith. Key players coming back isn't necessarily contingent upon Baylor hiring Messer/Brock, but it's one potential factor in their favor.
Joni Taylor, Georgia: The sixth-year Lady Bulldogs coach's name has been tossed out in internet and social media circles as an enticing candidate for the Lady Bears.
Taylor just led Georgia to a 21-7 season (10-5 in SEC play) before falling to Oregon in the second round of the NCAA Tournament. She has a 119-65 overall record as the head Lady Bulldog, including three 20-plus-win seasons.
Taylor earned SEC Coach of the Year honors in 2021 and was the Spalding Maggie Dixon National Rookie Coach of the Year in 2016.
Kim Barnes Arico, Michigan: Baylor fans have had an up-close look at Barnes Arico as the Lady Bears have played her Michigan teams in the NCAA Tournament twice in the past three years. Most recently, and most memorably, Barnes Arico's Wolverines took the Lady Bears to overtime in the Sweet 16 before Baylor prevailed in the Alamodome on March 27.
Barnes Arico has 25 years head coaching experience — the past nine at Michigan — with a 463-307 overall record. She guided Michigan to the Sweet 16 for the first time this past March and has taken teams to the NCAA Tournament eight times.
Adia Barnes, Arizona: Barnes was the hottest name in women's hoops coaching during the NCAA Tournament this year as she led the Wildcats to the championship game to face Pac-12 rival Stanford.
It's a long shot because Barnes is coaching at her alma mater, where she played from 1994-98. But Baylor managed to hire its last women's hoops coach away from her alma mater, and that was before the program had three national championships to its credit.
Megan Duffy, Marquette: Although she hasn't had a Power-5 coaching gig like others on this list, Duffy is quickly making a name for herself as a coach.
The 36-year-old has an 87-35 record in four seasons as a head coach — two at Miami (Ohio) and two at Marquette. She won at least 21 games in her first three seasons and then posted a 19-7 record during the truncated 2020-21 campaign. Duffy took the Golden Eagles to the NCAA Tournament where they lost to Virginia Tech in the first round on March 21.
Toyelle Wilson, SMU: A Baylor assistant for six seasons from 2013-19, who helped the Lady Bears win their most recent national title, Wilson was hired to lead the Mustangs' program on April 1. Would she make another move before ever coaching a game at SMU?
One interesting factor with Wilson is that she hired former Baylor standout Jhasmin Player to come to Dallas as an assistant coach. If the Lady Bears went for Wilson, there's a strong possibility Player would return to Waco.