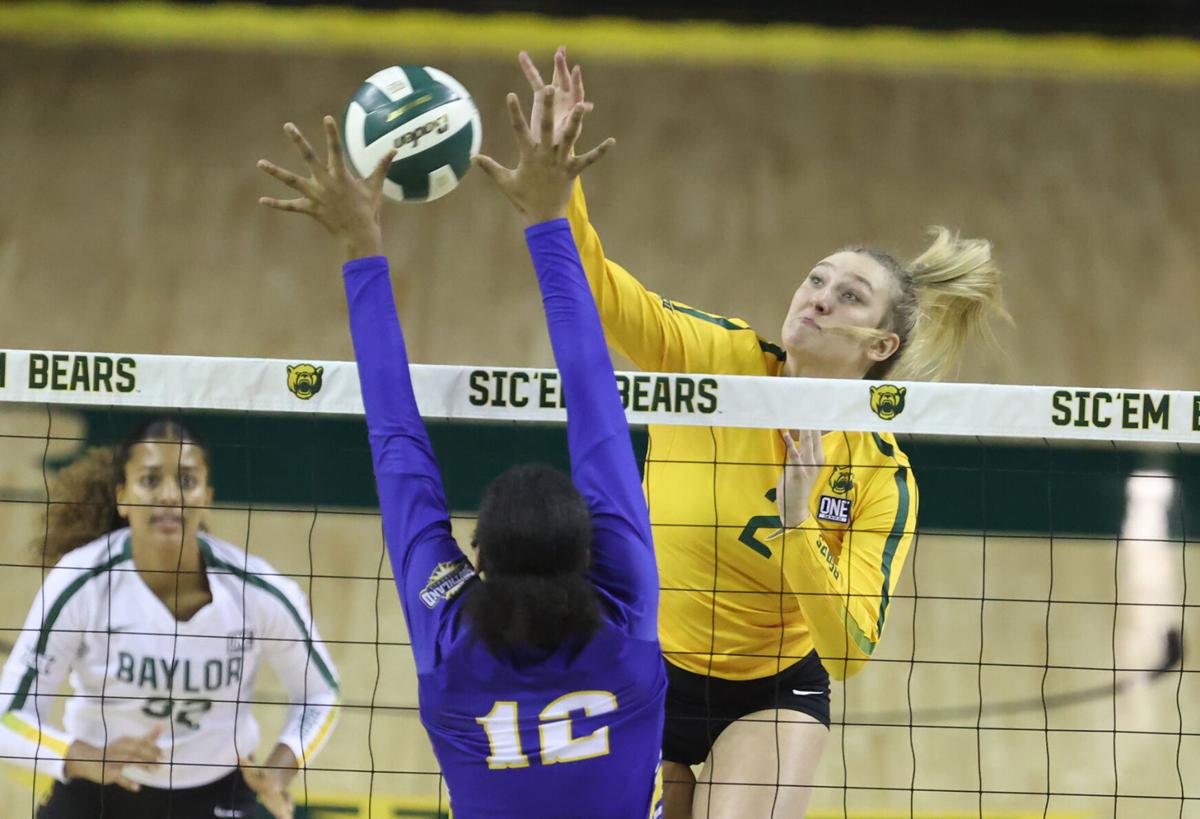 If Ryan McGuyre had his druthers, the Big 12 volleyball season would not feature matches on back-to-back nights. He prefers the old schedule.
But whatever the schedule-makers draw up, the Baylor coach wants his team to be ready.
After a grueling nonconference run that included six matches against teams currently ranked in the AVCA Top 25, including five in the Top 10, 10th-ranked Baylor (5-3) will open up Big 12 action at red-hot Kansas State on Saturday.
"I feel we're playing much better, sharper and crisper. Still a long way to go," McGuyre said. "A difficult, challenging preseason, but we got some good wins, definitely feel prepared for conference."
Last year in a response to the COVID-19 pandemic, the Big 12 altered its schedule so that teams traveled to only half the teams in the conference, playing the other half at home. Those matches played out on consecutive nights, a radical change from the old midweek-weekend setup.
In order to balance out last year and not give anyone a competitive advantage, the conference brought the concept back this year. But McGuyre is hopeful that the old format will return for 2022.
"I think it's better for our athletes when we get back to that Wednesday-Saturday schedule," the coach said. "The back-to-back nights are kind of rough on bodies sometimes, depending on who you're at. And then, the competitive equity of it is just a challenge. Hey, this year we get Texas at home, that's a site advantage. Last year, we were there in five (sets, losing both 3-2 on the road). If we had gone 1-1, could that have made a difference on how things finish up?"
At any rate, everyone has to deal with the back-to-back setup for now. It doesn't shift the Bears' gaze at all, as they are fixated on competing for the Big 12 title. Baylor shared the conference crown with powerhouse Texas in 2019 before finishing second to the Longhorns last season.
"I mean, sharing it is a great and all but we definitely would like to take it for ourselves … and making sure that we're the only ones getting a ring that night," said BU libero Shanel Bramschreiber. "So, there's definitely a motivation to win it outright."
Kansas State (9-2) is not currently ranked, but the Wildcats should provide plenty of resistance. They've won their past eight matches entering Big 12 play, and were picked third in the league's preseason poll behind Texas and Baylor.
They're one of the slickest serving teams in the conference, as their 72 aces are tied with Texas for the Big 12's top spot. (The Longhorns have played 13 fewer sets, however, and lead in aces per set.)
McGuyre called K-State a "well-coached team, not a one-dimensional team. You can't just focus in on one or two things, but we've got to be good in quite a few areas."
Baylor's blocking should present K-State problems at the net. The Bears average 3.23 blocks per set, the best mark in the Big 12. McGuyre thinks the Bears' dominance at the net has covered some of their other sins. He wants to see more consistency out of his bunch moving forward.
"Last year, we did a good job on Night 2 (of Big 12 doubleheaders). We always seemed to play better than the Night 1," McGuyre said. "I feel like we have a good approach to that. It looked like that when we played Florida in four (sets) the first night and a good 3-0 sweep the second night. Again, you've still got to go win the first one, make sure you're really prepared.
"So, getting ready to go on the road, I think consistency is definitely how we're kind of measuring this team."