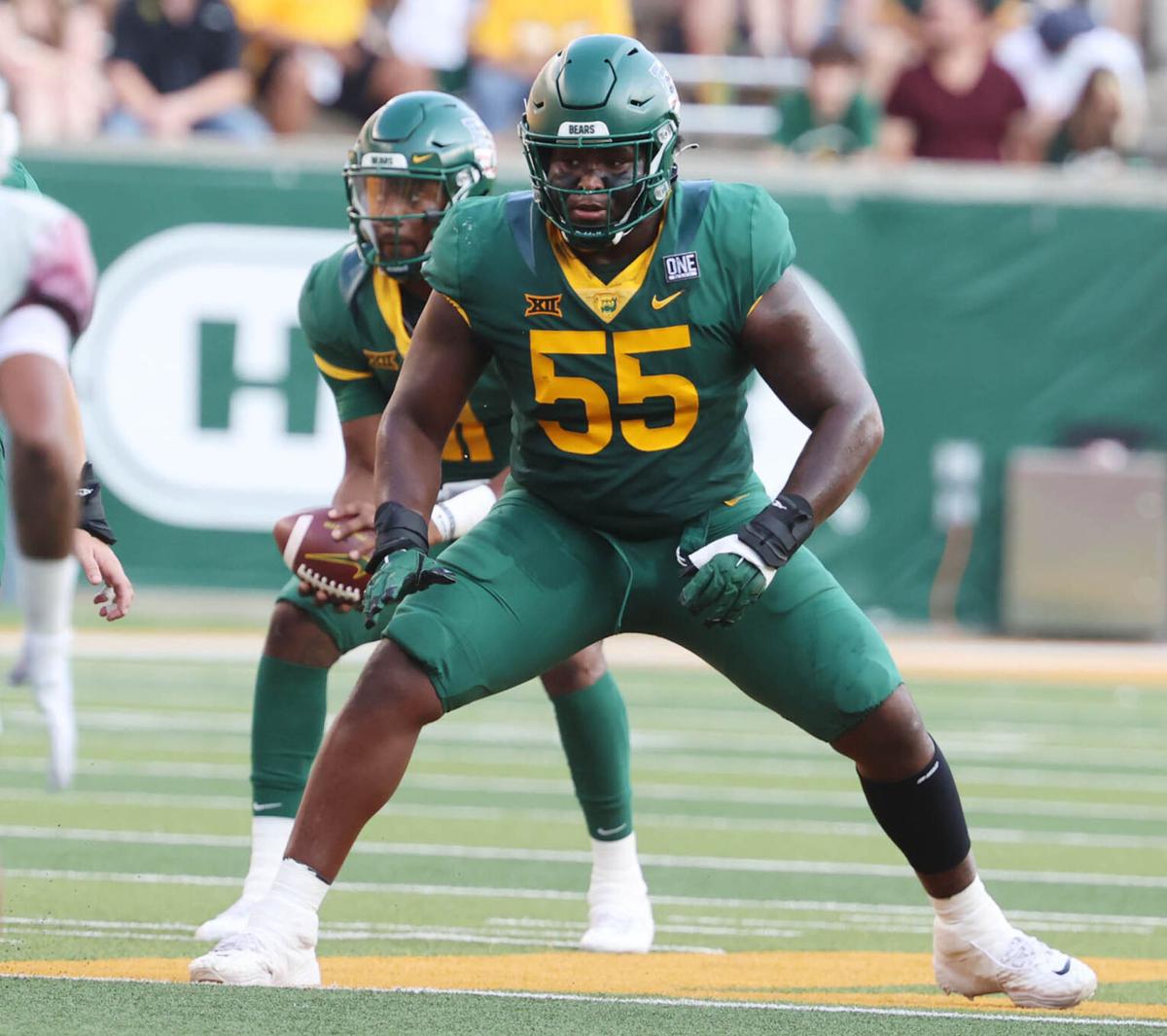 Xavier Newman-Johnson didn't have to do much soul searching last December before he announced he would return to Baylor for his fifth season.
Staying at Baylor gave him a chance to finish his undergraduate degree in the spring and begin work on his master's in sports pedagogy. With another year of instruction from Baylor coach Dave Aranda and his staff, he could soak in more knowledge and insight for the future he wants as a Texas high school football coach.
But as much as anything, Newman-Johnson wanted one last chance to play with his Baylor teammates. A 2-7 finish in the COVID-19 wrecked 2020 season wasn't the way Newman-Johnson wanted to end his college career.
"I really wasn't thinking of myself coming back, I was thinking of my teammates," Newman-Johnson said. "I feel like with the type of year we had last year, it wasn't the type I expected to go out, and knowing I had more for my teammates left that I wanted to give to them. So it was really a no-brainer for me."
Newman-Johnson's veteran presence has been a major boost for Baylor's offensive line, unquestionably the most improved area of the team in a 3-0 start.
With the 6-2, 315-pound Newman-Johnson starting at left guard for a line that features four senior starters, the Bears lead the Big 12 and rank fifth nationally with 321.3 yards rushing, 558.7 total yards and 46.7 points per game. That's a huge improvement over 2020 when the Bears ranked near the bottom of the Big 12 in most offensive categories.
The Bears will make a huge step up in competition in Saturday's Big 12 home opener against a big, physical No. 14 Iowa State squad. Following such a promising start, there's a higher bar now for an offensive line that knew it had to be more productive coming into 2021.
"We really had a heart to heart with each other over the offseason," Newman-Johnson said. "It all started in the winter, and we felt like enough was enough. We had been challenged by Coach Aranda to get better. It basically started with the seniors with me and Connor (Galvin), and then Grant (Miller) and Jacob (Gall) came in. We just told ourselves we're going to put our heads down and we're going to work and work and work. Even when things start to look good, we're going to keep looking."
With Newman-Johnson making 21 starts and left tackle Galvin making 26, they know each other so well that they can anticipate each other's moves. But the addition of Vanderbilt graduate transfer Miller and Buffalo transfer Gall has raised the experience level and solidified the offensive line.
"Grant has shown in his work ethic, he's not really like a big talker," Newman-Johnson said. "But if you watch him in the weight room, the way he attacks practice and meetings, he's shown that he's like 'Watch me and I'll show you how it's done.' Jake is a little more vocal. He came in from Buffalo and helped us. It opened our eyes, coming from a different outlook. At the end of the day, it really just helped us all get better and hold each other accountable and keep growing as a group."
Baylor's players and coaches view Newman-Johnson as a leader and an integral player on the team. They know the impact he's made since his arrival from DeSoto in 2017, even though it's not always apparent to fans since he works in relative obscurity as an interior offensive lineman.
"Me and Xay came to Baylor the same year, and every single year he's just made incredible strides, and he's just gotten better every single year," said Baylor defensive lineman Chidi Ogbonnaya. "He gives us a test every single day. Facing him gets us ready for the guys that we'll see on Saturday."
Eric Mateos is Baylor's fourth offensive line coach in five seasons for Newman-Johnson, but he's handled every transition well.
"I love Xay, he's inspiring to me," Aranda said. "Whatever number O-line coach, to open his heart. It's easy, I think, when there's change and stuff, to go, 'You know what, I'm just going to be all about the ball. I'm not really going to hear this dude, I'm just going to do what I need to do.' I think most folks would probably be inclined to do that. Xay's just a special guy, man. Great leader, guys love him and he's playing his best football right now."
Newman-Johnson has displayed his versatility by playing both left and right guard and center at Baylor. But instead of complaining about having to learn new positions, he's embraced the changes as an opportunity to expand his knowledge of offensive line play.
"Honestly for me, it's really not that hard," Newman-Johnson said. "I just take the approach to learn all three positions from the beginning, no matter what spot I'm at. Once the coaches tell me 'Hey I need you to go there,' I'm like 'I got you coach, it's cool.' I've already taken the time out to learn all three different positions.'"
Like all of Baylor's other offensive linemen, Newman-Johnson has thrived in first-year Baylor offensive coordinator Jeff Grimes' wide-zone scheme. He takes a lot of pride in seeing running backs Abram Smith and Trestan Ebner rank second and fourth, respectively, in the Big 12 in rushing yardage.
"It's real cool," Newman-Johnson said. "Just seeing them get that type of recognition based on how they work, it's like it's all coming back and repaying them for it."
Newman-Johnson arrived at Baylor as an all-state offensive lineman from a highly successful DeSoto program that went 16-0 and won the Class 6A Division II title during his senior year in 2016.
"It was crazy," Newman-Johnson said. "All those guys we started out in middle school together. We were a good group, and we thought we could do this once we get to high school. Freshman year, we were like we're legit.
"Our junior year, we lost in the second round to Allen, it was a hard game, and we lost on a late field goal. We told ourselves we don't like this feeling, and we're not going to feel like this again. We made that decision to put our heads down and work, and we ended up winning our first state championship in school history."
Newman-Johnson didn't only choose Baylor for an opportunity to play football, but also because of its academic reputation and location 83 miles south of DeSoto.
"Baylor was a decision I didn't choose just for me," Newman-Johnson said. "I looked at it as football, but my mom made me look at it from the school part. Just having a degree from Baylor and wanting to stay in Texas once I'm done playing at Baylor, it was a real good decision. I love my family so much. Being an hour away from DeSoto and having them come or me go back was really a no-brainer."
Fully expecting to redshirt as a freshman in 2017, Newman-Johnson had to play immediately because Baylor's offensive line was so thin. He played in 11 games and started eight during head coach Matt Rhule's 1-11 debut season.
Newman-Johnson's first start at guard came in the fourth game of the season against No. 3 Oklahoma. The Bears were competitive in a 49-41 loss at McLane Stadium, but it was a nerve-wracking experience for a kid who was playing high school football the previous fall.
"I came in and thought I'm too small," Newman-Johnson said. "I was still trying to get used to the whole strength and conditioning program and being in college. Once I was told I'm going to play, it was like my stomach had butterflies. I was so nervous. I don't think I could do this. But (offensive linemen Blake) Blackmar and Tech (Sam Tecklenburg) were like if they didn't think you could do this, they wouldn't put you there. I had a talk with them and they calmed me down."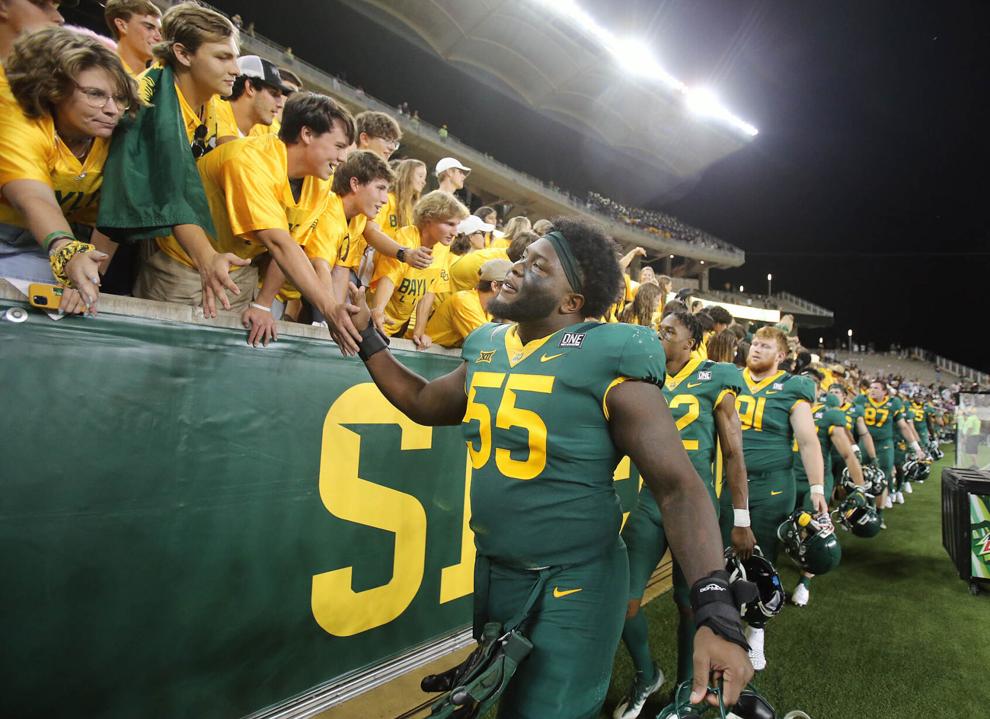 The Bears improved dramatically in 2018 as they finished a 7-6 season by beating Vanderbilt in the Texas Bowl, but it was a tough year for Newman-Johnson as he was limited to eight games due to left ankle surgery.
Rhule's squad was even better in 2019 as the Bears finished 11-3 and played in both the Big 12 championship game and the Sugar Bowl. Though he played with an injured right ankle, Newman-Johnson was key member of the offensive line at right guard with eight starts in 10 games.
After the season, Newman-Johnson twice underwent surgery on his right ankle. He played in five games last season, but was anxious to come back for a fifth season since 2020 didn't count against player eligibility due to COVID-19 interruptions.
"I could use it to tear me down or use it to come back better than ever," said Newman-Johnson of the ankle surgeries.
Feeling healthy and playing for a much improved offensive line, Newman-Johnson is happy he's getting one last go-round. He's also glad he's got his undergraduate degree in health, kinesiology and leisure studies in hand with the knowledge that he became the first person in his family to receive a four-year degree.
Newman-Johnson had a pair of eye-opening experiences when he joined Baylor mission trips to Puerto Rico in 2018 and South Africa in 2019. The trips made him thankful for all the opportunities he's had to pursue his dreams in this country.
"Those two mission trips to Puerto Rico and South Africa changed my life," Newman-Johnson said. "Those were the first times for me to be out of the country. Knowing we have it real good here compared to other people in other countries, it doesn't faze them that they don't have as much. We take for granted what we have, so that was a real big eye opener for me."
Throughout his journey, Newman-Johnson has been highly influenced by his coaches from middle school along with DeSoto High School head coaches Todd Peterman and Claude Mathis, and the coaches he's played under at Baylor.
Newman-Johnson wants to impact young players in the future like his coaches have impacted him.
"I want to coach Texas high school football," Newman-Johnson said. "All my coaches from high school made me look at life from a different outlook. I was mainly football focused but they just helped me have a wider outlook. I still talk to them to this day."