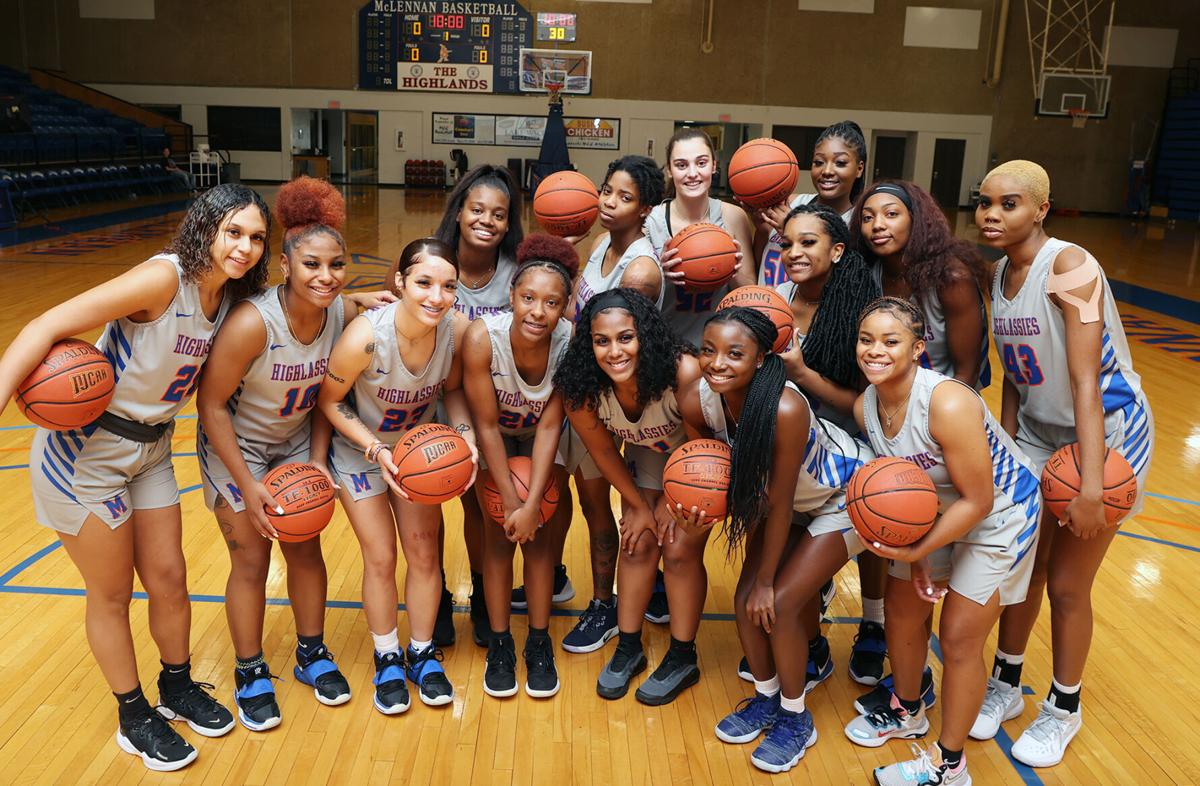 McLennan Community College women's basketball coach Ricky Rhodes has been a fixture around Central Texas gyms for a long time.
He's always been the type of guy that, if a pick-up game breaks out, you want him on your team. He played baseball at Navarro College and in the Yankees organization before coming back to MCC as a basketball player and then going on to Incarnate Word.
Now in his third decade leading the Highlassies, Rhodes has a little gray in his beard. He's still fit enough to run the floor with his team and he makes sure to keep a pair of high tops in his locker. But these days he could pull on a tweed jacket and fit in with professors in the philosophy department too.
Really, Rhodes is a professor of basketball.
As MCC prepares to tip off the 2021-22 season at Cedar Valley College in Dallas on Monday, Rhodes and assistant coach Candice Thomas have been trying to teach the Highlassies into shape.
In describing one of his backup guards, Rhodes illustrated how the understanding of the game is more important than any physical ability.
"She's really quick and fast," he said. "When she understands what this game is about she's only going to get better. She could really realize her potential and we can't wait to see that happen."
MCC recruits players in a variety of situations. But for all of them, the goal is to extend their playing career with the Highlassies and then at the next level. Rhodes said when he picks up the phone and talks to coaches at four-year schools, they want to know about a player's knowledge as much as her 3-point percentage.
"The AAU ball has really watered down their understanding of the game," Rhodes said. "When you watch a lot of AAU ball, it's how fast can you go up and down. One-on-one, there's no team concept. We're trying to teach them how to play team basketball. If you move the ball around, somebody's going to be able to get a better shot than you just got. Defensively, are you on help side? Is it ball, you, man?"
When COVID-19 precautions altered the 2020-21 schedule, Rhodes believed in the idea of teaching the game for the fall semester, then applying it once January hit and games could tip off. But he said the Highlassies never really got back to where he wanted to be once the season started.
Following a 10-12 campaign, this year is back to a traditional schedule. Rhodes will be teaching from the bench for the next couple of months as the Highlassies play 14 nonconference games.
The coach is hoping to see some key returners benefit from new pieces.
"Mersadez Nephew, Miannah Little and Brielle Dorsey are our top three scorers coming back from last year," Rhodes said. "You could say those are the three that we're going to have to lean on, but we have some others that can step up and do some scoring."
Guards Nephew and Little lead a versatile back court. Little was a standout at Connally and she transitioned to the college game nicely, averaging 10.3 points, 3.1 rebounds and 2.5 assists as a freshman. Nephew scored 13.6 per game, so the duo has the ability to put the ball in the basket.
They will be joined by Kinley Brown, who is back from a stress fracture that kept her out all of last season.
"Miannah is a point a guard, but we could move her to an off guard to score," Rhodes said. "We'd have Miannah on one end and Mersadez on the other and have the backup point guards run the show."
Rhodes said he wants one more perimeter player to give MCC an offensive boost and he knows who that might be.
"Gabby Owens could be our other sniper," he said. "If teams go zone, we know we can put her out there. She's 5-10 and can really shoot the 3. She has a good, quick release. She's overthinking the game. But she could be the kid that steps in and could be the 3-point specialist."
While the Highlassies are bringing along a solid group of guards, the MCC coaches believe they can look inside for scoring.
Dorsey is a 6-1 power forward who scored five points and grabbed 4.9 rebounds per game last season. She and 6-3 post Mariona Garcia, from Barcelona, Spain, have the potential to be better scorers as sophomores.
Rhodes likes the development he has seen from Garcia in the offseason and through fall practice.
"She's not anything fancy or flash," Rhodes said. "She's just a steady kid. That's what we love about her. She's going to bang, she's going to block out. She's got a nice 10-to-12-foot jump shot and we can live with that. Some kids try to do more than they can and it gets you in trouble."
After playing at Cedar Valley on Monday, the Highlassies come home and host the nation's second-ranked team, Angelina College, on Friday. Then Tyler Junior College comes in on Saturday for back-to-back games for MCC.
From Rhodes perspective, the prime objective is not to start the season on a long winning streak. It's more about playing good teams and getting ready for the conference push. No matter how well the Highlassies perform in the rest of the 2021 calendar year, they'll still have to win their conference tournament to get to nationals.