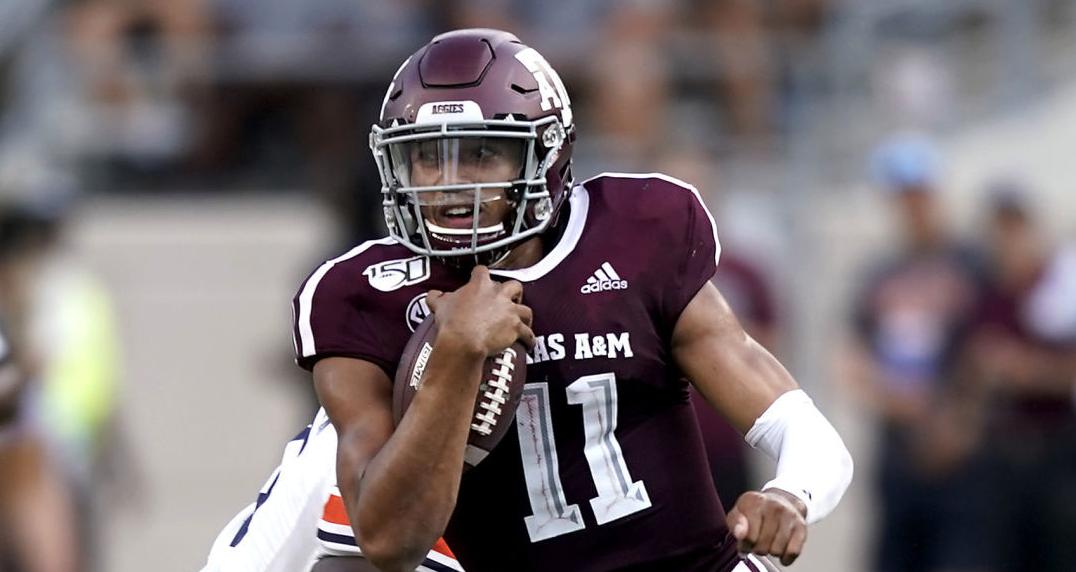 COLLEGE STATION — The first play of the second half effectively summed up Texas A&M's Saturday afternoon against No. 8 Auburn.
The No. 15 Aggies, who had just 12 rushing yards in the first half, saw Isaiah Spiller burst upfield for 13 yards, only to fumble it away.
Auburn scored six plays later on Bo Nix's 9-yard slant pass to Seth Williams, giving Auburn a 21-3 lead en route to a 28-20 SEC-opening win.
For the 101,681 fans at Kyle Field who suffered through a hot afternoon (kickoff temperature was 91 degrees and the heat index was 100), the final score wasn't as close as it appeared.
"We let them get the lead and we never put pressure on (Nix)," Texas A&M head coach Jimbo Fisher said. "They're playing hard, but we have got to get them to play better."
Fisher lamented numerous missed opportunities, including two wide-left field goal attempts by Seth Small around a 33-yarder he hit in the first half. Even so, A&M trailed just 14-3 at halftime despite Auburn's fast start.
A 57-yard TD on a reverse by Anthony Schwartz put the Tigers (4-0, 1-0) on the scoreboard less than two minutes into the game. Two possessions later, Auburn took a 14-0 lead when backup QB Joey Gatewood hit tight end John Samuel Shenker on a 6-yard scoring play.
A&M (2-2, 0-1), meanwhile, could do nothing with its rushing game against Auburn's front. Defensive coordinator Kevin Steele, the former Baylor head coach, saw his unit stymie the Aggies' rushing game throughout.
"That's a really good front," Fisher said. "We've got to get the running game going."
The inability to run the ball forced the Aggies to throw more. A&M junior Kellen Mond finished 31-of-49 for 335 yards and two touchdowns, but the two scores and 146 of those yards were in the final quarter while in catchup mode.
Mond connected with Quartney Davis on a 27-yard TD early in the final stanza to make it a 21-10 contest. But Auburn responded with a deliberate six-minute drive that ended on JaTarvious Whitlow's 8-yard run to push the margin back up to 28-10 with 8½ minutes left.
That effectively cemented the win, despite Mond directing two scoring drives after that: the first got to the 1, but a false start on third down moved it back to the 6, where Small kicked a 23-yard field goal. Mond then hit Ainias Smith with a 15-yard TD pass with 2:12 on the clock, but Auburn's Whitlow recovered the onside kick and the Tigers ran out the remaining time.
"The guy competed his tail off," Fisher said of Mond, who also led the team with 26 rushing yards.
How bad was the rushing offense? Consider that sophomore tailback Jacob Kibodi finished with six carries for 21 yards, and he had 22 yards on a draw play on third-and-30 in the third quarter.
A&M had 26 yards on 21 rushing attempts for the game. Auburn totaled 193 rushing yards on 42 carries.
Auburn freshman Nix was unspectacular, going 12 of 20 for 100 yards, but he didn't make any critical mistakes.
For the Aggies, junior wide receiver Jhamon Ausbon hauled in eight passes for 111 yards. His 100th catch as an Aggie was a beautiful one-handed grab as he was falling back to get to the off-target ball.
"I just reached out and tried to put my face on it," he said.
Texas A&M heads to AT&T Stadium in Arlington next week for an SEC matchup with Arkansas.
Be the first to know
Get local news delivered to your inbox!