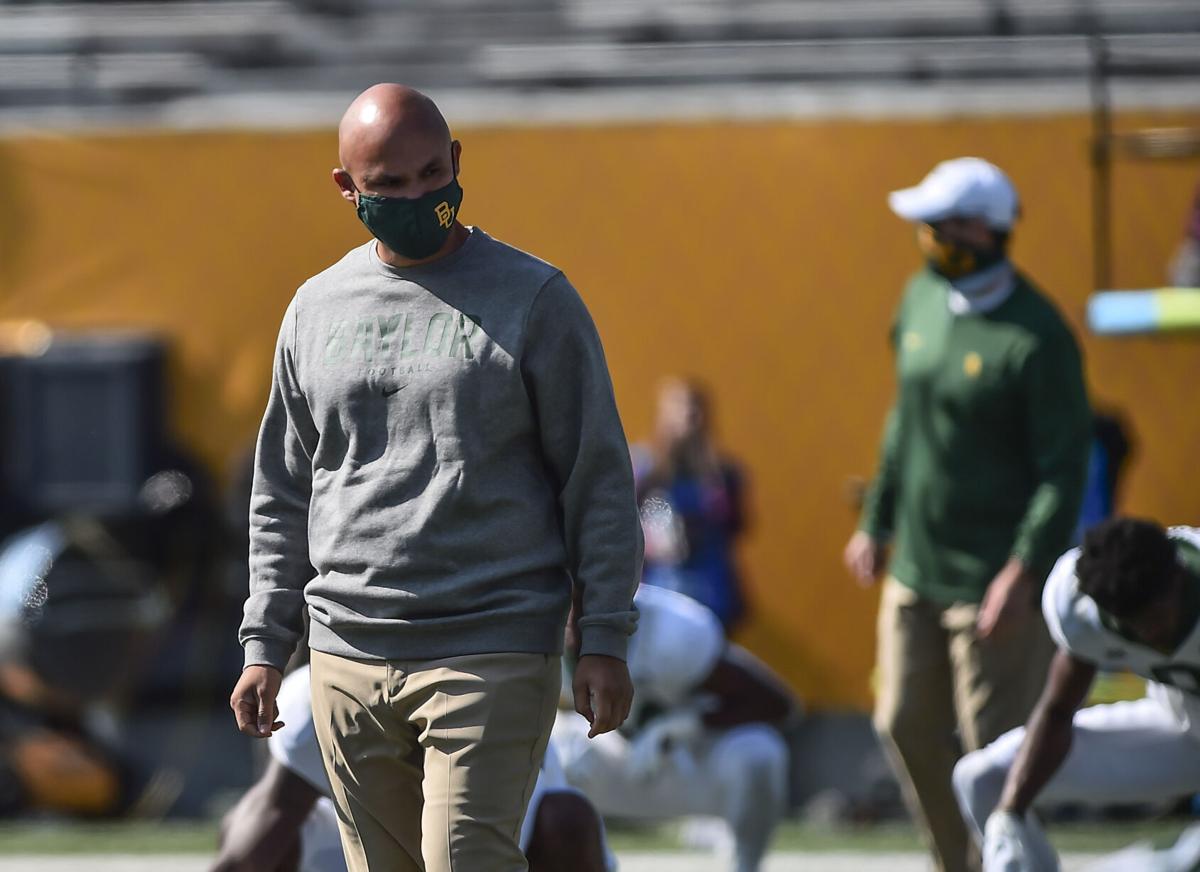 If this were a normal year, Baylor's Homecoming game against Oklahoma State would have been preceded by a parade and a jammed McLane Stadium would have been surrounded by tailgaters and sailgaters.
Instead Saturday's game became just another COVID casualty.
The Bears and Cowboys will attempt to make up the game on Dec. 12, but even that's not a guarantee.
There are no certainties anymore in college football or sports in general after the coronavirus made this the wackiest sports year ever. More than 30 college football games have been postponed or canceled.
Since the start of the season, Baylor's record is 2-3: Two games played, three postponed or canceled.
Baylor's COVID roller coaster began when a reported 38 Louisiana Tech players tested positive, forcing the cancellation of the Sept. 12 game at McLane Stadium.
The next hit came a week later when an unnamed Baylor position group didn't meet the Big 12 coronavirus minimum, forcing the hastily scheduled Sept. 19 date against Houston to be scrapped.
The super spreader of them all came during the past week when a whopping 28 Baylor football players and 14 football staff members tested positive after the Bears returned from their first road trip at West Virginia in Morgantown on Oct. 3.
Baylor athletic director Mack Rhoades believes the outbreak might have been ignited from a person traveling on the team plane who had recorded a false negative on a COVID-19 test. But Baylor will likely never know for certain what charged the outbreak.
The Baylor players wore N95 face masks and goggles on the plane trip and had social distancing rules in place, but the virus did its damage anyway.
If the Bears' COVID-19 positives and contact tracing numbers significantly drop, they will play their first game in three weeks Saturday against Texas at 2:30 p.m. in Austin. If Baylor can put a team on the field, it will be interesting to see what the lineup looks like.
You might need a game program to know who's playing for the Bears. But it would probably be unwise to touch the game program because it could be COVID contaminated.
With all the coronavirus craziness, first-year Baylor coach Dave Aranda shouldn't be judged on this season. No coach should.
Don't even judge Alabama's Nick Saban, possibly the greatest coach in college football history, on this season. He's been on his own COVID roller coaster, testing positive, then getting back three negative tests to be cleared to coach the No. 2 Crimson Tide against No. 3 Georgia on Saturday night.
Maybe Baylor should fly Saban into Waco and heal the team.
Coaches have to constantly walk the COVID tightrope to do their jobs. It's almost impossible for them to game plan because they don't know for certain who will be available to play.
The day before the Bears played West Virginia, Aranda and his staff had to alter their defensive game plan since five players were unavailable.
Baylor's defense played well anyway in a 27-21 double-overtime loss to the Mountaineers.
During the past week, the Baylor coaches had to revert back to Zoom virtual instruction like they used in the spring since practices were shut down following the recent outbreak.
As difficult as it's been for coaches and players to navigate the virus, college football fans should be grateful that conferences are trying to play. They should consider each game a gift. Even if teams are only allowing 25 percent fan capacity, it's fun to watch the games regardless of whether they look more like scrimmages.
It's a much-needed escape from the gloom that's hovered over the country since COVID-19 began spreading in the spring.
I made my first plane flight since the pandemic began when the Bears played West Virginia two weeks ago. It was surreal to get on a Southwest Airlines flight at Love Field the day before the game and have a whole row to myself.
During a layover at Baltimore/Washington International, Baylor football tweeted that the game would definitely be played. That was a relief, since I was almost there.
Driving up to West Virginia's Milan Puskar Stadium on game day, there was no traffic, no tailgating, and barely any fans in the stadium since only families of the players and coaches and essential game personnel were allowed to attend.
During the game, the pressbox seemed like a ghost town since only a limited number of reporters were allowed to attend.
It was quite different from the Bears' first game in Morgantown in 2012 when West Virginia threw a parade to celebrate its first Big 12 game. I didn't see any couch burning, but apparently some cars were set ablaze by Mountaineers fans following a wild 70-63 win.
I'm looking forward to the day when fans fill the stands and tailgaters stuff the parking lot again. It's hard to beat the atmosphere at college football games.
But for now, I'll gladly wear a face mask and watch teams with COVID-shortened rosters that play in stadiums with rows and rows of empty seats.