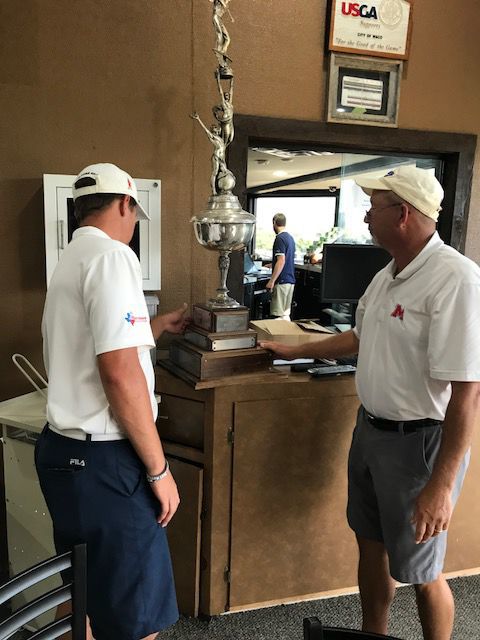 It has survived world wars, economic depressions and other assorted upheavals, but the 2020 Waco City Golf Championship has been canceled for this year, another victim of the ongoing COVID-19 pandemic.
The 90th annual tournament was originally scheduled for its traditional summer date, then moved to Oct. 17-18 this year. But it was recently canceled, along with all tournaments at the city-owned Cottonwood Creek Golf Course.
"It's disappointing we had to cancel," said Cottonwood Creek head pro Kenny Duron. "I went back and looked at the city golf championship trophy and we didn't stop during World War II or any year since, but these are different times."
MCC golfer Mason Mikeska was set to defend the city golf title he won in impressive fashion last year. Defending senior amateur Bob Ammon was looking to win his fourth senior title, but all will have to wait until 2021.
While charity and city tournaments are a no-go at Cottonwood Creek, overall golfing is booming there and many other Waco-area courses.
'We have been super busy this entire summer and fall. I think people have figured out that golf is a safe, outdoor activity and they want to take part in it," Duron said. "I don't think anybody is saying the virus was good for business, but golf everywhere has certainly benefited from it."
Bear Ridge on the upswing
In another sign of unthinkable progress from just over a year ago, Bear Ridge Golf Course recently held a statewide VIP media day to showcase its renovations, and the response from media members who took part was overwhelmingly positive.
"I can't believe the before and after photos I saw in the clubhouse during lunch," said Dallas golf radio host Rick Arnett. "The transformation is astounding."
Waco businessman Tommy Tompkins purchased the course just over a year ago, changed the name back to the original Bear Ridge label from Twin Rivers and began a yearlong progress of restoration, including new greens for all 18 holes, new bunkers and greatly improved fairways.
More than 20 media members from Waco and statewide made the trip to Bear Ridge to see the improvements by Williams and talented course superintendent Andrew Moore.
"I think it went pretty well," Moore said. "We still have a ways to go out here, but you could certainly see the progress."
Mark Kazlowski, who oversees the only Texas statewide golf survey, published each spring, actually played the course when it was first opened by architects Peter Jacobsen and Jim Harby, and he marveled at the latest changes.
"I can barely remember when it first opened, but the back nine along the Bosque River is really, really good," Kazlowski said.
Tompkins said play has continued to pick up since the new greens were installed later this summer and thinks the course will only improve.
"We haven't seen what October and November is going to bring us for number of rounds and weather, but we're pleased with the progress," he said. "We're not where we want to be for sure, our goal is to be one of the best in Texas."
MCC golfers staying busy
While both the Baylor men's and women's teams have already captured prestigious tournament titles during the early fall 2020 season, MCC golf coach Vince Clark said he is trying to get his team in as many tournaments and as many practice rounds as possible in these uncertain times.
Already the Highlanders have played in one tournament his fall, have another scheduled for next weekend and a third set for November. The main portion of their schedule, and a quest for another national junior college national championship, is set for the spring, virus conditions permitting of course.
"I just want to get my kids as many rounds as possible," Clark said. "They want to compete and they want to practice and that's what we're trying to do."
MCC is back to practicing and playing at Bear Ridge under new owner Tompkins and is also still playing at Cottonwood Creek as well.
They had to cancel their own tournament this fall, because many schools won't allow their individual teams to travel overnight.
"A lot of people couldn't come to us, so we had to cancel," Clark said. "These are different times for sure, but we're trying to do the best for our kids and get ready for more tournaments in the spring. That's our main part of the schedule."
Cook to speak at Links Fellowship
David Cook, the former Baylor golfer who authored the book "Seven Days in Utopia: Golf's Sacred Journey" that later became a movie starring Robert Duvall, will speak at the monthly meeting of the Waco Links Fellowship Nov. 13 from 4:30-6:30 p.m. at Bear Ridge.
Cook also is past president of the National Sports Psychology Academy and served as the San Antonio Spurs' "mental training coach" for eight years. He has had articles published in Golf Illustrated and Golf Digest.
Baylor men's golf coach Mike McGraw and MCC's Vince Clark will also be on hand to provide overviews of their teams. The meeting is free and open to the public.
Be the first to know
Get local news delivered to your inbox!