Of all the changes LeRoy Coleman has seen in the world of high school sports in his 51 years of coaching, he most marvels at the advancement of game-film technology.
Coleman, of course, remembers the days when coaches had to be projectionists and often times movie editors, hauling out the 16mm projector and splicing film together when needed to keep a scouting session going.
"When we moved to the VHS cassette, we thought we had died and gone to heaven," Coleman said with his signature easy laugh.
These days, coaches watch film on their opponents by typing in web addresses and controlling the action with a flick of a finger. It's much easier, but maybe there's something missing from the experience.
Coleman used to sit in his home office with his youngest son Carl on his knee. They would run the tape forward and backward, looking for any insight or edge the video revealed.
It's no wonder that Carl Coleman went into the family business. He's the defensive line coach at NCAA Division III Methodist University in Fayetteville, N.C.
"It's big shoes to fill and it's an incredible example," Carl Coleman said about his dad's five-plus decades in high school athletics. "It shows that dependability and resourcefulness and work ethic go a long way. If you take care of business and do things the right way, people tend to want to keep you around."
On Friday night, Waco ISD will honor LeRoy Coleman's legacy by inducting him into the school district's Athletics Hall of Fame as the Trojans host Cleburne at Waco ISD Stadium.
Coleman was University's head football coach from 1981 to 2007, compiling a record of 141-137-9 in that time. Early in his Trojans tenure, he met and married his wife, Geraldine, and they started a family that would become part of the fabric of the University community.
However, it took a little time to convert Geraldine Coleman to the way of the coaching life.
"I wasn't a sports fan when I met LeRoy and then we had two sons and I was surrounded by sports," Geraldine Coleman said with a chuckle. "They would spend hours and hours up there whether they won or lost. They stayed and watched film. I didn't understand why they would work so late."
Although he left the University sideline after the 2007 season, LeRoy Coleman couldn't stay away from the football field. He joined his friend and La Vega head coach Willie Williams as an assistant. When Williams retired as the Pirates' HFC, Coleman stayed on as an assistant under current La Vega coach Don Hyde.
Even on the weekend that he's inducted into the WISD Hall of Fame, Coleman will still have a job to do. He'll hop a flight for Corpus Christi on Saturday morning and be there when La Vega kicks off against Corpus Christi Miller at 2:30 p.m.
The way Coleman sees it, he's the embodiment of the idea that, if you find a job you love, you'll never work a day in your life.
"Right now, I'm having a good time," Coleman said. "People ask me all the time, 'When are you going to give this up? You've been doing this so long.' I tell them I enjoy what I'm doing. When I wake up, I look forward to going to work. I enjoy being with the kids. I don't fish. I don't play golf. This is my hobby."
There's no doubt that Coleman is much better at his chosen pastime than most golfers or fishermen. He was LaDainian Tomlinson's high school coach and guided LT's Trojans team to the regional final in 1996. That was one of several deep playoff runs University made during the Coleman era.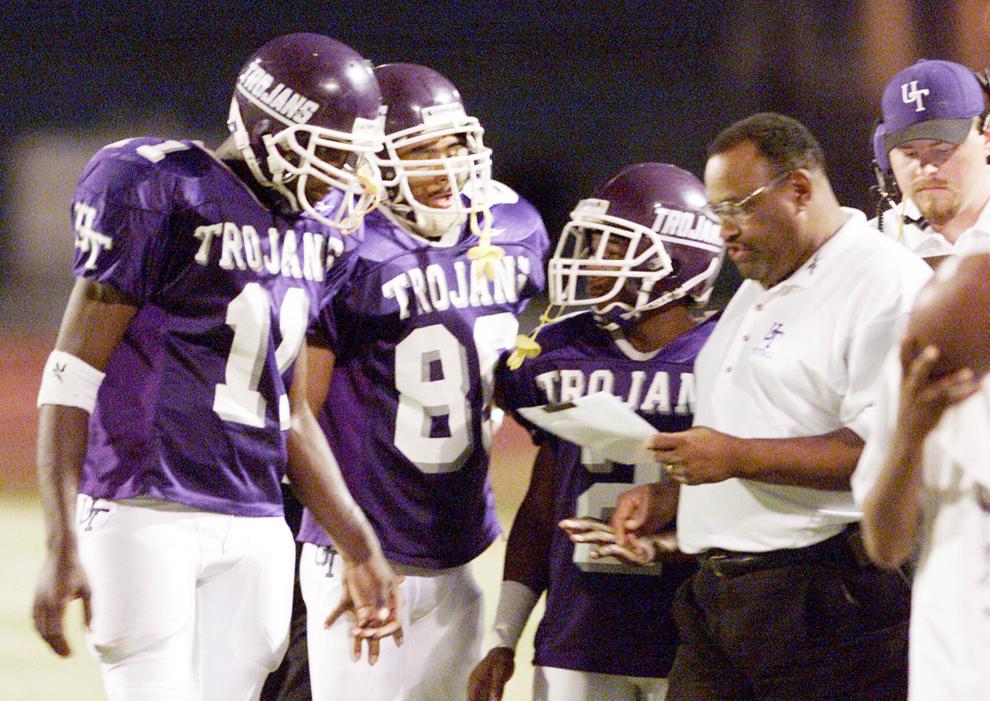 Since joining up with the La Vega coaching staff, Coleman has been a part of two state championship teams and two other state finalists.
Coleman's credibility as a football coach is as solid as a giant sequoia. He has a naturally kind and gentle manner, but still gets the most out of his players. Carl Coleman saw early on how his dad managed that task.
"If you're coaching one of your players hard, maybe the young man made a couple of mistakes in practice and you were very critical of his performance and trying to correct him to do things the right way," Carl Coleman recalled. "One of his strategies is before the young man would go home, he would make sure he would go and find him when he came out of the locker room and say something positive to him before he left the building."
LeRoy Coleman's coaching style and the talent in the University program came together to produce one of the most memorable Trojans teams in 2002.
With his son Coby Coleman playing quarterback as a senior and Carl, a junior, at outside linebacker, University entered the playoffs as the district runner-up and faced eighth-ranked Terrell in the opening round.
That Trojans roster included an amazing intersection of some of the school's best ever performers on the football field. Coleman's sons were joined by Jerrell Freeman, who later played with them at Mary Hardin-Baylor and for five-plus seasons in the NFL, standout running backs Eric Ransom and Dwone Willis, and future star and NFL player Perrish Cox, who was a freshman playing up on the varsity.
University was facing a top-notch defense against Terrell, but the Tigers couldn't contain the high-octane Trojans. Ransom rushed for 174 yards and a touchdown and Willis scored on a five-yard run and a 75-yard interception return.
University claimed a 38-6 triumph and advanced to play Palestine in the second round during Adrian Peterson's junior year.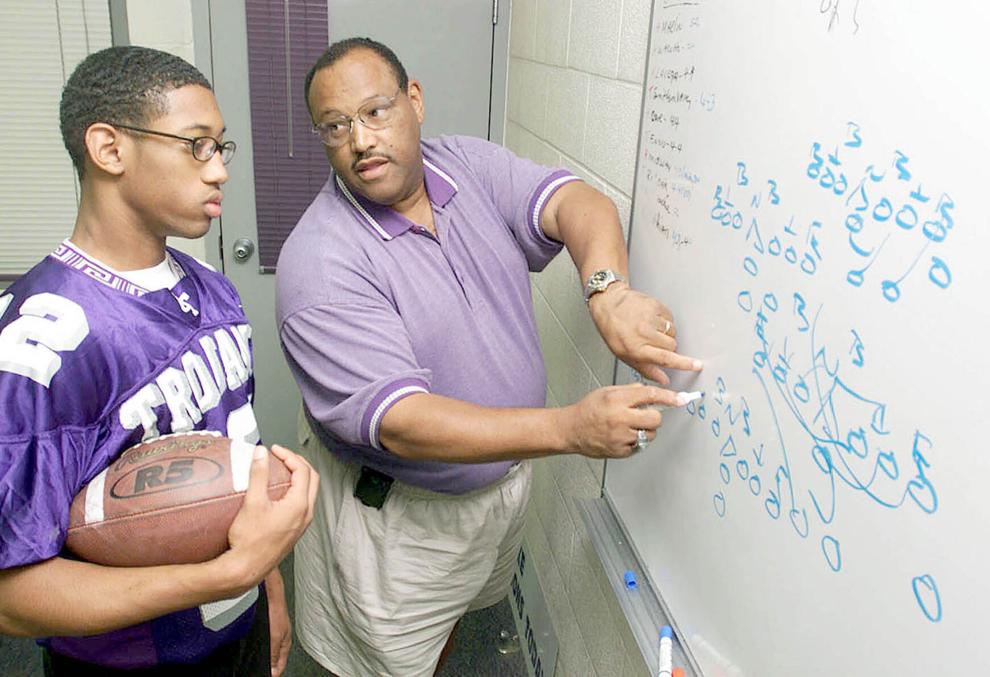 "I tease my youngest son because they ran a sweep around the right end with (Peterson)," Coleman said. "(Carl) made the highlight film because it shows where (Peterson) just ran flat over him."
Yet the Trojans rode away smiling that day. They defeated Palestine, 33-20, at Waxahachie's Lumpkins Stadium to reach the third round.
Wylie ended University's season the next week at Elk Stadium in Burleson. The Trojans finished with an 8-5 record and a lifetime of memories.
"The chemistry was amazing," Coby Coleman said. "I think the coaches and the players had relationships that I've really rarely seen in sports. The coaches really cared for the players and the players really respected the coaches. In the daily operations there was a lot of love."
Geraldine Coleman has fond memories of watching the Trojans play, particularly when her sons wore purple and white. She traveled to road games with other coaches' wives and, through the years, established her own set of the rules for sitting in the crowd.
"I had to learn to have thick skin," she said. "That's my husband and that's my son that's the quarterback. You have a right to your opinion, but not right now when I'm standing here."
The Coleman family will have 25 to 30 members in attendance for the coach's induction in the Hall of Fame on Friday. Carl Coleman said he'll be watching on live stream as his Monarchs team has a home game versus Southern Virginia on Saturday.
"I couldn't even fix my lips to put that question out there. I was told, 'You better stay and do your job,'" Carl Coleman said about the conversation with his dad. "That's just the standard."
No worries, though. There's sure to be plenty of well-wishers around to honor LeRoy Coleman in style.
"I think more than ever we should give our loved ones flowers while they're living, so to speak," Coby Coleman said. "I think being able to see it and experience it, many people don't get a chance to do that."
EXTRA POINT: Friday's University versus Cleburne game will be the inaugural LaDainian Tomlinson Classic. Waco ISD athletic director Ed Love said on Thursday that the school district will have separate ceremonies for inducting former Lions and Trojans into its Hall of Fame going forward. The Lions' induction game will continue to be the Derrick Johnson Classic.