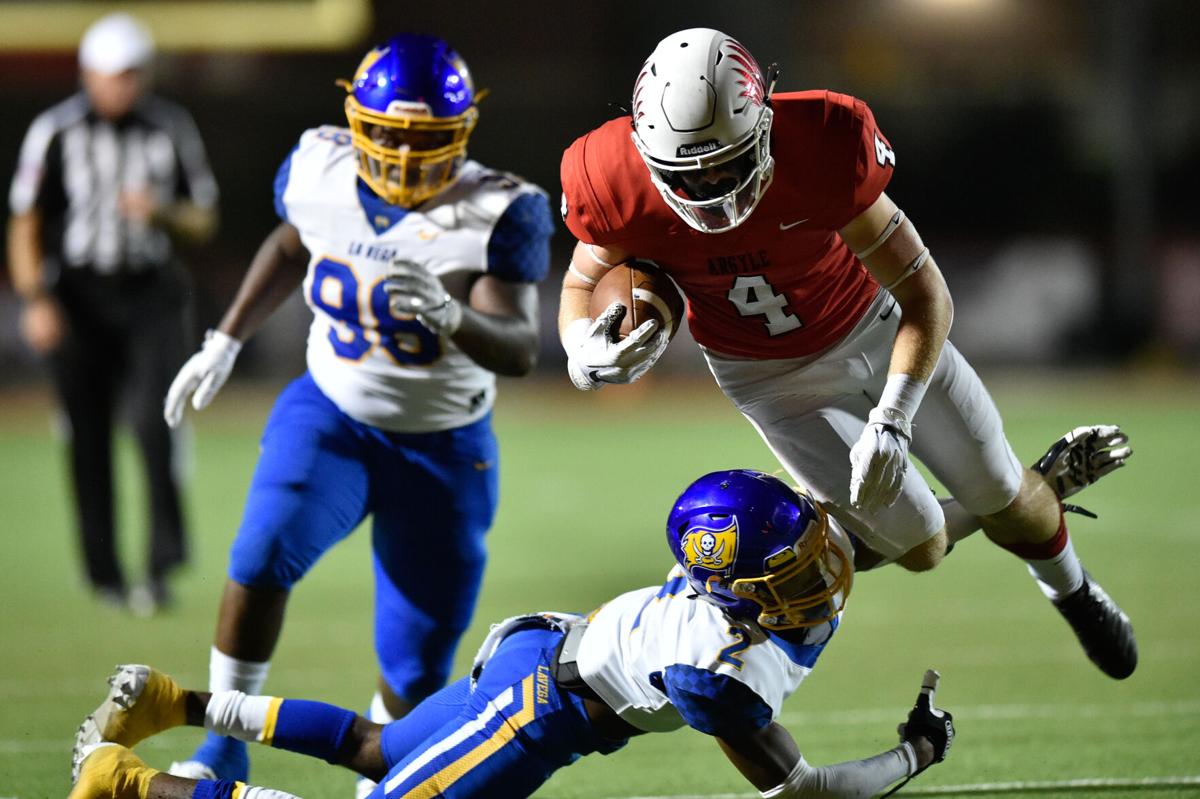 No. 7 La Vega (9-2) vs. No. 1 Argyle (12-0)
Time, site: 7:30 p.m. Friday at Joshua
Round: Class 4A Div. I Region 2 semifinal
Streaming: Modoc Media on YouTube
Breakdown: The recent history of this matchup is so familiar that it seems like a broken record. For the last two seasons, Argyle has beaten La Vega in the regular season, but then the Pirates have come back to exact revenge in the playoffs.
La Vega claimed a 44-20 victory over the Eagles last December, and a 31-17 win in 2018. The Pirates went on to win the 4A D-I state title in 2018 and finished runner-up to Carthage in 2019.
Argyle made a statement with a 35-7 triumph over La Vega in nondistrict action back in September. But Pirates quarterback Ara Rauls was sidelined at the time with an arm injury.
Rauls is back at QB and the Pirates have rounded into shape on defense, which they showed last week by posting five sacks and creating four turnovers.
However, the challenge jumps up tremendously for La Vega after it easily dismissed Fort Worth Western Hills and Dallas Wilmer Hutchins from the first two rounds.
Argyle hasn't lost since it was eliminated from the playoffs by the Pirates at McLane Stadium last fall. That run includes wins over Pleasant Grove, Celina, La Vega, Melissa and Stephenville.
Eagles QB CJ Rogers is having an outstanding season as he has completed 66% of his passes for 2,581 yards with 36 touchdowns and just three interceptions. His favorite target has been Cole Kirkpatrick, who has 53 catches for 992 yards and 14 TDs.
Rogers versus the La Vega secondary, led by Javon Iglehart, Marcus Willis and Jesse Majors-Sterling, could be very important in this marquee playoff contest.
China Spring (9-2) vs. No. 9 Sealy (9-2)
Time, site: 2 p.m., Friday at College Station High School
Round: Class 4A Division II regional semifinals
Breakdown: It would be hard to find a school anywhere across the state that has been as impressive as China Spring in the first two rounds of the playoffs.
After opening with a 45-19 bi-district blowout of No. 4 Jasper, the Cougars knocked off No. 2 West Orange-Stark, 35-22, last Friday. Emmanuel Abdallah rushed for 177 yards and scored a pair of first-half touchdowns.
"Our kids have been playing really good football all year long," said China Spring coach Brian Bell. "Our kids lost a couple of close games early to real good opponents, but we've been rewarded for working hard and for believing in ourselves."
Now the Cougars have their sights set on No. 9 Sealy, which dominated its first two playoff wins, including a 41-0 thrashing of Orangefield in bi-district and a 38-7 win over Center in area play.
The Tigers feature a tremendous dual-threat quarterback in D'vonne Hmielewski, who has passed for 2,003 yards and 25 touchdowns and has run for 1,001 yards and 13 scores. Draper Parker has made 61 catches for 993 yards and 14 touchdowns while Alvin Nunn has rushed for 607 yards and nine scores.
"Offensively, they use a lot of motion and put you at a disadvantage on defense," Bell said. "They've also got a lot of good defensive players who run to the football and tackle well."
No. 7 Crawford (11-1) vs. Alvord (6-4)
Time, site: 7 p.m. Saturday at Alvarado
Round: Class 2A Div. I Region 2 semifinal
Breakdown: Crawford is trying to get past Thanksgiving weekend and to the regional final for the first time since 2017 when the Pirates lost to Mart in the fourth round.
To do so, Crawford will have to eliminate a hot Alvord team, which finished second in its district to fifth-ranked Lindsay. The Bulldogs rolled over Italy last week, 35-7.
Pirates coach Greg Jacobs is impressed by Alvord QB Corbyn Cornell, a dual-threat specialist who passed and ran for TDs in the win over Italy.
"He throws the out route five, 10, 15 yards as well as a anyone we've seen," Jacobs said. "He's definitely their catalyst.
Like Crawford, Alvord has been able to achieve good balance in its multiple-formation offense this season.
The Pirates will counter with QB Tanner Merenda and company. When Merenda is spreading the ball around to RBs Breck Chambers and Garrett Pearson and WR Luke Torbert, Crawford has been hard to stop.
Lorena (9-2) vs. Hallettsville (10-2)
Time. Site: 6:30 p.m., Friday at Wimberley
Round: Class 3A Division I regional semifinals
Breakdown: Lorena hasn't played in two weeks after advancing to regionals with a forfeit win over Crockett, which couldn't play due to COVID-19. So Leopards coach Ray Biles knows his team will be anxious to play.
"They want to compete, that's the name of the game," Biles said. "When you don't get that opportunity it's frustrating. Our guys have done a good job of getting into the mindset of preparing for the next game."
The Leopards will face a Hallettsville squad that has won seven straight games after going 5-0 in District 12-3A followed by a 61-26 bi-district win over Little River Academy and a 27-0 area win over Diboll.
Hallettsville held a powerful Diboll offense to 201 yards while Texas commitment Jonathon Brooks led the Brahmas' offense with 191 yards rushing and three touchdowns.
"They've got a kid who is a Texas commitment and I can see why," Biles said. "He's an outstanding running back who also returns kicks and punts, and is a talented young man. We've got to get guys around him whenever he touches the ball."
Bosqueville (8-3) vs. No. 5 Lindsay (11-0)
Time, site: 6 p.m., Friday at Aledo
Round: Class 2A Division I regional semifinals
Breakdown: Bosqueville has put it all together in the playoffs on both sides of the ball by opening with a 72-8 blowout of Marlin followed by last week's 44-12 win over Cooper.
Luke Bradshaw hit Ryder Roark for a pair of touchdown passes while Jay King ran for a pair of scores.
"We've been improving every week," said Bosqueville coach Clint Zander. "Our defense looks solid and we've run the ball well and have controlled the line of scrimmage on both sides of the ball."
The Bulldogs will have to deal with an explosive Lindsay offense that has racked up 117 points in two playoff games, including a 48-6 bi-district win over Wolfe City and a 69-20 win over Tolar.
Colt Schuckers has passed for 3,911 yards and 52 touchdowns while Jace Edington has rushed for 1,336 yards and 17 scores. A dynamic receiving corps is led by Tyler Yancey with 1,142 yards and 17 touchdowns, Caleb McKinney with 38 catches for 804 yards and 11 scores, and Garrett Elender with 49 catches for 749 yards and six scores.
"Their quarterback has thrown for almost 4,000 yards and they're averaging 55 points per game," Zander said. "They've got four senior receivers who are big, physical kids who can run too. We're going to try to cause some disruption up front."
No. 1 Mart (11-0) vs. West Sabine (7-4)
Time, site: 6 p.m., Friday at Crockett
Round: Class 2A Division I regional semifinals
Breakdown: Despite having three players out due to COVID-19 quarantine, the Panthers had no trouble taking care of Lovelady in a 48-12 win in area play last week.
Quarterback Roddrell Freeman exploded for touchdown runs of 59 and 54 yards while making some big hits at linebacker. Keishawn Clater made touchdown runs of 27 and 49 yards while Neven Hickman broke away for a 90-yard score and a 20-yard score.
"Offensively, we kind of did what we wanted to do and scored quickly," said Mart coach Kevin Hoffman. "Defensively, we bent a little and gave up a few yards, but we never broke."
With a full squad available, the Panthers will try to keep things rolling against a West Sabine squad that squeaked out a 26-20 win over Bowie last week. Quentin Smith has passed for 1,865 yards and 19 touchdowns while Julius Mason leads the ground game with 1,444 yards and 20 scores.
"They've got a quarterback who is a really good athlete," Hoffman said. "Their running back is short and stocky and can run inside and outside with good speed. Defensively they show a couple of different fronts and blitz from all over."
Chilton (7-4) vs. Tenaha (8-3)
Time, site: 6 p.m. Saturday in Athens
Round: Class 2A Div. II Region 3 semifinal
Breakdown: Chilton went from one win in the 2018 season to a 7-5 record and a playoff victory last fall. Now the Pirates have taken another step forward with their area-round playoff victory over Deweyville last week.
If Chilton can survive and advance another week into the postseason, the Pirates will probably meet up with district-rival Mart. That's not lost on Chilton coach Chris James and his charges.
"It's on everybody's mind," James said. "Of course, you take it one game at a time. But just to be in position to be in the fourth round of the playoffs, we know it would be an accomplishment to get back to play Mart again."
The task at hand will be to slow down Tenaha's spread offense. The Tigers have scored a combined 95 points in their two playoff wins so far. Last week, Tenaha outpaced Bremond, 42-30.
Chilton's QB duo of McKellar Cook and Daylon Ford have been making the wheels turn for the Pirates offense this season, especially as Ford has improved as a passer to go along with being a running threat.
Pirates junior WR/DB Ja'Bryan Davis could be an X-factor in this one.
"I always go up to him and say, 'Players make plays,'" James said about Davis. "He's done a great job whether it's making a catch or setting a block on the edge."
Blum (8-3) vs. Union Hill (11-0)
Time, site: 6 p.m. Friday at Mabank
Round: Class 1A Division I Region III final
Breakdown: Don't know if you'll find the Blum Bobcats trending on Twitter, but Blum coach Cooper Thornhill knows his team is trending in the right direction.
"We're finally playing good," Thornhill said, after Blum's 56-28 second-round win over Saint Jo. "Could get interesting again if we keep making big strides."
Remember, this is a Blum team that knows where long-stretching steps can lead. After all, the Bobcats are the defending 1A Division I state champions. They'll count on players like RB/DL Koby Clinkscales and QB/DB Tucker Willingham in their quest to try to get back to that hallowed ground.
Union Hill isn't exactly an anthill, though, more like a fourteener. One of the reasons it presents such a steep climb is a rushing attack that accumulates yardage, first downs and touchdowns by the bushel load. Last week against previously unbeaten Abbott, the Bulldogs totaled 507 rushing yards, balanced nicely between their top two backs Christian Aguillon and Zak Hatcher.
The winner of this one will advance to the state semifinals to face either May or Leakey.
Reicher (3-4) vs. Temple Central Texas Christian (6-1)
Time, site: Noon Saturday at Robinson
Round: TAPPS Division IV second round
Breakdown: Reicher went through a spell earlier this season when COVID-19 issues for either the Cougars or their opponent made their game and practice schedule look like Swiss cheese – lots of holes.
But Reicher has played for three consecutive weeks and its showing up in the Cougars' results. Reicher won its last two games by a combined 110 points over Dallas Shelton and Fort Worth Calvary.
"It's refreshing getting to practice every day," Reicher coach Tyler Holcomb said. "You can tell by our team chemistry, everybody being on the same page."
That continuity made a difference on the offensive line last week. The Cougars opened up holes that helped running back Eli Cummings pile up an astonishing 285 rushing yards on 10 carries.
Reicher will try to get that running game going again this week against a big and physical Central Texas Christian team.
The Lions have won five consecutive games, not counting a forfeit in the final week of the regular season.
Mansfield Lake Ridge (0-7, 0-4) at Midway (1-6, 1-4)
Time, site: 2 p.m. Friday at Panther Stadium
Radio: ESPN Central Texas, 1660 AM/92.3 FM/100.9 FM
Streaming: Midway Panthers on YouTube
Breakdown: The path Midway has transpired in its first year in District 11-6A has been fraught with pitfalls and potholes. The latest came in an absolute heartbreaker last week, as Waxahachie defeated the Panthers, 31-28, on a last-second field goal. That marked Midway's third loss by less than a touchdown in 2020, as it was turned back by South Grand Prairie by three points and by Mansfield by four.
Now Midway draws another Mansfield ISD school in Lake Ridge. The Eagles have had an even rougher go than Midway, as they're still seeking their first win of 2020 as they enter game No. 8. They've struggled to muster much consistent offense, scoring just 78 points. But when they are able to move the ball, it's usually behind the running of RB Jaylen Holt.
A good sign for Midway in the Waxahachie game was the emergence of a flash of big-play capability. The Panthers busted off some long gainers on plays like an 83-yard keeper from Garrett Childers, and an 82-yard hookup between Childers and WR Zach Stewart. Midway's defense also showed an ability to flip the field in a hurry, as DB Samuel Odedeji had a 51-yard interception return that set up a touchdown.
Waco High (1-4, 0-3) at Waxahachie (4-4, 3-2)
Time, site: 7:30 p.m. Friday at Lumpkins Stadium, Waxahachie
Breakdown: For the first time in three weeks, the Lions will play a football game. Waco ISD's closure for rising COVID-19 cases led to the layoff. So Waco High coach Kwame Cavil is treating his team's final two games against Waxahachie and DeSoto as the Lions' own personal Super Bowls.
Waxahachie has the benefit of playing both recently and well on its side. The playoff-bound Indians used a 40-yard field goal from Clyde Melick at the horn to turn back Midway, 31-28, last week, their third straight District 11-6A win. However, while the right foot of their kicker is a nice luxury to have, the Indians' true power lies in the strength of its backfield. QB Brandon Hawkins Jr. and RB Shawn Cherry are imposing runners who combined for 399 yards on the ground in the win over Midway.
Waco High's last game against Mansfield on Nov. 6 was called in the fourth quarter when word reached the stadium that a Lions player who hadn't traveled with the team had tested positive for COVID-19. Even though the Lions are seeking their first district win, they are not devoid of playmakers. WR Braylon Martinez is always a threat to break one. To wit: he had a 74-yard touchdown against Mansfield that started as a screen pass. QB Sean Mooney seems to have found a steady rhythm with Martinez and fellow wideout Remond O'Neal.
Live Oak (7-0) vs. Vanguard (4-4)
Time, site: 2 p.m. Saturday at Connally
Round: TAPPS Six-Man Div. II Area Playoffs
Breakdown: This marks one of the more anticipated revivals of this rivalry between crosstown private school teams, considering an advancement in the playoffs is at stake.
The Vikings and Falcons will meet for the second time this season. They first played in early October, in each teams' third game of the season, and Live Oak powered to a 48-0 mercy-rule win. Brice Helton's team has just kept winning since, behind a well-distributed rushing attack headed up by Justice Ishio and Will Schorlemer. On the other side of the ball, Jonathan Buras and Will Nicholas have made consistent contributions for Live Oak's feisty, underrated defense.
Don't sleep on the Vikings, though. Head coach Luke Pilant has them playing well, as they're averaging 55 points in their past three games, two of them wins. Walker Nall has ascended to become one of the top six-man passers in the state, and he has a familiar connection with Linden Crow, who has 703 receiving yards and 13 touchdowns.
The winner of this one will advance to the TAPPS six-man regional round, to face the Lakehill Prep-San Jacinto Christian winner on Dec. 5.
Eagle Christian (3-5) vs. Wichita Christian (6-1)
Time, site: 2 p.m. Saturday at Watauga Harvest
Round: TAPPS Six-Man Div. III Area Playoffs
Breakdown: In its first playoff game in school history, Eagle Christian served notice that it's no pretender. The Eagles blitzed Texoma Christian, 106-61, showing a staggering array of offensive firepower.
David Swamsidi, in just his second year playing football after moving from Nigeria, can flip the field in a blink, and scored four touchdowns in last week's win. Caleb Wilson, Matthew Mathis and Samuel Hariman are also tenacious two-way contributors, and QB Quinn Huntington can really fling it when he gets in his rhythm.
The Stars, out of Wichita Falls, can blind teams with their scoring prowess, too. They're coming off a 93-72 triumph over San Jacinto Christian in the opening round. Perhaps most impressively, WCA has managed six wins in seven outings this season while playing only one home game.
Should ECA keep its season going, it would meet Longview Christian Heritage or Fort Worth Covenant in next week's regional round.
Playoffs Week 3: Trib staff high school football picks
| | CHAD CONINE | BRICE CHERRY | JOHN WERNER |
| --- | --- | --- | --- |
| La Vega (9-2) vs. Argyle (12-0), 7:30 p.m. Friday at Joshua | Argyle | Argyle | Argyle |
| China Spring (9-2) vs. Sealy (9-2), 2 p.m. Friday at College Station | China Spring | China Spring | China Spring |
| Lorena (9-2) vs. Hallettsville (10-2), 6:30 p.m. Friday at Wimberley | Lorena | Lorena | Hallettsville |
| Crawford (11-1) vs. Alvord (6-4), 7 p.m. Friday at Alvarado | Crawford | Crawford | Crawford |
| Bosqueville (8-3) vs. Lindsay (11-0), 6 p.m. Friday at Aledo | Bosqueville | Lindsay | Lindsay |
| Mart (11-0) vs. West Sabine (7-4), 6 p.m. Friday at Crockett | Mart | Mart | Mart |
| Chilton (7-4) vs. Tenaha (8-3), 6 p.m. Saturday at Athens | Tenaha | Tenaha | Tenaha |
| Blum (8-3) vs. Union Hill (10-0), 6 p.m. Friday at Mabank | Union Hill | Union Hill | Union Hill |
| Bishop Reicher (3-4) vs. Temple Central Texas Christian (6-1), noon Saturday at Robinson | Reicher | Reicher | Reicher |
| Live Oak (7-0) vs. Vanguard (4-4), 2 p.m. Saturday at Connally | Live Oak | Live Oak | Live Oak |
| Eagle Christian (3-5) vs. Wichita Christian (6-1), 2 p.m. Saturday at Watauga Harvest | Eagle | Wichita | Wichita |
| DISTRICT GAMES | | | |
| Mansfield Lake Ridge at Midway (2 p.m.) | Midway | Midway | Midway |
| Waco High at Waxahachie | Waxahachie | Waxahachie | Waxahachie |
| Killeen at Temple | Temple | Temple | Temple |
| Shoemaker at Belton | Shoemaker | Shoemaker | Shoemaker |
| RESULTS | | | |
| Last week | 11-6 | 9-8 | 11-6 |
| Season to date | 307-104 (.747) | 295-116 (.718) | 186-50 (.788) |