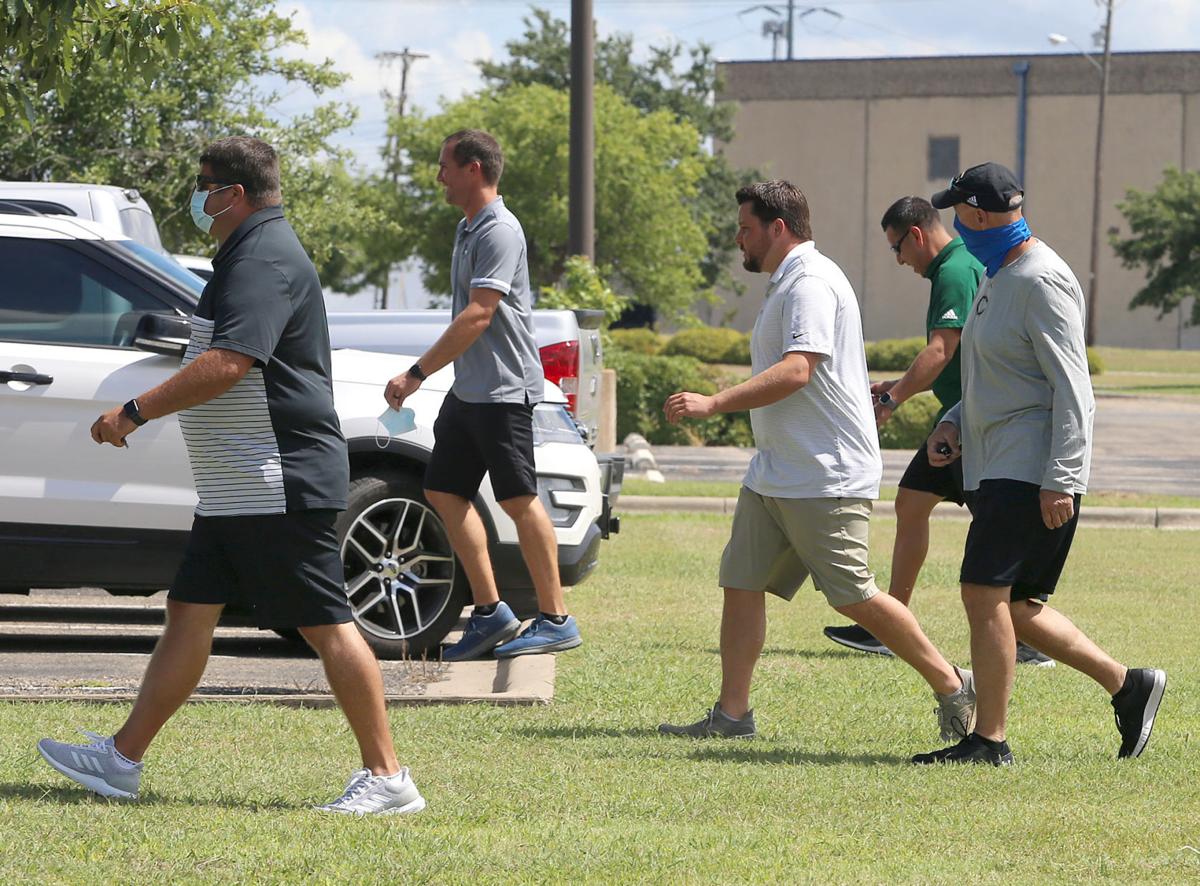 I've been thinking a lot about the phrase "proceed with caution" lately.
That should be the goal in this COVID-19 age. Eradicate the disease, yes, though that seems like a longer-term mission. In the meantime, figure out how to proceed with life as cautiously as possible.
It's been a nerve-fraying week for those involved in high school sports in Greater Waco. Coaches, athletic directors and, most of all, students, have seen their emotions batted and bounced around like a racquetball. They journeyed from the nervous uncertainty of not knowing what form fall classes and activities would take, to the elation over the UIL's announcement of a plan for regularly scheduled activities for smaller schools and a delayed start for the state's biggest, to the confusion and outrage over the Waco-McLennan County health authority's order that extracurricular activities could not begin until Sept. 7.
And that was just Tuesday.
The debate over what to do about Waco-area high school sports mirrors the larger debate on how to combat the coronavirus that is unfolding daily on the national stage. Disagreements abound. Emotions run high. So many people aren't even close to being on the same page. Heck, they're not even in the same library. I see it all the time just in my own circle of friends and family. Those on the far right and the far left are tugging in opposite directions, even though the vast majority have good (and even similar) intentions.
If you took 10 people of various backgrounds, ethnic groups and political leanings and asked them, "Do you want the coronavirus to end? Do you want people to be safe? Do you want to get back to 'normal' life?" I bet all 10 would answer yes to every question. But they might have 10 different opinions and ideas on how to get there.
That's what we're dealing with, America.
In its decision to push McLennan County public and private schools to delay in-person activities, heath officials cited the more than 300 positive COVID cases in the county among school-aged kids as the primary reason behind the order. In response, several area coaches called it a political move and wondered why they hadn't been approached for input, after having spent the past several weeks putting their athletes through strength and conditioning workouts.
I have no doubt that health officials have a challenging job. They're tasked with making decisions on how best to stop the spread of a global pandemic, even while some people recklessly choose not to follow their advice.
On the other hand, I also think that when some government officials and private businesses say, "Your health and safety are of our utmost concern," it can be translated as "We don't want any lawsuits on our hands." I'm not necessarily saying that type of thinking fueled the health district's decision, but I can't rule it out, either.
Here's what I do know. The coaches and athletic directors across Central Texas care deeply about the health and well-being of their student-athletes. I know, because I've seen it firsthand. They spend many hours outside of the regular school day trying to mold them into healthier, stronger people. They study concussion protocols and learn about safe training methods. They don't want to put their athletes in harm's way.
They do want them to get a chance to compete at their chosen sports and activities. And, sure, those coaches like winning games, too. They naturally get frustrated when things are taken out of their control and their teams might be put at a competitive disadvantage. Whether or not the McLennan County ruling was the right one, that was one of the unfortunate consequences for local 4A through 1A schools. A month of extra practices and games for their district opponents is a really big deal.
Contrast McLennan County's ruling with that of Bell County. Its health district also called for a delay in in-person instruction but allowed for exceptions for extracurricular activities for 1A-4A schools, as allowed by the UIL's guidelines. In my view, that was a more reasonable ruling. But Bell County isn't McLennan County. And it again just goes to show that different people, even those in similar positions, can disagree on how best to proceed.
The Declaration of Independence guarantees us as citizens the right to "life, liberty and the pursuit of happiness." Life is first on that list for a reason. We must fight to preserve it, and that's what this coronavirus battle is all about.
But just because you agree with that idea doesn't mean you should ignore when our liberties and our happiness pursuits are infringed upon. Over the course of these past few months, it's fair to say that both have taken a beating. And don't get it wrong: I'm not suggesting for a moment that social distancing or shelter-at-home orders are an affront to my freedom. On the contrary, they're designed to keep me (and you) safe. But at the same time, while I think a governor has every right to impose a mask order, I also question the legality of another governor banning singing in church, as happened in California.
COVID-19 has impacted us all in myriad ways. By now, we probably all know somebody who has tested positive. I've had several friends and members of my extended family who have contracted the virus. That's when it really hits home. Thankfully, all are in some state of recovery or another. Others around the world and the country have not been so lucky.
A person's life has far more value than a ball game. Believe it or not, Central Texas coaches know this. They also know those games make life worth living.
Sports are noble pursuits. If you disagree, if you consider them frivolous and pointless, I'd invite you to flip the page of your paper or click somewhere else on your web browser. We should be trying to figure out ways make the games we all love — don't worry, I ushered the haters out — happen. Maybe that means delays. Maybe it means new protocols. Let's get creative. Lord knows we're not always going to agree, but let's try to come up with a compromise. It's time to play ball again.
Concerned about COVID-19?
Sign up now to get the most recent coronavirus headlines and other important local and national news sent to your email inbox daily.