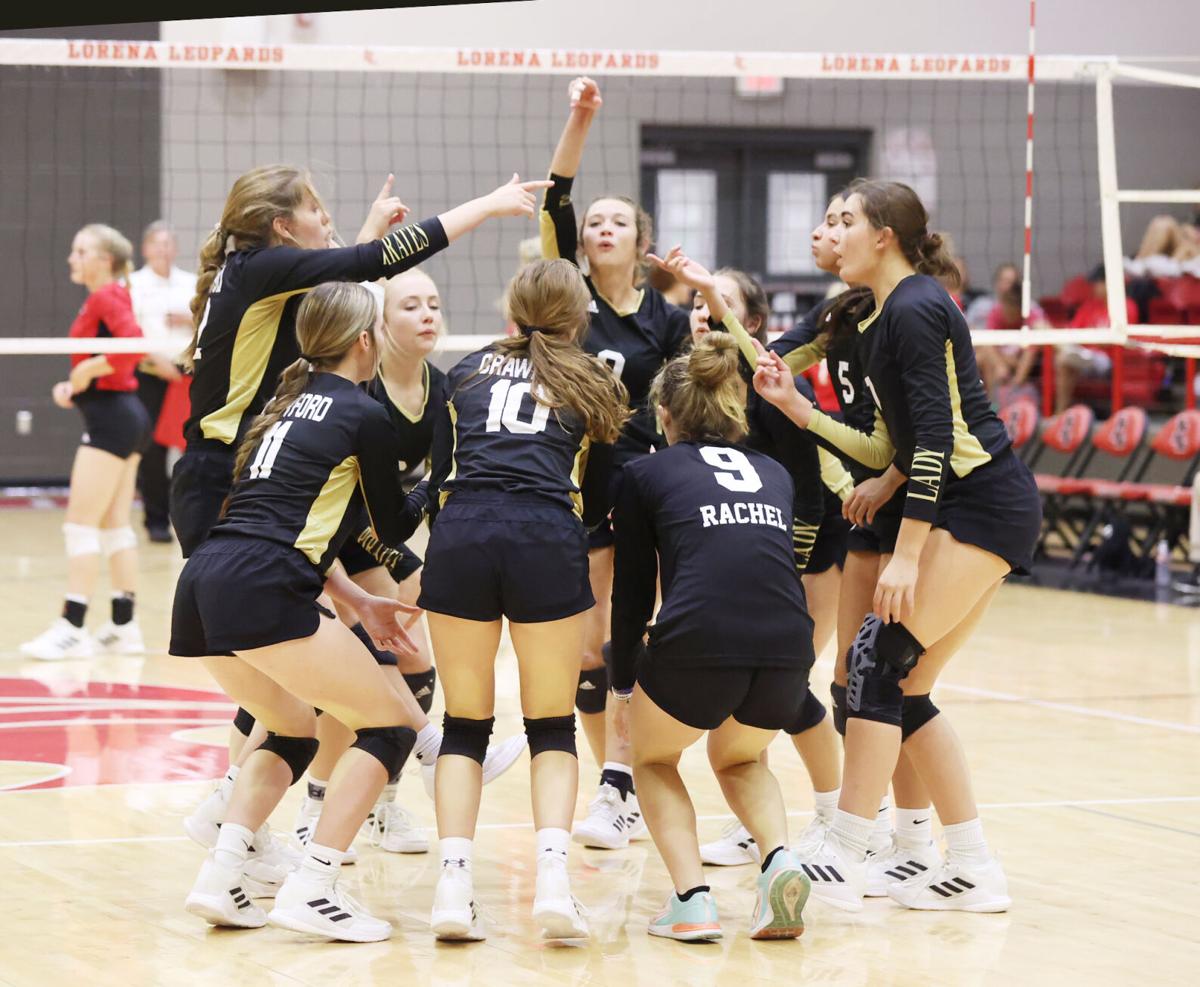 For all 24 teams that qualified for the UIL State Volleyball Tournament, from Class 1A up to 6A, the quest is the same.
Each journey, however, is different. Your team did not follow the same path as my team. Your story is not my story.
Three Central Texas programs will try to complete the ultimate quest at state this week in Garland — Class 3A Lorena, 2A Crawford and 1A Blum. They all want to stuff their trophy cases with a state championship trophy. Two more wins will get it done.
But they all blazed their own trail. So, let's meet them and track their footprints to the precipice of the state summit.
Lorena Leopards (38-4)
As second-year Lorena head coach Amanda Gonzales flipped open the sides of a large cardboard box, her players' eyes widened in anticipation. Tucked inside were Lorena's glistening white state tournament T-shirts, and Gonzales quickly dug into the task of passing them out.
"Nice shirts," a nearby observer mused. Gonzales smiled and nodded, then proceeded in her work.
There's a metaphor for Lorena in there. This has been a long time coming for the Lady Leopards. But they don't want to take the attitude of been there, done that, got the T-shirt. There is still work to be done.
"We had to shift our mindset," Gonzales said. "This season and in the playoffs, our goal was, we're going to make it to the regional tournament and if we're matched up with East Bernard we're going to beat East Bernard and make it to state. Then once we did it we celebrated and we were like, 'OK, now what?' Now it's time to move on. It's time to look at your next goal."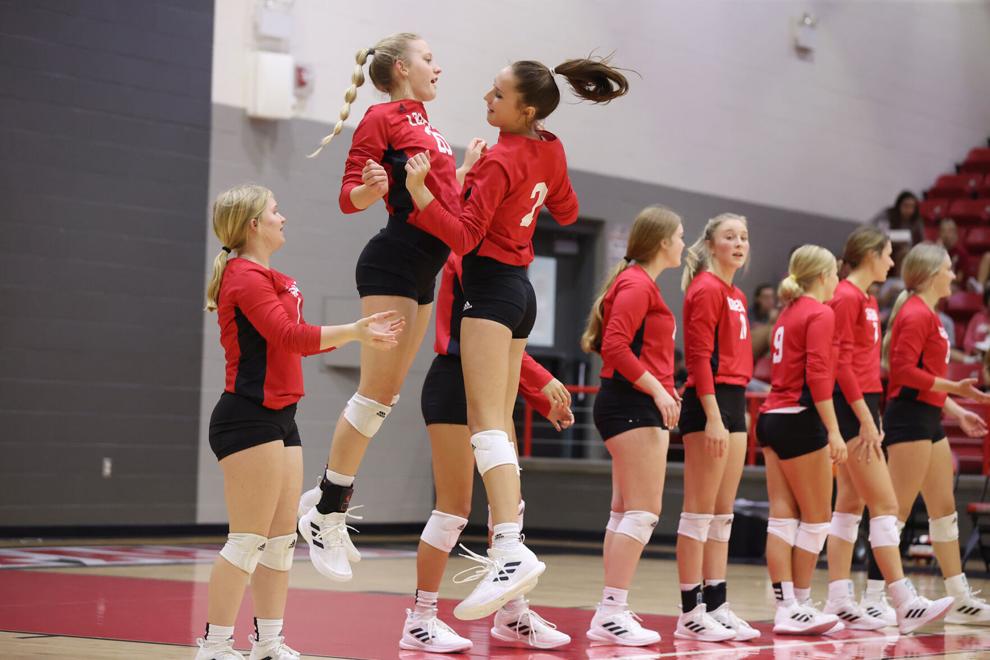 That idea of reaching state has been at the forefront of the Leopards' minds for a while now. Before this season, they'd never made it that far, despite a recent history of formidable teams and deep playoff runs.
When Gonzales came in from New Braunfels prior to the 2020 season, she spent time getting to know her new players. From the jump, she witnessed that they had big dreams. It was just a matter of putting in the big work necessary to make those dreams a reality.
"T told me that goal from the second I got here," Gonzales said. "We talked about that goal the first day I met those girls last year. I remember we were in the main gym, I said, 'What is your goal for your program? I know that's a pretty broad question.' One of the girls said, 'We want to go to state.' And I said, 'OK. Well, speak it into existence. It doesn't happen overnight.' Lorena volleyball has been very successful, but it takes a special group to take it the distance."
In Gonzales' first season in Lorena in 2020, the Lady Leopards shared the district title with Troy, then won four playoff matches to set up a showdown with East Bernard in the regional final. The Brahmas ousted the Leopards in straight sets. No state. Not this time.
So for the 2021 season Gonzales implemented some drills in practice that specifically targeted things that East Bernard exposed. Even as Lorena prepared for the next opponent on its schedule, the coach could see the bigger picture. She wanted the Leopards ready in case they got another shot at the Brahmas.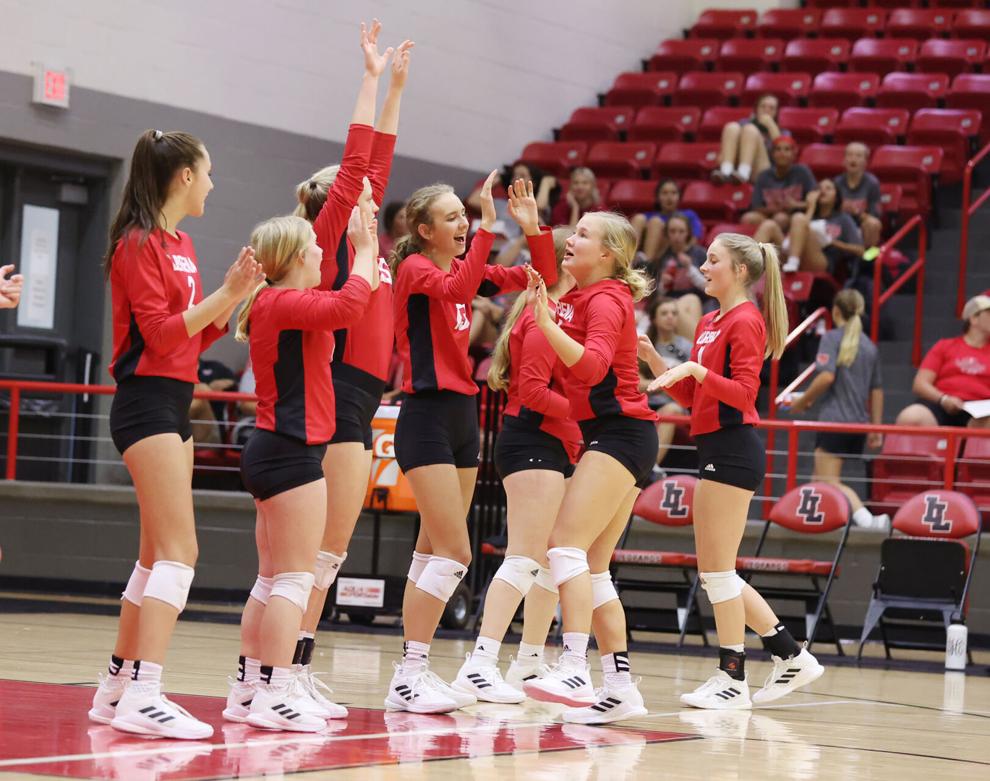 Gonzales explained all of this in a "little did they know" type of manner. But her players are pretty swift. They caught on.
"We definitely have been preparing for East Bernard all season," said senior outside hitter Abbie Tuyo. "Every drill, every practice, every little part of in the season, we were preparing for East Bernard."
Sure enough, the rematch happened. Lorena won its first four playoff matches (again), and who should be waiting for them but East Bernard. Again.
This time, though, the Lady Leopards weren't fazed by East Bernard's glitzy 45-1 record. They were ready. More than ready.
Lorena didn't just beat the Brahmas, they returned the favor with a sweep. That gave the Leopards their 19th straight sweep on the season.
And state. Blessed, glorious state.
"Honestly, I couldn't even remember the game," senior setter Meg Kucera said. "All of the sudden I looked at Abbie and it was game point, I think it was 24-14, 15, something like that. I looked around like, 'We're about to do this.' Then we win that point and it was this surreal feeling. I didn't think I was going to cry or anything, I'm not a big crier at all. And all of the sudden I'm just bawling."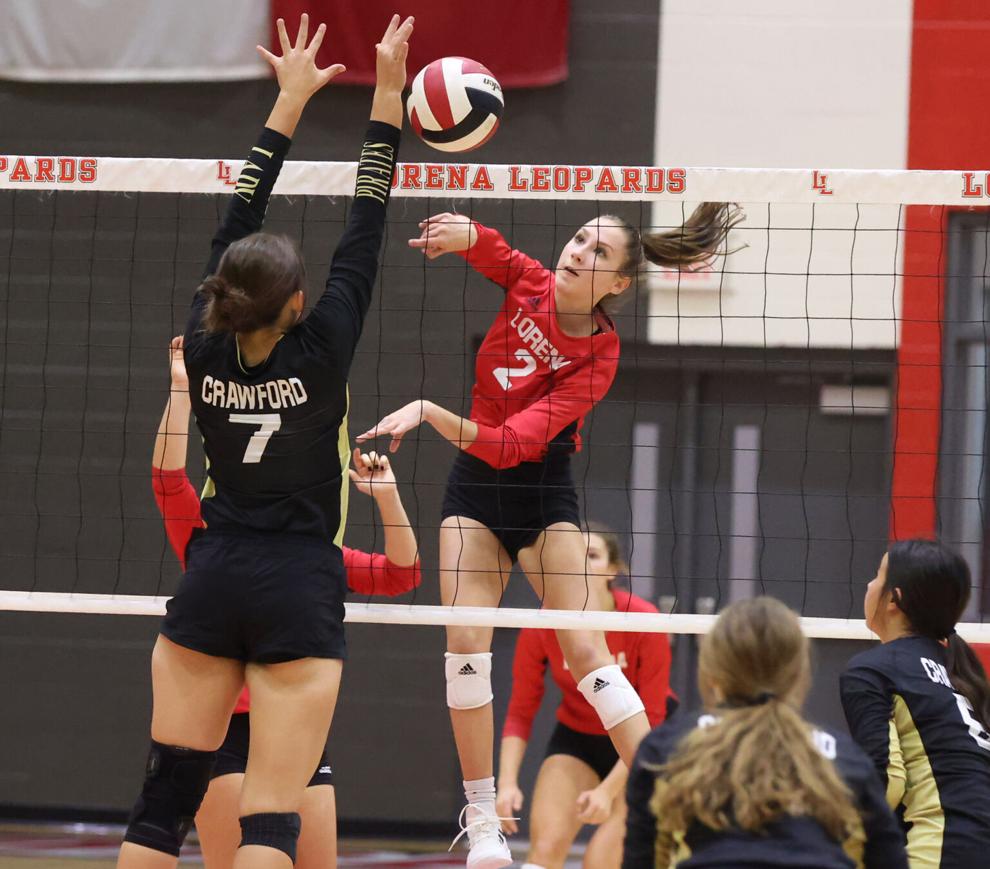 When you've spent so long working toward something, its arrival coaxes an outpouring of emotion. During the season, the Lorena players all read a book written by Minnesota football coach P.J. Fleck called, "Row the Boat." Tuyo described it as a "culture book," offering up the idea that when everyone, from the star player to the little-used, end-of-the-bench reserve, rows in the same direction, it's easier to get to where you want to go.
So all the Leopards grabbed an oar and started grunting. In the process, they reached their intended destination. But all that time in the boat together only strengthened their sense of sisterhood.
"There's not a person on this team that I don't love to death," Kucera said. "Since we won that game I kind of turned around and realized, 'Wow, I really do have a family here.' I was talking to a bunch of people and they were saying, 'Are you going to be sad when volleyball is over, whether you win it all or not?' And I said, 'Yeah, I'm going to be sad, but I'm going to really miss all these girls.'
"We've been through so much together, and at one point the lines between on and off the court blur, just because we're with each other so much, doing so much together. That's really special."
Crawford Pirates (43-7)
Each summer, Crawford's veteran head coach Jeff Coker latches on to a particular phrase and adopts it as the theme for that upcoming season. For his 2021 Lady Pirates he chose, "Seize the Moment."
Coker's reasoning was simple. Sure, his program has made a habit about reaching the state tournament. This year's appearance will be Crawford's sixth since 2013. It even has experienced the glory of holding aloft the ultimate prize, as champions in both 2017 and 2019.
But it's not a birthright. Crawford doesn't just fall out of bed and win. And it's worth celebrating, worth enjoying, every single time.
Especially since for somebody on the team, it's always new.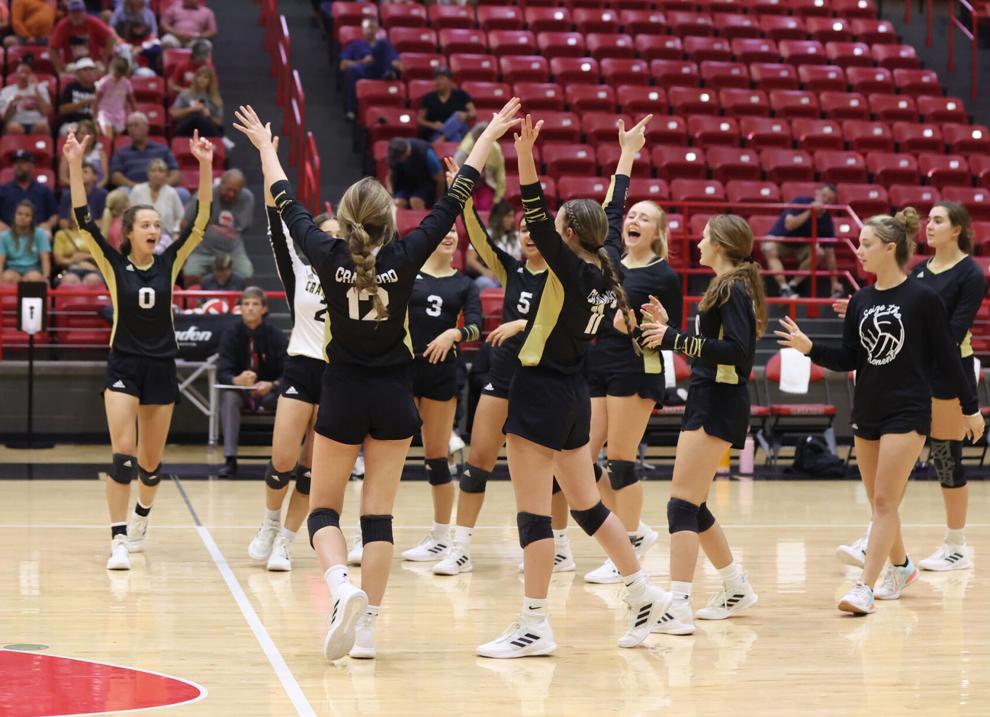 "I talked about that with a coaching friend of mine who was actually running the regional," Coker said. "As coaches we get to go through it and live it a bunch, but there's always at least one kid on your team that it's their first time. Whether it's their first time being a starter or their first time being in a new role or their first time even being a call-up, it's their first time. So you want to go out and make sure that every kid performs their best and does their job at that big moment. And just hope that they have the best experience they could possibly have."
Last year Crawford inched about as close as one could possibly come to the school's third volleyball state championship. The Lady Pirates went 32-4 and reached the 2A final, only to stumble in four sets against Iola.
You think playoff losses sting? Try doing it in the state final.
"We're so excited, we're so ready for another opportunity," said senior setter Lexi Moody. "Especially after last year, losing in the state championship, it definitely gives us more of a drive to win another one. We're ready and we're stoked for it."
Moody said she has gained a new appreciation for the fleeting nature of this time with her teammates, as she's watched other volleyball-playing friends see their seasons come to an end over the past couple of weeks. She may have known all these girls "since I was born," but their time together as teammates is drawing to a close.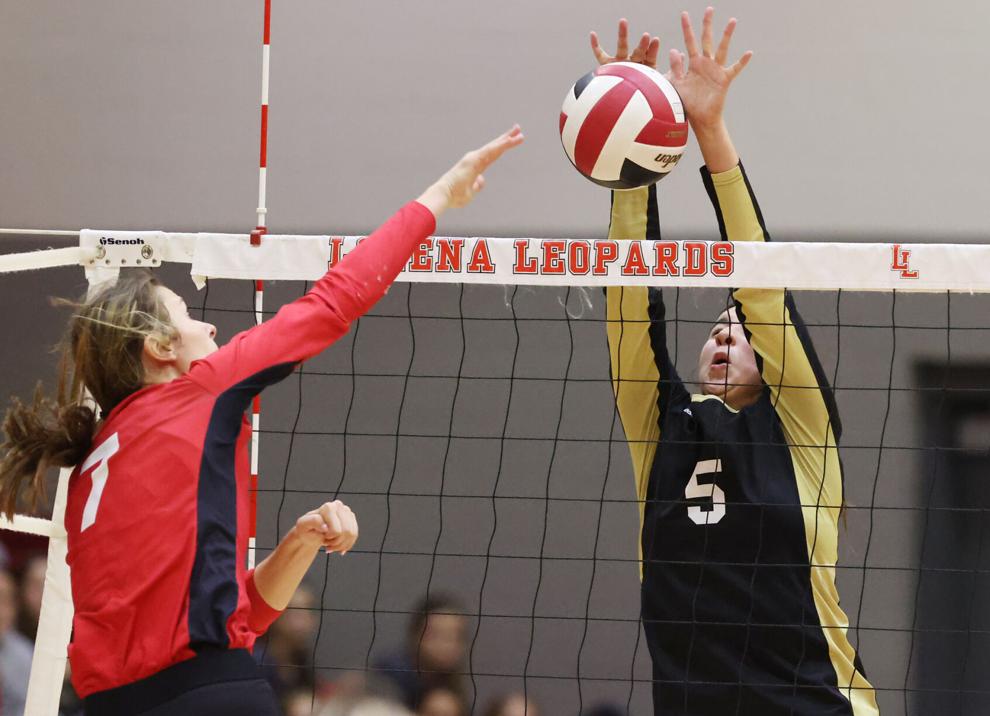 Senior middle blocker Kylie Ray called the Crawford team "one big, messy, happy family." She said everyone plays their own role, their own character. (For the record, Ray dubbed herself the Team Mom.) But afterone or hopefully two more matches, the family will disperse, at least from a volleyball perspective.
"It's very weird to think about that after next week, I'll never get to play with these girls ever again," Ray said. "It's really hard to say goodbye, because I'm wrapping up my last season of ever playing volleyball with this group of people. It's crazy."
That's why every moment counts. Just as it's always the first go-round for somebody, it's also always the last ride for someone else. So, Crawford intends to not take a second of it for granted.
"This group has been a group of gamers. They always step up in big moments," Coker said. "It's been really cool to see that, when the lights are on and shining the brightest they always tend to step up and find a way to make something good happen."
Blum Lady Cats (35-12)
More than almost anyone in the state field, Blum took its lumps this season.
As such, there might not be a team more prepared for the state stage.
Lauren McPherson, a Blum alumna and the Lady Cats' head coach for the past 14 seasons, perpetually seeks to challenge her team with a brutal nondistrict schedule. For example, Blum, enrollment 100, opened the season against Class 3A state qualifier Lorena. It also played 2A qualifier Crawford and 4A regional finalist China Spring. Many of those matches against schools sometimes nine or 10 times Blum's enrollment resulted in psyche-sapping losses.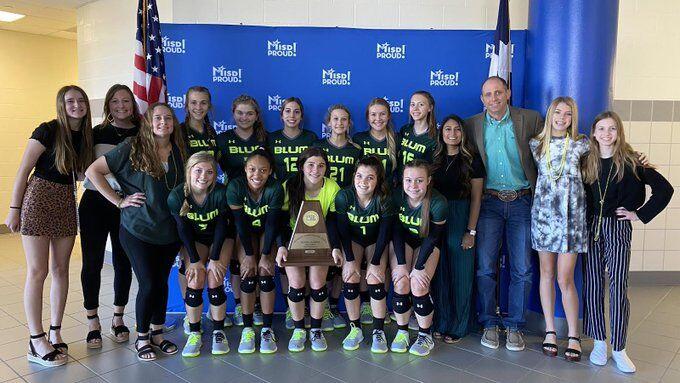 "There's always that excuse that people use, well, they're bigger than you, but we went through some struggles this season in our preseason thinking we were not good enough," McPherson said. "Mentally, just kind of defeated, because we were taking those losses. And just try to keep telling them that this is all part of a process and it'll all pay off in the end.
"It'll matter at the end, not right now. That's the goal. It doesn't matter how many wins or losses you have on your record, it just matters that you're winning at the end."
Boy, is Blum ever winning now. The Lady Cats have won 20 consecutive matches entering the state tournament, making their fourth appearance in the past five seasons. Not only has Blum not lost a match to a team in its own classification this season, the Lady Cats haven't even dropped a set to a 1A foe.
"Just playing with a lot of confidence. We're excited and ready," McPherson said. "This has been a goal of not only mine, but these girls all year. A lot of us, it goes back even further than that. They're just really excited and ready for it to be here and get it going, see what happens."
There are still lessons to learn. Blum features the youngest team in the 1A state field, as all but one player on its 11-girl roster is a freshman or sophomore, the lone outlier being senior Gracie Allen.
As a result, McPherson finds herself constantly teaching. She knows are players are well aware that they defeated their state semifinalist opponent Veribest in straight sets at a tournament earlier this season. So, she reminds them that last year Blum defeated Abbott in straight sets in the regular season only to require five sets to get past the Panthers in the regional final.
A win yesterday does not equal a win today, she stresses.
With two more wins, Blum will achieve the program's first volleyball title. Nobody knows more than McPherson what that would mean to the town. She grew up here, went to school here, and now finds herself sometimes coaching the children of her ex-teammates.
"They're people who I've grown up with or who have known me," McPherson said. "Most of (the players) know the expectation, and those who haven't been here all along have come in and figured out that if we want to be a part of this program, this is how it works. We're going to have to work hard and spend a lot of time and commitment to be at this level.
"We've got a good amount of girls who do it. At a 1A school, we've got 10 to 20 girls playing volleyball. A lot of them want to be a part, and they'll do whatever it takes to be a part of it."