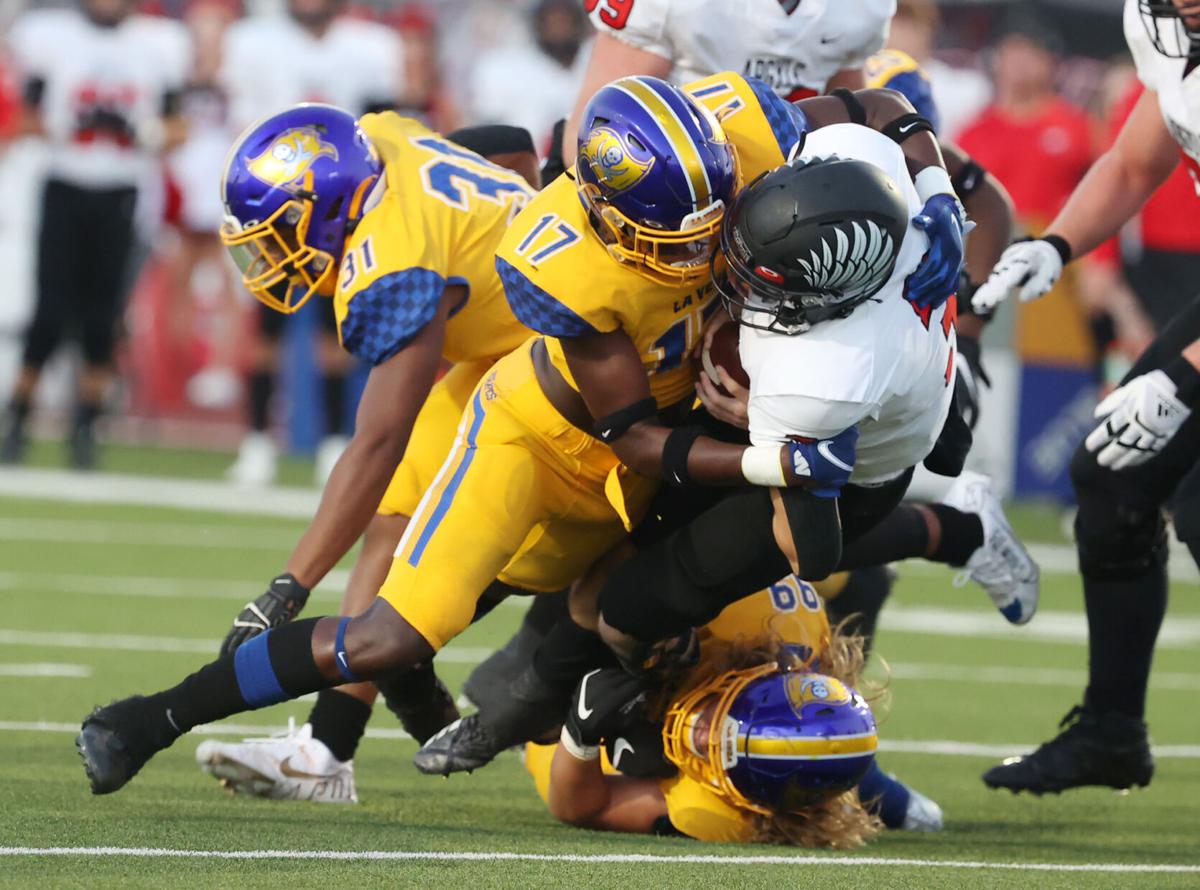 No. 2 Stephenville (5-0) at No. 6 La Vega (3-2)
Breakdown: Go ahead. Try to find a better district opener in the state. We'll wait.
OK, now that you've realized this sets up as that rarest of titanic clashes, let's dig into it, shall we? Three of the top 10-ranked teams in the state reside in District 5-4A Division I, and the top two of those will joust at Willie Williams Stadium on Friday. (The other is No. 9 Midlothian Heritage, which La Vega will face in two weeks.)
Stephenville looks like the Yellow Jackets of the early 1990s, when Art Briles was coaching them to state championships. The Jackets have yet to even play a close game. Two weeks ago Centex football fans got a first-hand look at the staggering skill of quarterback Ryder Lambert, who accounted for 354 yards and five total touchdowns in a 44-12 pasting of Connally. Following that game, Cadets head coach Terry Gerik offered up this playoff prediction for Stephenville: "They're going to go deep."
Don't dismiss Modoc pride, though. In a 48-13 road win over Corpus Christi Miller two weeks ago, La Vega's defense showed off its feisty, ball-hawking nature. The Pirates intercepted Miller three times in the second half and forced a fumble in pulling away for the win. Keep an eye on defensive back Jesse Majors-Sterling, always a big play waiting to happen.
No. 10 Chilton (5-0) at No. 1 Mart (5-0)
Breakdown: Chilton and Mart have been on a collision course all season.
The Panthers, who have played in four straight state championship games and won three of them, have long been the gold standard in 2A Division II. Through the first half of this season, Chilton has shown itself to be a worthy challenger.
"Every year they've gotten better," Mart coach Kevin Hoffman said. "From week to week you can see they get better and get more confidence. They've had some big wins."
Chilton coach Chris James said his team's ability to compete with Mart will depend on the Pirates' maturity and discipline. James knows Mart can score fast and create big momentum swings. But will his group have the perseverance to sustain the ups and downs?
Mart's Klyderion Campbell and Neven Hickman each suffered minor knee injuries the last time out against Italy, but Hoffman said they're ready to go for this district opener. The Panthers will also get DE/RB Ayden Lane back from an illness.
Chilton has been rotating Daylon Ford and McKeller Cook at QB with each bringing different strengths to the position in different situations. Those two along with newcomers Braylen Fisher and Jamoryon Benjamin will need to make an impact for the Pirates to pull off an upset of the top-ranked Panthers.
Mansfield (3-2, 1-1) at Midway (0-5, 0-2)
Radio: 106.7 FM, SicEm365 app
Breakdown: Midway's word of the week during its open date last week was "reset."
"We talked about how we need to hit that reset button," Midway coach Shane Anderson said. "We can't do anything about those first five games. But we feel like we're a better football team today. Let's hit the reset button, and go out and do the best we can in these five games we're guaranteed to play, and know that if we win three out of five, we'll be a playoff football team."
One reason for optimism for Midway is that it has gained some reinforcements. A trio of defenders — defensive backs Knox Walker and Angelo Benson and linebacker Kannon Clendenin — are working their way back into the lineup after injuries.
"That's three guys on defense who should help us tremendously," Anderson said. "And then our offensive line is getting more consistent, just having the same five guys for a couple of weeks in a row."
Anderson said that Mansfield compares favorably in talent level to Midway, Lake Ridge and Waxahachie, just a few steps below Duncanville, Cedar Hill and DeSoto. The Tigers utilize a tight end in their offensive sets and like to hit defenses with play-action passes, and defensively they operate out of a 4-3 look. It's not fancy, but effective.
It'll be homecoming for Midway, so the Panthers want to put on a show for any former players in attendance. There have also been rumblings that former Midway coach Terry Gambill may make a guest appearance.
Jarrell (3-3) at No. 5 China Spring (5-0)
Breakdown: Jarrell's record is enough evidence that it has an improved football team this fall. Jarrell won just one game in 2020, edging Robinson by three points in early October.
However, a closer look reveals that Jarrell might not be quite ready to put a scare into China Spring at Cougar Field on Friday. Jarrell has lost three of its last four, including a 19-point defeat against 3A McGregor in Jarrell a month ago.
Jarrell's best bet is to chew up yards and clock with RB Derrick Warren, who has rushed for 839 yards so far this season and is gaining 8.3 per carry.
China Spring has been versatile on offense and stingy and opportunistic on defense through the first five weeks. The program seems to be keeping its season stats concealed, but China Spring's last time out against Mexia shows what its players can do. QB Major Bowden threw a couple of TD passes and ran for a couple more. DLs Dawson Exline and Keith Njemini and LBs Jaeden Davis and Brayden Faulkner combined for 26 tackles, eight sacks and three forced fumbles.
Expect China Spring to continue defining its identity in this game and the next few weeks leading up to the playoffs.
Cameron Yoe (2-4, 2-0) at Academy (5-1, 1-1)
Breakdown: It's still early in district play, but Cameron Yoe and Academy look like they're headed to the playoffs. That could make this game about seeding and create a fantastic atmosphere at John Glover Stadium.
Academy quarterback Kasey Mraz put together a high-quality first half of the season as he has passed for more than 1,200 yards with 13 touchdown passes against four interceptions. Bumblebees coach Chris Lancaster's offense has been pass-heavy with more than two-thirds going through the air. Academy leading receiver Scout Brazeal has 34 catches for 725 yards and 6 TDs.
Will that mean an avalanche of points against Cameron Yoe?
The Yoemen's offensive machine is in vintage form under Rick Rhoades. In the last two weeks, Cameron Yoe has scored 130 points in notching a pair of district wins after losing its first four.
Yoemen quarterback Ryan Muniz's stats are comparable to Mraz — 1,227 passing yards, 15 TDs, 7 INTs. The difference maker could be RB Phaibian Bynaum, who has rushed for almost 100 yards per game, including a 177-yard effort against Rockdale last week.
Cameron Yoe's Fabian Salomon and Colton Barbo are both in the top five in Central Texas in tackles. If they can slow down the Bumblebees, Cameron Yoe has a chance to move to 3-0 in district play.
Marlin (3-2) at Italy (3-2)
Breakdown: Marlin has been able to start fast in just about every game this season. The difference in winning and losing for the Bulldogs has been whether or not they can sustain that momentum.
Since losing an early lead against Lexington, Marlin WR/LB Derion Gullette said the team's motto has been "start fast, finish strong." The Bulldogs will try to do just that as they start district play in the Gladiator coliseum.
Two weeks ago, dropped passes and other key mistakes kept Italy QB Jayden Saxon and the Gladiators offense from keeping pace with Mart. Now another purple-clad Central Texas squad comes to town.
Marlin junior QB Desmond Woodson has done a good job of spreading the ball around to Gullette, Trajon Butler, Ty Harris and Zha'Mauryon Lofton. Keeping that going with a short passing game could be a huge factor as Italy will try to counter with a big and fast defensive front.
No. 3 Vanguard (6-0, 1-0) at No. 1 Live Oak (6-0, 2-0)
Breakdown: Bring on the Slugfest at the Silos, and they won't be fighting over Joanna's knickknacks. This marks the premier private school six-man battle of the season, pitting two of SixManFootball.com's top three ranked teams in TAPPS Division II.
Nobody is playing any better than Live Oak, a strong favorite to add its fifth career state championship trophy to its case. Justice Ishio regularly lays down the law in the Falcons' running game, with 644 yards and 15 touchdowns on the season. Mason Peters owns a 20-to-1 touchdown-to-interception ratio at quarterback, and Live Oak is plenty tough defensively, too.
The Vikings won't take the field without firepower, though. They've racked up a lot of frequent flier mileage behind the area's top passer Walker Nall, who has completed 76 percent of his tosses for 1,366 yards and 33 touchdowns and zero interceptions.
"He's one of the most coachable kids I've been around," Vikings coach Luke Pilant said of Nall. "If you asked him to go out and throw it behind his back, he'd give it all he's got."
Nall likes to spread it around to Vanguard's potent stable of receivers, which includes Parker Goodrum, Marlow Welch and DJ Broadway.
Hamilton (5-1, 2-0) at No. 4 Crawford (5-0, 1-0)
Breakdown: This highly anticipated matchup stacks up as the District 7-2A Division I game of the year as the Pirates will try to remain unbeaten against a powerful Hamilton team.
Since a 28-12 loss to Riesel in the second game of the season, Hamilton has won its last four games while averaging 43 points behind the talents of running back Taylor Long and quarterback Keegan Votaw. The defense has been solid by posting shutouts against Hico and Itasca.
"They're a physical ballclub and are predominantly a running team," said Crawford coach Greg Jacobs. "They've changed offenses from last year and have gone to a slot-T and have been effective. Defensively, they put pressure on you with their inside linebackers and they cover passes well."
Crawford features one of the best defenses in the state as linebacker Camron Walker and safety Colt Murphree have helped limit opponents to 19 points in five games. Running back Breck Chambers continues to lead the Pirates' ground-based offense.
"Our kids have been playing with tremendous effort and they play well together, and that's carried us so far," Jacobs said. "Defensively, we've been fortunate to give up limited points, and they understand what they're doing."
Connally (1-3) at Robinson (1-4)
Radio: 107.9 FM, SicEm365 app
Breakdown: Both Connally and Robinson used a bye week to polish areas of their games, and they hope it will pay off in their District 9-4A Division II opener.
The Cadets dropped a 44-12 decision to No. 2 Stephenville two weeks ago. But after the Yellow Jackets opened up a 31-0 halftime lead, Connally coach Terry Gerik found some optimism as the Cadets were much more impressive in the second half as Jelani McDonald hit Sean Harris on a 56-yard pass and Tre Wisner for 47 yards.
"I think we got a lot out of the bye week," Gerik said. "We focused on us and worked on fundamentals and got better at different parts of the game. We had a tough non-district schedule that I think has prepared us well for district. Just like us, they're 0-0 in district and will get out and play hard."
The Rockets dropped a 31-13 decision to Burnet in their last game two weeks ago. Robinson features a ball-control offense keyed by running back Grayson Martin, but Robinson coach Robert Rubel is concerned about matching Connally's speed.
"Since I've been here, they've always been faster than us," Rubel said. "But I feel we're in a better situation up front than years past, so hopefully that will help us. The bye week gave us a little rest and some time to fix some things."
Groesbeck (4-1) at Fairfield (2-3)
Breakdown: The Goats piled up points at a head-spinning rate during non-district play as they averaged 53.4 points in their 4-1 start. Groesbeck is looking for that explosiveness to continue as it enters District 8-3A Division I play against longtime rival Fairfield.
Leading Groesbeck's offense is quarterback Allen Lewis who has passed for 894 yards and 13 touchdowns while Tyson Pringle has been a deep threat with 17 catches for 381 yards and seven scores. Brenden Morrow is also a major threat with 11 catches for 317 yards and five scores.
"We've executed well and have some pretty good skill people, starting with our quarterback and receivers," said Groesbeck coach Jerry Bomar. "We started the year against teams in rebuilding mode, so we know the competition will get tougher."
After opening the season with three losses against a challenging schedule, Fairfield heads into district play with consecutive wins, including a 30-16 win over Robinson and a 23-15 win over Mexia. Eli Martin has been a dynamic offensive threat with 632 yards rushing and five touchdowns while JaCorey Daniels has been the top receiver with 11 catches for 203 yards.
"We're starting to right the ship," said Fairfield coach John Bachtel. "We've got a pretty big offensive line and we're just trying to do some things behind them. Our defense is playing real good. But Groesbeck poses a lot of problems. It starts with the quarterback and he does a great job getting the ball out of his hands."
Best of the Rest
Mansfield Timberview (2-3, 1-1) at University (0-5, 0-2): The Trojans will host Timberview just two days after a shooting at the Mansfield-area school that left four students injured. No doubt the Wolves will be glad to get back to the fun of a football game following such a somber week. (Radio: 104.9 FM) … Waco High (0-5, 0-2) at DeSoto (3-2, 1-1): The Lions' quest for win No. 1 continues against another challenging 11-6A foe. … Thorndale (5-1, 2-0) at Rosebud-Lott (4-2, 1-1): The Cougars are one of four teams tied for second behind Thorndale in the 12-2A standings, and a Rosebud-Lott win would make things even more interesting.
Trib staff's Week 7 high school football predictions
| | CHAD CONINE | BRICE CHERRY | JOHN WERNER |
| --- | --- | --- | --- |
| DISTRICT 11-6A | | | |
| Mansfield at Midway | Midway | Midway | Midway |
| Waco High at DeSoto (7 p.m.) | DeSoto | DeSoto | DeSoto |
| DISTRICT 12-6A | | | |
| Temple at Ellison (7 p.m. Thu.) | Temple | Temple | Temple |
| Belton at Harker Heights | Harker Heights | Harker Heights | Harker Heights |
| DISTRICT 5-5A DIV. II | | | |
| Mansfield Timberview at University (7 p.m.) | Timberview | Timberview | Timberview |
| DISTRICT 5-4A DIV. I | | | |
| Stephenville at La Vega | La Vega | Stephenville | Stephenville |
| DISTRICT 5-4A DIV. II | | | |
| Hillsboro at Venus (7 p.m.) | Hillsboro | Hillsboro | Hillsboro |
| DISTRICT 7-4A DIV. II | | | |
| Mexia at Brownsboro | Brownsboro | Brownsboro | Brownsboro |
| DISTRICT 9-4A DIV. II | | | |
| Jarrell at China Spring | C. Spring | C. Spring | C. Spring |
| Connally at Robinson | Connally | Connally | Connally |
| Salado at Gatesville | Salado | Salado | Salado |
| DISTRICT 7-3A DIV. I | | | |
| West at Dallas A+ Academy (Thu.) | West | West | West |
| DISTRICT 8-3A DIV. I | | | |
| Groesbeck at Fairfield | Groesbeck | Groesbeck | Groesbeck |
| Teague at Kemp | Teague | Teague | Teague |
| DISTRICT 11-3A DIV. I | | | |
| McGregor at Troy | McGregor | McGregor | McGregor |
| Cameron Yoe at Academy | Yoe | Yoe | Yoe |
| DISTRICT 13-3A DIV. II | | | |
| Lexington at Riesel | Lexington | Lexington | Lexington |
| Clifton at Florence | Florence | Florence | Florence |
| DISTRICT 7-2A DIV. I | | | |
| Hamilton at Crawford (7 p.m.) | Crawford | Crawford | Crawford |
| Bosqueville at Itasca (7 p.m.) | Bosqueville | Bosqueville | Bosqueville |
| Rio Vista at Valley Mills (7 p.m.) | V. Mills | Rio Vista | V. Mills |
| DISTRICT 8-2A DIV. I | | | |
| Marlin at Italy | Marlin | Marlin | Marlin |
| Cayuga at Axtell | Axtell | Axtell | Axtell |
| Dawson at Kerens | Dawson | Dawson | Dawson |
| DISTRICT 12-2A DIV. I | | | |
| Hearne at Bruceville-Eddy | Hearne | Hearne | Hearne |
| Moody at Holland | Holland | Holland | Holland |
| Thorndale at Rosebud-Lott | Thorndale | Thorndale | Thorndale |
| DISTRICT 8-2A DIV. II | | | |
| Albany at Meridian (7 p.m.) | Albany | Albany | Albany |
| DISTRICT 10-2A DIV. II | | | |
| Chilton at Mart (7 p.m.) | Mart | Mart | Mart |
| Frost at Bremond (7 p.m.) | Bremond | Bremond | Bremond |
| Wortham at Hubbard (7 p.m.) | Wortham | Wortham | Wortham |
| INDEPENDENT | | | |
| Lamar Randle at Lake Belton (7 p.m.) | L. Belton | L. Belton | L. Belton |
| DISTRICT 11-1A DIV. I | | | |
| Bynum at Milford | Milford | Bynum | Bynum |
| Covington at Avalon (8 p.m.) | Avalon | Avalon | Avalon |
| DISTRICT 12-1A DIV. II | | | |
| Cranfills Gap at Walnut Springs (7 p.m.) | Gap | Gap | Gap |
| Kopperl at Iredell (7 p.m.) | Iredell | Iredell | Iredell |
| TAPPS 6M DIST. 3-II | | | |
| Vanguard at Live Oak (7 p.m.) | Live Oak | Live Oak | Live Oak |
| TCAF 6M DIST. 1 | | | |
| Haslet Heritage at Methodist Home (7 p.m.) | MCH | Heritage | MCH |
| Parkview Chr. at Taylor St. Mary's (7 p.m.) | Parkview | Parkview | Parkview |
| SIX-MAN | | | |
| Lometa at Abbott | Abbott | Abbott | Abbott |
| Eagle Christian at Aquilla | Aquilla | Aquilla | Aquilla |
| Penelope at Calvert | Calvert | Calvert | Calvert |
| Houston Emery/Weiner at Coolidge (6 p.m. Thu.) | Emery | Emery | Emery |
| Greenville Christian at Jonesboro (7 p.m.) | Jonesboro | Jonesboro | Jonesboro |
| Gordon at Evant | Gordon | Gordon | Gordon |
| Austin St. Stephen's at Oglesby (7 p.m.) | Oglesby | St. Stephen's | Oglesby |
| Mount Calm at Johnson County Home School JV (7 p.m. Thu.) | JCHS | JCHS | JCHS |
| FW Covenant JV at Gholson (6 p.m. Thu.) | FWC | FWC | FWC |
| RESULTS | | | |
| Last week | 26-6 | 24-8 | 23-9 |
| Season to date | 196-73 | 198-71 | 190-79 |