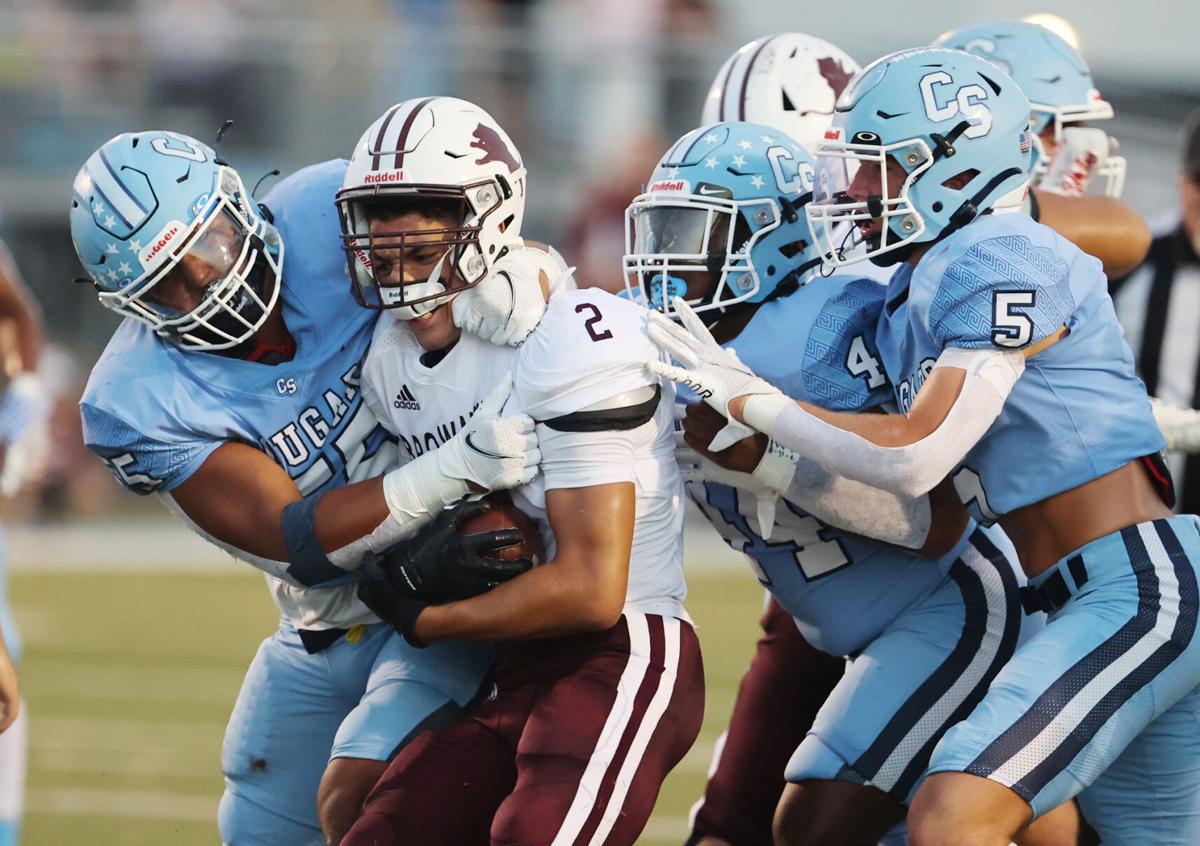 Midway (0-6, 0-3) at Waco High (0-6, 0-3)
Radio: 92.3 FM/1660 AM, 106.7 FM, SicEm365 app
Breakdown: Waco High and Midway have both, though mostly at different times, been among the upper tier of football programs in the state. So the fact that they're meeting in mid-October, each looking for its first win of the season, is disheartening.
Either the Lions or the Panthers will be victorious on Friday night and that team still has an outside shot at a playoff berth. Although in all likelihood, the four playoff teams from 11-6A will be Duncanville, Cedar Hill, Waxahachie and DeSoto.
Midway has been preparing for the future all season. Junior QB Reid Tedford has passed for 1,043 yards with seven touchdowns and five interceptions in six games. His favorite targets have been sophomore receiver Junior Thornton and junior RB Dom Hill. Thornton leads the Panthers with four TDs. But Midway's offense has gone flat for long stretches, costing them dearly in losses against Waxahachie and Mansfield.
It's getting late in a difficult season and Waco High's lack of depth is starting to show. The Lions were competitive in a 34-28 loss to Mansfield on Sept. 17. Since then, however, Cedar Hill and DeSoto squashed Waco High by a combined score of 108-6.
No. 5 China Spring (6-0, 1-0) at Gatesville (2-4, 0-1)
Breakdown: China Spring has been rolling over everyone in its path ever since the Cougars outlasted Lorena for an eight-point win on Sept. 3. Now Gatesville is in China Spring's way.
Hornets coach Luke Howard said his team is looking forward to the challenge of playing the state-ranked Cougars. He specifically pointed to the multiple looks that China Spring shows on the defensive side and the number of playmaker the Cougars have there.
Gatesville will need QB Wesley Brown to make plays both as a runner and passer for the Hornets to keep up with the district frontrunner.
China Spring's offense has been very efficient with a variety of running backs beside QB Major Bowden. Last week it was Kyle Barton and he needed just eight touches to rack up more than 130 combined rushing and receiving yards.
Gatesville opened district play with a loss versus Salado last week. But the Hornets aren't at the stage of desperately needing a win to stay in the playoff hunt. They can potentially make the postseason by coming on strong in the final three weeks of the regular season.
Similarly, China Spring's chances to win a district title don't ride on this game. But the Cougars can retain the inside lane with a victory.
Connally (2-3, 1-0) at Salado (4-2, 1-0)
Radio: 107.9 FM, SicEm365 app
Breakdown: If things are going Salado's way, the Eagles have the ability to deliberately chew up yards and clock. That's the nature of the slot-T offense, which Salado deployed to near-perfection several times last season.
The Connally Cadets, on the other hand, are more inclined towards the big play.
Whichever style prevails could have an impact on the race for the district championship in 9-4A DII. Connally opened district play with a 28-7 win over Robinson last week. Meanwhile, Salado started in the win column as well, dispatching Gatesville, 42-6.
So far this season, Connally has used star running back Tre Wisner in moderation. He carried eight times for 93 rushing yards and a couple of touchdowns in last week's victory. But more touches could mean a bigger chance of the Cadets controlling the game.
Salado's offense is once again led by dual-threat QB Hutton Haire. He led the Eagles to a 20-15 win over Connally last season. It's hard to tell if Salado's system is as sharp as it was in 2020 when the Eagles went 11-2 and lost to Carthage in the third round of the playoffs.
Glen Rose (6-1, 1-0) at Hillsboro (4-3, 1-0)
Radio: 1560 AM, khbr.streamon.fm
Breakdown: Hillsboro has a quirky trend so far this season. The Eagles beat McGregor in their season opener, then lost the next week at Krum. That started a trend in which Hillsboro has won every other game, including a 48-2 triumph over Venus last week.
Now the Eagles will try to break the streak and win back-to-back games for the first time this fall. Doing so would put Hillsboro in great position to win the 5-4A DII championship. But it won't be easy.
Glen Rose has won six straight, including a 54-24 thumping of perennial 3A power Grandview. The Tigers are led by dual-threat QB Hudson White, who has passed for 995 yards and rushed for 1,166 with a combined 29 TDs.
Hillsboro's Francisco Montoya showed off his dual-threat ability as well in the Eagles' win over Venus. He passed for 180 yards and four touchdowns and also led Hillsboro with 102 rushing yards with two more scores.
Eagles senior LB Ricardo Martinez is among Central Texas' leading tacklers. He'll need to have a productive night tracking down White to give Hillsboro a chance.
No. 10 Lorena (4-2, 2-0) at McGregor (2-5, 0-3)
Breakdown: When you're going a hundred miles an hour, it's nice to tap the brakes every once in a while. That was the case for Lorena during last week's open week.
"We had some bumps and bruises we were able to get healed up," Lorena coach Ray Biles said. "But we also had a chance to fix some stuff that we don't always get a chance to address during a normal game week, when you're trying to figure out how to defend that formation or how to block that front."
It may be frightening for the Leopards' opponents to think that Lorena was growing even sharper during its open date. Lorena defeated its first two district foes by a combined score of 89-21. The Leopards are potent in all three phases behind a balanced offense led by running back Reed Michna (628 yards, 7 TDs), a well-schooled defense where Braylon Henry (49 tackles, 2 sacks) is emerging as a budding star, and an explosive kicking game where returners Andrew Brittain and Colton Dale are fully capable of breaking one.
Winless after three district games, McGregor probably needs to win out to give itself a shot at a return playoff engagement. But the Bulldogs do not lack weapons, topped by the area's leading rusher in Chad Lorenz (1,069 yards, 9 TDs). Biles called Lorenz "a load," and said that the Leopards will need to rally to the ball when he's carrying it, because it may take more than one tackler to bring him down.
No. 1 Mart (6-0, 1-0) at Bremond (2-4, 1-0)
Breakdown: This doesn't necessarily shape up as a classic Mart-Bremond clash on paper, as Mart is on another level from everyone else in its district (if not the state) while Bremond is young and rebuilding. But both teams are off to 1-0 starts in District 10-2A Div. II, and how many other games in the state this week will produce a matchup where the opponents can boast a combined 12 state championships?
Mart is coming off a thoroughly dominant 56-6 beatdown of then-No. 10 Chilton. Panthers coach Kevin Hoffman liked what he saw from his bunch in that one, and yet still found areas where his team can improve. Specifically, the Panthers had a breakdown in "eye discipline" on Chilton's one long touchdown run, they botched a couple of quarterback-running back exchanges, and they tossed one interception that Hoffman said was actually on him as a coach.
Where Mart has maybe impressed the most is with its ability to withstand absences, whether those come due to injury, illness or grade issues. One of the unsung players who has stepped up is cornerback Brandon Lundy, who didn't enter the season as a starter but has ascended to that role due to circumstances and had an interception against Chilton.
Jeff Kasowski has relied on several freshmen for Bremond this year, but they're growing up in a hurry. The Tigers melted Frost, 54-12, a week ago, and freshman quarterback Braylen Wortham passed for 142 yards and two touchdowns and rushed for 79 more and a score in that win over the Polar Bears. Wortham has piled up 638 rushing yards and seven TDs on the ground in his debut varsity season.
Eustace (4-2, 0-1) at Groesbeck (5-1, 1-0)
Breakdown: The return of Jerry Bomar to the Groesbeck sideline has brought back more than nostalgia to Goat Country. They're getting it done on the field, too.
Bomar — who led Groesbeck to the 1991 state title and returned in 2019 after nearly a three-decade absence — got the Goats started off right in District 8-3A Div. I play last week. Groesbeck pulled out a tight game with longtime rival Fairfield, 29-22.
Quarterback Allen Lewis spearheads a fearsome Goat offense that averages 46 points per outing. And he has no shortage of talented targets to scope out, including Brenden Morrow, Tyson Pringle and Anthony Lewis.
Eustace couldn't get anything going in its district opener last week, falling to Malakoff, 62-0. However, the Bulldogs still have some bite to be wary of, most notably running back Jake Haney. The diminutive 5-6, 145-pound senior averages right at 175 yards rushing per game and has scored nine touchdowns.
La Vega (3-3, 1-1) at Brownwood (2-4, 0-1)
Breakdown: With three losses in their last four games, the Pirates hope to right the ship against Brownwood, another traditional state power that has struggled this season with a 2-4 record.
In last week's 35-7 loss to No. 2 Stephenville, the Pirates only managed one touchdown when Robert Prescott hit Mekhi Rice for a 34-yard score to open the second half. But Stephenville had already built a 28-0 lead.
Meanwhile, Brownwood has dropped four of its last five games. Though Konlyn Anderson has rushed for 1,091 yards and eight touchdowns and Chance Jones has thrown for 723 yards and 11 touchdowns, the Lions haven't been able to overcome a defense that has allowed 41.8 points per game.
Despite dropping out of the Class 4A Division I poll, La Vega coach Don Hyde believes the Pirates can get back on track.
"We got hot at the end of non-district against Corpus Christi Miller (a 48-14 win) and took a week off," Hyde said. "It's hard to deal with a young team sometimes. But I think we can be a really good football team if we can get to the point where we understand each and every week is different, and you have to prepare yourself mentally every day to play because the other team will."
Whitney (3-3, 2-0) at No. 7 West (7-0, 3-0)
Radio: 1560 AM, khbr.streamon.fm
Breakdown: Sparked by an offense that's averaging 50 points per game, West features one of the most dangerous attacks in the state.
The Trojans' balanced running game is led by TJ McCutcheon with 646 yards rushing and 12 touchdowns and quarterback Zane Meinen with 521 yards rushing and five touchdowns. Though West isn't a prolific passing team, Meinen has been highly effective as he's hit 40 of 56 passes for 546 yards and five touchdowns.
West's defense has also been tremendous as last week's 63-0 win over Dallas A-Plus Academy showed. Whitney features a superb passing game as Garrett Peacock has thrown for 1,380 yards and 19 touchdowns while Orrin Green is a big-play receiver who has made 12 catches for 452 yards and five scores. Peacock is also a running threat as he's rushed for 405 yards and a score.
"They're really a good football team that offensively puts guys in position to make plays and gets them out in space," said West coach David Woodard. "Defensively, they do a great job taking away what you do best. They're better than their record indicates. But we're playing confident, and every time we step on the field we believe we have a good chance to win."
Valley Mills (3-4, 1-2) at Bosqueville (4-2, 2-0)
Breakdown: No defensive coordinator enjoys breaking down Bosqueville film. The Bulldogs have averaged 50.3 points in their last three wins over Riesel, Rio Vista and Itasca.
The Bulldogs' attack features quarterback Justin Moore, who has passed for 355 yards and four scores and ranks among the top rushers in Central Texas with 805 yards and eight touchdowns on just 53 carries.
Following losses to Tolar and Hamilton, Valley Mills bounced back with a 30-6 win over Rio Vista. Elandis Taylor brings some of the best passing numbers in the area as he's thrown for 1,533 yards and 18 touchdowns while Cooper Ewing leads the area with 33 catches for 834 yards and 14 scores. Balancing the offense is Trevor Castanon, who has rushed for 568 yards.
Valley Mills coach Bob Featherston brought some of Art Briles' spread offensive tactics to the Eagles' offense after serving as an assistant at Mount Vernon.
"Their coach was out there with Coach Briles and runs the same type of stuff offensively," said Bosqueville coach Clint Zander. "They're averaging over 60 snaps per game. Their offense is very high paced and very explosive outside. It's going to be a real test for us defensively. But we're getting more consistent."
Best of the Rest
Temple (4-2, 3-0) at Belton (3-3, 2-1): The Wildcats and Tigers have produced lots of lightning over the years in their annual rivalry, and a Belton win would further electrify the 12-6A standings with chaos. … Troy (1-5, 1-1) at Cameron Yoe (2-5, 2-1): Look for a bounce-back effort from the Yoemen following a 32-28 slip-up against Academy last week. … No. 1 Live Oak (7-0, 3-0) at Plano Coram Deo (6-0, 1-0): For the second straight week, Live Oak tackles a team with a perfect season record. Of course, that worked out well for the Falcons last weekend, when they vanquished Vanguard, 83-36.
Trib staff's Week 8 high school football predictions
| | CHAD CONINE | BRICE CHERRY | JOHN WERNER |
| --- | --- | --- | --- |
| DISTRICT 11-6A | | | |
| Midway at Waco High (7 p.m.) | Midway | Midway | Midway |
| DISTRICT 12-6A | | | |
| Temple at Belton | Temple | Temple | Temple |
| DISTRICT 5-5A DIV. II | | | |
| University at Burleson (7 p.m.) | Burleson | Burleson | Burleson |
| DISTRICT 5-4A DIV. I | | | |
| La Vega at Brownwood | La Vega | La Vega | La Vega |
| DISTRICT 5-4A DIV. II | | | |
| Glen Rose at Hillsboro (7 p.m.) | Glen Rose | Glen Rose | Glen Rose |
| DISTRICT 7-4A DIV. II | | | |
| Van at Mexia | Van | Van | Van |
| DISTRICT 9-4A DIV. II | | | |
| China Spring at Gatesville | C. Spring | C. Spring | C. Spring |
| Connally at Salado | Salado | Salado | Salado |
| Robinson at Jarrell | Robinson | Jarrell | Robinson |
| DISTRICT 7-3A DIV. I | | | |
| Whitney at West | West | West | West |
| DISTRICT 8-3A DIV. I | | | |
| Fairfield at Kemp | Fairfield | Fairfield | Fairfield |
| Eustace at Groesbeck | Groesbeck | Groesbeck | Groesbeck |
| Malakoff at Teague | Malakoff | Malakoff | Malakoff |
| DISTRICT 11-3A DIV. I | | | |
| Troy at Cameron Yoe | Yoe | Yoe | Yoe |
| Lorena at McGregor | Lorena | Lorena | Lorena |
| DISTRICT 13-3A DIV. II | | | |
| Buffalo at Clifton | Buffalo | Buffalo | Buffalo |
| DISTRICT 7-2A DIV. I | | | |
| Valley Mills at Bosqueville (7 p.m.) | Bosqueville | Bosqueville | Bosqueville |
| Crawford at Rio Vista (7 p.m.) | Crawford | Crawford | Crawford |
| Tolar at Hamilton (7 p.m.) | Tolar | Hamilton | Tolar |
| DISTRICT 8-2A DIV. I | | | |
| Axtell at Dawson | Dawson | Dawson | Dawson |
| Cayuga at Marlin | Marlin | Marlin | Marlin |
| DISTRICT 12-2A DIV. I | | | |
| Bruceville-Eddy at Thorndale | Thorndale | Thorndale | Thorndale |
| Rosebud-Lott at Moody | R-Lott | R-Lott | R-Lott |
| DISTRICT 10-2A DIV. II | | | |
| Mart at Bremond (7 p.m.) | Mart | Mart | Mart |
| Hubbard at Chilton (7 p.m.) | Chilton | Chilton | Chilton |
| Wortham at Frost (7 p.m.) | Wortham | Wortham | Wortham |
| TAPPS DISTRICT 2-III | | | |
| Tyler All Saints at Bishop Reicher (7 p.m.) | Reicher | All Saints | All Saints |
| INDEPENDENT | | | |
| Texas Wind at FW ATLAS Home School | Atlas | Atlas | Atlas |
| Lake Belton at Katy Jordan (noon Sat.) | L. Belton | L. Belton | L. Belton |
| DISTRICT 11-1A-I | | | |
| Blum at Covington | Blum | Blum | Blum |
| Avalon at Bynum | Avalon | Avalon | Avalon |
| DISTRICT 15-1A-I | | | |
| Jonesboro at Evant (7 p.m.) | Jonesboro | Jonesboro | Jonesboro |
| DISTRICT 12-1A-II | | | |
| Morgan at Cranfills Gap (7 p.m.) | Gap | Gap | Gap |
| Walnut Springs at Kopperl (7 p.m.) | W. Springs | W. Springs | W. Springs |
| TAPPS 6-MAN 3-II | | | |
| Live Oak at Plano Coram Deo | Live Oak | Live Oak | Live Oak |
| TCAF 6-MAN DIST. 1 | | | |
| Mineral Wells Comm. at Methodist Home (7 p.m.) | MCH | MCH | MCH |
| Parkview Christian at Haslet Legacy | Legacy | Legacy | Legacy |
| SIX-MAN | | | |
| Trinidad at Coolidge | Coolidge | Coolidge | Coolidge |
| Mansfield Newman at Penelope (7 p.m. Thu.) | Penelope | Penelope | Penelope |
| Mount Calm at Eagle Christian (7 p.m.) | Mt. Calm | ECA | ECA |
| Gholson at Abbott JV (6 p.m. Thu.) | Gholson | Gholson | Gholson |
| RESULTS | | | |
| Last week | 37-9 | 36-10 | 37-9 |
| Season to date | 233-82 | 234-81 | 227-88 |