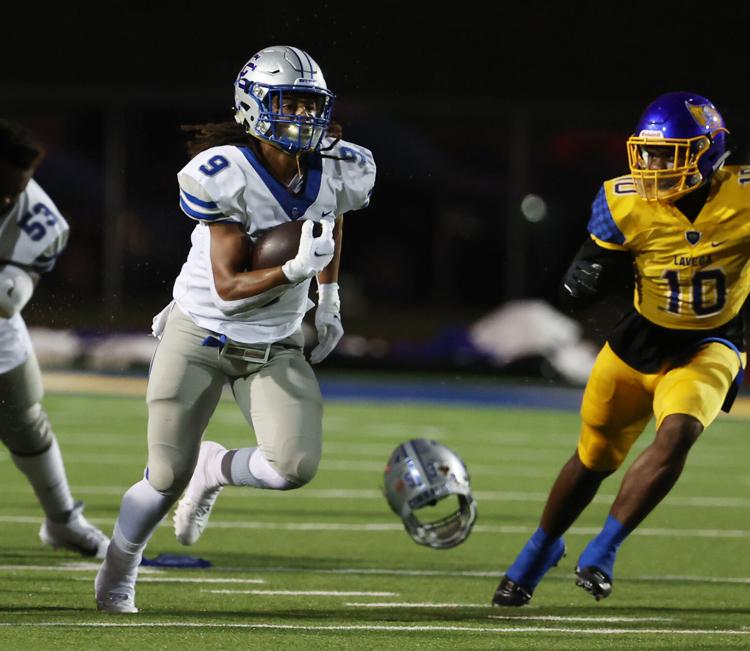 Most fans, and maybe most coaches and players, think of football as a reciprocal system.
The offense puts together a long drive, allowing the defense to rest up to go make a stop. The defense recovers a fumble, giving the offense great field position. The players on the offense stand on the sideline and cheer on the defense and vice versa.
But then you look up and the player who just made a crucial strip in the fourth quarter was Kavian Gaither, the man who had been running the offensive show as Connally's quarterback. At that moment, you realize there are football players with a basketball mentality.
They never leave the fray.
"In a sense, yes, basketball is just back and forth motion," Gaither said. "The only break you get is during timeouts or if you foul somebody. So really it applies on the football field also because you're never coming off the field. The plays are a little shorter and you get time to rest, but you're still going at it whenever the quarterback says 'hut.'"
Gaither has started at running back and quarterback on offense for Connally this season, while also manning a starting outside linebacker role for the Cadets. He has rushed for 977 yards and eight touchdowns and posted 53 tackles entering the ninth game of the campaign.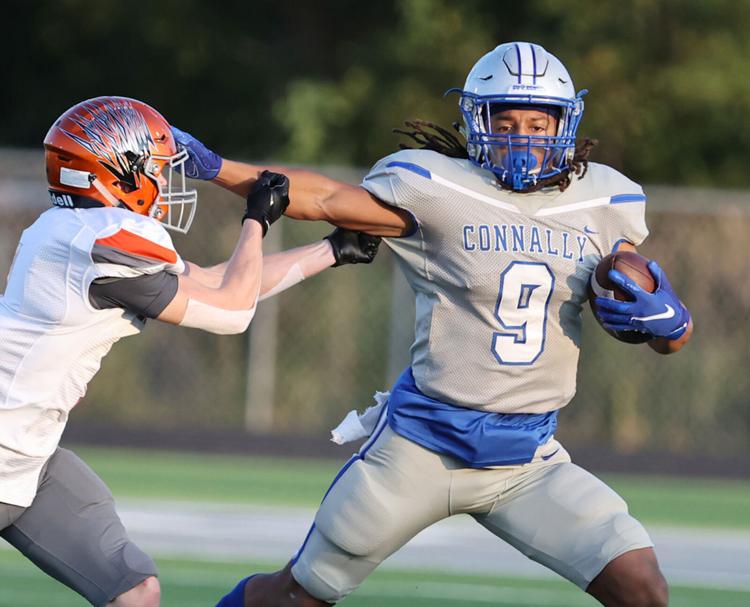 But he's definitely not alone in starring on both sides of the ball.
Mexia's offensive backfield is chock full of players who make a huge impact on defense too.
Blackcats quarterback Le'Marion Miller has passed for 489 yards, rushed for 391, made 48 tackles and reDid tcovered a fumble as a safety. Mexia running back Jarrell Wiley has 720 rushing yards on offense and 22 tackles, including a sack at linebacker. Slot back Trey Holdman might be the most versatile of all as he has rushed for 452 yards, caught passes for 303 and leads Mexia in tackles with 60 and interceptions with two from his safety spot.
"Philosophically, unless you are at a 5A Division II school or bigger, you've got to have your guys on the field," Mexia coach Triston Abron said. "We don't showcase them enough when we allow them to two-platoon."
Players making plays on both sides of the ball is normal in 2A and vital in the six-man game of 1A. But the two-way players around Central Texas in 3A and 4A are turning heads this season.
On Thursday, La Vega assistant coach Jermaine Carpenter commented on a video on Twitter of Pirate Jordan Rogers scoring a second-quarter touchdown in a Wednesday night victory.
"(Rogers) has played 5 positions so far this season and no matter where he plays he gets it done!" Carpenter tweeted.
Rogers, the reigning Super Centex Defensive Player of the Year, made crucial plays as a wildcat QB during the playoffs in 2019 and took over the QB role for part of this season while Ara Rauls was out with an injury.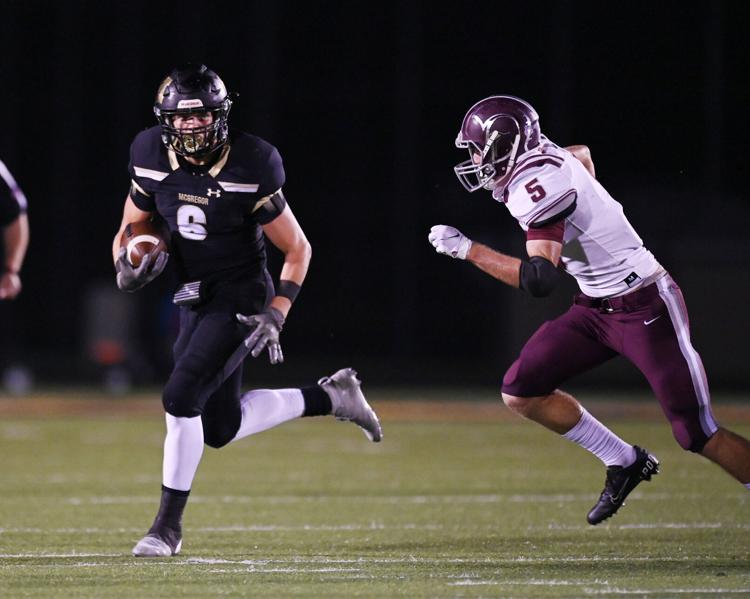 In McGregor, junior Chad Lorenz has already piled up 1,147 rushing yards in his first season as the Bulldogs' primary ball carrier. He also starts at linebacker, where he gets his teammates lined up according to the defensive call. Lorenz has made 46 tackles with a sack and a fumble recovery.
He rushed for 279 yards and scored the game-winning touchdown and two-point conversion in McGregor's 58-57 victory over Troy a few weeks ago. But a defensive play saved the night for the two-way standout.
"I had two fumbles in the first and second quarter. I fumbled five yards away from the goal line in the fourth," Lorenz said. "We turned around and they threw a little out route and me and Deondre Parker stopped (Troy running back Zach Hrbacek) to win the ball game."
While it seems like fatigue would be the biggest obstacle for these two-way warriors, they say the opposite is true.
Connally coach Shane Anderson said Gaither is one that doesn't have to play his way into shape. He has the motor to keep going the entire game from the first to last game of the season.
It's the same for the Mexia players.
"Really, there's no hard thing about it," Wiley said. "You've just got to be a ball player, really. Just go out there and want it. This is my first year playing both ways in a while, but I mean you've just got to do what's best for the team. Just act like you want to do it."
Being long on energy and short on memory are a couple of common traits.
But for Lorenz and others in his role, there's an added component of being a coach on the field.
"What I do is after we do film on each team, I get a piece of notebook paper out, I go through all the plays and write what defense we'll be in," Lorenz said. "I go over it. I go over each game (the opponent has played), so I know what formations they're in the most. It helps."
Of all the players interviewed for this story, none of them expressed a desire to get more rest during the game. Some come off the field for special teams plays, others do not.
The two-way stars aren't limited to backs and receivers either. Many linemen do double duty like Connally's Torii Pullen and McGregor's Reese Huffman and Will Allison.
They're all athletes and competitors and so they want to impact the game.
"The best thing about it is just knowing that you can do it and doing what's best for the team," Mexia's Holdman said. "This is my senior year, I want to be on the field at all times."
Get in the game with our Prep Sports Newsletter
Sent weekly directly to your inbox!