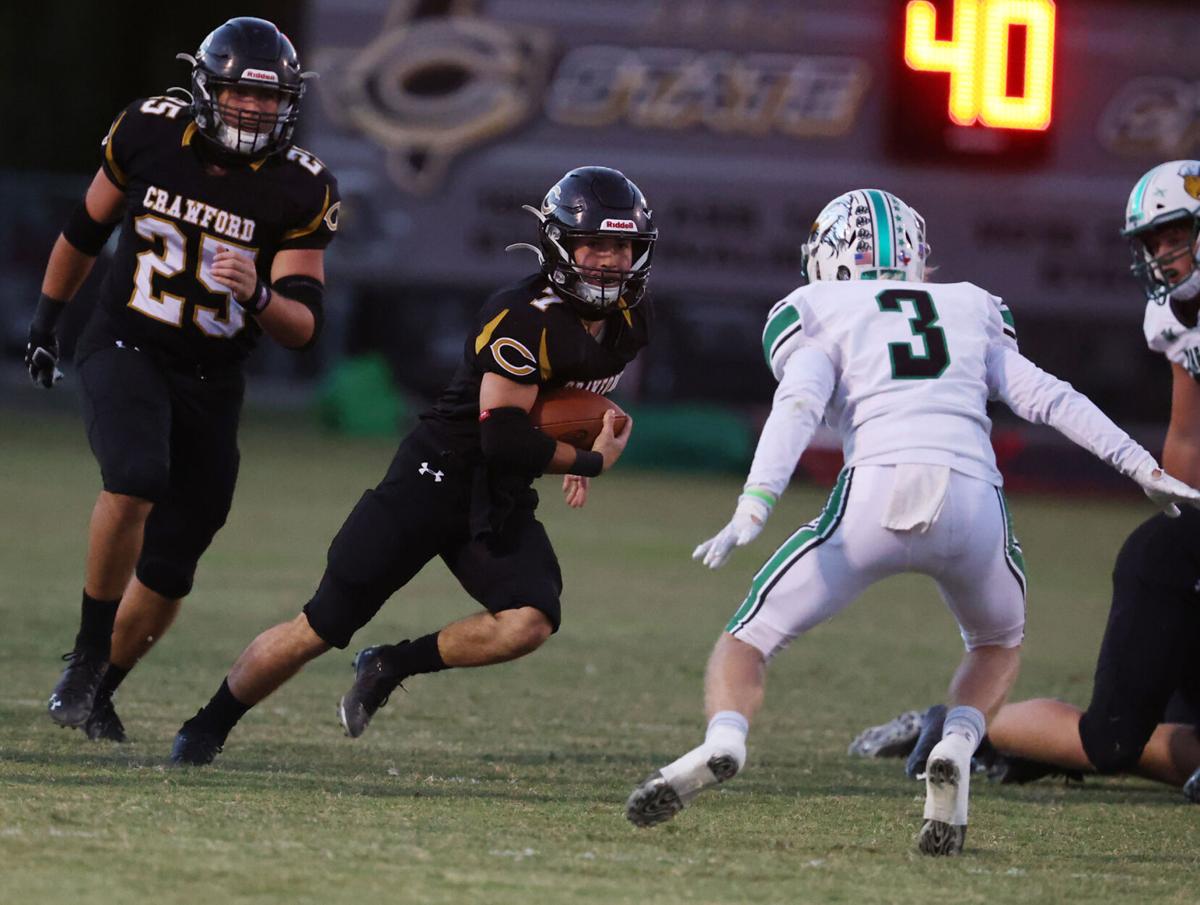 No. 2 Duncanville (1-1) at Waco High (1-1)
Breakdown: Not only is Duncanville ranked No. 2 in Class 6A, the Panthers are the No. 6 team in the nation as ranked by the USA Today Super 25.
That's due in large part to the Power-5 prospects dotting Duncanville's roster led by Alabama commit Kendrick Blackshire at LB and Baylor pledge Roderick Daniels at WR.
"They've got a lot of stars in a lot of places. It's ridiculous," Waco High coach Kwame Cavil said. "Everything is dangerous about them. They have a head coach (Reginald Samples) that's tried and tested and one of the best coaches in the state of Texas in history. They have kids that have been there before with back-to-back state championship game runs. He has his program rolling."
Of course, the Panther player most likely to have the ball in his hands is, of course, QB Grayson James, a pro-style quarterback who excels at getting the ball to Duncanville's playmakers.
Waco High will counter with QB Nate Reyna, who led the Lions to a season-opening win almost a month ago against West Mesquite. That night, Reyna found Braylon Martinez for a couple of touchdown passes and Xavier Williams for another one that was called back for a penalty.
The Lions are leaning on big upset hopes. If Waco High were to knock off Duncanville, it might just be the biggest shocker since an undersized Bethlehemite took out a large Philistine a few millennia ago.
University (1-1, 0-0) at Arlington Seguin (1-1, 0-1)
Breakdown: Because of last week's Waco ISD shutdown of in-person classes, University will be making its delayed District 5-5A Div. II debut.
The Trojans haven't played since a 46-35 win over Granbury on Oct. 2. That game represented a major step of progress after the team's opening loss to A&M Consolidated. Now the pervading question is this: Was there retention among the University players in the three-week layoff since?
"For the most part, I think so," University coach Rodney Smith. "You really won't be able to tell those things until Friday night."
University QB Nik Sanders showed a proclivity for the big play last time out, as he had TD tosses of 83 and 47 yards. He and the Trojans will be challenged by a Seguin defense that features no shortage of returners from 2019, highlighted by linebacker Jakari Buie.
Defensively, University will need to be aware of the whereabouts of Seguin RB Jalen March, as the senior is fully capable of marching downfield at high rates of speed.
No. 3 La Vega (5-1, 2-0) at Midlothian Heritage (6-2, 2-0)
Streaming: Modoc Media on YouTube and Facebook,NFHS Network
Breakdown: La Vega has played just two games in the last month due to an open date and then a COVID-19 postponement of the Brownwood game because the Lions had issues.
Two weeks ago, the Pirates jumped ahead of Stephenville, 14-0 by halftime, and held off the Yellow Jackets in the second half for a 42-24 victory. La Vega quarterback Jordan Rogers, who has long been a standout on both sides of the ball, took his quarterbacking game to another level. He made plays with his arm and legs to lift the Pirates to the key district win.
Now La Vega turns its attention to a surging Midlothian Heritage team led by dual-threat QB Daelin Rader. The Jaguars have won three straight after an overtime defeat against Springtown. Last week, Rader had more than 100 passing yards and rushing yards in Heritage's 45-6 dismissal of Waxahachie Life.
The Jaguars are undefeated in district so far, but they have their three toughest loop games coming up, starting with La Vega. Meanwhile, the Pirates could gain a firm grip on the district title with a win, though they can't quite clinch it yet.
With few opportunities lately, La Vega will be happy just to get back on the field on a game night.
Robinson (2-6, 0-3) at No. 8 China Spring (6-1, 2-1)
Breakdown: After opening the season with six straight wins, China Spring had a hard time pushing No. 6 Salado's ball-control Slot-T offense off the field last week in a 28-14 loss.
But China Spring coach Brian Bell was proud of the resiliency his team showed.
"I learned we have a tough football team," Bell said. "Salado is really good but I was impressed with how we played and competed."
The Cougars hope to return to the offensive juggernaut that they were in the first six games when they averaged more than 50 points behind the explosive running of Emmanuel Abdallah and Major Bowden.
Robinson's offense also seeks to get back on track after scoring just 40 points in an 0-3 start in District 9-4A Division II.
The Rockets' only touchdown in a 17-6 loss to Gatesville last week came on a one-yard run by quarterback Joseph McHenry following a blocked punt.
"Robinson's quarterback is a good talent and they've got guys they can get the ball to," Bell said. "They run a lot of option and try to get the ball to the perimeter. Not many people run the offense they do."
Gatesville (2-4, 1-2) at Connally (4-3, 2-1)
Streaming: Centex Sports Network; Gatesville Radio Network on YouTube
Breakdown: By virtue of its 56-22 romp over Jarrell last week, Connally clinched a playoff spot for the third straight year, which head coach Shane Anderson labeled "huge for the program."
Now that that's out of the way, there's no reason to let up, the coach added.
"We talked to our kids about winning the ones we're supposed to win," Anderson said. "We've had some tough ones too, but I've told people, those three losses we have are all to one-loss teams who are going to play three or four rounds deep in the playoffs."
The Cadets figure to be the favorite against the visiting Hornets, but Gatesville built up a little momentum with its first district win, 17-6, over Robinson last week. Connally's Anderson doesn't want his bunch taking the Hornets lightly, because he's seen steady improvement from this week's opponent throughout the season.
Gatesville's defense was especially feisty against the Rockets, as Robinson's only touchdown was set up by prime field position following a blocked punt. Linebacker Zach Bates (88 tackles) stands out as a prolific ball seeker for the Hornet defense.
That unit will have its mitts full with Connally's slippery playmakers, including QB Kavian Gaither and RB Tre Wisner. Another guy who's making a resounding impact on a weekly basis is LB LaMarcus McDonald, who took the opening kickoff of last week's game back for a touchdown in addition to spearheading the team's defensive surge.
Ferris (3-3, 0-1) at Hillsboro (4-3, 1-1)
Breakdown: Undefeated Glen Rose humbled Hillsboro, 40-0, last week to hand the Eagles their first district defeat. Despite that outcome, Steve Hale's squad still is in great shape to claim the No. 2 seed for the postseason out of five-team District 5-4A Div. II.
Sophomore QB Austin Cook brings dual-threat capability in leading the Eagles' offense. But when the Hillsboro rushing attack has really clicked this year, it's done so with multiple ball carriers spreading around the wealth, including the likes of Manny Dixon and Jacob Montoya.
Ferris leans heavily on its senior running back Nate Aguinaga, who has rushed for 570 yards in his team's six games while averaging 5.1 per carry. But Hillsboro can't completely sell out to stop the run, because the Yellowjackets also feature a potential game-breaker at receiver in Brendon Winsor.
This will mark Hillsboro's final home game of the season, so the Eagles will be angling to send their seniors out in triumphant fashion.
Lorena (4-2, 2-1) at Cameron Yoe (4-3, 2-2)
Breakdown: Talk about a district that is wackier than a clown convention, and you're talking about District 11-3A Div. I. Each of the top six teams in the loop have two wins entering Week 9, and the playoff hunt will undoubtedly come down to the regular season's final moments.
Lorena made an echoing statement about where it stands with a 41-14 trouncing of McGregor last week. Reed Michna scored four touchdowns in the Leopards' win, but his teammates helped pave the way for the sturdy running back's big night. Namely, Daylan Browder, whose prowess as a punt returner consistently provided the Leopards with prime field position.
"I thought it was our most complete game of the season — offense, defense and then we made some really big plays in the kicking game," Lorena coach Ray Biles said. "I'm happy with the way the kids performed, they did a great job."
Lorena will try to ride that momentum into Cameron, a difficult place to come out with a win in any year. Maybe even more so in Week 9 of 2020, as the Yoemen are coming off a heartbreaking 21-20 overtime loss to Troy last week, and should be desperate to avoid a third district loss.
QB Zane Zeinert and WR Za'Korien Spikes have separated themselves as one of the top pass-catch combinations in Central Texas. Biles is also plenty impressed with Yoe's defense, which is led by Fabian Saloman (103 tackles) and Colton Barbo (89).
Because a couple of COVID-19 positives and some injuries, Lorena's roster has been whittled to 30 for Friday's game. "But we're grateful to get the chance (to play), so we'll take those 30 down there and give it our best shot," Biles said.
No. 7 Crawford (7-0, 3-0) at Bosqueville (4-2, 3-0)
TV: The CW (Spectrum 20, Grande 12, DirecTV 14, Dish 46, antenna 46.2), Bosqueville Athletics on YouTube
Breakdown: Crawford and Bosqueville face off in a game that will very likely decide the 7-2A D-I championship.
The Itasca Wampus Cats announced on Wednesday that they will have to cancel the remainder of their season because of lack of numbers on the roster. The Wampus Cats forfeited their remaining three games against Valley Mills, Crawford and Tolar.
That means Crawford will have only one remaining district contest after the Bosqueville game. The Pirates close the regular season at Valley Mills. So if Crawford defeats Bosqueville, no one will be able to pass the Pirates in the standings and they will hold a tiebreaker over the Bulldogs.
If Bosqueville wins, the Bulldogs would be able to clinch the district title with a win next week against Tolar.
Can Bosqueville pull of an upset of the seventh-ranked Pirates? Bulldogs coach Clint Zander at least knows there's a formula.
"If you can get a couple of stops early and score, get a couple of touchdowns up on them, you can make them do some things that they don't want to do," Zander said. "That's your best bet. Otherwise, if they get a lead and can pound you, that's what they like."
This will be a matchup of excellent, versatile offenses.
Bosqueville will be grappling to stop a Pirates attack led by dual-threat QB Tanner Merenda. He along with running backs Breck Chambers and Garrett Pearson have all made big plays on the ground. The X-factor for the Crawford offense this season has been WR Luke Torbert, who made crucial plays in the Pirates' hard-fought wins over Holland and Bruceville-Eddy.
On the flip side, Crawford will try to slow down Bosqueville QB Luke Bradshaw and his arsenal, including RB Jay King and a bunch of dangerous receivers.
"We've got four receivers that any of the four of them can catch it," Zander said. "Sometimes we as a coaches don't even know where it's going. We call the play and (Bradshaw) reads it."
West (5-2, 2-1) at Dallas Madison (2-0, 2-0)
Breakdown: West witnessed just how good No. 2 Grandview is last week as the Zebras romped to a 58-14 win. But Trojans coach David Woodard believes his team quickly put the lopsided loss behind them.
"It was tough on us, but our kids showed up Monday in the right frame of mind with a great attitude," Woodard said. "They've done a great job of responding and working hard to fix the things we need to fix."
Now the Trojans will play another dynamic offense when they travel to Dallas Madison, which didn't play nondistrict football due to COVID-19 restrictions. But Madison opened District 7-3A Division I in impressive fashion with a 35-19 win over Maypearl followed by last week's 40-22 win over Whitney.
Dallas Madison is led by dual-threat quarterback Chris Tucker.
"They do a really good job throwing the ball downfield," Woodard said. "For as little practice and game experience that they've had, they seem to be playing really well right now."
West will counter with a run-based attack that features Trey Janek with 854 yards rushing and 15 touchdowns and Lawson Kendrick with 497 yards rushing and six scores.
Marlin (3-2, 2-0) at Dawson (5-3, 2-1)
Breakdown: Marlin's defense has been exceptional in District 8-2A Division I play as it opened with a 22-0 shutout of Cayuga followed by last week's 28-14 win over Kerens.
The Bulldogs' defense has been keyed by linebacker Tremayne Richardson and linemen Isaiah Davis and Kjhmarrey Wilson.
They're preparing for Dawson's ground-based offense that features running backs Da'mariyeah Hamilton and Ja'mariyeah Hamilton.
"We're just taking care of small things, lining up correctly and making sure we're solid tacklers," said Marlin coach David Haynes. "We're going to face a ground and pound offense that features the Hamilton twins running the ball."
Dawson's defense has been equally good as Marlin's as it has allowed just 35 points in three district games. The Bulldogs recorded a 23-0 shutout last week against Cayuga.
"They're very physical and athletic and get to the ball quickly," Haynes said.
Arlington Grace Prep (2-1, 1-0) at Reicher (1-2, 1-0)
Breakdown: COVID-19 has hit Reicher extremely hard in recent weeks as 14 players were forced to miss its game two weeks ago in a 34-24 loss to Dallas Covenant.
Last week's game against Tyler All Saints was canceled, and the Cougars couldn't practice this week. But Cougars coach Tyler Holcomb said his team will have enough players available to  play Arlington Grace Prep on Friday.
"COVID has really been kicking our butts," Holcomb said. "We haven't practiced this week, but we'll have a walk-through Friday morning. We just don't want to miss another game because the kids don't deserve that. Hopefully, we're getting all this behind us now."
The Cougars face a formidable task against a powerful Grace Prep offense that powered to a 48-0 win over Dallas Bishop Dunne and a 57-17 win over Carrollton Prince of Peace in the last two games.
Jaylon Talton has thrown for 443 yards and four touchdowns while the ground game is led by Alex St. Julien and Nathan Resta.
"They've got a good offense, and they're big and physical in the trenches," Holcomb said. "Their defensive line is pretty solid. They're athletic and long and are going to force us to throw the ball a little bit more."
Get in the game with our Prep Sports Newsletter
Sent weekly directly to your inbox!