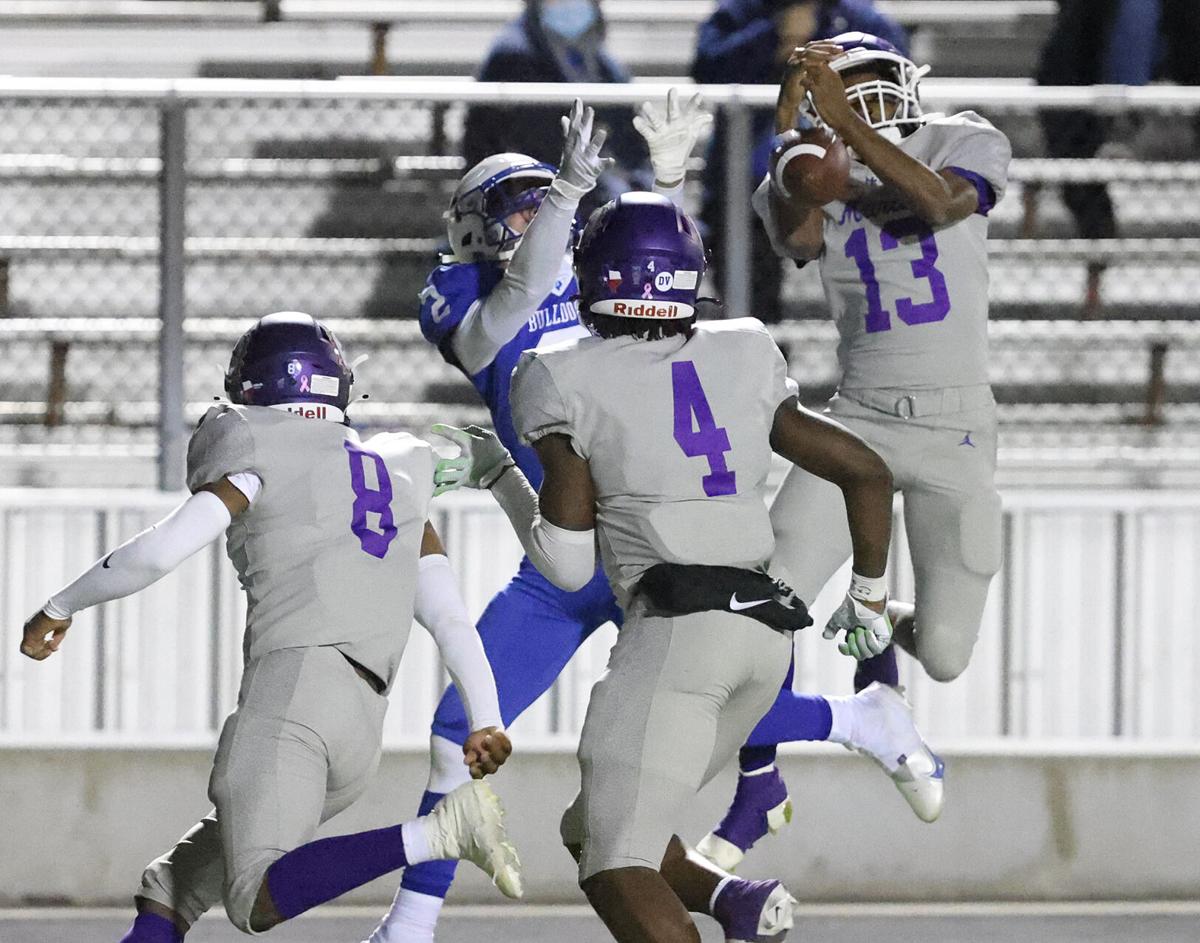 The high school football playoff field was cut in half with last week's bi-district round. That means there probably aren't many gimmes anymore.
Over the next couple of days, Central Texas squads play for the right to keep practicing on Thanksgiving next week. 
Here's the breakdown of some of the area's top games. 
No. 9 La Vega (9-2) vs. Kaufman (8-3)
Round: Class 4A Div. I area
Site, time: 7:30 p.m. Friday at Corsicana's Tiger Stadium
What's at stake: There's no question that La Vega has been playing its best football of the season in the last month, winning five straight. Now the Pirates' quest to win another state championship is about to heat up. A win over Kaufman will likely set up a matchup of state-ranked teams between La Vega and Melissa. Kaufman lost to Argyle and Mellissa in the last two weeks of the regular season before rebounding with a bi-district win over Dallas Carter.
No. 5 China Spring (11-0) vs. Sealy (8-3)
Round: Class 4A Div. II area
Site, time: 7 p.m. Friday at Waco ISD Stadium
What's at stake: China Spring kicked off its postseason by rolling over Madisonville, 50-7, but the Cougars are a long way from finished if you ask them. China Spring reached the regional final round of the playoffs a year ago. Sealy is on a four-game winning streak, which the Tigers kept alive with a 21-19 win over Silsbee last week.
No. 5 Lorena (9-2) vs. Woodville (7-3)
Round: Class 3A Div. I area
Site, time: 7 p.m. Thursday at Madisonville's Mustang Stadium
What's at stake: Lorena advanced to the third round last season and the Leopards appear to be primed to make an even deeper run this time around. But it's one game at a time to get there, as usual, and this one might not be easy. Lorena is facing a Woodville team that stomped Crockett, 42-6, in the bi-district round. The Eagles have won seven of their last eight while scrapping with Southeast Texas competition.
No. 1 Mart (11-0) vs. Lovelady (9-2)
Round: Class 2A Div. II area
Site, time: 7 p.m. Friday at Madisonville's Mustang Stadium
Radio: ESPN Central Texas 1660 AM; 92.3 FM
What's at stake: Mart is aiming for a fifth consecutive state championship game appearance and another title, which would make nine in the school's football trophy case. It's been seven weeks since anyone came within 45 points of the Panthers. Will Lovelady break that streak? The Lions have won six straight, including a 52-18 thumping of Hull-Daisetta last week.
Whitney (6-5) vs. No. 3 Mount Vernon (11-0)
Round: Class 3A Div. I area
Site, time: 7 p.m. Thursday at Tyler's Rose Stadium
What's at stake: Whitney has seen its share of ranked opponents this season with a nondistrict game versus Mart and district matchups against West and Grandview. Wildcats coach Mark Byrd said he thinks that will help his team prepare to play Mount Vernon. The undefeated Tigers have scored 40 or more points in nine games so far this season. It will be a challenge for the Whitney defense to slow them down.
Marlin (8-3) vs. Lindsay (7-4)
Round: Class 2A Div. I area
Site, time: 7 p.m. Friday at Mansfield's Newsom Stadium
What's at stake: Marlin was winless in 2018 and now the Bulldogs have reached the second round of the playoffs. Last week's win over Bosqueville was Marlin's first playoff victory since 2015. There's a chance that Marlin's high-powered offense, led by QB Desmond Woodson, WR Derion Gullette, UTIL Trajon Butler and several others are just getting started. 
Riesel (6-4) vs. Natalia (8-3)
Round: Class 3A Div. II area
Site, time: 7:30 p.m. Friday at Pflugerville's The Pfield
What's at stake: Riesel earned a playoff berth as the fourth-place squad from 13-3A DII and then did the district proud by knocking off a No. 1 seed. The Indians rushed to a 21-12 win over Van Vleck. It's Riesel's mission to match its playoff run in 2018 when the Indians made the third round in 2A DI.
No. 4 West (11-0) vs. Mineola (7-4)
Round: Class 3A Div. I area
Time/site: 7 p.m., Friday at Forney's City Bank Stadium
Breakdown: West had no problem romping to a 55-7 win over Fairfield in bi-district play while Mineola squeaked out a 40-33 win over Sabine. Mineola features one of the premier running backs in the state in Dawson Pendergrass, who has rushed for 1,906 yards and 24 touchdowns while also making 15 catches for 337 yards and four scores. West has played strong defense all season, and will need to be at its best to stop Pendergrass.
No. 4 Crawford (11-0) vs. Celeste (8-2)
Round: Class 2A Div. I area
Time/site: 7:30 p.m., Friday at Alvarado's Charles Head Stadium
Breakdown: The Pirates opened the playoffs with a 59-12 blowout of Dawson, but a dynamic Celeste team will be a much bigger challenge. Celeste romped past Tioga, 56-33, in bi-district, and features a balanced attack as Michael Connelly has passed for 1,951 yards and 21 touchdowns while Jawonte Stephens has rushed for 1,003 yards and 13 scores. The Pirates have outscored opponents 478-78 this season, and hope to continue their dominance.
Reicher (3-7) vs. Sacred Heart (6-4)
Round: TAPPS Div. IV quarterfinal
Time/site: 7 p.m., Friday at Ponder's Ponder Field
Breakdown: Rebuilding with a young team, Reicher gained some momentum heading into the playoffs with a 35-12 win over Bishop Gorman to close the regular season before knocking off Fort Worth Temple Christian, 47-6, to open the postseason. Sacred Heart won five of its last six games before an opening-round playoff bye last week. Sacred Heart has been an improved team this year with a pair of wins over Division III schools.
Trib staff's playoffs week 2 high school football predictions
CHAD CONINE
BRICE CHERRY
JOHN WERNER
Temple (9-2) vs. Rockwall-Heath (10-1), 7:30 p.m. Friday at Burleson
R-Heath
R-Heath
R-Heath
La Vega (8-3) vs. Kaufman (8-3), 7:30 p.m. Friday at Corsicana
La Vega
La Vega
La Vega
China Spring (11-0) vs. Sealy (8-3), 7 p.m. Friday at Waco ISD Stadium
C. Spring
C. Spring
C. Spring
West (11-0) vs. Mineola (7-4), 7 p.m. Friday at Forney
West
West
West
Whitney (6-5) vs. Mount Vernon (11-0), 7:30 p.m. Thursday at Tyler's Rose Stadium
Mt. Vernon
Mt. Vernon
Mt. Vernon
Lorena (9-2) vs. Woodville (7-3), 7 p.m. Thursday at Madisonville
Lorena
Lorena
Lorena
Riesel (6-4) vs. Natalia (8-3), 7:30 p.m. Friday at Pflugerville
Riesel
Natalia
Natalia
Crawford (11-0) vs. Celeste (8-2), 7:30 p.m. Friday at Alvarado
Crawford
Crawford
Crawford
Marlin (8-3) vs. Lindsay (7-4), 7 p.m. Friday at Newsom Stadium, Mansfield
Marlin
Marlin
Lindsay
Mart (11-0) vs. Lovelady (9-2), 7 p.m. Friday at Madisonville
Mart
Mart
Mart
Chilton (9-1) vs. Tenaha (9-2), 7 p.m. Friday at Trinity
Chilton
Tenaha
Tenaha
Bremond (5-6) vs. Evadale (8-2), 7 p.m. Thursday at Trinity
Evadale
Evadale
Evadale
Wortham (6-5) vs. Pineland West Sabine (4-6), 7 p.m. Thursday at Crockett
PWS
Wortham
PWS
Abbott (11-0) vs. Newcastle (6-4), 7:30 p.m. Friday at Granbury
Abbott
Abbott
Abbott
Jonesboro (11-0) vs. May (11-0), 6:30 p.m. Thursday at Dublin
May
Jonesboro
Jonesboro
Coolidge (7-4) vs. Saint Jo (9-2), 7 p.m. Friday at Aledo Middle School
Saint Jo
Saint Jo
Saint Jo
Oglesby (8-2) vs. Richland Springs (8-1), 7 p.m. Friday at Comanche
R. Springs
R. Springs
R. Springs
Bishop Reicher (3-7) vs. Muenster Sacred Heart (6-4), 7 p.m. Friday at Ponder
MSH
MSH
MSH
Live Oak (11-0) vs. Plano Coram Deo (9-2), 7 p.m. Friday at Keene
Live Oak
Live Oak
Live Oak
Methodist Home (9-2) vs. Wylie Prep (10-1),
6:30 p.m. Saturday at FW Lake Country Chr.
Wylie Prep
Wylie Prep
Wylie Prep
RESULTS
Last week
27-6
25-8
27-6
Season to date
371-101
364-108
361-111