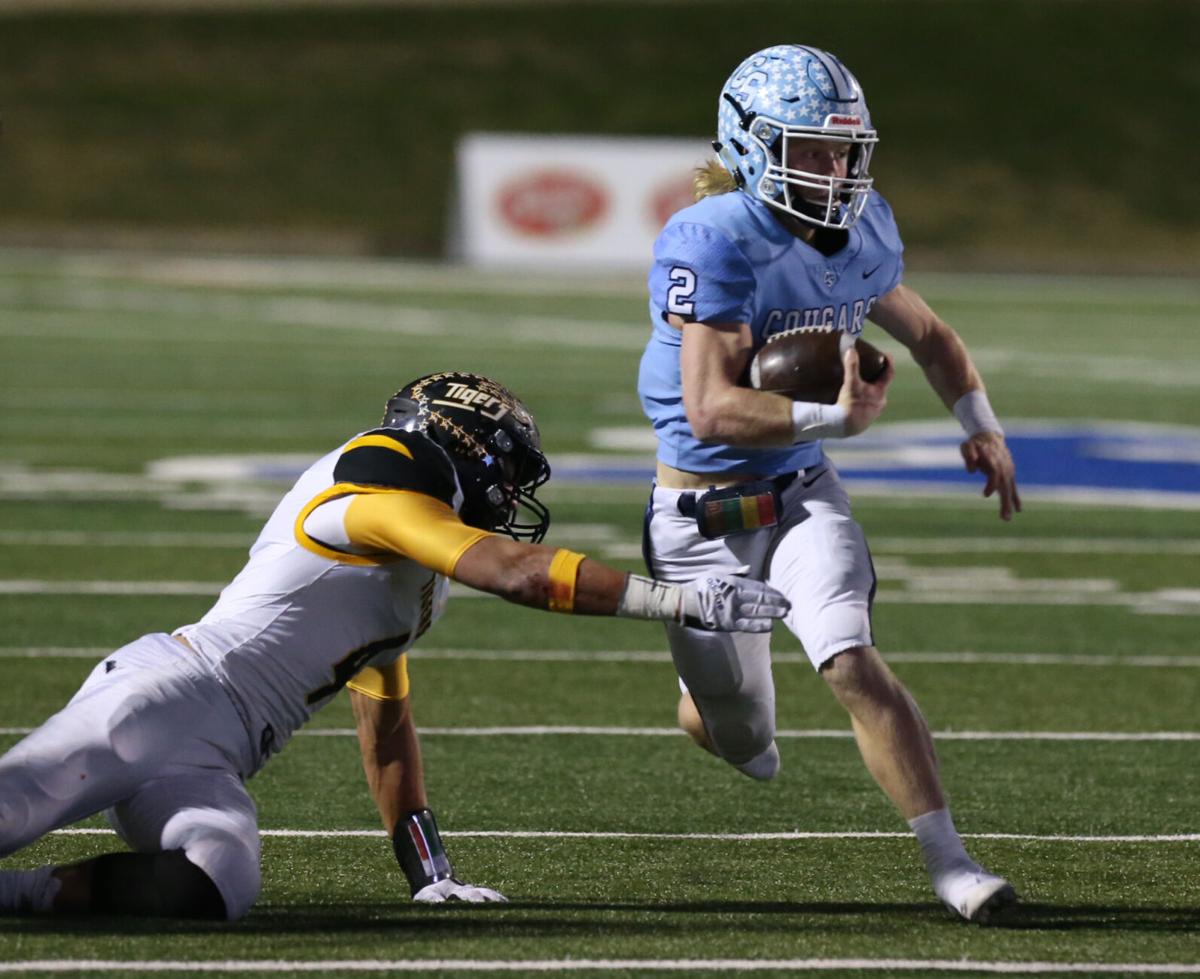 No. 5 China Spring (12-0) vs. No. 1 Carthage (11-0)
Round: Class 4A Div. II regionals
Time, site: 5 p.m. Friday at Prosper ISD Children's Health Stadium
What's at stake: One of the most enticing games in the state this week is a rematch from the 2020 playoffs. Carthage pulled away from China Spring for a 52-14 victory in the regional final last fall. Almost a year later, China Spring hasn't lost since and has been aiming for this game for a while. Carthage is the heavy favorite to win it all in 4A DII, so if the Cougars pull off the upset, they become that team.
No. 9 La Vega (9-3) vs. No. 4 Melissa (10-2)
Round: Class 4A Div. I regionals
Time, site: 7 p.m. Friday at McKinney ISD Stadium
What's at stake: After pulling out a 14-10 over Kaufman in last week's area round, La Vega will face a much more explosive Melissa squad in regional play. The Cardinals blew past North Dallas, 73-20, in bi-district and outgunned Midlothian Heritage, 50-41, in area. The Cardinals scored 22 unanswered fourth-quarter points against Heritage as Sam Fennegan hit Jacob Kasuno with a pair of touchdown passes.
No. 4 West (12-0) vs. No. 10 Malakoff (9-3)
Round: Class 3A Division I regionals
Time, site: 2 p.m. Friday, Hanby Stadium in Mesquite
What's at stake: West just continues to impress week after week, with one of its best teams in school history. T.J. McCutcheon accounted for nearly 200 rushing yards and three touchdowns in last week's 37-7 area-round win over Mineola. Wyatt Wolf hunts down big plays with a, well, wolf-like tenacity. They'll try to keep that going against Malakoff, a team peaking at the right time. The Tigers opened the season at 0-3 with losses to Grandview, Van and Parish Episcopal, but have clicked off nine straight wins since, including two playoff wins by a combined score of 101-0.
No. 5 Lorena (10-2) vs. No. 6 Columbus (10-2)
Round: Class 3A Div. I regionals
Time, site: 1:30 p.m. Friday at Bobcat Stadium in San Marcos
What's at stake: Lorena is rolling in the playoffs with a 53-28 bi-district win over Hitchcock and a 50-6 area win over Woodville. In the area game, Ryne Abel passed for 259 yards and five touchdowns while Jadon Porter caught four passes for 120 yards and two TDs. Slowing down a dynamic Columbus offense will be a major task after the Cardinals rolled to a 42-21 win over Rockdale in bi-district pulled out a 42-34 area win over Anahuac.
Riesel (7-4) vs. No. 1 Franklin (12-0)
Round: Class 3A Div. II regionals
Time, site: 7:30 p.m. Friday at Tiger Stadium in Belton
What's at stake: Riesel accomplished a big goal by advancing three rounds deep into the playoffs. That matches the Indians' run in 2018 in 2A DI. But to go any further in the postseason, Riesel will have to overcome a big mental and physical hurdle. Franklin defeated the Indians, 75-13, in district play.
No. 4 Crawford (12-0) vs. Italy (10-2)
Round: Class 2A Div. I regionals
Time, site: 2 p.m. Friday at Charles Head Stadium in Alvarado
What's at stake: Crawford reached the state semifinals in 2020 and returns a lot of key pieces from that team. The Pirates have been rebuilding their offensive and defensive lines this season, but the project appears to be going well as they charge into the third round on the momentum of six straight 30-plus-point wins. Italy's two losses this season came against Chilton and Mart of 2A DII, both of which are still in the playoffs in that division. The Gladiators will have to be sharp to have a chance at an upset.
Marlin (9-3) vs. Tolar (10-2)
Round: Class 2A Division I regionals
Time, site: 7 p.m. Friday at Alvarado
What's at stake: Marlin has every reason to take pride over this debut season under first-year coach Ruben Torres. That said, the Bulldogs aren't ready to leave the party just yet. In last week's win over Lindsay, Ty Harris surpassed the 1,000-yard rushing plateau for the season. The Bulldogs also feature one of the area's most potent passing attacks behind Desmond Woodson (30 TD passes), Derion Gullette (1,179 receiving yards) and Trajon Butler (1,166). They'll have to be on top of their game against a Rattler defense that has yielded only 31 points in its past six games. The winner will move on to meet the Crawford-Italy winner in the regional final.
No. 1 Mart (12-0) vs. Wortham (7-5)
Round: Class 2A Division II regionals
Time, site: 2 p.m. Friday at Mexia
What's at stake: While nobody is really surprised that No. 1 Mart is still playing, its District 10-2A mate Wortham snuck up on everyone. The fourth-seeded Bulldogs have scripted one of the best storybook playoff runs in the area, with wins over District 9-2A champion Maud and 11-2A's third-place representative West Sabine. Freshman Yancey Bean has given the Bulldog running game a lift, and Wortham's defense delivered several takeaways in the win over West Sabine. But they'll have to put together an all-time performance to vanquish Mart, which stomped Wortham, 49-0, in the regular-season finale on Nov. 6. In that game, Trey Powell accounted for four touchdowns and Robert Hickman scored three more.
Chilton (10-1) vs. Bremond (6-6)
Round: Class 2A Div. II regionals
Time, site: 6 p.m. Friday at Waco ISD Stadium
What's at stake: Chilton's defense has been one of the best in the state with six shutouts including a 41-0 win over Bremond to close district play. However, the Pirates were tested in the area round last week as they escaped with a 17-10 overtime win against No. 7 Tenaha when Luis Fernandez ran for a four-yard touchdown. Bremond has found new life in the playoffs with a 26-14 bi-district win over Boles followed by a 55-19 area blowout of Evadale.
No. 3 Abbott (12-0) vs. Coolidge (8-4)
Round: Class 1A Div. I regional final
Time, site: 7:30 p.m. Friday at Blackcat Field in Mexia
What's at stake: Abbott last played in the state championship game in 2015 when it defeated Crowell for the 1A DI title. Are the Panthers on that kind of trajectory again? Abbott defeated Coolidge, 53-8, in district play back on Oct. 22. A repeat performance would put the Panthers in the state semifinals for the first time since that state championship run.
No. 1 Live Oak (12-0) vs. Lucas Christian (11-0)
Round: TAPPS Six-Man Div. II state semifinals
Time, site: 6 p.m. Friday at Keene
What's at stake: Live Oak can move within a win of its fifth state championship in program history with a win over Lucas. These are two of the three remaining unbeaten teams left in TAPPS Div. II (Marble Falls Faith is the other), and no one is really playing any better than the Falcons, with their bevy of mercy-rule wins. Don't be surprised if Justice Ishio lays down the law for Live Oak. He has seven touchdown runs the past two games, and has piled up more than 1,200 rushing yards on the season.
Trib staff's playoffs week 3 high school football predictions
| | CHAD CONINE | BRICE CHERRY | JOHN WERNER |
| --- | --- | --- | --- |
| La Vega (9-3) vs. Melissa (10-2), 7 p.m. Friday at McKinney | La Vega | Melissa | Melissa |
| China Spring (12-0) vs. Carthage (11-0), 5 p.m. Friday at Prosper | C. Spring | Carthage | C. Spring |
| West (12-0) vs. Malakoff (9-3), 2 p.m. Friday at Hanby Stadium, Mesquite | West | West | West |
| Lorena (10-2) vs. Columbus (10-2), 1:30 p.m. Friday at Texas State, San Marcos | Lorena | Lorena | Lorena |
| Riesel (7-4) vs. Franklin (12-0), 7:30 p.m. Friday at Tiger Field, Belton | Franklin | Franklin | Franklin |
| Crawford (12-0) vs. Italy (9-2), 2 p.m. Friday at Alvarado | Crawford | Crawford | Crawford |
| Marlin (9-3) vs. Tolar (10-2), 7 p.m. Friday at Alvarado | Marlin | Tolar | Tolar |
| Mart (12-0) vs. Wortham (7-5), 2 p.m. Friday at Mexia | Mart | Mart | Mart |
| Chilton (10-1) vs. Bremond (6-6), 6 p.m. Friday at Waco ISD Stadium | Chilton | Chilton | Chilton |
| Abbott (12-0) vs. Coolidge (8-4), 7:30 p.m. Friday at Mexia | Abbott | Abbott | Abbott |
| Live Oak (12-0) vs. Lucas Christian (11-0), 6 p.m. Friday at Keene | Live Oak | Live Oak | Live Oak |
| RESULTS | | | |
| Last week | 17-3 | 15-5 | 13-7 |
| Season to date | 388-104 | 379-113 | 374-118 |