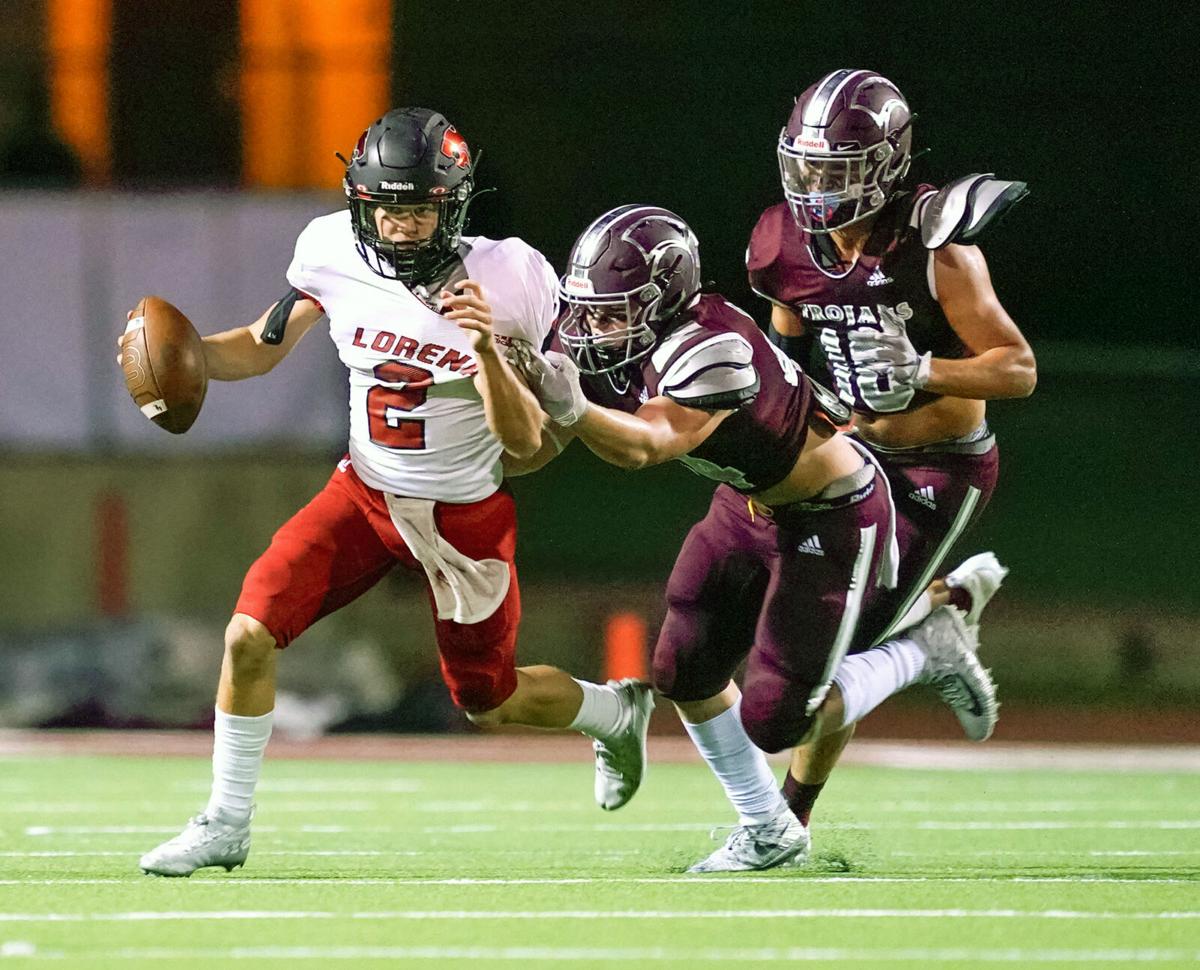 No. 6 China Spring (6-0, 2-0) at No. 10 Salado (6-1, 2-0)
Breakdown: China Spring coach Brian Bell said the chatter coming from Salado this week sounds like they're playing up the underdog role. But the Cougars coach doesn't buy that.
"They're ranked No. 10 for a reason," Bell said. "It's going to be a four-quarter battle."
Salado has thrived this season in its Slot-T offense, using the ball-control, misdirection scheme to carve up defenses in wins over Troy, Stephenville and Connally. Bell said it's difficult to replicate in practice, which will make for a nervous run-up to the game.
But the Cougars have a scary, multi-weapon offense of their own. Last week Tre Hafford caught a pair of touchdown passes and eclipsed 100 receiving yards. Add him to the mix with QB Major Bowden and RB Emmanuel Abdallah rolling up rushing yards and China Spring is hard to stop.
Whichever team prevails will have the district championship within reach.
"It's going to be a tough one and it will be neat to see where we're at," Bell said.
Connally (3-3, 1-1) at Jarrell (1-6, 1-1)
Streaming: Centex Sports Network
Breakdown: Connally dropped a close one against Salado, 20-15, last week, but the Cadets have bounced back from games like that already this season.
"I've been telling people all week that you've got to understand what kind of schedule we've played," Connally coach Shane Anderson said. "La Vega is going to go deep in the playoffs, Springtown is going to go deep in the playoffs and Salado might win our district and go deep in the playoffs."
The main area where the Cadets need to improve, according to Anderson, is eliminating penalties. He said that takes more focus.
But the Connally coach is confident in his team. Kavian Gaither has taken over QB duties and leads the Cadets with 866 rushing yards.
"I feel comfortable with him back there," Anderson said. "He did it 13 times last year and we won 12 of them. Last week he did a great job of managing the clock."
Robinson (2-5, 0-2) at Gatesville (1-4, 0-2)
Breakdown: Both Gatesville and Robinson are off to rough starts in district play, but one of them can still make the playoffs if they win this one.
Gatesville snapped a long losing streak by defeating Hillsboro last month. But the Hornets had a hard time sustaining the momentum after that as they went up against district leaders Salado and China Spring.
Robinson leaned heavily on senior QB Joseph McHenry last week as he passed for passed for 120 yards and rushed for 151. But the Rockets still dropped a 30-27 decision against previously winless Jarrell.
To secure a playoff spot, Robinson probably needs to win on the road at Gatesville and then pull off an upset of either Salado or China Spring in its final two games.
Meanwhile, Gatesville has a clearer path to the postseason with this game at home and another home game versus Jarrell in two weeks.
Mexia (2-4, 1-0) at Van (3-3, 0-0)
Streaming: Mexia Sports Network on YouTube
Breakdown: Timing is everything in high school football. Mexia's bust-out 63-42 win over Brownsboro last week came at the absolute right time, since it opened up District 7-4A Div. II play.
"I'm always pleased with a win," Mexia coach Triston Abron said. "The way that one came about, the first half, it was crazy. There were so many things that took place within the game, or in the first half, that I have never seen take place in a football game in my entire life. With that being said, I think however it came about, we played well enough to get a win."
RB Jarrell Wiley is a threat to take it to the house any time he leaves his own house, and he's coming off a three-touchdown performance last week. And though the Blackcats surrendered 42 points, Abron said that the defense actually made some big plays, especially in the second half, when they gave up only one touchdown. To that end, linebacker Ja'Bryan Busby has emerged as a familiar name for P.A. announcers, as he tends to rack up the tackles.
Van stands out to Abron as "a very underrated football team that has the capability of putting up quite a bit of points on folks." Javonta Thomas ran for five touchdowns Van's last time out, a 35-14 win over Texarkana Liberty-Eylau. Mexia's Abron also believes the Vandals' front four on defense are as impressive a group as he's seen all year.
In Mexia's five-team district, every game matters, both from standpoint of qualifying for the playoffs and also positioning oneself on the "path of least resistance," as Abron called it.
"It's not like we're butted up next to a district (in the playoffs) that doesn't have any talent in it, so therefore seeding is extremely important," Abron said. "We're approaching every game as if it's a playoff game, because you don't want to get caught in a bad situation."
McGregor (4-3, 2-1) at Lorena (3-2, 1-1)
TV: The CW (Spectrum 20, Grande 12, DirecTV 14, Dish 46, antenna 46.2)
Breakdown: There are intangible factors flying everywhere in this key 11-3A D-I matchup.
Lorena had an open date last week to get healthy and spend extra practice time preparing for McGregor. The Leopards also have won back-to-back home games against Madisonville and Academy as they prepare to host the Bulldogs.
On the flip side, McGregor posted a big-time momentum-building win, 58-57 over Troy last week. The Bulldogs were picked to finish seventh in this district by Texas Football in the preseason, but here they are challenging for a playoff spot and the district title.
It should be an excellent matchup of dual-threat QBs: Lorena senior Ben Smedshammer versus McGregor senior VeAndre McDaniel. Smedshammer has passed for 662 yards and rushed for 198 in five games. But McDaniel leads Central Texas in passing yards with 1,551 and has tacked on 565 rushing yards.
"He's a gifted passer," Lorena coach Ray Biles said about McDaniel. "He can sit back there and throw it a long way. And then (Chad Lorenz) is just a big power runner, so they have a lot of weapons."
McGregor dropped its last road game, 45-42 at Academy. That result fell between wins over Rockdale and Troy. That shows just how jumbled 11-3A D-I could get.
"We told our kids before district even started that every game is going to be tough," Shields said. "We're not there yet. Nothing is cinched. Somebody is going to end up in a tie and you don't know who with. This week is a huge game for really both of us."
Bosqueville (3-2, 2-0) at Valley Mills (2-5, 0-3)
Breakdown: After a week off, Bosqueville returned last week and quickly found its groove in a 49-0 trouncing of Itasca. Bulldogs head coach Clint Zander liked what he witnessed.
"Coming off a bye week, you never know how kids are going to respond," Zander said. "I thought we did well, executed well offensively. They ran the ball pretty much every play, so it kind of milked the clock on us. I thought we did execute a good two-minute drive right before half, so that was good to see. We're playing pretty well defensively, so hopefully we can keep that going."
QB Luke Bradshaw continues to make strides leading an increasingly dangerous Bosqueville offense. It helps that the weapon cabinet is fully stocked, as RB Jay King, WR Hunter Henexson and WR Ryder Roark have displayed big-play capability throughout the season.
Valley Mills coach Sam Moody has had to shuffle his lineup around a bit in recent weeks, due to some players being out. The Eagles scored 26 second-half points in a 41-33 loss to Rio Vista last week, so it's not like they're shooting with blanks. "I think they have a good offensive scheme and execute it pretty well. So we'll have to play better defensively to make sure we limit their opportunities," Zander said.
While Valley Mills could use a win to nudge its way up toward playoff contention, Bosqueville wants to keep winning to set up a potential showdown for the district championship next week with state-ranked Crawford.
No. 1 Mart (6-0, 2-0) at Hubbard (4-1, 1-0)
Breakdown: Kevin Hoffman has accomplished a lot of firsts in his tenure as Mart's head coach. Now comes another one: A chance to get two wins in one week.
The top-ranked Panthers didn't play their much-anticipated game with Bremond last week after the Tigers had to cancel because of COVID-19 ramifications. Then Hoffman received a call over the weekend that this week's opponent, Frost, didn't have enough healthy players and needed to cancel. That game will go down as a forfeit win for Mart, which moved up its game with Hubbard to at least get a chance to play again.
In 2020, flexibility is more important than ever.
"We've all tried to preach that ever since I've been here, not just in 2020," Hoffman said. "Because not everything is going to go the way you've planned. That's more of a life lesson than anything."
When they have played, the three-time defending state champion Panthers have proven as potent as ever. Roddrell Freeman is averaging 137.8 passing yards, 92 rushing yards and has accounted for 17 total touchdowns despite often resting at the end of Mart's blowouts. Da'Marion Medlock (44 tackles) and Trey Powell (39) head up a Panther defense that has yielded a touchdown or less in three of five games.
Outside of a blowout loss to rival Dawson, Hubbard has played well in its first year under new head coach Roger Masters. Hoffman said that the Jaguars still look similar to recent vintages defensively, as Jordan Grimm remained on staff as defensive coordinator. Linebacker Brian Stroud and defensive end Cody Green are among the leaders on that side of the line of scrimmage.
Cameron Yoe (4-2, 2-1) at Troy (3-3, 1-1)
Radio: 105.1 FM (Cameron)
Breakdown: Cameron has a whole lot of valid reasons to be concerned about containing Troy running back Zach Hrbacek.
In last week's 58-57 shootout loss to McGregor, Hrbacek exploded for 367 yards rushing and seven touchdowns.
"He's got a lot of great qualities that a lot of running backs don't have," said Cameron coach Tommy Brashear. "He's got great vision and is very patient in that he breaks to the hole when he sees it open. He's not a big kid, but is a tough runner. He's one of the best we've played against in many years."
But the Yoemen might have enough offensive versatility to offset Hrbacek's running skills.
The Yoemen bounced back from a 42-9 loss to Rockdale with a 37-19 win over Academy last week as Zane Zeinert threw three touchdown passes with a pair going to Za'korean Spikes.
Phaibian Bynaum led the running game with 144 yards on 14 carries, including a 19-yard touchdown run. Pharrell Hemphill also contributed to the ground attack with a 17-yard touchdown run.
"We always want to have a balanced offense," Brashear said. "We needed to get the run game going from what it had been, and that makes us able to take shots in the passing game when we have opportunities."
No. 2 Grandview (6-0, 3-0) at West (5-1, 2-0)
Breakdown: After winning back-to-back Class 3A Division I championships, Grandview looks like a team determined to three-peat.
In the first three District 7-3A games, the Zebras outscored Maypearl, Whitney and A Plus Academy by a combined score of 212-21.
In last week's 91-0 win over A Plus Academy, five of quarterback Dane Jentsch's seven completions went for touchdowns. Running back Gavin Leftwich scored three touchdowns, including an 82-yard kickoff return for a score.
Grandview four-star 6-7, 275-pound defensive end-tight end Dametrius Crownover recently committed to Texas A&M.
"They're a really good football team, and maybe a little better than the last couple of years," said West coach David Woodard. "The main thing we've stressed is doing our jobs right, playing real hard and limiting the big plays."
West delivered a strong defensive effort in a 14-6 win over Whitney last week. Brandon Vanek leads the linebacking corps while Guillermo Acevedo intercepted a pair of passes against Whitney.
Rio Vista (6-1, 2-1) at No. 7 Crawford (6-0, 2-0)
Breakdown: Crawford continued to roll along with an impressive 51-6 romp over Hamilton last week as quarterback Tyler Merenda threw for two touchdowns and ran for two more scores.
But Rio Vista will be one of the most dangerous teams the Pirates will face this season in a game that will go a long way in determining the District 7-2A Division I championship.
The Eagles feature a powerful offense that has amassed 110 points in the last two weeks, including a 69-20 win over Itasca and a 41-33 win over Valley Mills.
Taylor Pritchett has passed for 1,122 yards and 13 touchdowns while rushing for 630 yards and 12 scores. Rio Vista's top running back is Wyatt Johnson with 454 yards and six scores.
"They're a spread team with a very talented quarterback who is just a sophomore," said Crawford coach Greg Jacobs. "He's got a very accurate arm and he's very effective in the run game as well. It will be a challenge to stop them on offense. We still have some work to do in the secondary. We struggled a couple of times last week, but the big thing is we have to learn from our mistakes and get better."
Clifton (3-4, 2-1) at Buffalo (6-0, 2-0)
Breakdown: After struggling to score in three nondistrict losses, the Cubs have averaged 31.8 points in the last four games.
Joe Taylor leads the ground game with 444 yards and five touchdowns while freshman Riley Finney has established himself at quarterback.
"We got a lot better last week," said Clifton coach Chuck Caniford. "We've kind of narrowed down what our identity is. We've made some personnel changes in several spots and we have a lot of young guys playing. The teams we played early have helped us identify areas of need, and I think this team's best football is ahead."
The Cubs will need all the offense they can gather against dynamic Buffalo, which has opened District 13-3A Division II play with a 46-28 win over Rogers and a 61-26 win over Florence.
Dual-threat quarterback Brett Hoffman has passed for 1,497 yards and 18 touchdowns while rushing for 567 yards and five scores. Kyle Harrison is Buffalo's top receiver with 20 catches for 411 yards and six touchdowns.
"The big thing they do is come up with big plays on offense," Caniford said. "Their quarterback does a really good job of extending plays, so we have to stay in coverage when the pocket breaks down."
Trib staff's Week 8 high school football predictions
| | CHAD CONINE | BRICE CHERRY | JOHN WERNER |
| --- | --- | --- | --- |
| Temple at Copperas Cove* | Temple | Temple | Temple |
| La Vega def. Brownwood* (forfeit) | | | |
| Hillsboro at Glen Rose* (7 p.m.) | Glen Rose | Glen Rose | Glen Rose |
| Mexia at Van* | Van | Mexia | Van |
| China Spring at Salado* | China Spring | China Spring | China Spring |
| Robinson at Gatesville* | Gatesville | Gatesville | Robinson |
| Connally at Jarrell* | Connally | Connally | Connally |
| Grandview at West* | Grandview | Grandview | Grandview |
| Dallas Madison at Whitney* | Whitney | Whitney | Whitney |
| McGregor at Lorena* | McGregor | Lorena | Lorena |
| Cameron Yoe at Troy* | Troy | Yoe | Yoe |
| Clifton at Buffalo* | Buffalo | Buffalo | Buffalo |
| Rio Vista at Crawford* (7 p.m.) | Crawford | Crawford | Crawford |
| Bosqueville at Valley Mills* (7 p.m.) | Bosqueville | Bosqueville | Bosqueville |
| Hamilton at Tolar* (7 p.m.) | Tolar | Hamilton | Hamilton |
| Kerens at Marlin* | Marlin | Marlin | Marlin |
| Axtell at Italy* | Italy | Italy | Italy |
| Cayuga at Dawson* | Dawson | Dawson | Dawson |
| Moody at Rosebud-Lott* | R-Lott | R-Lott | R-Lott |
| Thorndale at Bruceville-Eddy* | Thorndale | Thorndale | Thorndale |
| Cross Plains at Meridian* (7 p.m.) | CP | Cross Plains | Cross Plains |
| Mart at Hubbard* (7 p.m.) | Mart | Mart | Mart |
| FW ATLAS Home Schol at Texas Wind (Paul Tyson Field) | Texas Wind | Texas Wind | Texas Wind |
| SIX-MAN | | | |
| Covington at Blum* | Covington | Blum | Blum |
| Bynum at Avalon* | Avalon | Avalon | Bynum |
| Gholson at Aquilla* | Aquilla | Aquilla | Aquilla |
| Penelope at Coolidge* | Coolidge | Penelope | Coolidge |
| Evant at Jonesboro* (7 p.m.) | Jonesboro | Jonesboro | Jonesboro |
| Cranfills Gap at Morgan* (7 p.m.) | Morgan | Morgan | Molrgan |
| Stephenville Faith at Iredell | Faith | Faith | Faith |
| Plano Coram Deo at Live Oak* (7 p.m.) | Live Oak | Live Oak | Live Oak |
| Eagle Christian at Garland Christian* | ECA | ECA | ECA |
| Methodist Home at Mineral Wells Comm.* (6 p.m.) | MCH | MCH | MCH |
| Haslet Legacy at Parkview Christian* | Parkview | Parkview | Parkview |
| * District games | | | |
| RESULTS | | | |
| Last week | 24-10 | 26-8 | 25-9 |
| Season to date | 178-76 (.701) | 169-85 (.665) | 61-18 (.772) |