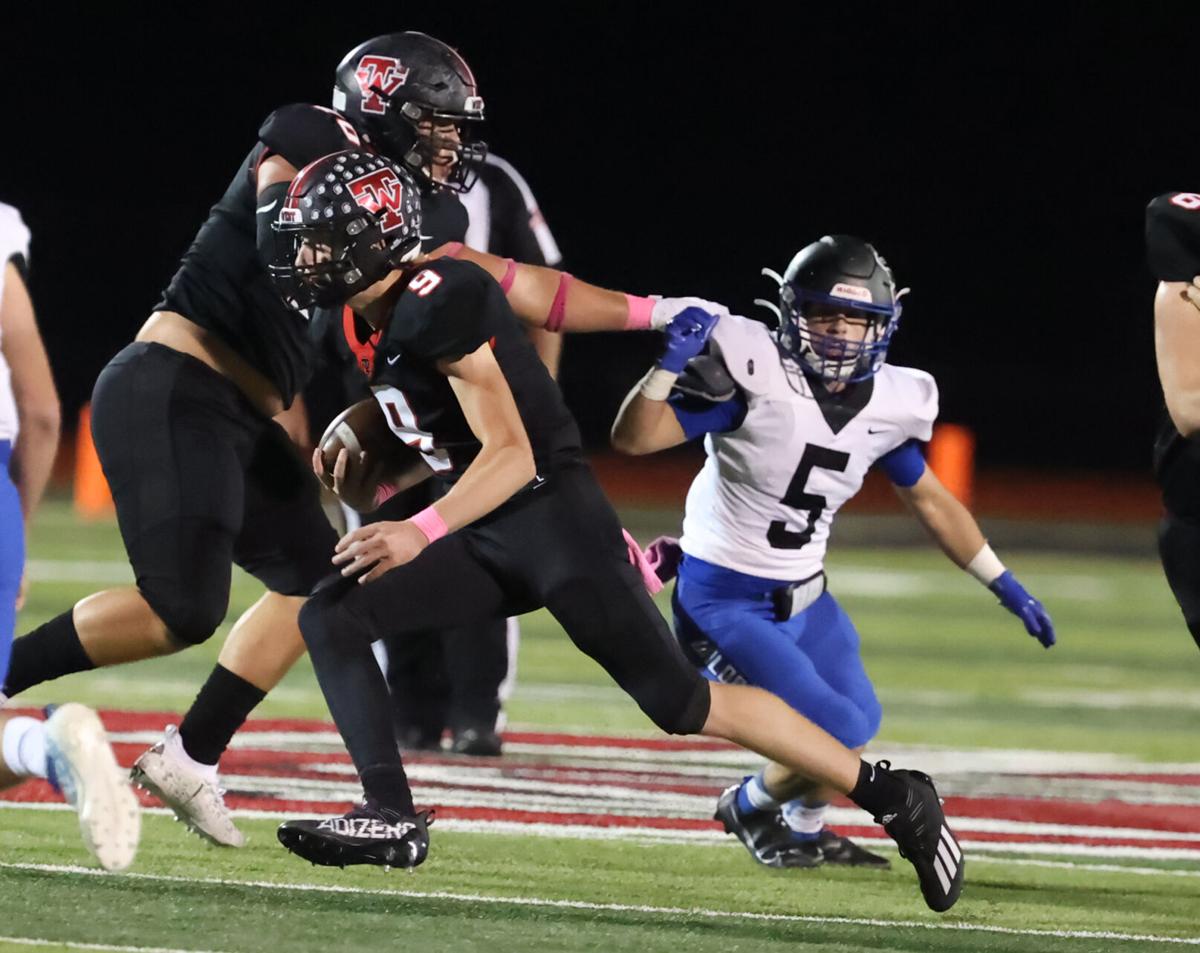 We've narrowed it down to a three-week window.
The high school football season only feels like it just started 10 minutes ago. On Friday night we put Week 8 mostly in the books (Troy and Cameron Yoe had to bump their game until Saturday). It went about like I figured it would go.
So at this point, ladies and gentlemen, we've reached the good part.
I mentioned it in last week's column, but I don't mind repeating myself: The slate of games next Friday is pretty dang exciting. There are two games with the utmost district championship implications — Salado at China Spring and Bosqueville at Crawford. And another one, Cameron Yoe at Lorena, has the same kind of spark. The Leopards have already beaten one of the best teams in their district, the Academy Bumblebees, so adding a win over the Yoemen would really put them in line for the top seed in the playoffs.
Side note: The host teams in all three of the games referenced in the previous paragraph are state ranked. China Spring is No. 5 is Class 4A Division II; Lorena is No. 10 in 3A DI and Crawford is No. 4 in 2A DI.
But the highlights of next week's schedule don't stop there. We're also looking forward to seventh-ranked Midlothian Heritage at La Vega and Groesbeck at Malakoff. The Goats at Tigers definitely fits in the category of potential district title matchups.
This stage, with so much of the season behind us and yet so much more to come, reminds me of a concert I saw in August at Globe Life Field in Arlington. There was a moment in the night when Willie Nelson had played "Always on my Mind," and before that Jamey Johnson had played "In Color," and the headlining Chris Stapleton was on stage doing his thing.
The fans in the crowd were wracked with suspense as they ached for Stapleton to play "Tennessee Whiskey." Having seen the man in concert several times before, I knew that song wasn't going to come until the end of the main set. I also knew he was going to introduce his band with an improvised, bluesy pre-song, then launch into the crowd favorite.
That's exactly how it happened.
It created a perfect metaphor for this part of the high school football season. Everyone is focused on district races right now. It's going to be really fun to see how they play out over the next three weeks.
That night in Arlington, after Stapleton played "Tennessee Whiskey," he saluted the audience and exited the stage. People started packing up their souvenir T-shirts and heading for the exits. Such amateurs. Those of us in the know knew it wasn't over. It's never over until the arena lights come on and the DJ starts up the "get out of here" music.
The encore (read: playoffs) was still to come. I had a particular feeling that Stapleton was going to play my personal favorite song of his, "Outlaw State of Mind," as the closer.
That's where we're headed, folks. Enjoy the next few moments, but don't leave before the encore. (Unless it's time for basketball season. But, hey, there are way worse things than getting a jump on hoops.)
Here are a few more games that came in late on Friday night.
No. 4 Crawford 41, Rio Vista 6: In Rio Vista, Pirates running back Breck Chambers scored on a long run and a punt return in the first quarter as Crawford quickly put away the Eagles.
Chambers started the scoring with a 55-yard romp in the first quarter. Later in the period, he got loose for a 79-yard punt return that reached the end zone. In between those two big plays, Crawford QB Luke Torbert hit Trey Dobie for a 29-yard scoring pass.
Torbert added another touchdown toss to Dobie in the second quarter and Chambers tacked on a three-yard TD run. Pirates running back Luis Rodriguez ran five yards for a touchdown that put Crawford in front, 41-0.
The Pirates defense shut out Rio Vista until late in the fourth quarter.
Crawford (7-0, 3-0) hosts Bosqueville next week in a game that could decide the 7-2A DI title. The Bulldogs defeated Valley Mills this week to improve to 5-2, 3-0.
Robinson 50, Jarrell 43: In Jarrell, Robinson RB Christian Lujan proved himself as a workhorse, carrying 42 times for 219 rushing yards and three touchdowns.
Lujan's effort lifted the Rockets to their first district win since 2019.
Robinson (2-5, 1-1) hosts Gatesville in a game with playoff implications on Friday.
Chilton 49, Hubbard 0: In Chilton, the Pirates got back on track as five different ball carriers reached the end zone in a lopsided victory over Hubbard.
Braylen Fisher, Daylon Ford and Luis Fernandez combined for four rushing touchdowns. Fisher and Fernandez each went over 100 rushing yards with 118 and 124 respectively.
Chilton QB McKeller Cook completed 6 of 8 passes for 107 yards and a TD. He and Jamoryon Benjamin also ran for a touchdown apiece.
The Pirates (6-1, 1-1) travel to Wortham for a battle of playoff hopefuls next week.
Rosebud-Lott 46, Moody 20: In Moody, Rosebud-Lott quarterback Zane Zeinert, Central Texas' leading passer, added to his total by throwing for 308 yards and three touchdowns in a Cougars victory.
Zeinert went to Breon Lewis and Jamarquis Johnson four times each, igniting the Rosebud-Lott offense. Lewis finished with 135 receiving yards and two TDs, while Johnson posted 110 receiving yards and one touchdown.
The Cougars (5-3, 2-2) are in good position for a playoff berth headed into a battle of postseason contenders versus Holland on Friday.
Reicher 49, Tyler All Saints 0: At JJ Kearns Stadium, Reicher raced to a big halftime lead and finished off its first win of the season.
Cougars RJ Miller and Will Aynsworth each ran for two touchdowns in the first half to help the Cougars surge in front, 35-0.
Reicher racked up 436 yards of total offense while holding All Saints to 46.
The Cougars (1-5, 1-2) travel to Arlington Grace Prep next week.