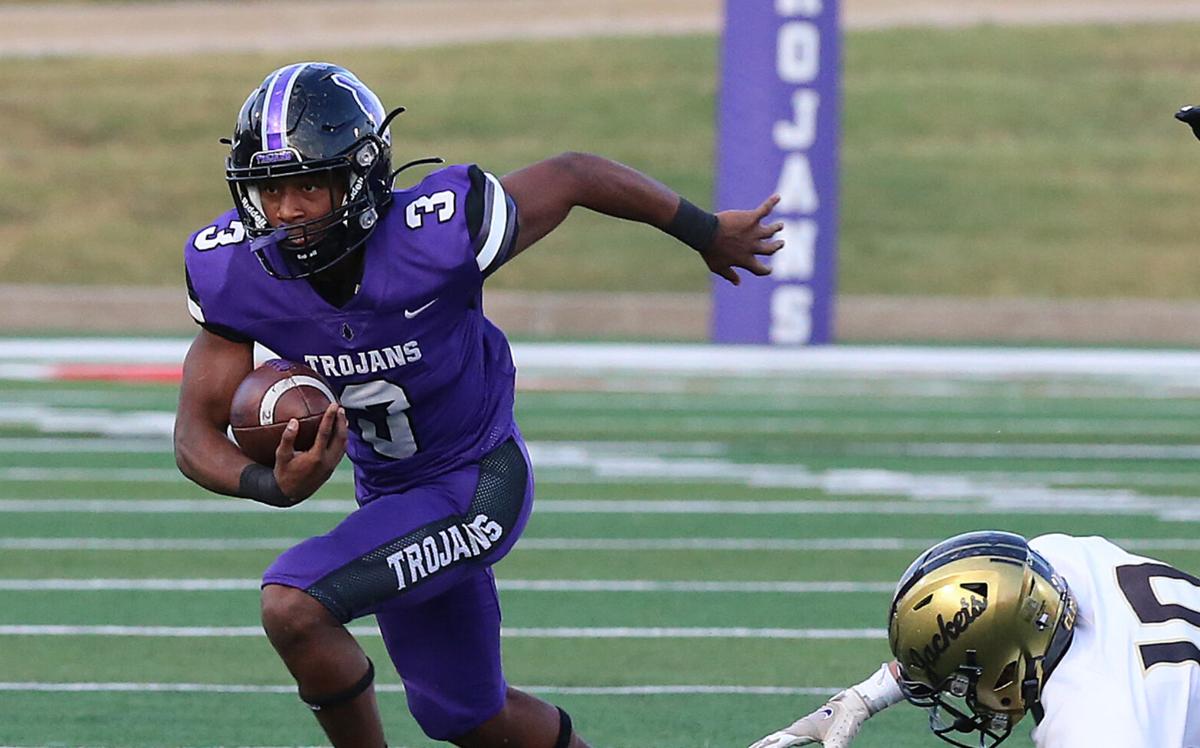 Just a few days ago, I was driving home from a family beach vacation in Florida, listening to a podcast and getting myself mentally ready for the hard work of writing high school football preview copy.
Or at least it seems like a few days ago.
That was mid-August. The preview stuff got written, edited, put on a page and delivered to your doorstep. The opening week of games arrived and was followed dutifully by the second week of games and so on.
Somehow, we've arrived at the midway point of the high school football regular season. Or, given how Midway's season is going, perhaps I should refer to it as the halfway point.
Most of the teams that played on Friday night have now completed five games in a 10-contest regular campaign to see if they can qualify for the postseason. That's halfway. Technically, there are 11 Friday nights before we get to the playoffs, so the real halfway point will actually be on Tuesday or something.
This happens every year, of course. We kick off on the last Friday night of August and then, after four more Fridays in September, we're a big chunk of the way through the season before the calendar turns to October. We're lucky if the weather even cools off by that point.
We're getting to the good part, though.
Like La Vega coach Don Hyde told me last week, these nondistrict games don't matter in the grand scheme of things. They're fun. They're pretty much fun for me all the time, even though I realize they're usually only fun for the coaches and players when they win.
On Friday night, a couple of districts started up. Lorena notched what looks like a really good 11-3A DI victory over a previously undefeated Academy squad. I feel like I should tap the brakes on overhyping Lorena. I'll just say the Leopards are going to be a very interesting cover for the rest of the year.
The subject of that district brings me to the real thesis of this column. Despite the fact that the first half of the season has flown by, we've learned a lot. There are already surprise teams — especially the Falls County trio of Chilton, Marlin and Rosebud-Lott. But mostly the teams we thought would be good are showing themselves to be good. The teams we thought might struggle are struggling.
And then there's the curious case of the Cameron Yoe Yoemen.
Cameron Yoe is among an elite group of Central Texas programs that can boast multiple state championships and the Yoemen are still at the level where we wouldn't be surprised in any given fall if they jump up and contend for another one. Cameron Yoe is also the kind of team that schedules other high school football powerbrokers in nondistrict. As a result, the Yoemen were winless as they prepared for the start of district play. Cameron Yoe had been beaten in a series of close-ish games against Lago Vista, Bellville, Franklin and Lake Belton.
Not to worry, Yoemen, the all-important district portion of the schedule has arrived. Cameron Yoe responded by roughing up Caldwell, 70-0. The Yoemen scored three touchdowns in the first and second quarters to lead 42-0 by halftime. If it were a six-man game, the fans would've been packing up their lawn chairs and corralling the kids by the start of the third quarter.
Next up for Cameron Yoe is the Battle of the Bell. Rival Rockdale comes to town on Friday for what will be a crucial contest in the district standings.
Yep, we're there already.
Here's a look at some other games that came in late on Friday.
Rosebud-Lott 54, Thrall 45: In Travis, Rosebud-Lott bounced back from its first loss of the season by outlasting Thrall in an offensive shootout.
Three Cougar ball carriers rushed for more than 100 yards. Rosebud-Lott running back Moses Fox led the bunch with 125 yards on six carries and a 30-yard touchdown. Quarterback Zane Zeinert contributed 121 yards on nine carries and reached the end zone three times. But it was utility back Jamarquis Johnson who really hurt the Tigers. Johnson produced 103 rushing yards and a touchdown and caught three passes for 79 yards and another score from Zeinert.
In just half a season, Rosebud-Lott (4-1) has eclipsed its win total from all of 2019 and 2020 combined. The Cougars also avenged a 25-6 loss to Thrall last season.
Rosebud-Lott opens district play a Thorndale on Friday.
Riesel 25, Clifton 21: In Riesel, the Indians came from behind in the fourth quarter to edge Clifton in both teams' 13-3A DII opener.
Riesel QB Kyson Dieterich rushed for 170 yards and two touchdowns and passed for 89 and another score to fuel the offense. He also posted 14 tackles, caused and recovered a fumble on the defensive side.
The Indians (3-1) face their biggest challenge of the season as they travel to top-ranked Franklin this week.
Chilton 54, Kerens 2: In Chilton, QB McKeller Cook threw a long touchdown pass to Braylen Fisher and LB Jamoryon Benjamin scooped a fumble and returned it for a touchdown to highlight the Pirates' victory.
Chilton (5-0), which has an open date this week, will put its undefeated record on the line when the Pirates start district play at top-ranked Mart on Oct. 8.
Marlin 54, Wortham 32: In Wortham, Marlin QB Desmond Woodson picked apart the Wortham defense for 383 passing yards and 4 TDs.
Woodson spread the ball around as three of his receivers — Zha'Mauryon Lofton, Trajon Butler and Derion Gullette — all reached 100 yards and scored at least once. 
Marlin (3-2) has this week off before beginning district play at Italy on Oct. 8.
Live Oak 49, Ovilla Christian 0: Hard by the Magnolia silos, the top-ranked Live Oak Falcons took care of business on homecoming night.
Falcons QB Mason Peters completed every pass he threw, connecting on all seven tries for 166 yards and six touchdowns. Eli Herman caught three of those balls for 125 yards and three TDs.
Live Oak (5-0) faces undefeated Oglesby (5-0) on the road on Friday. Oglesby is ranked No. 21 in UIL 1A DII, while the Falcons are No. 1 in TAPPS DII.