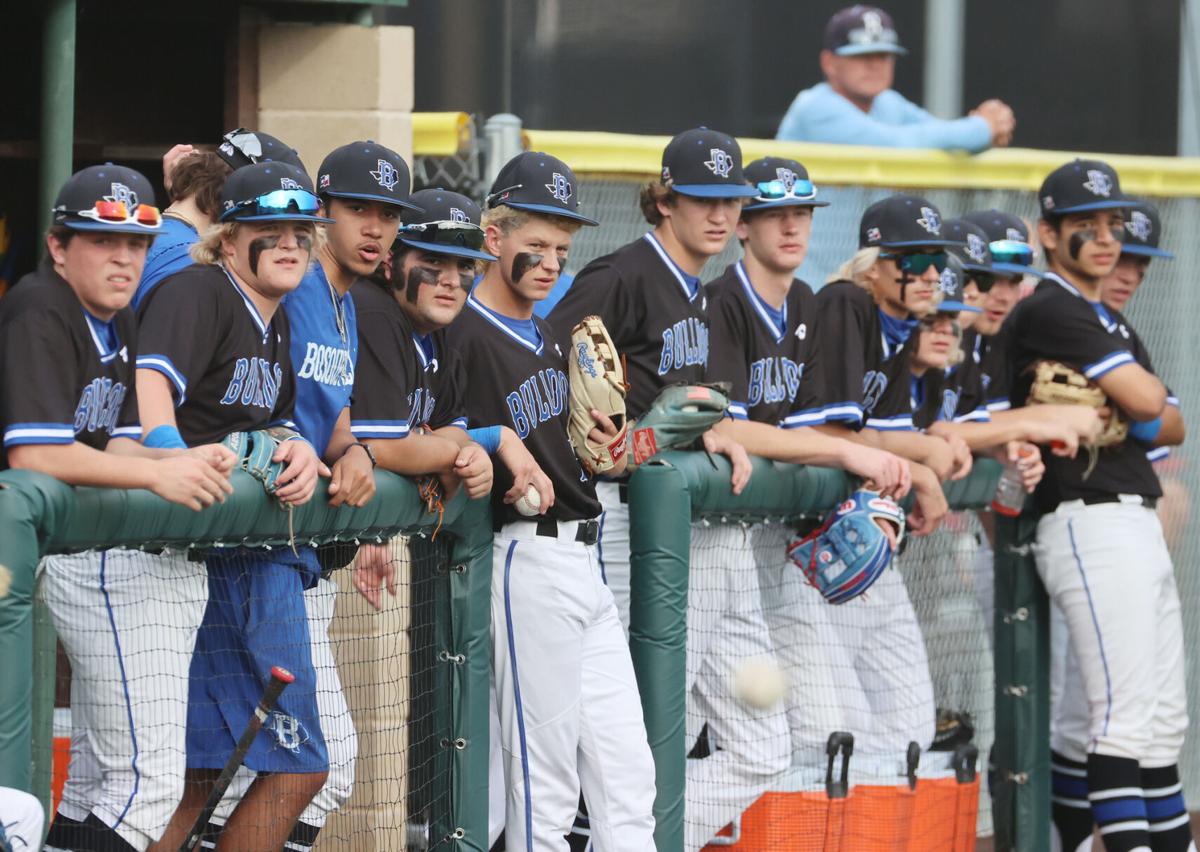 As they descended the steps of that yellow-dog bus for a practice at the gleaming turf field at Waco ISD's Veterans Stadium earlier this week, the Bosqueville Bulldogs looked the part.
On their own, the Bulldogs are plenty impressive. They can all swing the bat, one through nine. They've got big guys, strong guys, hard-throwing left-handers, guys that can pick it afield with the best of them.
But this isn't just a collection of shiny parts. Bosqueville didn't reach this week's UIL state tournament simply because it has more talent than its Class 2A combatants. Individually, the Bulldogs are good. Collectively, they're one of the best teams in the state.
Just watch them for five minutes. That's all it takes. They poke and prod and jibe one another, laughing all the while. Then they'll fling an arm around a teammate's neck for a hug. It's clear these 'Dogs all hail from the same litter.
"They're brothers. They really are," said Bosqueville coach David Anderson, whose Bulldogs (35-3) will face Garrison (28-8) in the 2A state semifinals at 7 p.m. Wednesday at Round Rock's Dell Diamond. "Sometimes you have to stop them from getting after each other, but it's a fun group. There's never a day that's dull. You show up to work, and I love coming to work with them."
Even though only two of Bosqueville's 16 players share a surname — junior third baseman Camden Hill and freshman infielder Easton Hill are actual siblings — there's a strong brotherhood vibe among the entire group.
"I think we all just play together as a family," said senior pitcher/infielder Jacob Davilla. "We all rely on each other, we know everyone has each other's back. We play for each other. I think we mesh well together and are able to play good baseball together."
Even little Tyrone is part of the family. Tyrone who?, you ask. Exactly.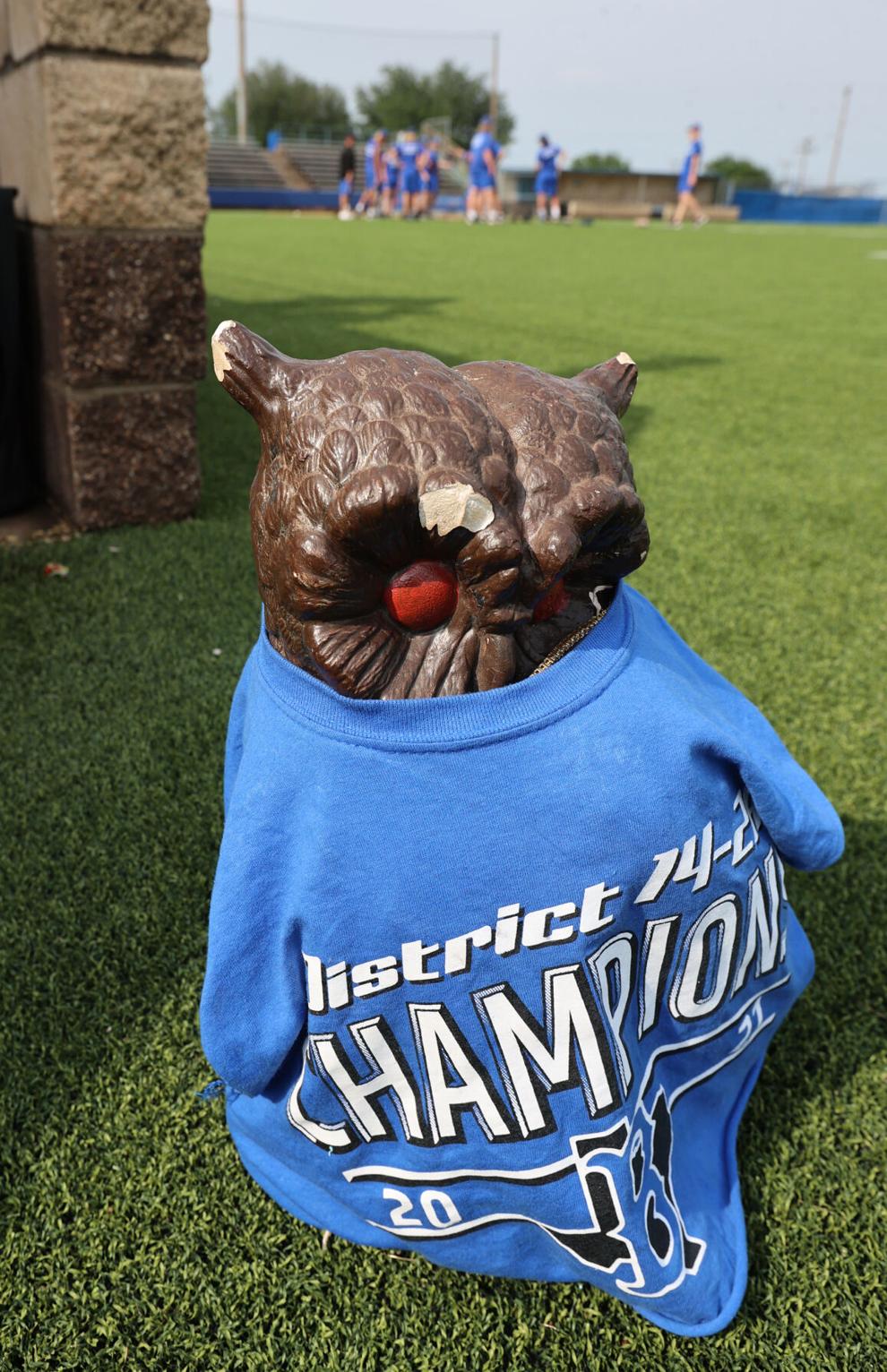 No, it's not an Abbott and Costello routine. Even though Tyrone is the strong, silent type, you've got to figure that "who?" would probably be his favorite word. He's a ceramic owl that the Bosqueville team adopted as its de facto mascot at the start of the 2020 season, and he's been along for the ride ever since.
As the story goes, Anderson had scattered rye seed on Bosqueville's home field and placed the owl out there on the advice of his grandmother, as a would-be scarecrow to keep the birds away.
"It didn't work," Anderson said. "Then we're getting ready to go to DeLeon for a game, and Will McLellan, our catcher that year, said, 'Stop the bus!' And I'm like, 'What? We're not stopping, I don't care what you forgot.' He said, 'We forgot Tyrone!' And I say, 'Who's Tyrone?' He says, 'The owl!' Next thing you know he's sprinting off, getting the owl off the field. He's been with us every game."
At this point, the Bulldogs couldn't imagine leaving the bird behind. He's part of the family, too.
"He's been there with us for every game, every practice," said senior outfielder Larson Hoffmeyer. "We take it serious. He comes and eats with us after the game, he's our good luck charm. Before the game, we all put our chains on him and have him staring at the other dugout. He's our intimidation factor."
Tyrone has seen better days. It's a long season, and he's had to undergo surgery twice, due to cracks in his exterior. But the Bulldogs have told the owl that he needs to last only two more games and then he can retire as a champion.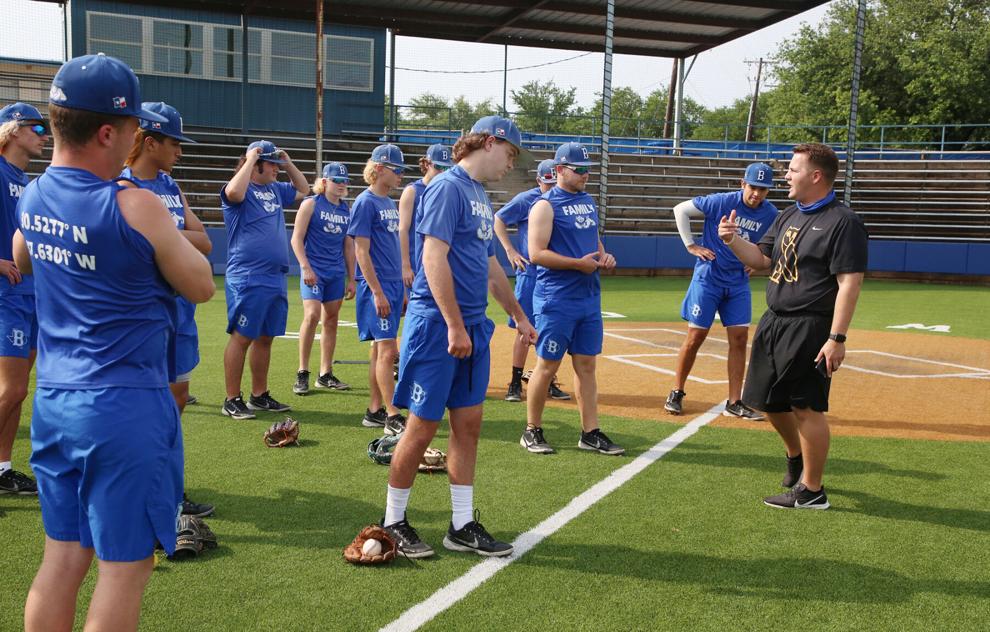 That's the plan, anyway. After the Bulldogs defeated Lindsay, 7-0, in a one-game playoff in the regional final last week, they bounced around and celebrated on the infield. But it didn't take them long to switch their focus to the task ahead. "Two more! Two more!" they shouted to one another, referencing the two more wins it would take to claim the program's second state championship.
The Lindsay game perfectly encapsulated Bosqueville's winning formula. Sophomore left-hander John Youens tossed a no-hitter, a sign that the Bulldogs don't lack for pitching. Youens and Davilla have combined to go 21-1 on the mound this season, and Hunter Henexson, Jayce Powers, Ethan McVey and Ryder Roark provide depth to the pitching staff.
Youens gouged the Knights, not always with overpowering stuff, but by filling up the strike zone. That's another strength, as the Bulldogs don't let much slip through the webbing defensively.
"We tell all our pitchers, if you go up there and throw strikes and let the defense work behind you, they're pretty good and they're going to take care of it for you," Anderson said. "Our pitchers have done a great job of limiting the walks. Let the guys hit it. Let the defense work behind you. You've got eight guys who play behind you, and let them go to work."
That's kind of how Anderson approaches coaching this bunch. He and assistant coach Jason Cummings scrawl out a lineup and then they let the guys go to work — and have fun in the midst of it.
They don't need a lot of instruction. This is one family who seems to have it all figured out.
"I think that when you watch them play, it shows," Anderson said. "They play with so much passion and energy. Off the field, they're a great group. This is a group of guys, without me knowing, that texted my mom, 'Happy Mother's Day.' They thanked her for all she's done. They're just great kids from great families, and I love them."