When the FCA Victory Bowl volleyball match ended, there were plenty of smiles and hugs and group pictures with players from both sides of the net.
The scene encompassed the spirit of the event.
But during the match, the Blue team was playing to win. Boosted by the connection of four of its players, the Blues won in straight sets, 26-24, 26-24, 25-18, on Saturday afternoon at the Midway High School Arena.
Live Oak's Leah Stephenson, the match MVP, had an ace for the penultimate point that put Blue up by six. She served it out as the Reds had a miscue on set point, finishing off one of the more dramatic senior years for a Central Texas athlete.
Stephenson collapsed during a November basketball game due to a cardiac event. Her life was saved by an on-site AED at the Live Oak gym and less than a week later she received a defibrillator. She returned to the basketball court in January and participated in the full slate of FCA Victory Bowl events this week.
"I just try to ignore it because I don't want it to hold me back," Stephenson said following the Blue team's volleyball win on Saturday. "Why would I want to just sit down whenever I could be doing something that I love? I love sports. I've been in them ever since I can remember so, whenever I had my heart accident, I didn't want that to be the reason why I quit."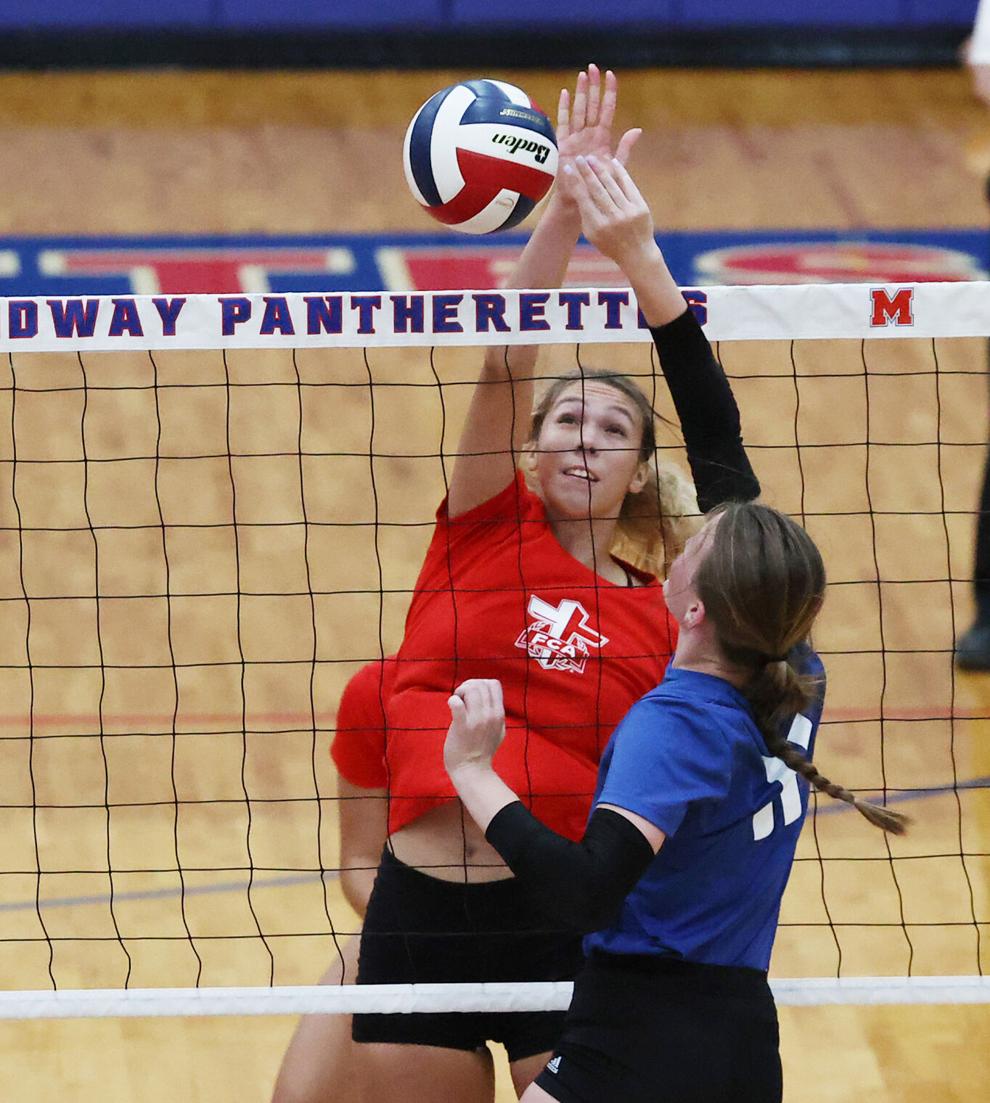 Stephenson tallied 13 kills, a block and an ace. Her performance, with the help of a few familiar faces, lifted the Blues. Stephenson has played club volleyball in past summers with Blue teammates Brooke Ashcraft from Robinson and sisters Breann and Brandi Connally of Groesbeck.
Ashcraft had six kills and four blocks, while the Connally sisters combined for 14 kills and a block.
"They've been playing together as long as they can remember, as long as I've known them," Ashcraft said about the Groesbeck sisters. "That connection is always a big factor in any game. It's really cool to be on the same side of the net as that."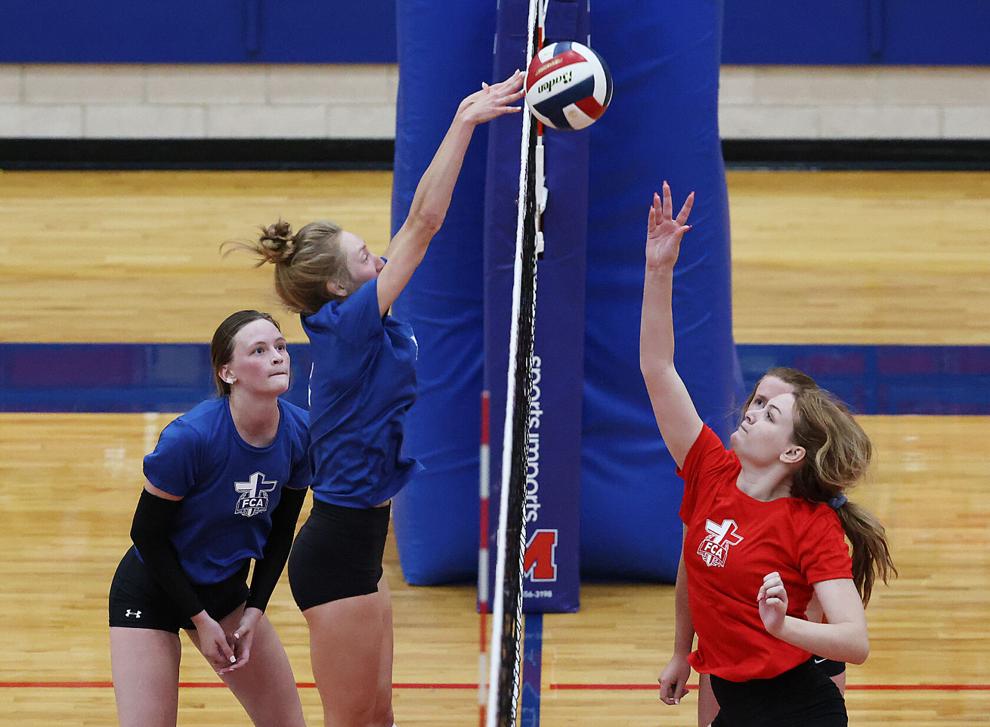 Blue won the opening set, but trailed 17-14 midway through the second. Ashcraft and Brandi Connally came up with three straight blocks and Connally added a kill to turn the momentum and put the Blue team in the lead.
Stephenson finished the second game with a block and a kill sandwiched around a kill by Breann Connally.
Bruceville-Eddy's Allissa Rodriguez had one of her team-high 10 kills early in the third game as Red once again grabbed an early lead.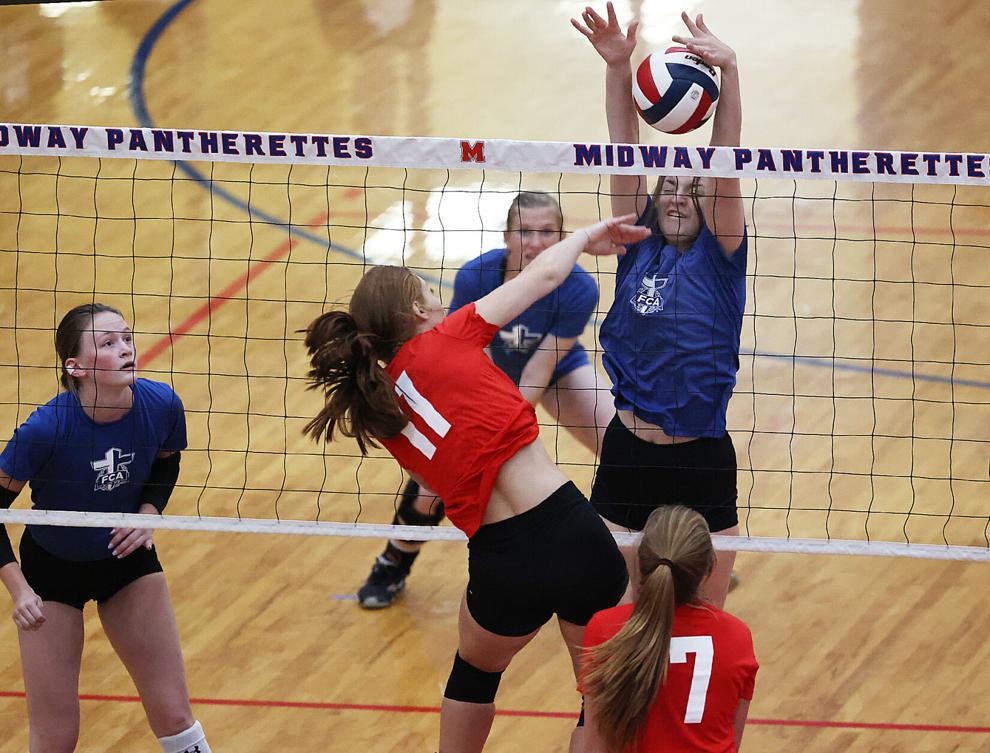 Blue responded with a key 6-1 run as Stephenson put down four kills and Bosqueville's Autumn Allmon added a block. Later in the set Blue added a 6-1 run, sparked by two Ashcraft blocks, and established firm control of the match.
Although Blue swept to the win, all three games were closely contested and it didn't dampen the experience for the Reds.
"In the locker room, we were all just like sitting there talking, getting ready. We just were able to talk to each other like, 'Hey, in the game, let's make sure and stay up, we're going to keep each other up,'" Rodriguez said. "I liked to see that we actually followed through."