It's an elite group of high school basketball teams that reach the 30-win plateau in a season.
That said, La Vega doesn't want to stop now.
The No. 3-ranked Lady Pirates captured victory No. 30 with another lopsided outcome over a District 23-4A rival, beating Connally, 71-19, on Friday night.
La Vega (30-5 overall, 9-0 district) has stood head and shoulders above everyone else in its loop this season, beating teams by an average score of 76-23.
Four players scored in double figures for the dominant Lady Pirates, led by Andrea Johnson with 13 points. Kenzi Mitchell chipped in 11, while Alaysia Gude and Cemaria Kelly had 10 apiece.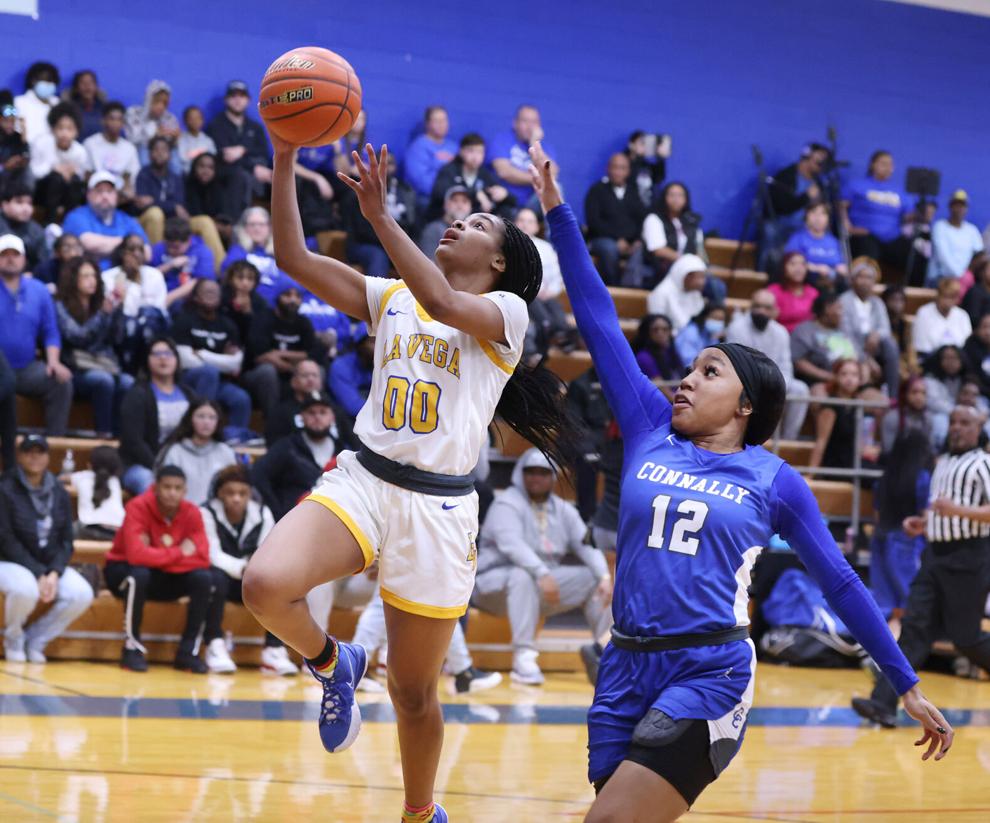 Despite the loss, Connally (23-9, 6-3) can still clinch at least a share of the second seed in the district with a win over Robinson on Tuesday. The Lady Cadets are tied with Salado for second in the district and those two teams split the season series, necessitating a tiebreaker game should they both end up tied.
For Connally, Cyncerne McDonald put in a team-high 11 points.
The Lady Pirates will look to close out another perfect run through district play at Gatesville on Tuesday.
No. 1 Fairfield 77, Elkhart 13
FAIRFIELD — Lady Eagle veterans Shadasia Brackens and McKinna Brackens made the most of Senior Night as they scored 22 and 15 points, respectively, in another rout for the defending state champions.
With the Brackens seniors leading the way, Fairfield raced to an 18-2 lead by the end of the first quarter and never let the Lady Elks make it interesting. Fairfield's Kristavia Nelms made a buzzer-beating 3-pointer at the end of the opening quarter and McKinna Brackens hit a corner trey for a 31-8 lead midway through the second.
Fairfield (30-2, 12-0) will play a key rescheduled district game at No. 7 Mexia at 5 p.m. Monday.
Rockdale 51, Troy 50
TROY — Rockdale picked up a steal and basket in the closing seconds to swipe a District 19-3A win over the Trojanettes.
Troy (15-16, 8-5) trailed by seven points entering the fourth quarter, but used a 13-1 run late to pull ahead with less than a minute to go. But Rockdale (13-19, 7-5) came up with the clutch defensive play and hoop to win it and wrap up a playoff spot.
Troy, which is third in the district and is also headed to the postseason, will close out the regular season against co-district leader Lorena on Tuesday.
No. 16 Academy 40, No. 8 Lorena 31
LITTLE RIVER — The 16th-ranked Bees snapped a 12-game winning streak by Lorena to hand the eighth-ranked Lady Leopards their first loss in District 19-3A action
Academy (26-7, 11-1) limited Lorena to its second-lowest scoring output of the season, next to a 43-28 loss to Class 5A Killeen Ellison on Dec. 2. It also allowed the Bees to split the season series.
Lorena (27-6, 11-1) can still clinch at least a share of the district title with wins over Rockdale Saturday and over Troy Tuesday on Senior Night.
BOYS
University 67, Shoemaker 51
The Trojans turned the tables on the Grey Wolves to pick up the split of the season series Friday at the University High Gym.
It's the kids that shall lead them, as freshmen Keandre Brooks and London Smith again turned in big games for University (14-15, 7-3). Brooks had 18 points and four assists, while Smith contributed 14 points and four steals.
Sophomore Dre'Markus Rutledge added 14 points, eight rebounds and three steals for University, which next will travel to Killeen Chaparral on Tuesday.