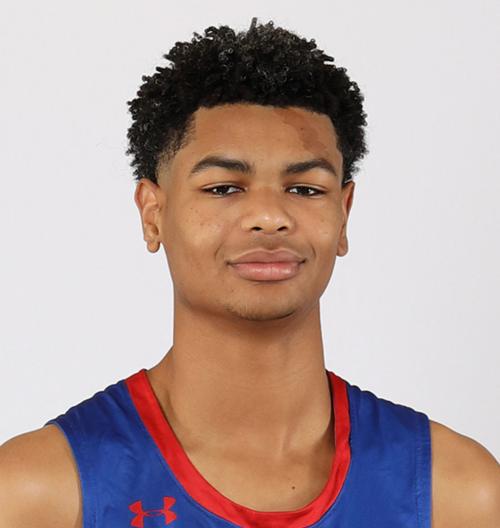 Hey, ugly wins need boyfriends, too.
It wasn't necessarily a game that yielded a load of glitzy YouTube highlights, unless you were a fan of hard-nosed, in-your-grill defense. But Midway showed off a tough chin and survived a crosstown District 11-6A slugfest with Waco High, 42-34, at the Lions' Gym on Tuesday night.
With the win, the Panthers (17-7 overall, 3-1 in district) continue to hang tough in the 11-6A standings, as they entered the night in a three-way tie for second with DeSoto and Cedar Hill behind nationally-ranked Duncanville. And even though Waco High (3-19, 0-4) made Midway sweat more than many might've expected, the Panthers came out better because of it, first-year Midway coach Eric McDade said.
"I mean, I'm telling you, offense was a premium tonight," McDade said. "When you're guarding, we always say this, when you defend and you rebound, you give yourselves a chance to win. Because you're going to have nights where the shots are off. And I think both teams came in with that formula.
"They were going to play great defense and rebound and limit the opportunities on the glass. We had some guys who made some good shots down the stretch, and got us going."
Indeed, Lawyer Jones laid down the law for Midway in the fourth quarter, when his team needed him most. The sophomore guard scored 10 of his game-high 13 points in that final period, displaying a pure midrange shooting touch and a toughness in taking it to the basket alike. His biggest shot came with 3:11 to play, after Waco High had cut the lead to 34-30 and the Lions were starting to twist the gears defensively, as the home fans raised a ruckus. But Jones penetrated into the paint for the Panthers, tossing in a runner while absorbing a bump, and then hitting the subsequent free throw to push the gap back to six points.
In this grindhouse-type game, it certainly makes a difference when you've got some back-end muscle. Caden Powell gives the Panthers that and then some. The 6-10 senior provided consistent play throughout the night, and finished with 12 points, 11 rebounds, three steals and two emphatic blocked shots. Powell's presence also gave the Lions second thoughts about putting it up near the basket, as he altered several shots.
Nevertheless, Waco High not only stayed within arm's length, for a while it appeared the Lions may be poised to spring the upset. They employed a deliberate pace throughout to patiently work for shots, and in turn prevent Midway from getting out and running away with anything.
When Waco High's Elijah Pullen dropped the ball off for his teammate Lazavier Amos for an easy bucket to start the second half, the Lions went up 14-13 and took their first lead since the opening seconds of the game. A couple of trips downcourt later, the Lions' Tyler Black bottomed out a 3-pointer to push the score to 17-15, Lions, and things were looking nice for the home team.
But like a lot of teams in 11-6A, Waco High could have used a crib sheet to figure out the answers on how to slow down Powell. The Midway big man punched in a follow slam on the Panthers' next trip downcourt, and he scored 10 third-quarter points in all as Midway stretched its lead to 30-22 going into the final quarter.
As we move into mid-January, Midway may have figured out its identity. A couple of games ago, the Panthers traveled to Class 6A's second-ranked Duncanville, and showed true grit despite a 54-42 road loss. It wasn't the outcome Midway wanted, and yet McDade's Panthers still took a measure of confidence from that effort.
"Obviously it gives the kids a ton of confidence when you come in and you're playing the No. 3 team in the country (in the USA Today poll) and you look up and it's a slugfest," McDade said. "I think it was 5-5 at the end of the first quarter. And we've been able to hold teams. We held (Duncanville) to 54 points, which was a season-low. I think we're a team that's developing an identity of defense, of toughness, of rebounding, of team play, and it's just a throwback. It really is. It's refreshing to see these guys play that way in this day and age."
Waco High cut the deficit to 40-34 with 1:20 remaining on a powerful drive from Omarion Brooks. But Midway's Jones drew a foul on the Panthers' next possession, and iced the win with a pair of free throws.
Brooks topped the Lions with nine points.
Following the game, McDade praised both teams' toughness, and was happy to get back on the bus and drive to Hewitt with a win.
"I thought Waco High, Coach (Earl) Farley, did a fantastic job," McDade said. "They had a great game plan, they wanted to do some things to just disrupt us a little bit and they did. I thought it just went back to a good, old-fashioned district battle. Two teams, defensive-minded, getting after each other, right here in the city of Waco. It was my first part of it, and it was a great. I thought it was great competition."
GIRLS Midway 54, Waco High 49
Both teams played with a desperate hunger befitting two teams hunting for a rare district win, but ultimately it was visiting Midway that was able to enjoy its just desserts.
Brooke Jones dropped in a game-high 17 points for Midway, including four second-quarter 3-pointers that sparked an efficient 24-point quarter for the Pantherettes. Jones' pure shooting stroke proved effective as the great separator for Midway (5-14, 1-5), and she nailed 5-of 8 from distance overall.
Waco High (6-17, 1-5) still trailed only 52-48 with 1:16 to go, but the Lady Lions couldn't hit another bucket from the field. Meanwhile, Midway's Mary Odedeji scored on a well-designed sideline inbounds play with 40 seconds to go to give her squad some breathing room.
Marlissa Watson picked up 12 points for Midway and several times the Pantherette post acted as the back-line executioner on defense, swatting Waco High's shots away. Aziyah Oliver nabbed 10 points and Odedeji added nine.
For Waco High, Ivory Scott hit for 14 points and Asharah Thibodeaux had eight. But it was a rough shooting night for the Lady Lions' leading scorers, as that duo hit just 6-of-26 from the floor.
No. 8 La Vega 91, Madisonville 33
Lady Pirates sophomore guard Mar'cyah "MiMi" Willis matched the Mustangs' scoring output by herself with a shooting performance for the ages.
Willis drained 11 3-point buckets on her way to a career-high 33 points, and La Vega kept on roaring through District 18-4A with a blowout win at Pirate Gym.
Willis already had a nice game going at halftime, as she hit three 3-pointers on her way to nine points. But then she absolutely exploded in the second half, sinking eight from beyond the arc – five in the third quarter and three more in the fourth.
La Vega coach Marcus Willis Sr. said he thought MiMi's amazing shooting night produced a La Vega school record for 3-pointers in the game, but he was still trying to confirm that Tuesday. It's believed that Katrina Price held the old record.
Alaysia Gude and Andrea Johnson contributed 14 points apiece for La Vega (21-4, 2-0), which will travel to Mexia Friday.