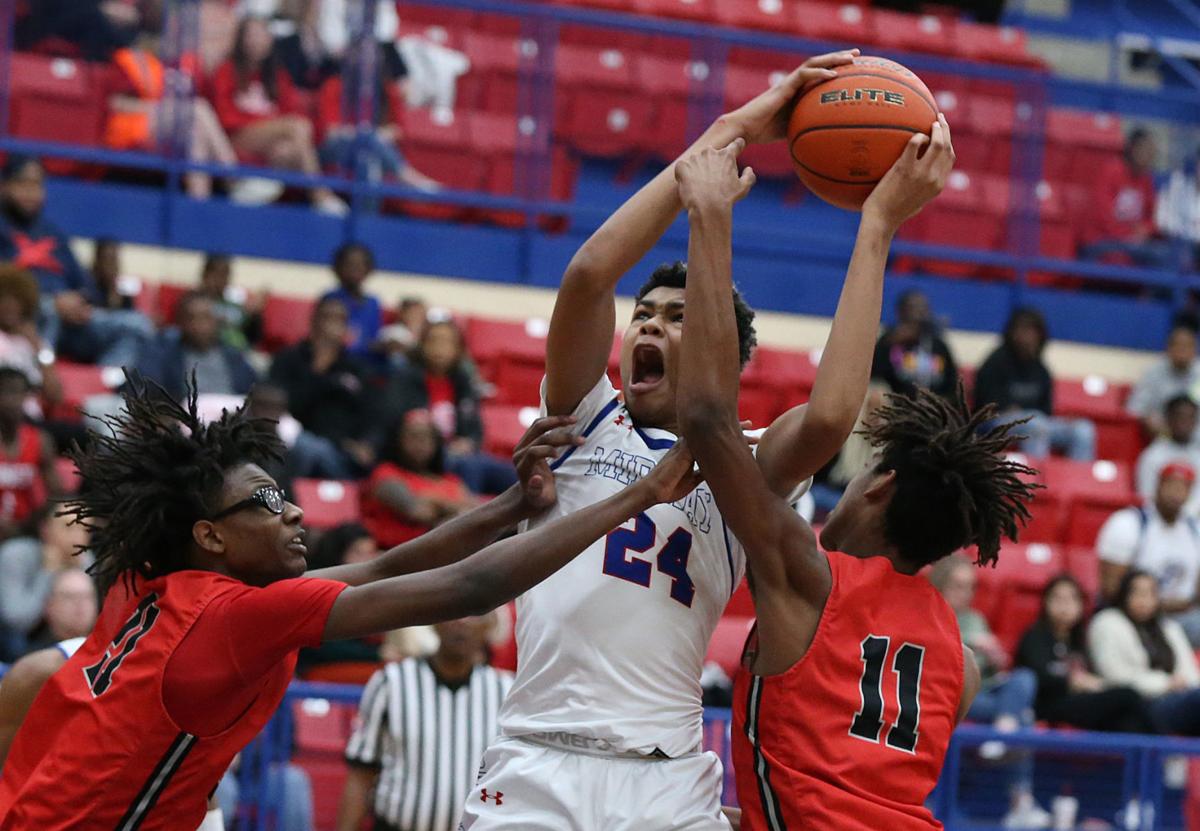 Halftime isn't just break time. It's also time to tweak and make adjustments.
Midway adeptly altered and executed its second-half strategy in pulling away from Waco High for a 55-38 win in boys' basketball action on Saturday at the Waco High Gym. In the process, the Panthers (6-9, 1-3) claimed their first District 11-6A victory of the season.
Midway put together its best stretch of ball of the game in the third quarter to take control. The Panthers led the Lions (1-13, 0-4) by just a point at the half, 21-20, but outscored their crosstown rivals, 17-6, in the third quarter to distance themselves.
David McKnight and Caden Powell both scored seven of their team-leading 16 points for Midway in that third period.
For Waco High, Nathaniel Brooks showed a hot hand with 19 points.
No. 20 La Vega 71, Mart 28
MART — Marcus Willis Jr. proved pesky on both ends, scoring 23 points and swiping away 10 steals as the 20th-ranked Pirates closed their nondistrict schedule with a romp over the Panthers.
Willis averages a team-high 17 points on the year, but he also has plenty of help. In this one, Randy Woolf Jr. had a terrific all-around game with 18 points, 15 rebounds and six assists. Robert Allen chipped in 12 points.
La Vega will open up District 18-4A action Tuesday at Mexia, who the Pirates defeated in last year's state playoffs.
Gatesville 75, Live Oak 29
GATESVILLE — Everyone in Gatesville's band got a chance to rip a solo as the Lady Hornets whipped the visiting Lady Falcons.
Five players scored in double figures for Gatesville (5-9), led by 14 points apiece from Ainsley Warren and Allaiya Jones. Both Kamryn Higginbotham and Caitlyn Chacon had 12 points, while Cadence Smalley tallied 10.
For Live Oak (10-5), which consistently challenges itself by taking on bigger-school foes, Sheryl Loden scored a team-best 10.
No. 4 Duncanville 81, Midway 12
Fourth-ranked Duncanville breezed past a depleted Midway team in 11-6A action.
Duncanville (18-1, 5-1) didn't give up a point in the opening quarter and led 31-0 before the Pantherettes got on the board. Tristen Taylor led the dominant Lady Panthers with 23 points, and Kiersten Johnson added 14.
Brooke Jones topped Midway with five points, all from the foul line.