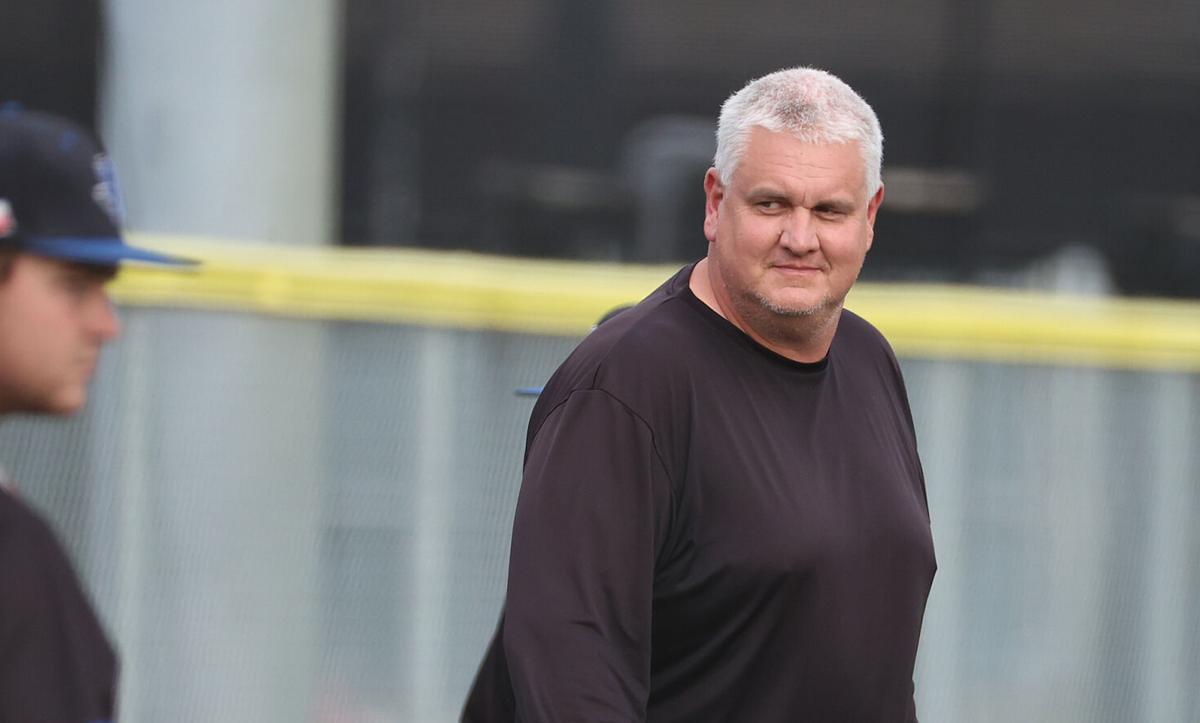 After years crouched in the triple threat position, Clint Zander is going to relax and just do two jobs for a while.
Even considering Bosqueville's place in the second-smallest classification, Zander has still worn a lot of hats over the years. For more than a decade, he has worked as the Bulldogs' athletic director, head football coach and head softball coach. Starting with next school year, he plans to hand his softball scorebook over to his chief assistant Joel Kuehl.
Zander will remain busy as Bosqueville's AD and football coach. But he wanted to free up a little time in his schedule in the spring so he could watch his daughter Ashlyn compete for UT-Tyler's track and field team. Ashlyn, who won a bronze medal at the UIL state meet this spring as a Bosqueville senior, will throw the shot and discus in Tyler.
Zander started his coaching career as a JV baseball coach at Henderson, but he soon moved over to the softball diamond.
"I worked for Dennis Alexander, one of the winningest guys out there, and he told me if I moved over to softball there was a spot coaching varsity football, which I wanted to do," Zander said. "So I made the switch (to softball) and I was hooked from there."
Zander had layovers in Marlin and at Midway before landing at Bosqueville for the 2004-05 school year. He worked as an assistant football coach for John Bachtel, but softball wasn't done with him yet.
"The next year there was a softball opening and John said, 'Can you do it?' And I said, 'I will,'" Zander said. "Little did I know I was walking into a gold mine, with a very talented freshman class, and the success just built on itself."
Zander took over as Bosqueville's softball coach in 2006, and by his second season he had reached the pinnacle, as the Lady Bulldogs won the Class 1A state championship in 2007. Overall, he took three Bosqueville teams to the state tournament and achieved a sterling 319-109-4 record.
"We won it all, we got beat in the final once (in 2008) and got beat in the semifinal another time (in 2015)," Zander said. "But we were fortunate to get there three times, and that's a blessing, because some coaches coach a lifetime and never get there at all."
What Zander most enjoyed about coaching softball was building relationships with a different side of the athletic department.
"The main thing was to be able to get to coach the girls' side of the program," he said. "Getting to know those kids was great. Coaching girls is different from coaching guys. We had a lot of fun, won a lot of games. … Girls are goofy, they're fun to coach."
Zander said he feels good about the timing of his decision to step away from softball, mostly because he can rely on a quality head coach in waiting in Kuehl. This is Kuehl's second stint at Bosqueville – he was Zander's assistant on the 2007 softball state champion and then led the Bulldog baseball program to a state title as head coach in 2008. He also had coaching stints at Midway and Fairfield before returning to Bosqueville in 2019.
"That made the decision much easier," Zander said. "He's a guy who's been to the state tournament four or five times, won it in baseball as a head coach. He has plenty of knowledge. They'll probably get better instruction from him than they did me."
Could the siren song of softball call Zander's name again? Who knows? For now he'll concentrate on overseeing Bosqueville's athletic department and coaching football, where he has a 99-57 record in 13 seasons leading the Bulldogs, including 8-4 in 2020.
"I don't know that I'm done coaching (softball), but for now I am," Zander said.
Centex area well-represented for all-state baseball
Anyone who's in the know is well aware that Central Texas is loaded with strong baseball teams and players.
That much was evident with the release of the Texas High School Baseball Coaches Association's all-state and all-star teams this week.
Midway catcher and Baylor signee Cort Castle made the THSBCA's 6A Elite All-Star Team. Castle was the District 11-6A MVP while hitting .343 with 28 RBIs and 16 walks. He flashed a phenomenal arm by throwing out 13 of 16 attempted base stealers on the season.
China Spring's Trace Necessary was a first-team all-state pick in Class 4A at third base. Two other Cougars earned all-state honors, as second baseman Jase Garrett was a second-team pick and pitcher Kolby Killough made the third team.
In Class 3A, Troy pitcher Hagen Rose, Lorena shortstop Ben Smedshammer and Groesbeck shortstop Garrett Gruell all picked up the shiny accolade of making the THSBCA Elite All-Star Team. Additionally, several area 3A players earned all-state honors: Fairfield shortstop Kaden Crawford, Groesbeck's Gruell and Lorena second baseman Will Teague (second team), and Groesbeck second baseman Memphis Waddle, West outfielder Landon Edwards and Cameron Yoe pitcher Brannon McCall (third team).
In Class 2A, Bosqueville pitcher Jacob Davilla and Crawford third baseman Carter Hooser were both selected for the Elite All-Star Team. Davilla's teammate, pitcher/outfielder John Youens, garnered first-team all-state honors, as did Hamilton outfielder Chase Weaver and Hubbard shortstop Shelby Noppeney. Second-team selections in 2A from Central Texas included Bosqueville's Camden Hill and Noah Pena, while the third team featured Valley Mills' Cooper Ewing, Crawford's Tanner Merenda and Crawford's Kade Bruce among its stars.
Lights, camera, action (again)
If you enjoyed Friday Night Lights the (actual) TV show, buckle up, it's not going away.
The UIL's Legislative Council approved online streaming for high school football games for the 2021 season at its meeting Tuesday. Last year in response to COVID-19, the UIL allowed for streaming of Friday night games for the first time, which executive director Charles Breithaupt called "a one-time thing." However, the success of such broadcasts – particularly for elderly or home-bound viewers – prompted the UIL to revisit the idea.
Another topic that was discussed but ultimately voted down by the Legislative Council was the introduction of a shot clock for Class 6A and 5A high school basketball.
Bare commits to Roadrunners
Midway golfer Brayden Bare showed a little bit of what he could do when he won the Class 6A Region II individual title in April at Bear Ridge Golf Club. Bare posted back-to-back rounds of 1-under-par 71 to win the regional by three strokes and led the Panthers to a tie for the team title.
That was just one of the bullet points on Bare's resume that put him on the radar of college programs. On Tuesday, Midway Athletics announced via Twitter that Bare has committed to UT-San Antonio.
Bare will be a senior in the fall and leads a Midway golf team that returns four of the five players that earned a spot in the 6A state tournament this spring.