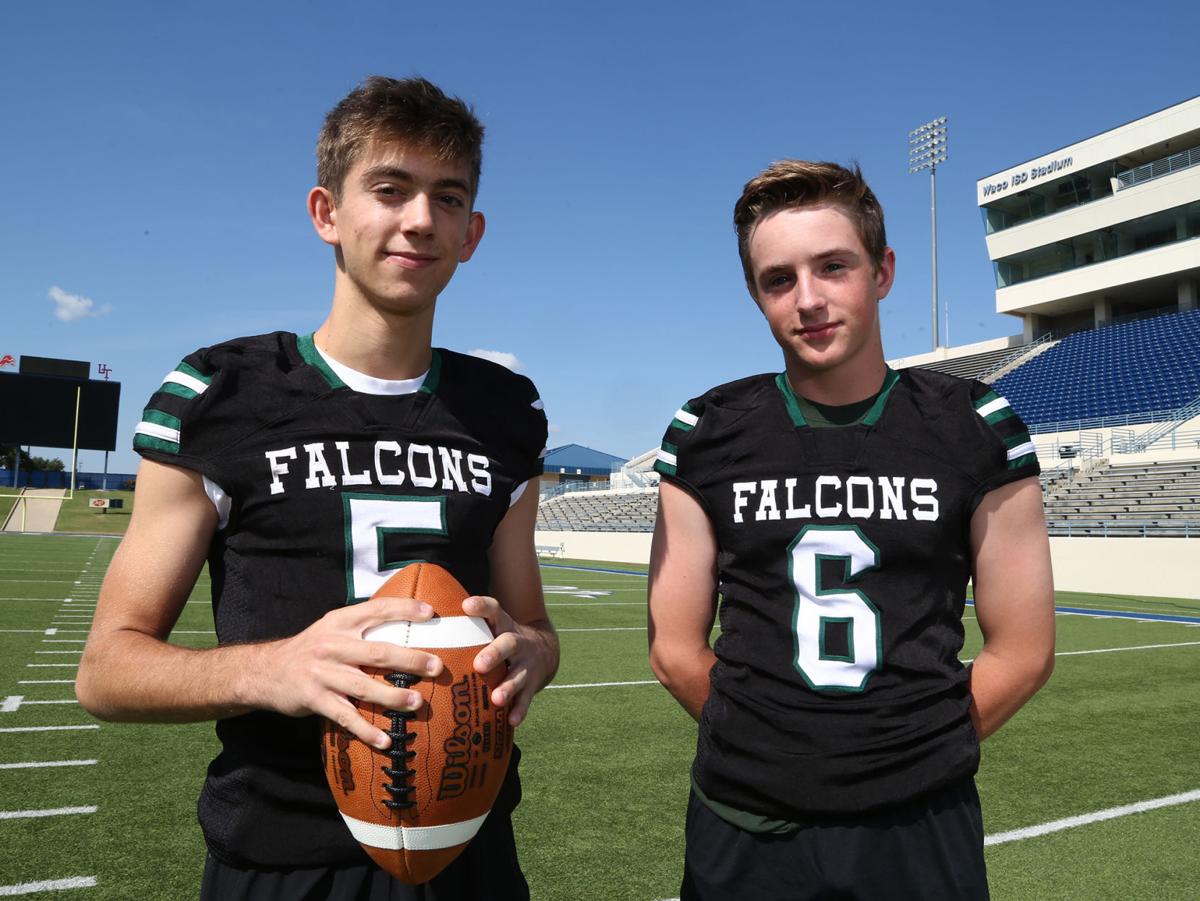 Live Oak Classical football coach Brice Helton senses that he needs to rein in the excitement over the Falcons' latest victory.
Live Oak rolled over cross-town rival Vanguard, 48-0, on Friday at Paul Tyson Field. But to Helton, that doesn't mean his team is that good or the Vikings were that bad. Vanguard was dealing with injuries and quarantine, the familiar pitfalls of 2020.
"This season you're grateful to be playing no matter what," Helton said. "And to win a game like that is great, but there's an asterisk by it. And in six-man football, if one team is marginally better than the other, it's going to end up that way. It doesn't mean you're primed and ready to win state."
Even so, Helton was also glad to see his Falcons pumped up.
Live Oak struggled through an uncharacteristic 2-9 campaign in 2019. For a school that has won four state championships in just 11 seasons of the program's existence, a losing season seems way off.
"We didn't have a very good record. But if you get under the hood, you see that six of our losses were manageable scores that could've gone either way," Helton said. "And we were doing that on the backs of sophomores."
The Falcons returned all six starters on both sides of the ball. Those kinds of numbers almost guarantee improvement, so it's not a huge surprise that Live Oak has already surpassed its win total from a year ago.
But the Falcons' 3-0 mark to this point tells Helton it's more than just his guys being a year older and more physically mature.
"Give them credit for that transition they made with work ethic," Helton said. "They've realized it takes work."
Live Oak, which started late along with its TAPPS counterparts as a means of COVID-19 risk mitigation, opened with a 63-22 win over Huntsville Alpha Omega Academy. The Falcons followed that up by outlasting McKinney Cornerstone Christian Academy, 88-68, and then added the win over Vanguard.
Through three games, Falcons junior back Eli Herman has rushed for 315 yards and eight touchdowns while teammate Will Schorlemer has contributed 253 yards and three scores. Meanwhile, potential standout back Justice Ishio has been slowed by minor injuries to this point.
Live Oak's success goes deeper than offensive stats. There's a cohesiveness that has grown out of a young team taking its bumps and bruises in 2019. Now the Falcons have one senior, four juniors and two sophomores starting on offense, and a defensive lineup made up of two sophomores and four juniors.
In six-man football, that kind of experience can help get things back on track in a hurry.
"Going into the season, our thing has been setting the bar," Helton said. "For a head football coach, winning state, that's always going to be the goal. A state championship is realistic if we put the work in over time."
Live Oak is set to play its first home game of the regular season on Friday night versus Plano Coram Deo Academy. Last fall, Live Oak christened its new Falcon Field between 5th and 6th Streets and Jackson and Webster Avenues, hard by the Magnolia Silos.
New look Kiwanis Invite ready to run
Like everything in 2020, the Hewitt Kiwanis Invitational — one of the area's largest cross country races each year — will look a lot different this time around.
But it's still a go, and for that, Midway head coach Ronny Boles is grateful.
"We're still going to run, and I'm happy for the kids," Boles said.
Midway will host the meet at a new location and over two days instead of one, all to comply with COVID-19 protocols and restrictions. Normally, it holds the meet at the Heart of Texas Soccer Complex, but City of Waco restrictions necessitated an alternate site. Boles encountered similar issues at public parks in Hewitt. Fortunately, Midway ISD owned some land off Ritchie Road, near the Hewitt water tower, where it intends to build a future elementary school.
"It was basically a pasture," Boles said. "But it was big enough, and we went out there last Wednesday and cut the course. It'll be different, but I think it'll be a good course. We've just had to learn to improvise."
The UIL is limiting cross country races to eight teams at a time this year, so that also forced some changes to the meet. The Class 1A-4A meet will be held on Thursday, while the Class 5A and 6A runners will compete on Friday. All told, runners from 45 schools will compete in the two-day meet.
"In my 25 years (as coach) we've only had to cancel one time, and that was because a tropical storm came in and just basically washed the course away," Boles said. "And the meet's been going on long before me. … I'm glad it's continuing, because a lot of people really put a lot into this meet. We've even got coaches who ran in it back in the 80s and 90s."
The Class 1A-4A meet will start at 8 a.m. Thursday with the first session of the two-mile varsity girls race, followed by a three-mile varsity boys race at 8:10. More varsity and JV races will continue throughout the day until around 1 p.m., with no more than eight teams competing at once.
The 5A-6A divisions will start at 8 a.m. Friday with the varsity boys, followed by the girls. The last race of the day is expected to end around 12:45 p.m.
Midway adds another district tennis title
The Midway tennis team locked up its 19th-consecutive district championship with a win over Mansfield Lake Ridge on Tuesday.
The Panthers defeated Lake Ridge, 18-1, on the Midway courts to claim the District 11-6A title.
Midway will now move on to the team tennis playoffs and face the fourth-place team from 12-6A. The bi-district round will be held Oct. 26-27.
Midway golf opens fall with win
The Midway golf teams came out swinging for the fall season as the Panther boys won the team title and Eubin Shim finished second on the girls' side at the Badger Fall Classic on Friday and Saturday.
The Panthers boys' team posted a 36-hole score of 598 to run away from the field. Marble Falls finished second, 35 strokes back.
Temple's Daniel Moon won the individual title on the boys' side. He opened with a 7-under-par 65 at Hancock Springs Golf Course in Lampasas. The tournament shifted to Delaware Springs Golf Course in Burnet on Saturday and Moon fired a 72 on a day when there were no under-par scores.
Midway junior Brayden Bare posted 70-73-143 to finish in third place, six strokes behind Moon. Panther junior Niklas Blalock shot 150 to take fifth place and freshman Corbin Null was sixth at 152.
Dawson's Hamilton claims honor
Dawson running back Da'Mariyea Hamilton produced a huge performance last week in a win over Axtell, and on Wednesday Hamilton was honored as the Built Ford Tough Texas Player of the Week for Class 2A.
Hamilton went for 306 yards on 16 carries, six of which found the end zone. And Hamilton wasn't through, as he also made an impact on defense, picking up seven tackles and two tackles for losses.
It's been a big year to say the least for Hamilton, who was named Dawson's Homecoming King earlier in the season. His twin brother Ja'Mariyea has also played great and has given the Bulldogs a potent 1-2 punch.
Hillsboro QB, Mexia LB win awards
Hillsboro quarterback Austin Cook and Mexia linebacker Ja'Bryan Busby wrapped up the WacoTrib.com Player of the Week polls on Wednesday.
Cook rushed for 165 yards and a couple of touchdowns and passed for 64 and a score to lead the Eagles to a 65-7 win over Venus. The Hillsboro QB received 1,713 votes, finishing almost 500 votes ahead of Bruceville-Eddy running back Hunter Diaz in second place.
Busby posted 13 tackles to help the Blackcats open district with a 63-42 win over Brownsboro. He garnered 301 votes, 112 more than Mexia teammate and runner-up Dontavious Daniels.
The Player of the Week polls are made up entries in the weekly Honor Roll. Coaches can nominate players for the Honor Roll each week by emailing Trib sportswriter Chad Conine at chad.conine@wacotrib.com. Nominees must be received by 3 p.m. on Saturday.
Get in the game with our Prep Sports Newsletter
Sent weekly directly to your inbox!