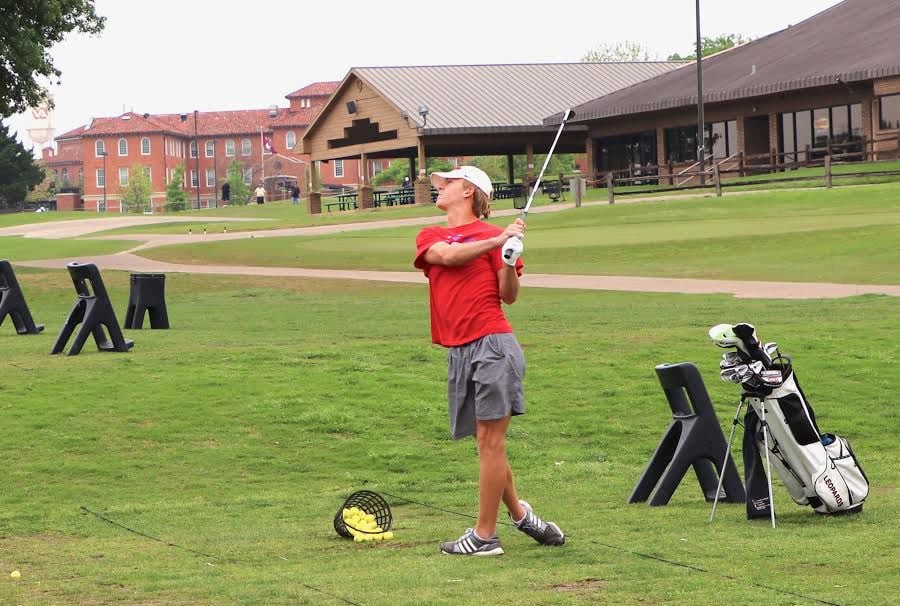 Lorena junior golfer John Mann kept the ball in the fairway and made it an easy day on the course on Monday.
A pretty good day too as Mann posted a score of 3-over-par 73 to win the individual title at the Waxahachie Invitational at Waxahachie Country Club.
"I think I only missed one fairway all day," Mann said. "That's what set me apart."
Playing as an individual in his first high school tournament of the season, Mann bested players who mostly came from Class 5A and 6A schools.
Mann spoke with the Trib back in April after the UIL had shut down spring sports in response to the COVID-19 pandemic. At the time, he was alone on the Cottonwood Creek Golf Course driving range working on his game despite not knowing what the rest of his sophomore season would bring.
SUBSCRIBE to the Super Centex podcast on iTunes, Spotify, Google Podcasts or wherever you prefer to listen to your shows.
Although school golf was called off and championships weren't played in the spring, Mann kept working throughout the summer and leading up to his first school tournament of the fall.
"This summer I didn't want to pay any (American Junior Golf Association tour) fees because I didn't know what the protocols would be and I didn't feel like my game was as good," Mann said. "So I spent that time just breaking down my game."
The work showed on Monday. Mann birdied two of his final five holes on the way to firing a 73, which he said is one of his best scores in competition. Quirky COVID-19 post-round protocols meant that Mann left the course without knowing the final results. But Lorena golf coach Ken Thompson called about 20 minutes into the drive home and informed Mann that he had won.
That's a nice way to start the season, but the Lorena junior knows it's a long time until the big high school stage of district, regional and state tournament action next April and May.
"This is definitely a big morale boost for me," Mann said. "But I need to stay focused and not get cocky."
Mart, University cancel games
On Wednesday, COVID-19 altered this week's Friday night schedule as the Mart-Bremond district game has been rescheduled and University's nondistrict contest versus Bryan Rudder has been canceled.
Mart coach Kevin Hoffman told the Trib on Wednesday evening that his team's District 10-2A D-II clash with Bremond has been moved to Nov. 6. Mart is still scheduled to play Frost on Oct. 16.
University's game at Rudder has been canceled after a Trojans' player tested positive for COVID-19, according to University coach Rodney Smith.
The Trojans (1-1) were coming off a 46-35 win over Granbury last weekend while Rudder (2-0) was coming off a 63-56 win against Pflugerville Weiss.
University is scheduled to open District 5-5A Division II play against No. 2-ranked Aledo on Oct. 16 at WISD Stadium.
La Vega's schedule altered
The La Vega Pirates' Oct. 16 home game against Brownwood has been canceled due to a student-athlete at Brownwood testing positive for COVID-19.
Brownwood ISD posted a press release on Wednesday morning stating that the Lions will suspend varsity football activities until Oct. 19. That means Brownwood will not play Friday against Midlothian Heritage nor make the trip to La Vega the following week.
La Vega coach Don Hyde told the Trib via text message on Wednesday that he believes the 5-4A D-I district executive committee will have to meet to determine the logistics of completing district play.
La Vega, currently ranked No. 3 in 4A D-I, travels to Stephenville for a key district matchup this week. The Pirates (4-1, 1-0 in 5-4A D-I) played just four nondistrict games, which meant they were already limited to a nine-game regular season.
Brownwood (2-4, 0-1) went 2-3 in nondistrict play and dropped its district opener against Stephenville, 59-34, last week.
Mount Calm's season ends
The Mount Calm football team has canceled the remainder of its campaign due to lack of numbers.
Panthers coach Tom Duncan said Wednesday that the six-man football program was down to five eligible players. Mount Calm had already made the decision to play a subvarsity-only slate for the remainder of the season and forfeit its varsity district game.
The Panthers were 0-5 before discontinuing the season. Their closest game was a 41-20 loss to Cranfills Gap on Sept. 4.
Duncan said he anticipates Mount Calm will be able to field a football team in 2021.
Players of the Week
Groesbeck running back Ma'Qua Smith and West linebacker Brandon Vanek claimed the WacoTrib.com Offensive and Defensive Players of the Week honors.
Smith rushed for 282 yards and three touchdowns on 25 carries to help the Goats defeat Eustace, 68-20. He received 810 votes in the poll, 432 more than teammate QB Allen Lewis in second place.
Vanek had an outstanding game in West's 55-0 victory over Oak Cliff Life as he made 15 tackles with a couple of tackles for losses. He claimed 103 votes, 70 more than Bruceville-Eddy defensive lineman Hunter Diaz, who finished second in the defensive poll.
The Player of the Week polls are made up entries in the weekly Honor Roll. Coaches can nominate players for the Honor Roll each week by emailing Trib sportswriter Chad Conine at chad.conine@wacotrib.com. Nominees must be received by 3 p.m. on Saturday.