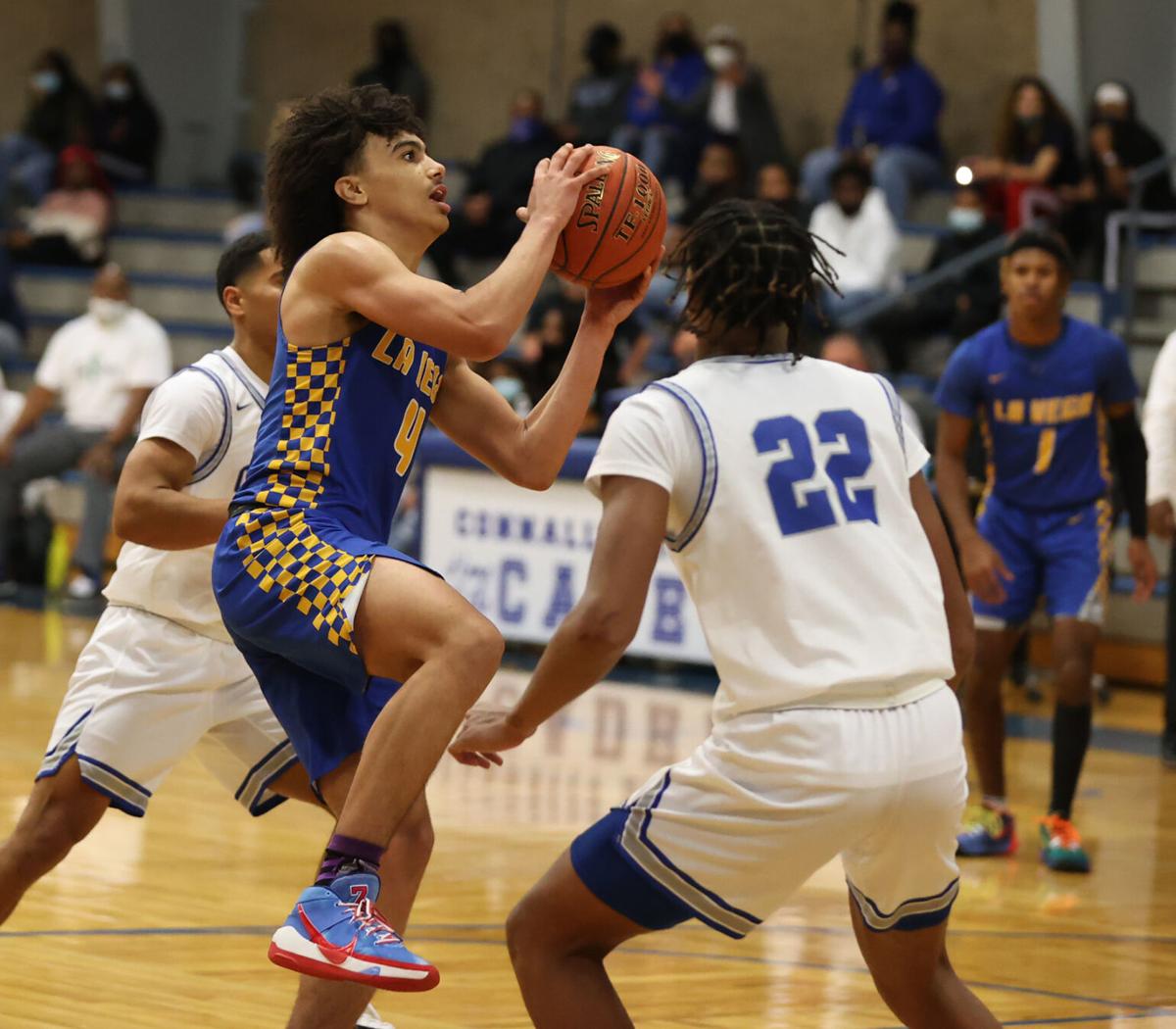 Whether you're talking about termites or mice or other vermin, basketball coaches don't want critters living in their gym and causing problems.
Well, except for one. A rat problem isn't really a problem at all, not when you're referring to that special species of baller known as the Gym Rat.
Some players spend so much time in the gym that they could have their own keys made. They're always running, always tinkering on a particular move, always pumping up shots, always working to get better.
La Vega's Randy Woolf Jr. is one such player. For Woolf, it's always Ball O'Clock.
"I'm fortunate enough to have a basketball athletic period, so they get some time with me and our coaching staff, so he can work on his game," La Vega coach William Cartwright said. "Obviously put on a little muscle mass, things like that, do a little conditioning. He's one of those players who's a gym rat. That's one I call a gym rat. They love to live in the gym. They'll find a way to get shots up or they'll work on their game and that extra facet that they need to get them over the top."
Basketball stands out as unique in the team sports world, in that an athlete doesn't necessarily need a training partner in order to develop his skills. Though a mechanized machine can help, a baseball or softball hitter generally prefers to take their hacks off a live pitcher. A football receiver needs someone to throw him the ball.
But in hoops, workouts can (and do) exist in an isolation bubble. You, the ball, the hoop. Sometimes that's all you need.
"It takes that individual person who wants to get better, and they're going to have to dig down deep and find the time and work with someone or work out on their own to try and get themselves one percent better every day," said Connally's Quinton Snell. "We've got a couple of guys who have worked on different parts of their game, and I think it's really helped them."
If you think it's easy to win a state championship, try and do it sometime.
You see it every year. The growth spurts are readily apparent to the naked eye. Not just physical growth — though that does happen among teenage basketball players — but the sharpened skills of a more mature, more seasoned athlete. One look, and you can't help but say, "Well, he didn't have THAT in his game last year."
Best of all, by working on their solo skills, these players benefit the whole band. Their individual growth aids the collective.
"It does benefit the whole team," La Vega's Cartwright said. "When you've got a guy like those types of kids, like Woolf that eat, sleep and breathe it, it rubs off on the others. The other guys that are football players or track guys, when they come in the gym they feed off of them. When they get to the hardwood they feed off their energy and the work they put in in the gymnasium."
It's like jazz, though, every solo act plays out a little differently. A player may work on his game in his driveway or the park or during open gym sessions at the school in the summer. Of course, sometimes it's not a solo act at all. Obviously, AAU and other travel teams offer a chance for area players to challenge themselves against elite competition. A variety of local players also take advantage of personal trainers, who offer instruction and guidance to their skill development.
"We feel like those are things that can help them grow as a player," Connally's Snell said. "A lot of times the (trainers) that work with some of our dudes, they'll ask, 'What does Coach have you working on now?' Something like that. They'll really hone in and try to work on those particular skills."
Snell said that his 6-2 junior guard Jelani McDonald is one such guy who's ready to take another leap, in more ways than one. The coach said that McDonald benefited from a strong spring track season — "We just want to develop the best all-around athletes we can develop," Snell said — as well as a busy summer of AAU basketball before transitioning into football season. Snell maintains optimism that McDonald can expand his basketball game this year, along with some of his other hard-working returners like Kobe Black and Jy'lon Nobles.
Similarly, a few exits south at rival La Vega, guys like Woolf and David McKnight are building up their share of sweat equity. McKnight played at La Vega as a freshman before transferring to Midway, but has returned to the Pirates and pumped in 24 points in a little over two quarters in La Vega's first game of the season last Friday before fouling out. (Like many teams, the Pirates are easing into their early-season schedule as they wait for reinforcements from the football team.)
Cartwright said it was pretty common over the offseason for Woolf and McKnight to take advantage of every possible La Vega open gym session.
"There's a portion of the year where coaches can't touch the kids. You just open the gym, give them a ball and let them go at it," Cartwright said. "Obviously, you've got to walk out of the gym. You might come check on them in an hour and a half, and they're drenching sweat. Then if you've got several guys in there, next thing you know they're in there playing one-on-one or two-on-two or three-on-three. It's all added reps of time to work on their timing and their movement on the hardwood."
And coaches love it. Connally's Snell, the Cadets' head man for the past two decades, likes to joke about how old he is. But if anything keeps him energized it's seeing the passion of young, driven players as they chase improvement.
"I'm looking forward to it, and seeing how these guys have grown up," Snell said. "We're just trying to take it as far as we can take it."
Victory Bowl adds basketball games to all-star mix
Over the years, the Super Centex Victory Bowl has expanded its reach. It started with a football all-star game before later adding volleyball, baseball and softball.
The Heart O' Texas Fellowship of Christian Athletes, which organizes the Victory Bowl, announced Tuesday that it will add boys' and girls' basketball games to the event for 2022. Those games will be played June 2 at West High School.
The seventh annual Victory Bowl baseball and softball games are scheduled for June 3 at Mary Hardin-Baylor in Belton. The FCA has not yet announced a location for the ninth annual volleyball game and 14th annual football game, but those will be played June 4.
La Vega hosting Kevin Gill Classic in January
On Jan. 7-8, La Vega ISD will host the Kevin Gill Classic, a junior high basketball tournament that is essentially "the battle for Waco."
It's the first year that the tournament will carry Gill's name, honoring the former state championship-winning La Vega coach who now heads up McLennan Community College's successful men's basketball program.